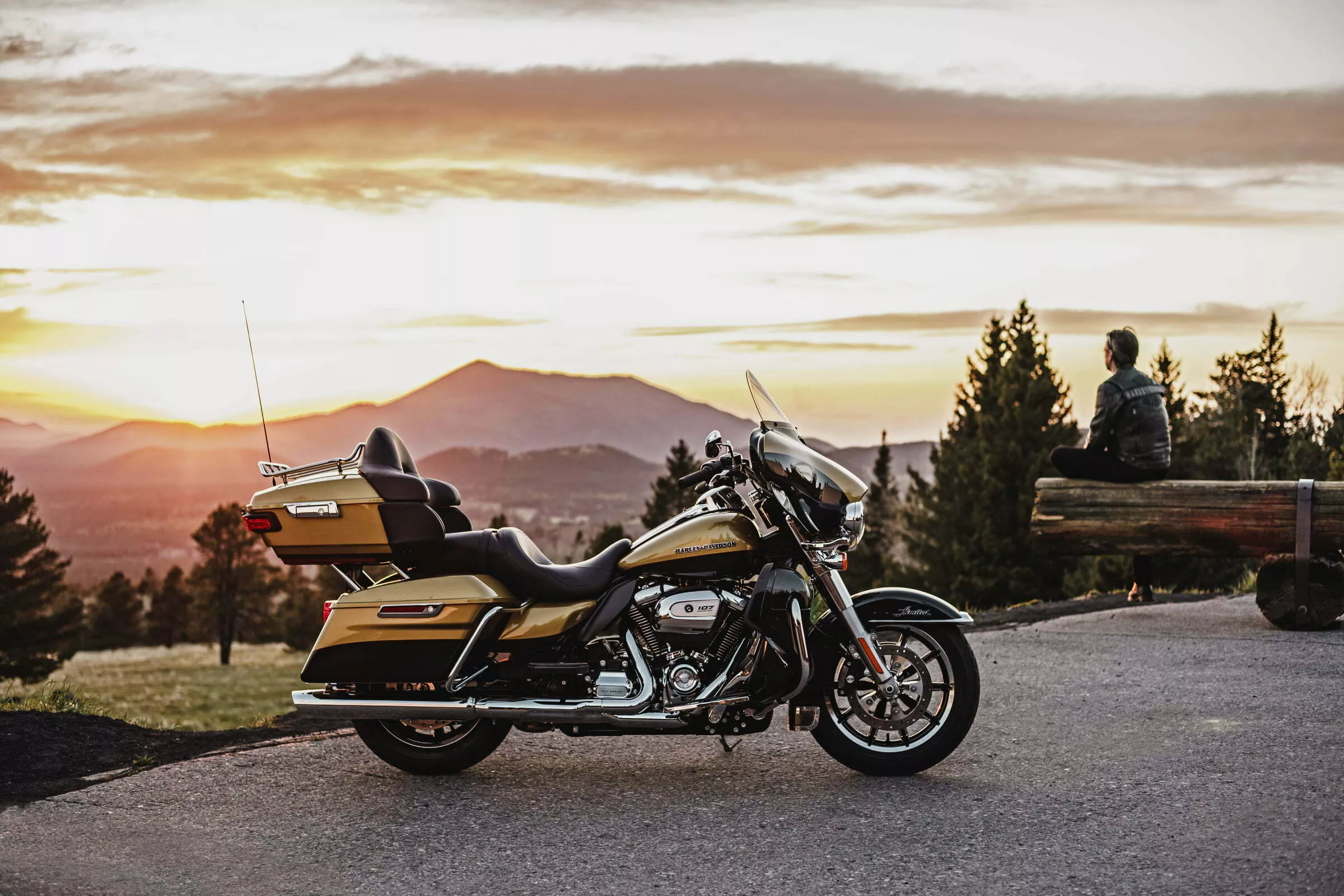 You may have gathered from yesterday's media storm all over this here Internet that Harley-Davidson launched a new motor. Along with the Milwaukee-Eight engine unveiling, though, Harley-Davidson also announced other changes for the 2017 baggers and the rest of the lineup. It breaks down like this:
New Touring Suspension: All-new front and rear suspension components enhance the comfort, control and performance of all 2017 Harley-Davidson Touring models. New dual bending valve front suspension technology provides the performance of a racing-style cartridge fork with linear damping characteristics and reduced weight. New emulsion-technology rear shocks offer 15 to 30 percent more pre-load adjustment than previous standard Touring shocks, with a single, hand-adjustable knob to hydraulically dial in pre-load.
Screamin' Eagle Performance: Harley-Davidson Screamin' Eagle Performance will offer a full selection of street-legal performance components for the Milwaukee-Eight engines, including Screamin' Eagle Milwaukee-Eight engine Stage kits that deliver up to a 24-percent increase in torque over the stock engine (availability varies by market).
Harley-Davidson Custom Vehicle Operations: Harley-Davidson Custom Vehicle Operations (CVO) models combine prestige and performance in three limited-edition factory-custom motorcycles for 2017. The CVO Limited and CVO Street Glide models feature the refined performance of the new Twin-Cooled Milwaukee-Eight 114 engine, while the CVO Pro Street Breakout motorcycle is powered by the Screamin' Eagle Twin Cam 110B air-cooled V-Twin engine.
2017 Harley-Davidson Street 500/750 Motorcycles: 2017 Harley-Davidson Street motorcycles are now available with ABS (Anti-Lock Braking System) and the Harley-Davidson Smart Security System with hands-free, proximity-based security fob, each as a factory-installed option.
Powerful Cruiser Lineup: With the High Output Twin Cam 103 standard for all 2017 Softail models and Dyna models (U.S. models only) except the Street Bob model and the S Series cruisers with the Screamin' Eagle Twin Cam 110 engine, Harley-Davidson continues to offer its most powerful cruisers ever.
"We want all riders to save the date of Sept. 23," said Dino Bernacchi, Director of U.S. Marketing at Harley-Davidson. "That weekend, Harley-Davidson dealers across the country will host open house events so riders can throw a leg over our Model Year 2017 touring motorcycles and feel the difference of the all-new Milwaukee-Eight engine for themselves."
To experience the transformation of the 2017 Harley-Davidson models now, visit h-d.com/testride to schedule a test ride.
All comparisons in this communication are drawn between Harley-Davidson 2017 Touring models and 2016 Touring models.
** Not all models are available in all countries. Please contact your local Harley-Davidson dealer for more information.
About Harley-Davidson Motor Company
Since 1903, Harley-Davidson Motor Company has fulfilled dreams of personal freedom with cruiser, touring and custom motorcycles, riding experiences and events, and a complete line of Harley-Davidson motorcycle parts, accessories, general merchandise, riding gear and apparel. For more information, visit www.h-d.com.
Let's go look at some custom bikes.