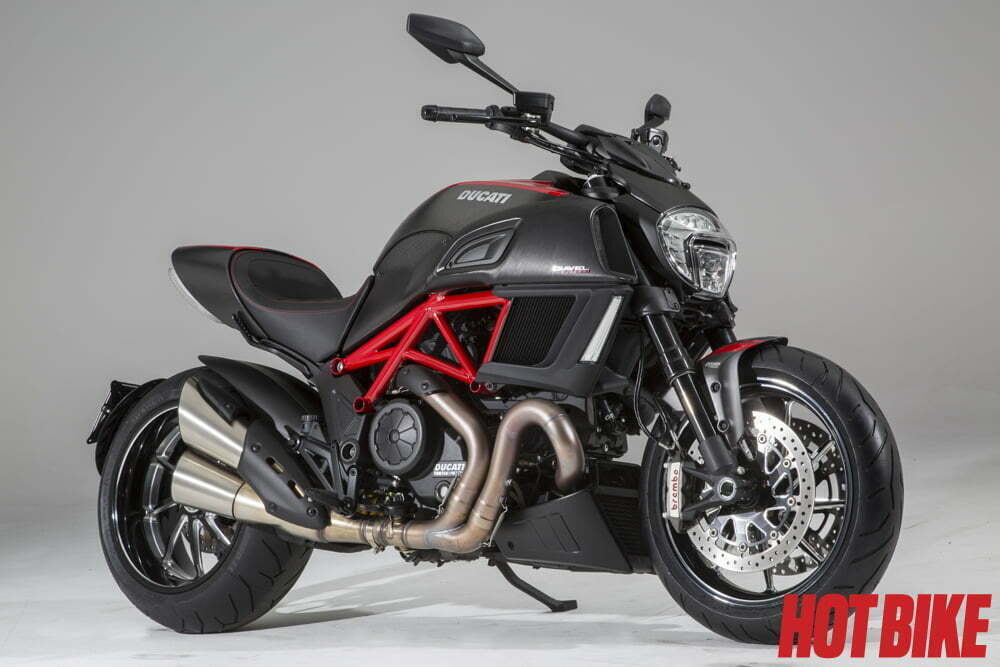 When we got wind our sister magazines, Cycle World and Motorcyclist, were going to get a sneak peek at Ducati's new Diavel "cruiser" this afternoon, we here at Hot Bike decided to crash the Italian wine and cheese party with our greasy hands and oil soaked jeans.
Yes, we know this bike isn't a V-Twin made in the Midwest, but it's still a motorcycle made for the streets without a ton of plastic and unreadable foreign sponsor names blasted all over it, so that alone piques our interest. Oh, and its a freakin' Ducati.
When we bum-rushed the door and shoved our way past the skinny, street bike magazine editors (it wasn't hard at all) we saw a work of Italian art. Anybody that knows anything about Ducati motorcycles knows that they are built to ride and that they usually push every envelope of technology that you can cram into two wheels.
Sure, its not a chrome-clad iron horse like we are used to seeing and riding, but damn it was cool looking. If Robocop and the Bat cycle had a LED-lit motorcycle for a baby it would be the Diavel. Yes, it has a futuristic styling for sure, but in the vein of the new line of Cadillac cars, so its not "way out there" but a damn fine mix of both form and function. Think of the Diavel as a curvaceously sexy Italian supermodel if she were a multi-cylinder cyborg cycle.
Being a tech geek for anything on wheels, I like the styling for sure, but it's the guts of this Ducati Diavel that really get me going. It's got an 1198.4cc (lets just say 1200cc) Twin Cylinder engine that puts out 162hp and 96 pound-feet of torque out of the box. It shifts with a six-speed tranny and its wet weight is 527 pounds. Do the math on the Diavel's strength-to-weight ratio and I think you will also agree this could be a fun-filled machine.
There's a red one (imagine that), a bad-ass murdered-out black one and a special edition carbon model with racing stripes, a white sub frame, and ton of carbon fiber on the tank, fenders and assorted other bits as well as a set of forged aluminum nine-spoke wheels from Marchesini.
Yes, all of this is well and good, but the true test is throwing a leg over this bike and seeing how the other half lives. And I will be doing so in the next couple of weeks as soon as I throw the "track day" guys with the padded leather and day-glow neon onesies off of it. Then I'll put it through its paces on some city streets and some morning freeway traffic lane splitting. I'll let you know how it all goes in a future post.