With a ton of folks already being out and about this summer road trippin' on two wheels, Hot Bike is giving you the ultimate destination in form of a journey. Yes, the GEICO Motorcycle Hot Bike Tour is a rolling rally with a ton of stops, shops and new and old friends
to meet up with along the way. See, we feel that motorcycles, no matter if they are right off the showroom or intensely customized, are made to be ridden. So let's all get out there and ride! There are a ton of great highways and byways to be seen across this great country of ours , so let's just do it together!
Q: HOW MANY DAYS IS THE TOUR ?
A:Five days total.
Q:HOW MANY MILES DOES IT COVER?
A: Right around 1,000
Q:WHAT ARE THE DATES?
A: August 16-20
Q:WHO CAN RIDE IT?
A: Anybody on any kind of motorcycle
Q:DO I HAVE TO RIDE THE WHOLE THING?
A: No, feel free to ride one day or all of them
Q: WHAT DOES IT COST?
A: It's $50 for the whole five days or $25 a day
Q: WHAT ARE THE HOST CITIES?
A:August 16 is Joplin, Missouri; August 17 is Jefferson City Missouri; August 18 is Springfield, Illinois; August 19 is Bettendorf, Iowa; August 20 is Wisconsin Dells, Wisconsin
Q: WILL IT BE A GOOD TIME?
A: Hell yes it will!
For more info on the GEICO Motorcycle Hot Bike Tour , go to www.hotbikeweb.com/tour
Running in conjunction with this years GEICO Motorcycle Hot Bike Tour is the Sailor Jerry Presents Hot Bike Invitational Bike Build-off featuring the world's best bike builders. For the first time ever, Hot Bike has invited the world's top bike builders to compete in a bike build-off that challenges every aspect of a custom-bike build.
Not content to let builders build unridebale two-wheeled sculptures and call them motorcycles, Hot Bike magazine's Jeff G. Holt came up with the concept of a bike show where the builders actually have to ride their creations over a series of days to be considered into the judging competition.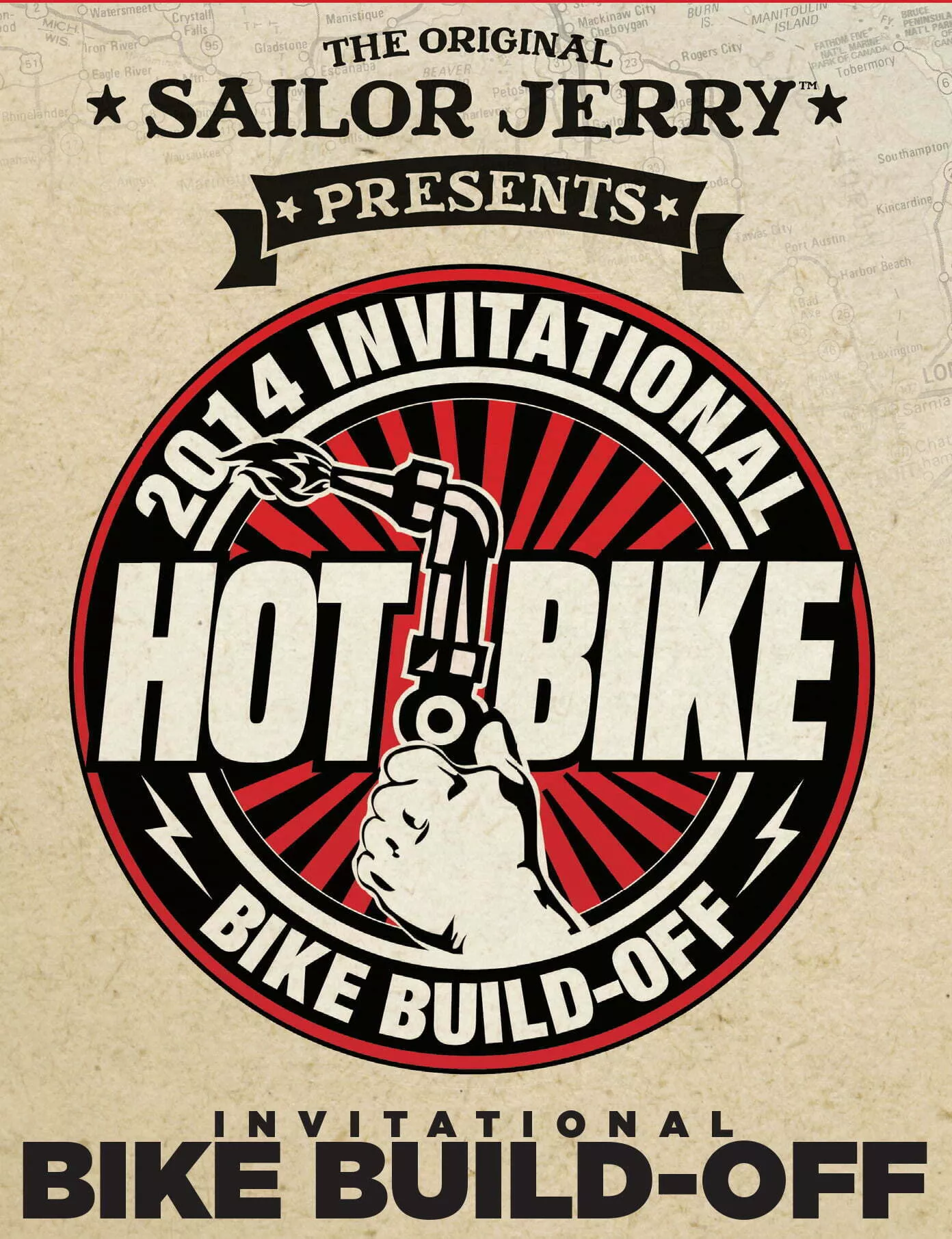 "Over the past decade or so we have really became bored of the slapped-together and wacky style of show bikes that were never intended to even be ridden and think our fans, readers, and riders have as well," Holt explains. "That's why we decided to invite the world's best bike builders to put their metal where their mouth is and build a badass bike they can and will actually ride."
The Hot Bike Invitational Bike Build-Off will be held in conjunction with the Hot Bike Tour, and the bikes will be ridden daily and judged upon by you—the event attendees—via ballot boxes at every event stop. There will be a daily winner per stop as well as a Grand Champion who wins the title with the most total votes over the five days of the tour.
Come on out and rub elbows, ride with, and vote on your favorite bike builder.
Follow the progress of the Invited Builders with the hashtag #hotbikebuildoff on instagram.com