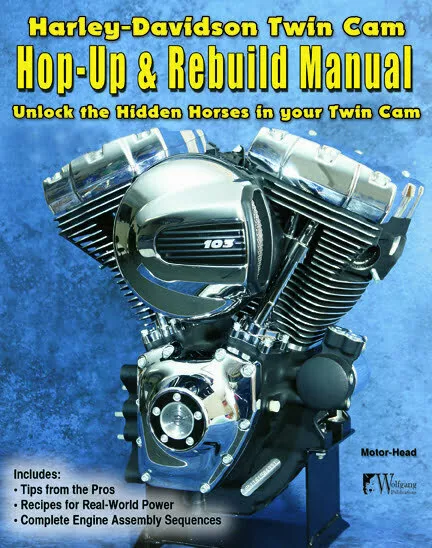 The Harley-Davidson Twin Cam Hop-Up & Rebuild Manual from Wolfgang Publications shows the how and why of performance engine building with over 500 color photos. Not a what-to-buy-book – it's a how-to-install book. Each chapter covers a specific sub-assembly of the Twin-Cam motor. The reader can pick and choose what chapters they need at the time, be it porting a set of heads, installing cams, or assembling a flywheel assembly.
For anyone planning to build or rebuild a Twin Cam that combines power with durability, this book walks the reader through two complete assemblies. The crew at R&R Cycles shows how they do a big-bore top-end job in the chassis; as well as build a complete bad ass 124 engine assembled on the bench.
Take advantage of the skill and knowledge shared by the crew at R&R Cycles – builders of everything from hot street engines, to full competition motors that set records at Bonneville and win at the drag strip. If you're a rider who takes pride in doing most your own work, this is a book you need. From a simple rebuild to a complete motor built from scratch, the how-to information and photo sequences you need are right here.