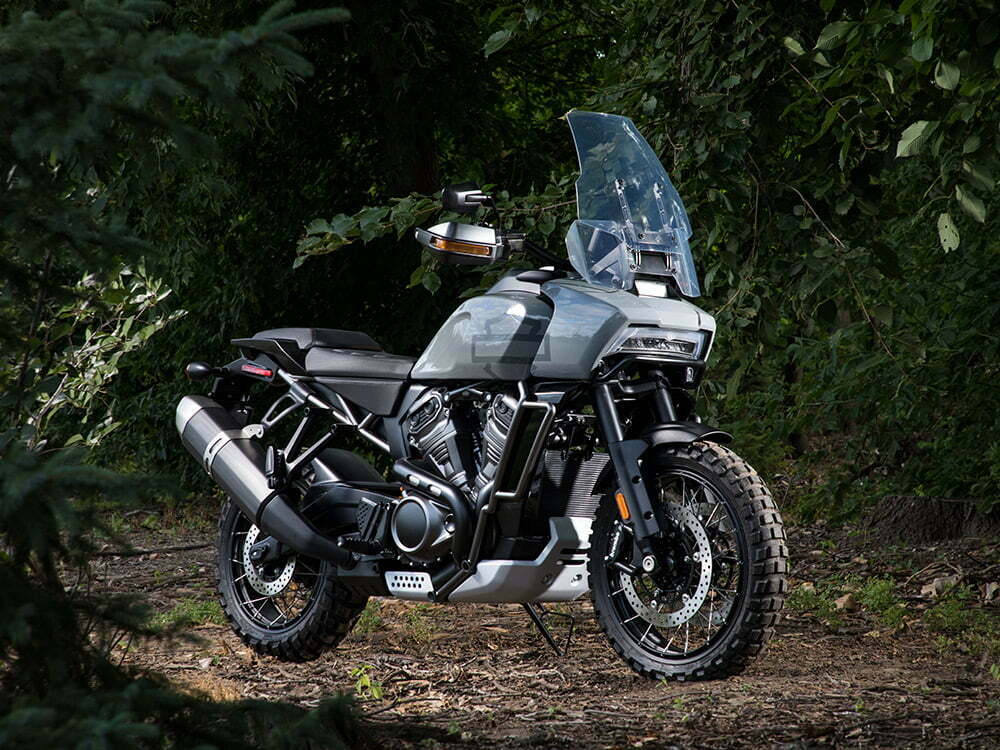 First an electric bike. Then a sportbike. Now a 1,250cc adventure bike—which looks to be all muscle and sinew. Yes, it looks like Harley's gone off-road with the Pan America 1250, the company's first adventure touring model. Ever. No, you can't count your clapped-out Sportster with a sissy bar in this category.
Because Harley looks like it's done its homework. From what we understand this will be a 1,250cc model, to be launched in 2020, and from the one photo we've seen, it looks like it's equipped to handle light-to-moderate off-road travel. Zooming in, you'll notice there's a proper touring-height adjustable windshield, what looks like a seriously stout belly pan, dual disc brakes up front, a nice, wide cushy seat, and, yeah, a radiator. And, yes, it's a V-twin. There's no word on whether this is an all-new engine, but we're guessing it is. The front fairing looks well-equipped as well, with a horizontally mounted LED light, semi-knobby tires on wire-spoke wheels, and a (sort-of) high-mounted exhaust system.
As big fans of the Buell Ulysses back in the day, we're pretty stoked to see Harley expand its boundaries. Sure, that Buell was high, and the suspension was stiffer than a two-by-four. And yes, we dropped it a couple of times riding it. But the engine was awesomely good fun, and it held a lot of promise. We're hoping that promise will be realized with the Pan America. Let's get dirty.