The resurgence of the Harley stunt scene has been seeing massive growth over the past couple of years. Poppin' wheelies on a V-twin is anything far from new. That's been going on for much longer than you might think.
Back in 1918, the British publication The Motor Cycle said, "Many of these young men have returned from the fields of the Great War, accustomed to brash, unsettling thrills and life lived on the razor's edge. Many have chosen to bestow their discharge pay on fast, noisy motorbikes on which they take to public roads in dangerous, antisocial displays meant to impress females while upsetting livestock and the general populace. It stirs the imagination and fosters pity why so many of this great nation's youth would risk life and limb for the simple, childish thrill of acceleration and the rare accolades it brings."
Sound familiar?
In 1943 Life magazine featured US Army troops jumping over trenches and storming the beaches as part of Operation Overlord, the invasion of Normandy, on motorcycles pulling high-speed wheelies.
In December of 1970 stunt legend Evel Knievel jumped 13 cars in Los Angeles, California, on a Harley-Davidson XR-750.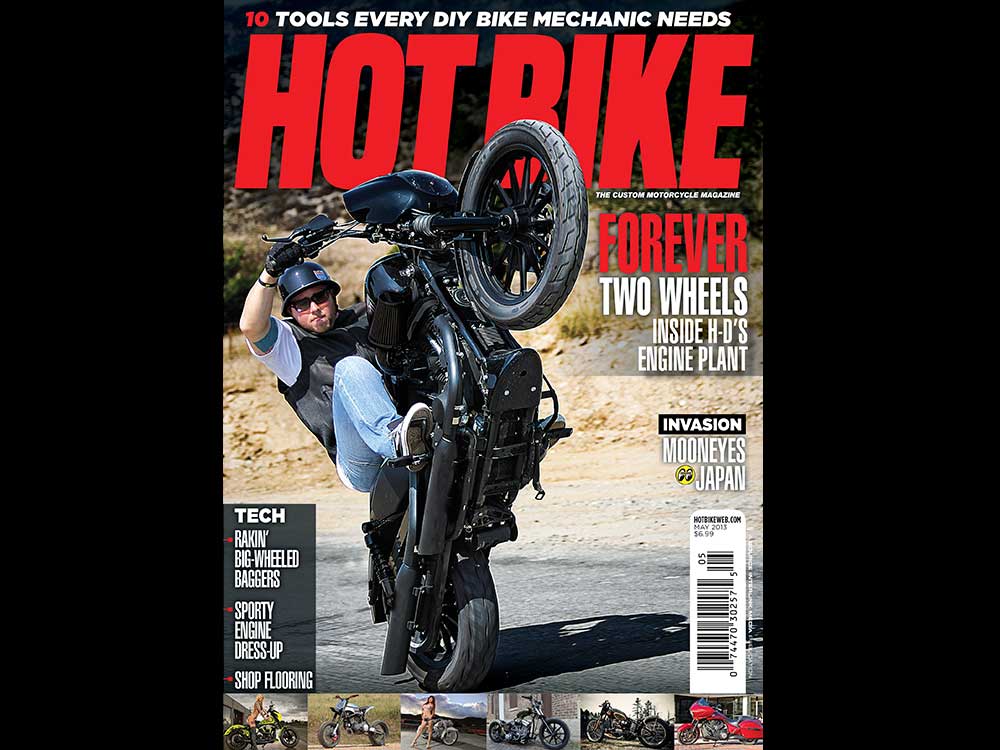 Then in the late 1990s and early 2000s, the stunt scene really took off, mostly on inexpensive, but bulletproof, Japanese sportbikes. Young males on beaten bikes took the motorcycle world by storm, one VHS tape at a time. During that height of it all in 2004, like a fish out a water, Jason Pullen started showing up and competing on a Harley-Davidson Sportster and FXR often up showing his import-bike counterparts. While deep in the trenches of the import-bike stunt scene, Jason continued to improve his skills and showmanship picking up cues and techniques from riders on bikes with two-thirds the weight and two-thirds more power. Today, Jason has continued to push the boundaries of what is possible on two wheels and has since earned the nick name "The Godfather."
The latest, and probably most influential riders, Unknown Industries started in 2009 beginning with Buddy Suttle and Nick Leonetti and later Kade Kates in 2013. This group has influenced stunt riders from all over the world to switch from the buzz of an inline-four of a Japanese motor to the thump of an American V-twin. Aside from that, their wild paint jobs mixed with classic patterns, courtesy of painter Taylor Schultz, have revolutionized the custom Harley scene with variations on the schemes appearing on Dynas and FXRs from around the globe. I often wonder if builders have forgotten about other types of paint jobs.
<div class="st-block quote text-
Notice: Undefined index: st_text_align in C:laragonwwwhotbike-importblocksquote.php on line 1
">
There's nothing wrong with wanting to showcase one's talent to whoever will pay attention. It's been going on for 99 years.
In the July 2017 issue, we met up with one of the latest generations of riders, Roger Regan, on his all-American FXR. Roger represents the new generation of riders who started riding and stunting Harleys from day one, utilizing all the latest in social networking tools to showcase their skills to a worldwide audience.
What bonds all these and many more riders together is the need to entertain and…well…show off! There's nothing wrong with wanting to showcase one's talents to whoever will pay attention. It's been going on for 99 years. I'd imagine as long as a motor is matted with a machine, there will be some daredevil trying to do things it was not intended to do.
To all the current and future showmen, keep breaking parts, breaking hearts, making smoke, and scaring young children and the elderly. We salute you! HB