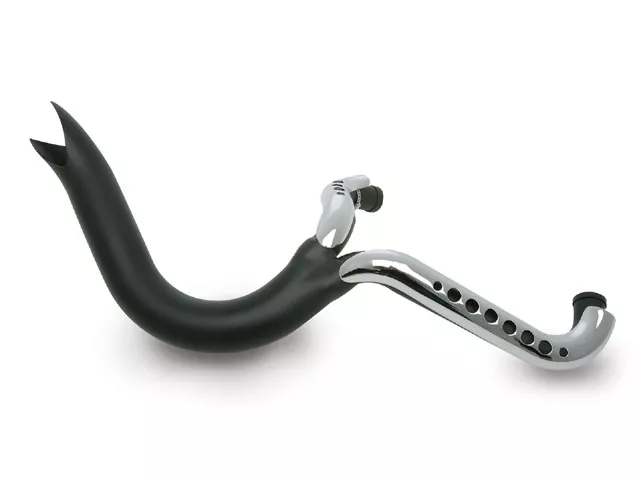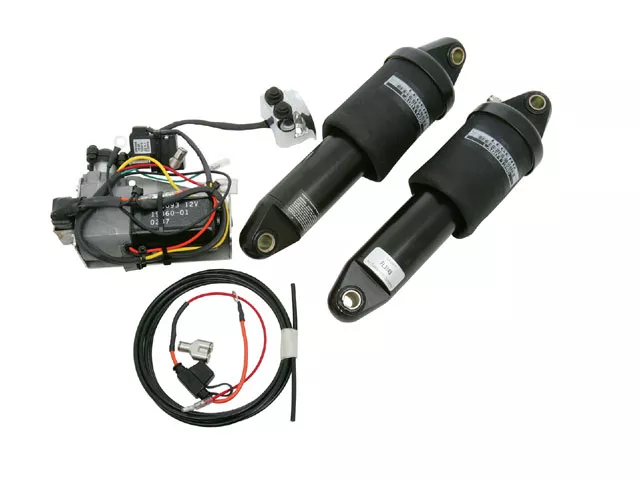 Diamond Heads $449
Diamond Heads (the self-proclaimed "kings of bling") use a diamond-cut procedure to spruce up the overall appearance of heads and cylinders. The firm also reckons that the greater surface area this treatment creates helps cooling efficiency (the company even has a patent on it), but we think the real benefit is the gleam it adds to your powerplant. Just about anything you've got with a fin-type surface that's made from aluminum can get the Diamond Head look.
Contact Diamond Heads
(877) 602-4026
www.diamond-heads.com
Revolution Manufacturing Carbon-Fiber Wheel $1,700
Is your bike overweight? Trying to break the quarter-mile record at your local dragstrip? Revolution Manufacturing specializes in making dreams come true (and wheels). With this five-spoke carbon-fiber wheel, the company may just have accomplished that goal. Ranging in weight from 6 to 9 pounds depending on size, this elegantly simple front is available in 18×3.5- and 21×2.15-inch sizes, along with a V-Rod-specific 19×3-inch model.
Contact Revolution Manufacturing
(770) 420-9191
www.revolutionrims.com
Tour Tank chopper Oil Tank $139
Tour Tank spun-finished aluminum Chopper oil tanks are available in 4-inch and 6-inch diameters, with three threaded bungs (as stock, the tanks have two centered on top and a feed bung-centered bottom), though you can custom order the bungs in any location at no extra charge. Also, if you visit the company's website, you'll be greeted by an interactive Clark Kent look-alike to bring you up to date on product information.
Contact Tour Tank
(520) 733-1169
www.tourtank.com
Tp Engineering Scramjetair Cleaner Kit $399.95
Clean up your engine's act with the new air cleaner kit from TP Engineering. The new kit features a machined billet-aluminum backing plate with velocity stack, as well as a chrome die-cast cover with air scoop to aid breathing. All of the kits include a washable filter element, mounting hardware, and breather kit. Air cleaner kits are available for Evo and Twin Cam machines fitted with S&S;, CV, and Mikuni carburetors, and for Delphi fuel-injected motors as well. TP claims it found an extra 5 hp at the rear wheel by replacing the stock backing plate and air cleaner on an '05 Electra Glide with a Scramjet setup without any other modifications.
Contact TP Engineering
(866) 873-6446
www.tpeng.com
Patrickracing Engine $9,605
For lovers of top-quality American-built horsepower, SoCal-based Patrick Racing has just released a brand-new 4-1/4-inch-bore complete engine, available in 120 or 125ci form. Is 125ci too much for you? The company also offers a 4-inch bore with 101, 107, and 113ci displacement options with either squared or rounded cylinders. All of Patrick Racing's engines are built in-house and can be customized any way you want.
Contact Patrick Racing
(714) 554-7223
www.patrick-racing.com
Envy Cycle Creations Rpgeez Exhaust $699
Tired of those wimpy little stock pipes? Then check out the beefy two-into-one exhaust system from Envy Cycle Creations' Streetwalker exhaust line. Designed for right-side-drive applications, the 1-1/2-inch header pipe immediately steps to 1-7/8 inches, then merges to the whopping 3-inch collector. Don't worry about singeing your short hairs, because the head pipes come with custom-cut heat shields. Shown here is the deep black ceramic-coated pipe with chrome heat shields, but if you like shiny things, you can also get them completely chromed.
_Contact Envy Cycle Creations
(602) 391-8488
www.envycyclecreations.com
_
Cad Works Gas Tank $650
This new gas tank from Cad Works is deep-drawn from 14-gauge steel and pressure-tested to 7psi. It holds approximately 4 gallons, so you won't have to refuel after your neighborhood ride. Each tank is handcrafted in America and comes fitted with flush mounts (or sunk-in mounts) upon request.
_Contact Cad Works
(626) 357-6699
www.cadworks.us
_
Independent Cycle Legend Air Suspension $1,600
The crew from Independent Cycle now offers the company's Legend Air Suspension system for FL, Dyna, and V-Rod applications in a blacked-out powdercoat finish. Featuring Kevlar air-spring technology, the Legend Air system allows you to flip a switch to lift the bike for magic-carpet comfort and clearance-or if you're into the lowrider look, drop it back down to the ground. The shocks' compressed height is 9-1/2 inches, and they fully extend to 13 inches. The system includes an air compressor, solenoid, hardware, and handlebar-mounted switch.
_Contact Independent Cycle
(605) 737-4200
www.independentcycleshop.com
_
Tommy Gunz Gatlin Exhaust $525
The new Tommy Gunz Gatlin Series exhaust is making some noise right now. There's a 3-inch-diameter set for a subtle look, or a 4-inch size for a bigger blast. A wide variety of finishes are available to choose from: stainless steel, chrome-plated steel, polished aluminum, powdercoat, and gold-plated.
_Contact Tommy Gunz
(414) 271-5555
www.tommy-gunz.com
_
Wicked Image Vendetta Wheel $1,150
We don't really think we have to say much about this new wheel from Wicked Image, because the Vendetta really speaks for itself. Just check out the intricacy of the CNC-machined, 6061 forged billet aluminum. Fresh from the CNC machine, each wheel is hand-polished and triple chrome-plated for that extra mirror-like shine. You can order the Vendetta in any size, and matching brake rotors and pulleys are also available to complete the package.
_Contact Wicked Image
(951) 894-2929
www.wickedimage.com