If you are just starting out or you are an experienced welder, chances are you need a solid and level surface in which to get your work done. And as most fabricators know, there is a wrong way and a right way to set up your welding station. And of course there is usually a pretty healthy price tag associated with doing so.
Tab and Slot LLC makes a line of DIY welding tables called CertiFlat, and it wants you to have the sweetest welding surface possible for a great price. And the way Tab and Slot does this is pretty genius. These welding tables, blocks, and fixtures are designed to be slid together and welded with a tab-and-slot methodology. What is that, you say? All you have to do is slide the parts together, whip out your welder, and easily build your own welding table? Another great thing regarding the CertiFlat tables is that there are a myriad of tabletops, FabBlocks, and fixtures to choose from in many sizes and shapes for the DIY garage welder all the way up to the professional contract welder.
For our welding needs we chose a 24 x 36-inch FabBlock ($399) with FabRack legs ($129) and casters ($44.99) to keep our welding station mobile. Our buddy Eddie at Walden Speed Shop offered his exceptional TIG welding skills over our shoddy in-house MIG machine, so we took him up on his offer. Here's how it all went.

Step 1:  As you can see, the main surface, internal structure, and sides all come flat-packed from the manufacturer and simply slide together with tabs and slots before welding.
Step 2:  Eddie makes sure that all the tabs and slots are seated with a mallet before any tacking of the material begins.

Step 3: This is a shot of the internal structure underneath the FabBlock's top surface. We chose the FabBlock because more fab work can be done with it over just a tabletop.
Step 4:  The CNC-controlled plasma cutter used on this tab-and-slot system makes for tight tolerances. And that is a very good thing.

Step 5: Although the assembled FabBlock measured square, Eddie used clamps so the metal didn't wander during welding.
Step 6: The optional leg and caster kits are also tabbed and slotted. They come with all the needed hardware to bolt them to the FabBlock as well.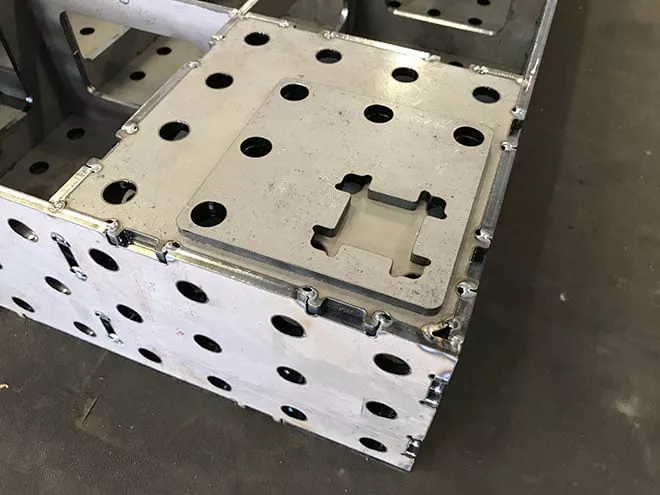 Step 7: The leg kit has these slotted plates that will bolt easily to the FabBlock once the legs are welded into place.

Step 8: The legs and supports were mocked up to ensure proper fitment, and the leg mounts were bolted into place.

Step 9: Then Eddie got busy tacking up the legs and supports.
Step 10: Once the legs and FabBlock were all tacked in the correct spots, we placed the whole unit on the ground to check for straightness. And it was like an arrow!

Step 11: We again placed the top surface of the FabBlock onto the rest of the table, and Eddie tacked it into place using CertiFlat's trusty tab-and-slot system.
Step 12: Then we finished welding the top and sides of the FabBlock.

Step 13: Any high spots caused by welding were smoothed out with a sander, and the whole top surface was treated to a DA sanding to make the surface look even.

Step 14: Eddie then finished welding the legs and supports with his mighty MIG machine.
Step 15: Caster Kit comes with all of the needed hardware to attach them to the legs as seen here…

Step 16: …but we opted to weld the casters onto the legs for a much cleaner look.
Step 17: And there you have it.