Bobbed fenders are something you either like or detest. We like them on some bikes and others we don't. Such is the case with the Dyna Street Bob. The bike is great from the factory with all its muted colors and parts pick, but that rear fender always has us longing for something, well, a bit longer.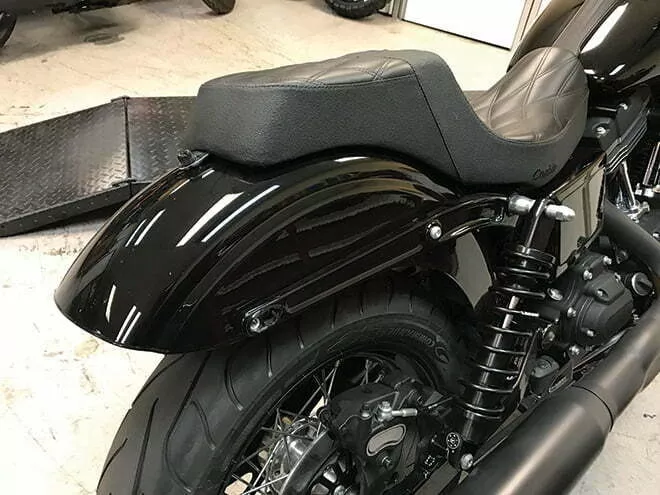 Our pal John Conely has been building and riding custom bikes for more than two decades, and his ever-expanding line of parts has been killing it for the past year. Such is the case with the Conely's Super Glide fender, which is manufactured out of custom-gauged fiberglass. The stronger-than-steel fender comes either in a ready-to-paint gel coat or gloss black, which was a perfect match for our Vivid Black Dyna project bike. To finish things off we installed a blacked-out LED taillight with internal turn signals from our dude Steve at Speed-Kings Cycle. Here's how it all went.

Step 1: We removed the stock bobbed fender from the bike via the four bolts fastened to the frame rails.
Step 2: Along with it came all of the OEM lighting and ugly right-side license-plate holder.

Step 3:  As you can see, the longer fender will do a much better job keeping debris off the rider and bike than the stock bobbed unit did.
Step 4: The new Conely's fender was then bolted into place on the Dyna.

Step 5: The Speed-Kings Cycle LED taillight comes with all you need to get it on the bike.
Step 6: We snapped the Speed-Kings Cycle wiring harness into the taillight backing plate.

Step 7: The taillight backing plate was then mocked up and a hole was drilled to correctly affix it to the fender.
Step 8: The stock wiring was used, and it just plugged back into the main harness under the seat and into the new taillight at the other end.

Step 9: The lens of the taillight was installed with two screws sourced from our Harley-Davidson dealership.
Step 10: We turned the bike on and checked out the bigger and brighter LED goodness that the new Speed-Kings Cycle taillight provided. The internal turn signals also cleaned up the bike tremendously.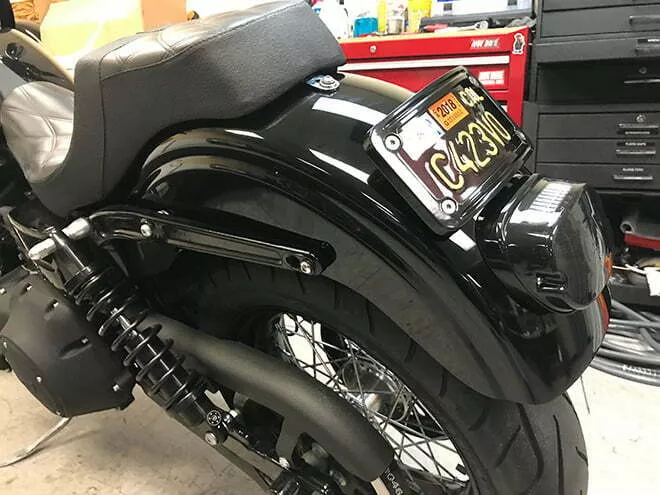 And here it is: a real good-looking un-bobbed Street Bob thanks to Conely's and Speed-Kings Cycle. Next issue we will be installing a set of all-new Conely's Gen 3 Retro T-Sport bags on this very same bike, so stay tuned for all the action!