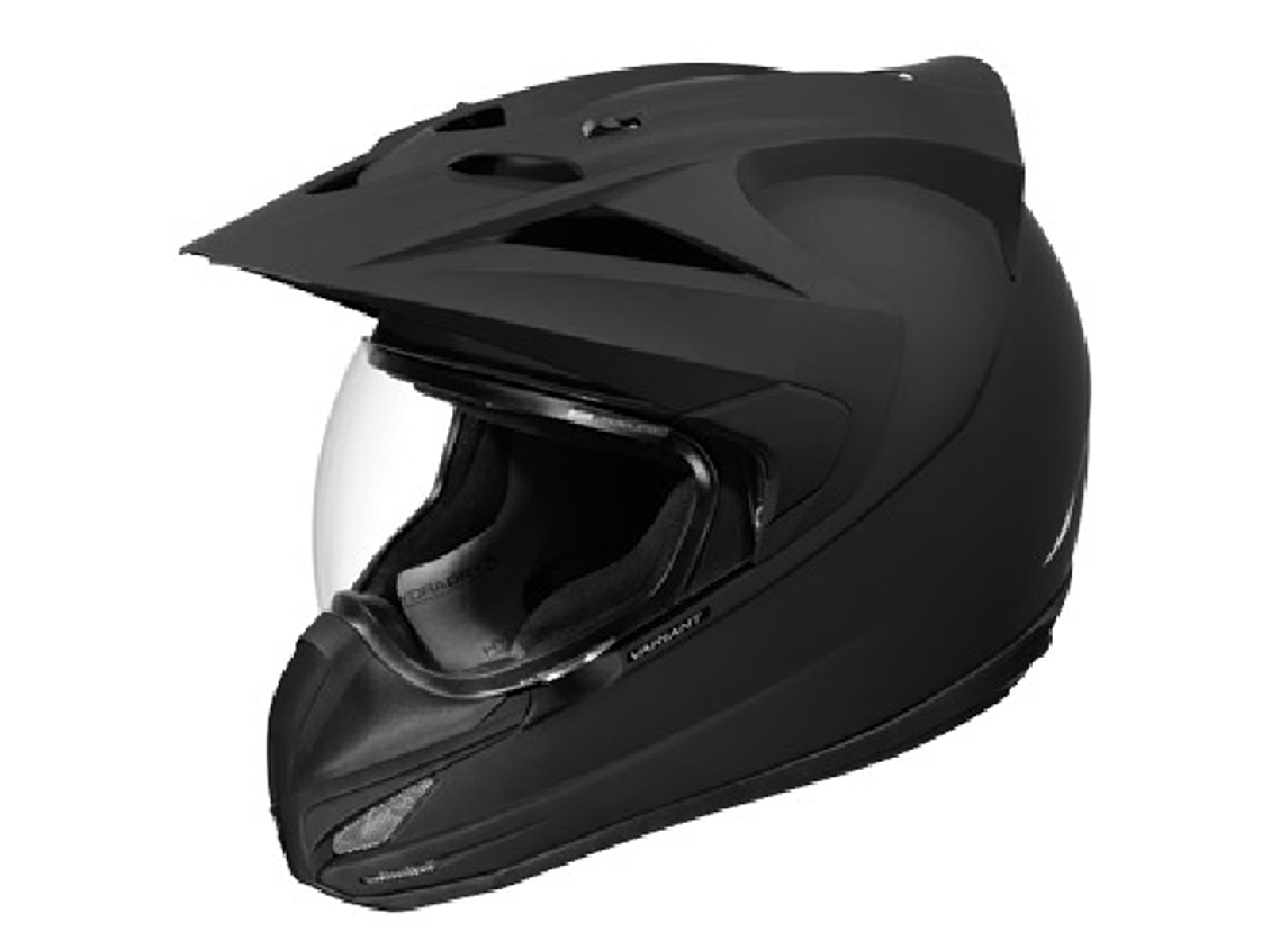 Icon Motosports, the leader in street-based protective motorcycle apparel, features the Variant Solid Helmet. Don't let the visor fool you, because the Variant Solid is a wind-tunnel tested and refined helmet. Starting with the construction, this impressive outer shell is composed of carbon fiber, Dyneema®, and fiberglass, making it exceptionally strong and lightweight. The dual-density inner shell is a two-layer polystyrene design that is fitted with a removable Hydradry moisture-wicking liner.
The end result is one of the most well-rounded helmets ever created. With so much attention given to helmet development, it is arguably the ultimate combination of construction and design guaranteed to give any rider the best in terms of comfort and protection.
Along with its solid construction, the Variant is fitted with an elaborate cooling design. The vents are strategically placed around the helmet to harness airflow. Whether it's the vents on the chin bar, the two on either side of the forehead, or the two large scoops at the visor peak, air is flowing to ensure cooling. Large, glove-friendly switches let you fine-tune the cooling level, making the Variant Solid a very user-friendly helmet.
Additional product specifications are below. The Icon Variant Solid Helmet is available from your local Parts Unlimited dealer. To find a dealer near you or to check out other Icon new products from Icon Motosports, please visit RideIcon.com.
Icon Variant Solid Helmet Product Information
All world standard, meets or exceeds the following DOT DMCSS 218 (US), ECE 22-05 (Europe), SAI AS1698 (Australia), and SG (Japan) safety and testing standards.
Fiberglass/Dyneema/Carbon Fiber Shell
Long oval headform
Wind tunnel tested and refined
Anti-lift visor to reduce glare
Multiple oversized intake and exhaust ports
Molded EPS nose reduces shield fogging
Quick change, fog-free shield
Removable Hydradry moisure wicking liner
Rear spoiler for reduced helmet buffeting
Removable chin curtain
Available in Black Rubatone, Black Gloss, Medallion Gloss, White Gloss
Available in sizes XS – 3XL
Replacement parts available
$280 – $370
About Icon
Icon does not exist within a vacuum. We are both influenced by and influence the greater world of motorcycling. That world extends far beyond the 'stunt' community for which we are most closely associated. Indeed – fighters, rats, sportys, choppers, cafes, flattrackers, roadracers, scooters, antiques, minibikes, and oddball mashup customs have an equal place under the Icon tent. Combine these cultures with our fundamental goal of championing the street riders cause (i.e. protecting your ass) and you have the core of we the brand we call Icon.