When Indian Motorcycle comes back from the dead, it really comes back from the dead. Its Wrecking Crew and their Scout FTR750 race bikes are showing time and again that the reincarnated manufacturer means business. They've been eating up podiums like so many kids in a candy shop. Last week Indian Motorcycle Racing continued kicking ass and taking names in American Flat Track racing with its second podium sweep of the season. Indian's "Wrecking Crew" is living up to its legendary nickname, as Bryan Smith, Brad Baker and Jared Mees finished 1-2-3, respectively.
After two red flags, and as the sun began to set, the main event was forced to reconfigure to a five-lap shootout. Smith earned his second consecutive victory by ducking inside Baker with two laps remaining – edging him out by .057 seconds.
"My team has done an incredible job, and the Scout FTR750 is performing like nothing else I've ever been on," said Smith. "The mile races are my favorite, and with four of the next five races being miles, we're excited to keep it rolling."
After four races this season, the Indian Scout FTR750 has secured 10 of 12 podiums. Smith and Mees are neck-in-neck at the top the American Flat Track leaderboard – having reached the podium in every race with two first place finishes, a second and a third. Baker has earned two second place finishes.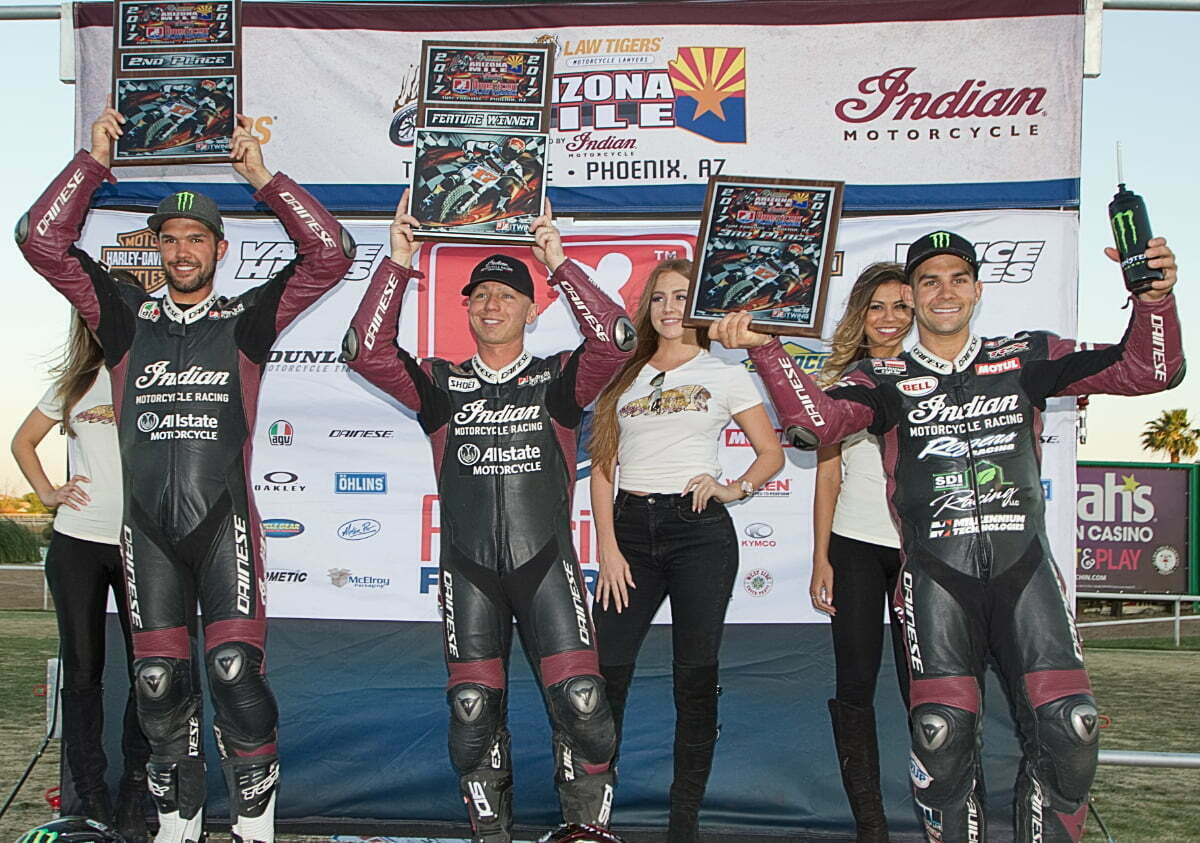 "After the long break following the Charlotte Half Mile, we were all excited to see how the guys would perform on the season's first mile," said Gary Gray, Vice President – Product Development for Indian Motorcycle. "Their dominant success at each race is a tribute to how hard each rider and his team are preparing."
Indian Motorcycle Racing, backed by Allstate Insurance, will look to stay on top as American Flat Track heads to the Sacramento Mile on May 20.
ABOUT INDIAN MOTORCYCLE
Indian Motorcycle Company, a wholly-owned subsidiary of Polaris Industries Inc. (NYSE: PII), is America's First Motorcycle Company®. Founded in 1901, Indian Motorcycle has won the hearts of motorcyclists around the world and earned distinction as one of America's most legendary and iconic brands through unrivaled racing dominance, engineering prowess and countless innovations and industry firsts. Today that heritage and passion is reignited under new brand stewardship. To learn more, please visit the company website.