Jody Perewitz knows a thing or two about going fast. She broke into the 200-mph club on a V-twin and holds more land speed records than I have fingers. But racing an old-school boardtracker is a different animal altogether. No brakes, no suspension, no clutch, direct drive—the old bikes can be tempestuous, to say the least. Perewitz found this out firsthand at the Sons of Speed races during Biketoberfest 2018.
"I had three bikes I was racing. I was in the Hot 61-inch class, the 61-inch class, and the 45-inch class. Practicing, I was literally jumping off one bike and getting on the next. As it turned out, my Hot 61, which is a 1919 Harley, ended up blowing a valve in practice. So that one was out. We were having issues with my 45-inch because the oil pump was going. The 45 was a WR. It's a good motor, but it was just not running right," Jody said.
Luckily, she had one more shot at Sons of Speed glory thanks to the 1920 Indian Powerplus she'd been running in the 61-inch class.
"Alright, I guess I have to put all my effort into this little Indian, which actually was the original bike built for me to ride. It runs really good, I mean it runs solid, it's just not that fast compared to the others," she said.
Despite disparities in outright power, Perewitz won her heat race handily on the 1920 Indian, punching a ticket to the finals. Racing's fickle hand of fate wasn't quite done with her yet though.
"So I went to start the race. They pushed to start me, I got it around turn 1 and I heard a big pop and something hit my leg. I looked down and it's the cap that goes over the valves to adjust them. It had blown off!
"I'm like, what the heck, because I had won my heat race with that Indian and knew I was going to be a contender. Then when that happened with the valve cap blowing off, it was like the cap hit me in the chest! I was so bummed. I was literally almost in tears, I was so mad. We just couldn't catch a break that day."
Perewitz safely steered the powerless bike to the side of the track. "As I sat there on the side, the pace bike caught up to me and they all went by. And out of nowhere, my boyfriend Guy Lafleur came running with the cap in his hand. As he's yelling for me to move my leg, he's tossing the cap from hand to hand because it was so hot.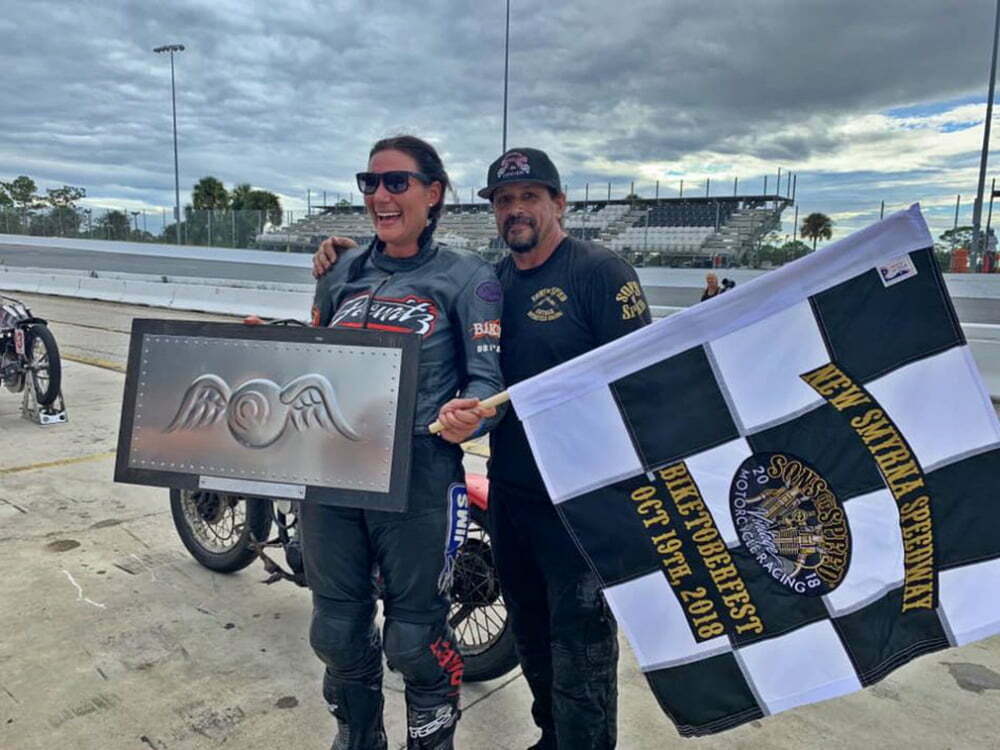 "Meanwhile, one of the other guys on our team (Jeremy Ohr, a.k.a. JJ) came running with these big pliers so he could tighten it. And this all happened within a matter of minutes. They got it on and shouted, 'We're going to push you!' It started right up. I caught up to the pack as they were waving the green flag. If it was like 30 seconds later, I wouldn't have been able to," she said.
Catch up she did. Perewitz systematically picked off four other riders, but the leader, two-time Sons of Speed winner Ken Curtis, was setting a torrid pace. "I was getting right up to him on the corners but on the straightaways he was pulling away from me. He obviously had more than me."
Heading into the last lap, Jody said "I knew I was going to have one chance to pass him. I had to give it my all and go into that corner and almost slingshot myself out. And I did! It was so close. There was a picture somebody took from the stands of the finish line and I was like a tire's width ahead of him, inches at the most. He led the whole race. He's definitely a good racer, that's for sure. We both came around and neither one of us knew who won."
---
Related: Billy Lane's Mack Racer Boardtrack Custom
---
It was a bona fide photo finish and the closest race in Sons of Speed history.
"Such mixed emotions. Mad at first and disappointed, then happy and ecstatic 10 minutes later," she added.
When the roller coaster of emotions ended, the thrill of victory remained as she sealed the first win for Indian at Sons of Speed and etched her name into another record book.