Big-wheel, long-bag tourers will always be a part of the custom scene. Just like long choppers with fat back tires, the big bagger aesthetic is here to stay. It's fading fast into the background but there'll always be someone somewhere who wants a huge front hoop and extended bags on their Street Glide. John Shope understands the big bagger better than a lot of people, seeing as how he and his Dirty Bird Concepts create a lot of them. Having said that, I'm going to let you in on a little secret.
John is tired of poser-licious mega-baggers with stretched saddlebags and gigantic front wheels.
Okay, so maybe it's not a secret anymore. "I'm just tired of baggers," he said. "I just want to ride. For my personal riding, I don't want the long poser bags. They don't ride." That's why his personal bike, this 2016 Indian Dark Horse, hath no saddlery. "I wanted to build a cornering monster and something to blow the wind off of me, with a badass stereo too," he continued.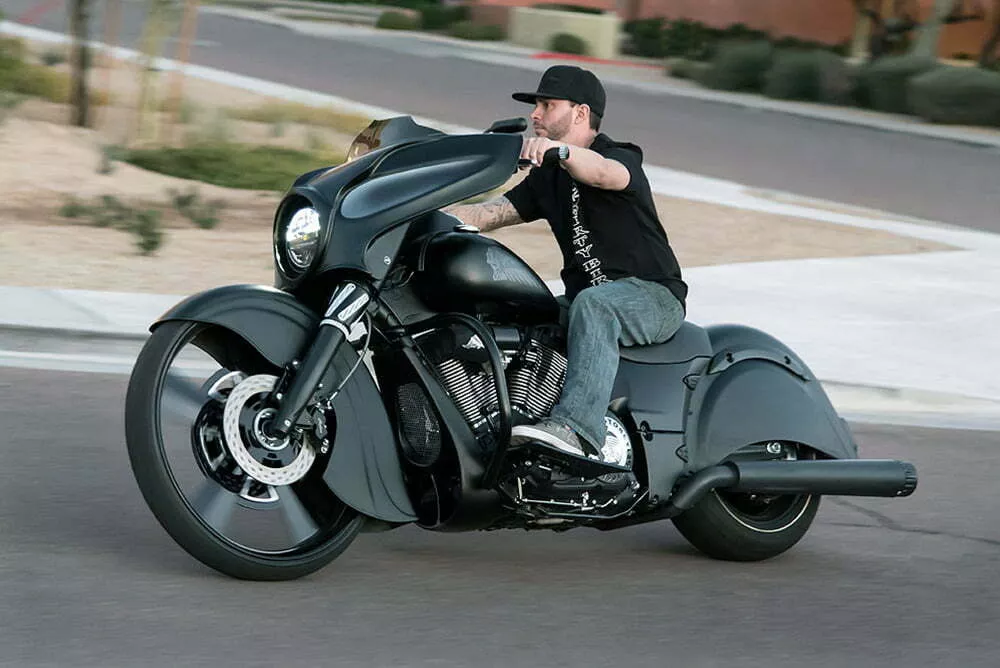 That's the mindset he brought when he began morphing this Indian into a straight-up custom. John focused on upping the grunt, improving suspension, and adding a great fairing and an awesome sound system. This being Dirty Bird we're talking about, he of course stylized it with a generous sprinkling of his shop's parts.
All of which is cool for more style. Deep cornering is more of a suspension issue than an aesthetic one though. That's why the stock shocks and front springs had to go. Indian's suspension is fine for normal riding but we're not talking about what most people call normal. "We added Progressive shocks in the back, a rake kit to kill the front wobble, and stiffer front springs," John elaborated. "I can lay that thing down in the corners. It's not a club bike, there's no air ride. Because you can lay it over like a Dyna, it's awesome."