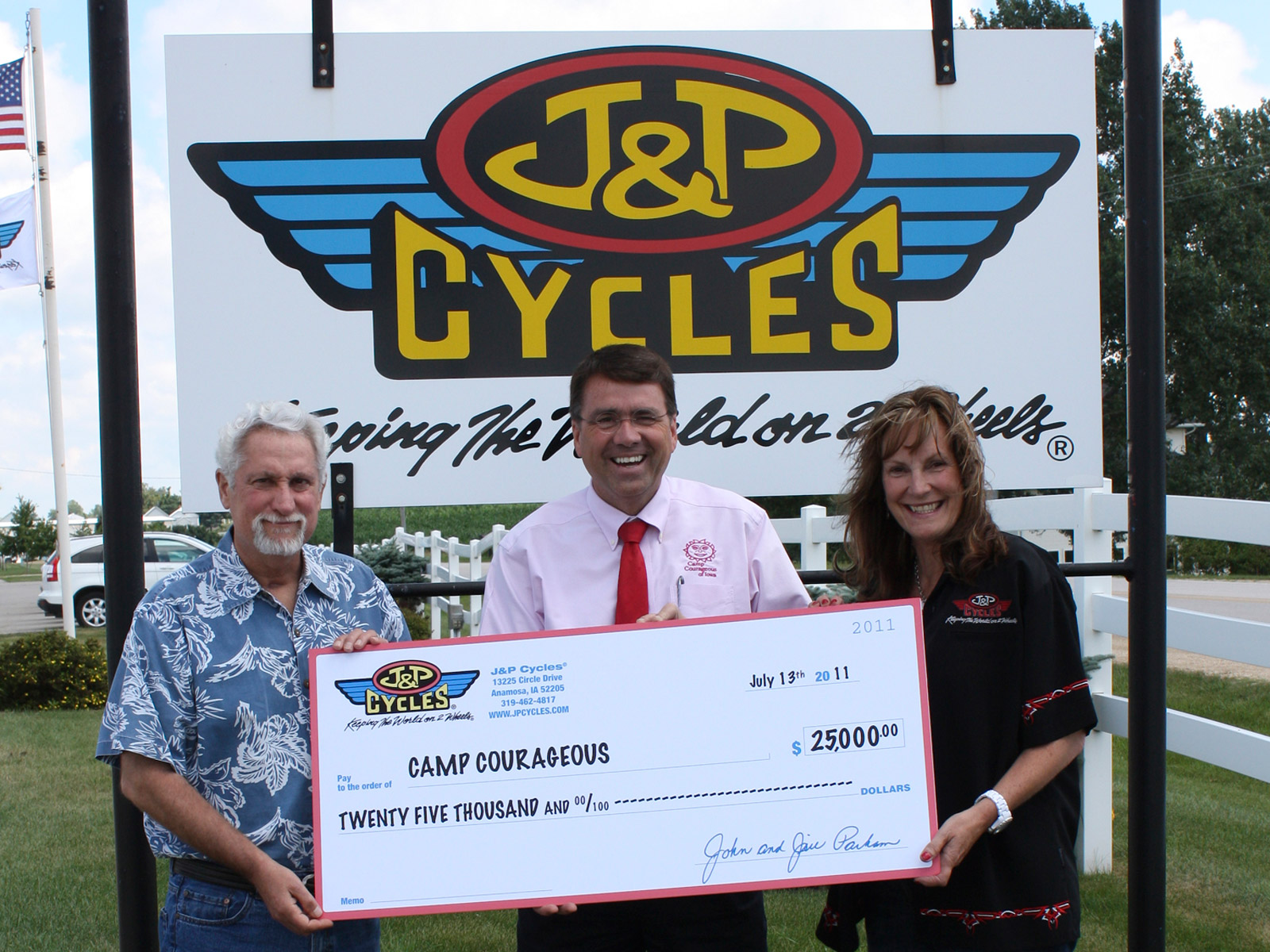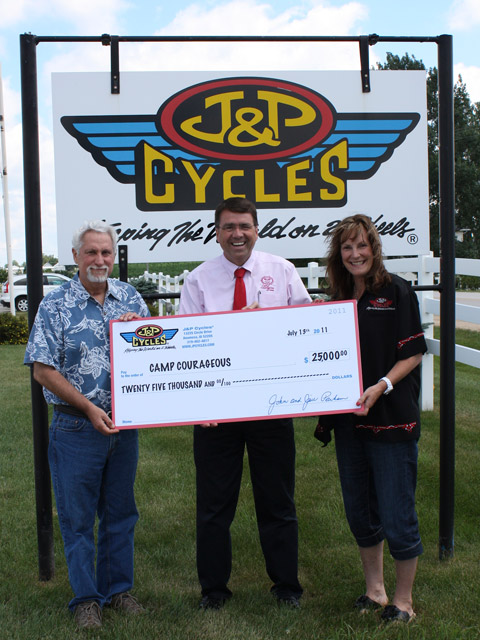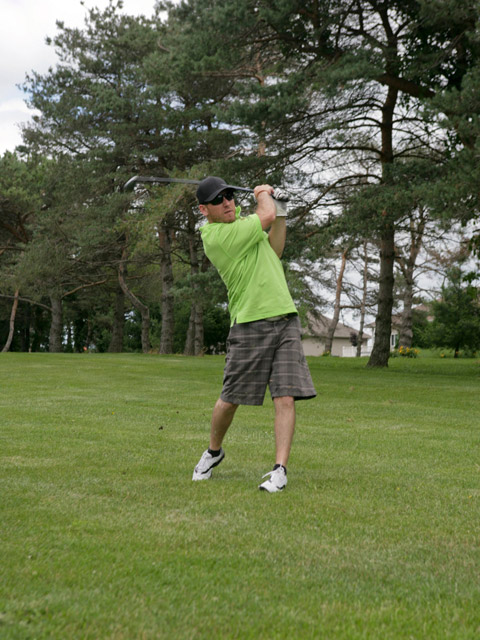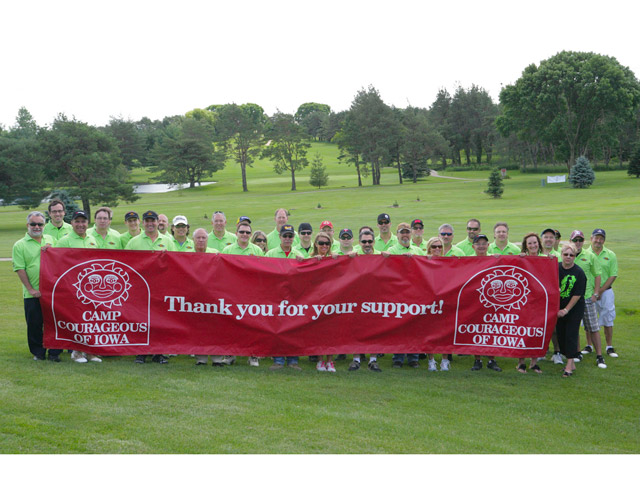 ANAMOSA, Iowa - Just outside Monticello, Iowa, a mere 10 miles from J&P; Cycles®' headquarters lies a very special camp for very special people – children and adults with special needs. For more than 30 years, Camp Courageous of Iowa has been a place, where campers can have a great time with others facing the same challenges in a safe and nurturing environment.
J&P; Cycles® has supported Camp since 2002 when they began incorporating an Industry Golf Outing to the Open House festivities. This year, the Golf Outing as well as water donations and donations made in the food tent during the Open House raised a total of $25,000 for Camp Courageous. This year, J&P; Cycles® President John Parham and Vice President Jill Parham presented the check to Camp Courageous Director Charlie Becker. "Presenting this check to Camp Courageous this year is a true honor," said John Parham. "We are thankful to the great support we receive from our customers, employees and manufacturers. We would be unable to do this without them," he added.
On June 24, J&P;® held its 10th Annual Golf Outing at Fawn Creek Country Club in Anamosa. The golf tournament originated as a way for industry distributors and media who travel from across the country to relax during an afternoon of friendship and fun, all while raising money for a worthy cause. Distributors and media contribute by sponsoring holes and awards in addition to making cash donations. In total this year, 42 representatives from 28 of J&P; Cycles® exhibitors and industry media participated in the tournament. The donation made this year, brings the total raised over the last 10 events to well over $125,000.
A big thank you to this year's Golf Tournament sponsors. Hole sponsors included: Accel Motorcycle Products, Airhawk Inc., All Kleer/Black Lab Corp., Carroll Leather, Cobra USA, Custom Chrome, Inc., Drag Specialties/LeMan's Corp., Dunlop Motorcycle Tires, Feuling Parts, Handy, Division of Jadeim, LLC, K&L; Supply, Kuryakyn, Maverick Publications, Medallion Instrumentation System, Metzeler Tire, Mid-USA Cycle Parts, Inc., Paughco, Inc., Performance Machine, Source Interlink Media, Western Powersports, Wolo Mfg. and Zan Headgear. Award sponsors were: Airhawk, Inc., Auto Gem, LLC, Avon Tyres, Barnett Tool & Engineering, Bell Powersports, Buztronics, Cruz Tools, Inc., Helmet City, James Gaskets, Jim's Machining, K&L; Supply, LePera Enterprises, Inc., Marlin Corporation, NHJ Powersports (Hap Jones), Performance Machine, Inc., PIAA and Rivera Primo, Inc.
Thank you to everyone for their support of this great event this year!
About J&P; Cycles
J&P; Cycles® is the World's largest catalog retailer of aftermarket parts and accessories for [Harley-Davidson](http:// http://www.jpcycles.com/harley-parts)® motorcycles. In business for more than 32 years, we also carry a full line of V-Twin Cruiser parts and Sport Bike parts and accessories. Featuring tens of thousands of items in stock, in print and online, J&P; Cycles® delivers the best customer service and return policy in the industry.