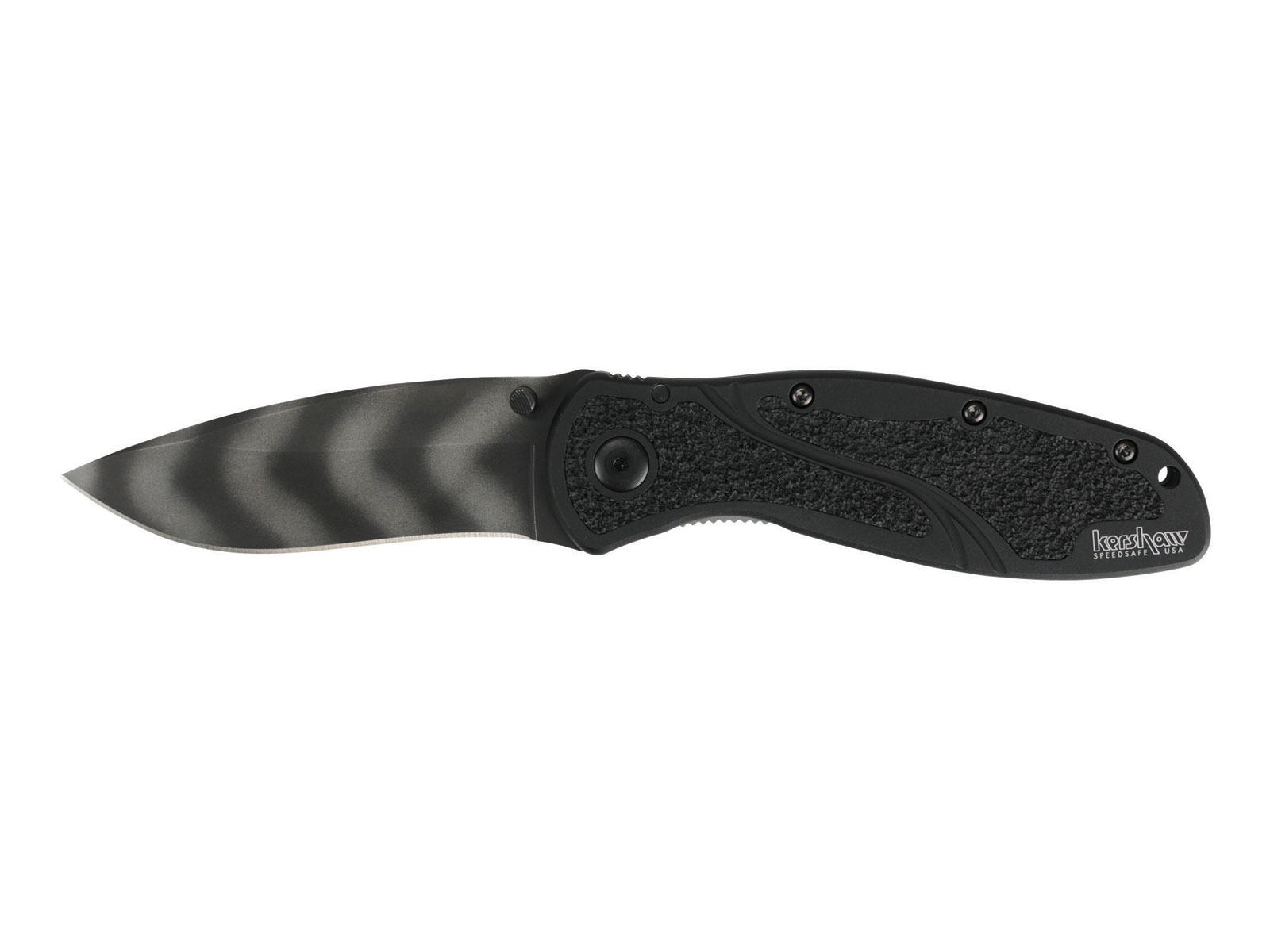 The Tiger-Stripe Blur, model 1670BLKTSX, will be a Cabela's exclusive product

The new knife will be available at Cabela's beginning June 1
TUALATIN, OREGON-The Blur has been one of Kershaw's most popular knives for years. But there's never been a Blur like this.
The new Tiger-Stripe Blur, model 1670BLKTSX, features a 3 3/8-inch drop-point, recurve blade for efficient multi-tasking. Then, for outstanding looks, Kershaw added DLC ("Diamond-Like Carbon") tiger-striped blade coating in black and grey.
The DLC coating is applied in a process called Physical Vapor Disposition (PVD). During PVD, metals are instantly evaporated and ionized via a high-current, low-voltage arc. The metal ions are then accelerated into a vacuum chamber. A negative voltage is introduced, which permanently deposits a thin metal coating on the blades. This makes the new Blur's tiger-striped coating highly scratch resistant.
Under the tiger striping is high-performance Sandvik 14C28N stainless steel. Kershaw worked with Sandvik Steel, one of the world's leading manufacturers of stainless steel and special alloys, to produce this superior steel. Increased nitrogen in the formula enables 14C28N to provide both excellent corrosion resistance and the ability to be hardened to 58-60 Rockwell.
Like all Blurs, the Tiger-Stripe Blur is equipped with SpeedSafe(r) assisted opening for fast and easy onehanded opening. A simple push on the ambidextrous thumbstud starts the blade out of the handle. Then the SpeedSafe mechanism takes over and moves the blade into position. A locking liner secures the blade safely open during use until the user releases it.
Although the Tiger-Stripe Blur is a good-sized knife, it's still a lightweight carry thanks to its 6061-T6 anodized aluminum handle. Trac-Tec inserts in the handle provide an extra-secure grip in a wide variety of environmental conditions. The pocketclip is reversible for tip-up or tip-down right-handed carry. The MSRP for the new 1670BLKTSX Tiger-Stripe Blur is $119.95.
Specifications
Steel: Sandvik 14C28N, DLC coating with tiger stripes
Handle: 6061-T6 anodized aluminum
Blade: 3 3/8 in.
Closed: 4 1/2 in.
Weight: 3.9 oz.
Kershaw Knives is part of Kai USA Ltd. the North American division of Japan's Kai Corporation. In addition to Kershaw sporting and everyday carrying knives, Kai USA Ltd. brands include Shun Cutlery, fine kitchen knives and housewares, and Zero Tolerance Knives, premium and professional knives. The company website is: www.kaiusaltd.com