Each year in the early part of March, thousands of cold weather shut-ins from across the country make their way south to the Sunshine State for some fun in the Florida sun. Daytona Bike Week serves as the official kickoff to the motorcycle season with 10 days of riding, shopping, drinking, and overall debauchery for anything two wheels.
Main Street , Daytona Beach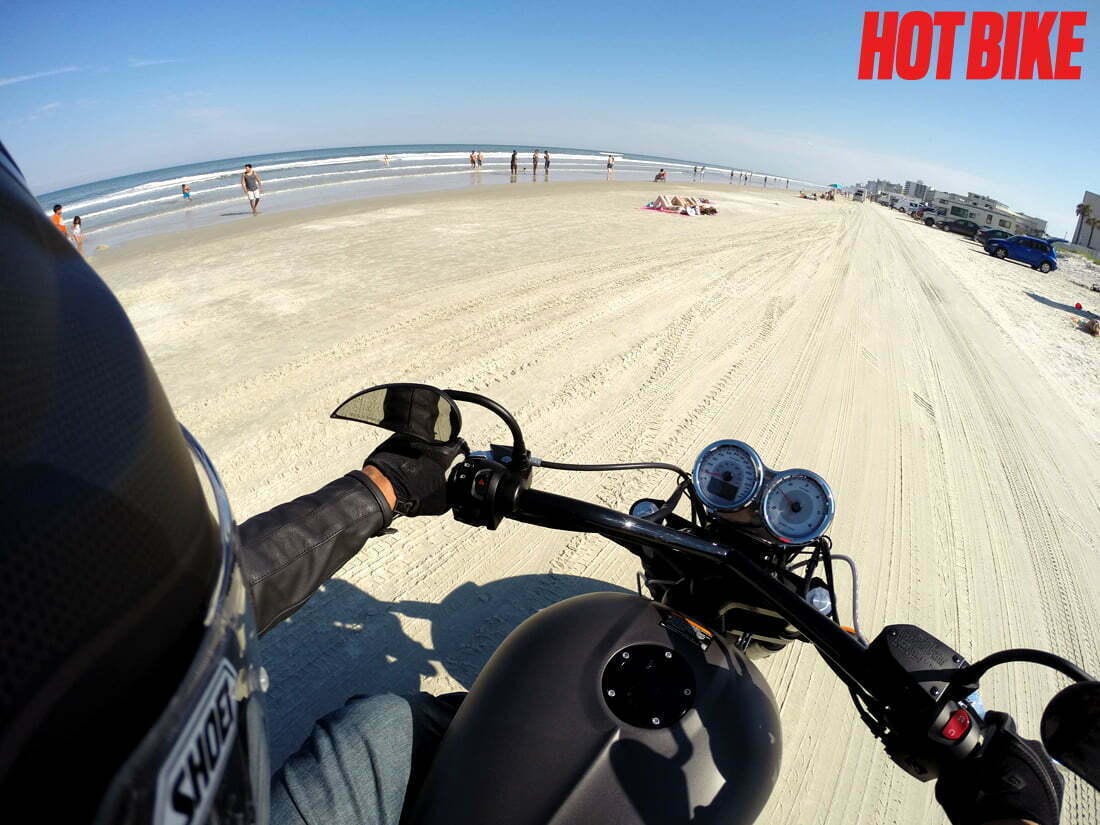 Beach Riding
Daytona Bike Week also serves as a great venue for launching new models by OEMs, and 2014 was no exception. Harley-Davidson used this year to release two new Sportsters to its entry-level line up. For those vertically challenged or looking for a highway mile killer, the Superlow 1200T was introduced to both the press and the public. The SuperLow Sporty features a detachable 14-inch-tall windshield, locking saddlebags, and mini floorboards. Big H-D also brought back one of the coolest bikes from the past with the Low Rider, which features a rubber mounted 103 in the proven Dyna chassis. Styling cues are definitely club style with the headlight visor and classic OG Low Rider look.
Harley-Davidson Low Rider
Harley-Davidson SuperLow
Victory wasn't going to be left behind. They released the Gunner to take and assault the back roads and city streets. Full review coming soon.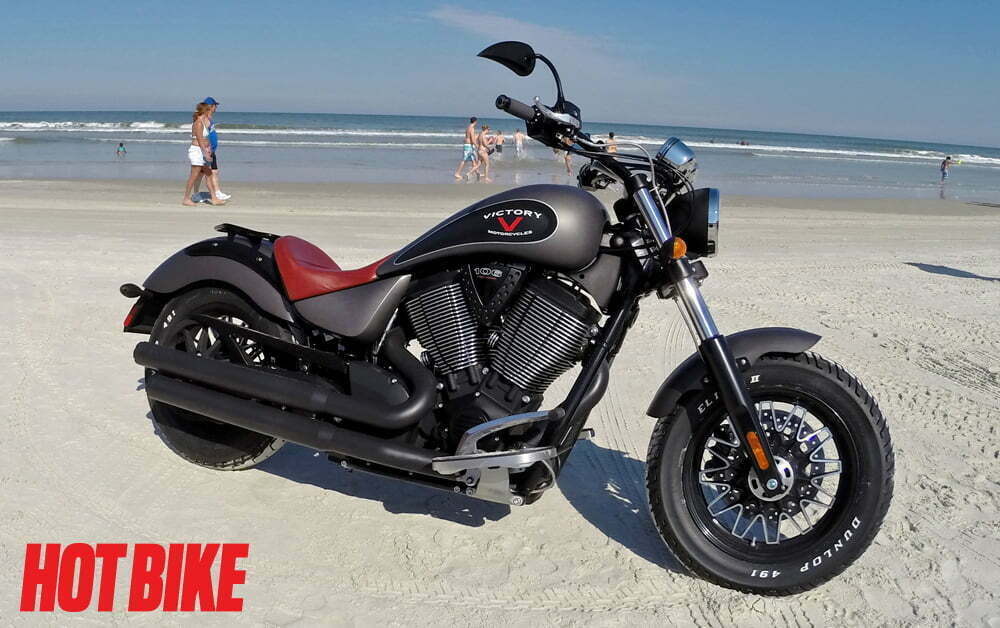 Victory Gunner
The Daytona International Speedway is the hot spot for those looking to test ride new bikes and hunt down new parts. Walking the grounds offered everything from $1 headbands to $100,000 Big-Wheel Baggers—all for sale with the swipe of a card. The Harley-Davidson Custom Ride In Show ensures that functionality and art are both represented.
Daytona International Speedway
The Harley-Davidson Custom Ride In Show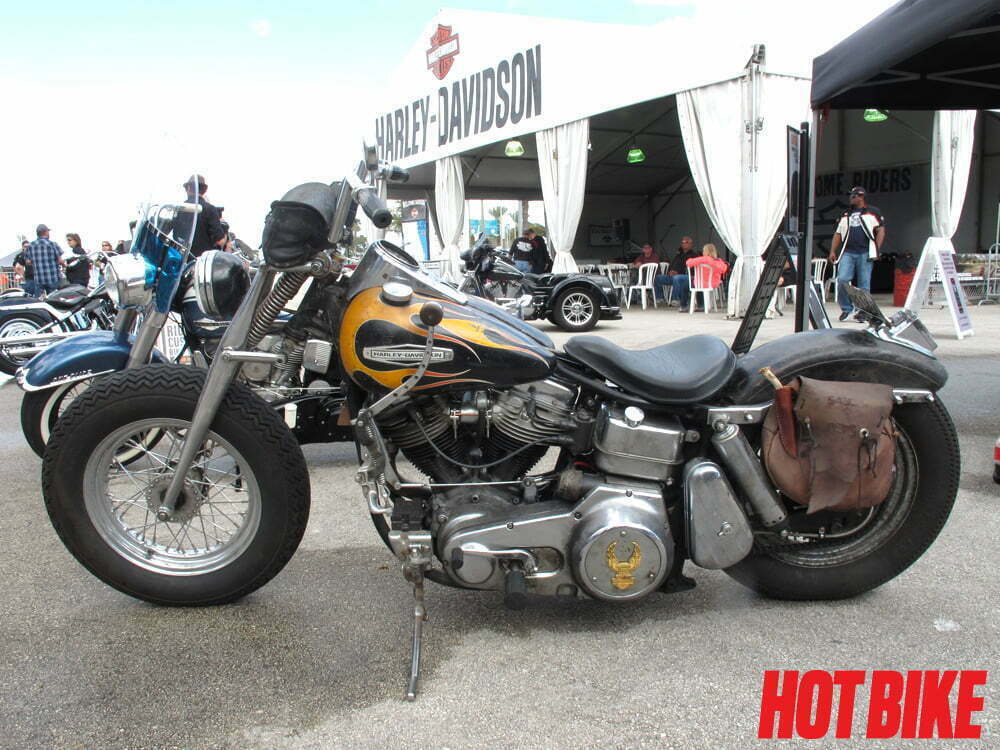 The Harley-Davidson Custom Ride In Show
A quick jaunt up the interstate leads you to Destination Daytona. There you can find, more vendors, installs, food, music, entertainment, and frosty beverages.
Destination Daytona
Since 1962, Robisons Motorcycles has been racing, riding, and repairing motorcycles. Walking in the shop doors is like walking into a museum with the exception being that these folks genuinely live the Harley life, not just hang it on the walls.
Robisons Motorcycles
As the sun sets, the freaks come out and it's time to party. There is no wilder display of men, machines, and half-naked women shakin' what their momma gave them than on Main Street. Whether you prefer fat, skinny, old, new, rusty, or shiny, you'll see it parade down the street. Oh, there are lots of motorcycles, too. Words can't describe the variation of vehicles from coffin trailers, fire breathing exhaust, blaring stereos, and flashing lights. There is no other place on earth like Main Street, and its scene has become legendary around the world.
The Nightly Parade on Main Street
Main Street Procession
The parade of middle-aged adults acting like it's spring break goes all through the night and well into the dawn. If you're caught out when the sun starts to creep up over the ocean, it's been a good night, and it's time to get some shut-eye. After all, it starts over again in just a few hours. Daytona Beach forever, forever Daytona Beach.
Sunrise over the Daytona Beach Pier