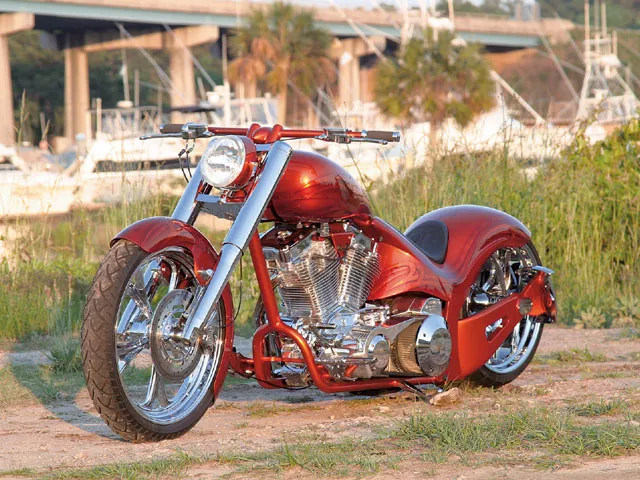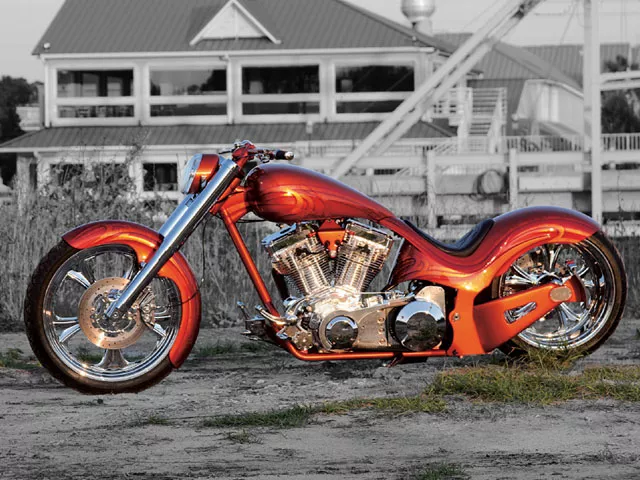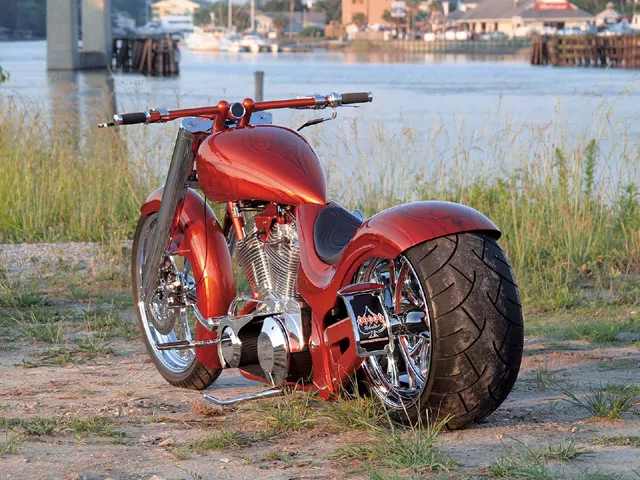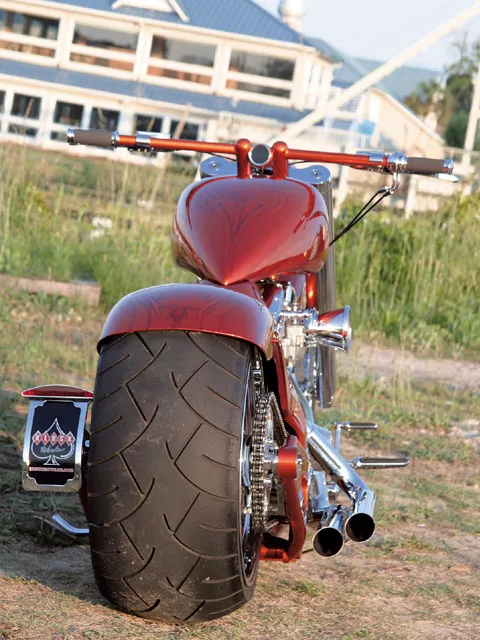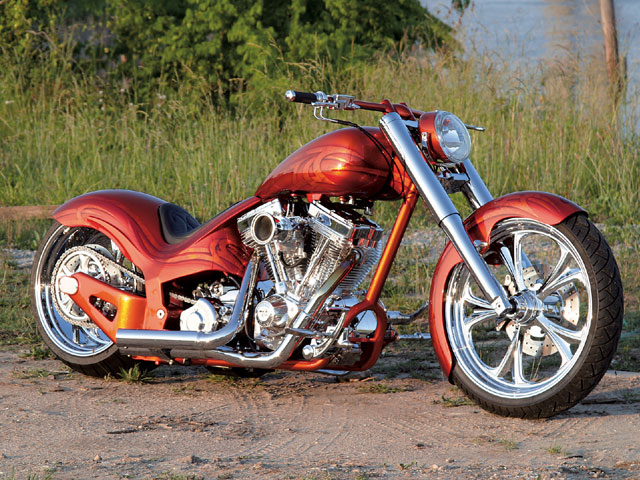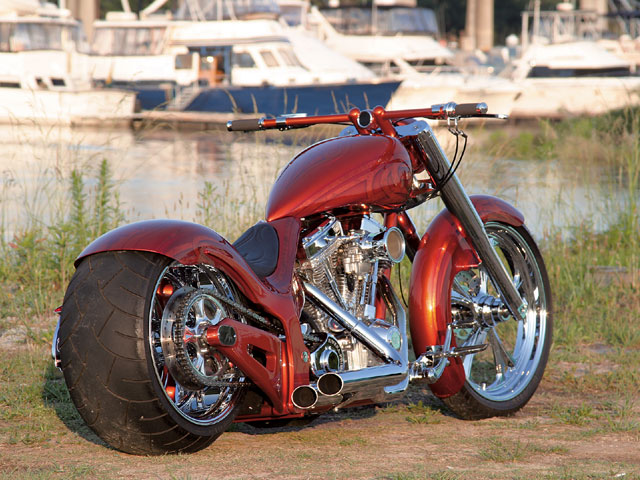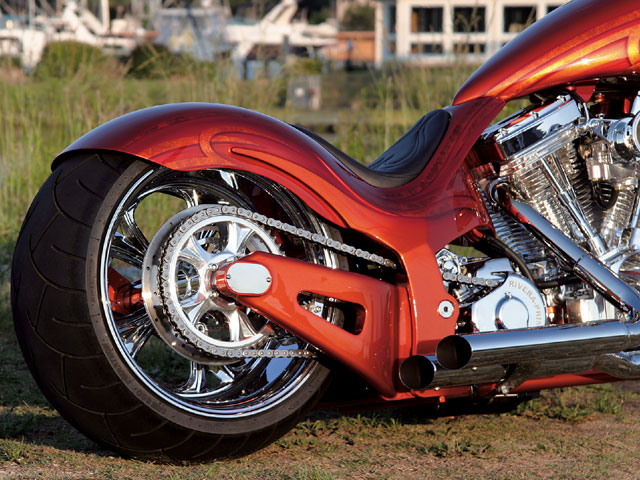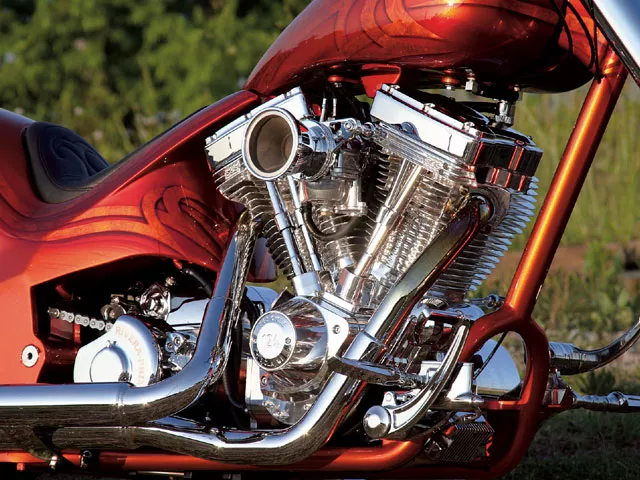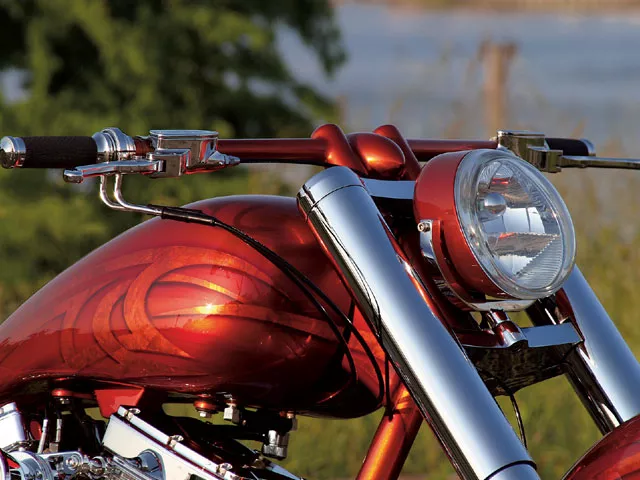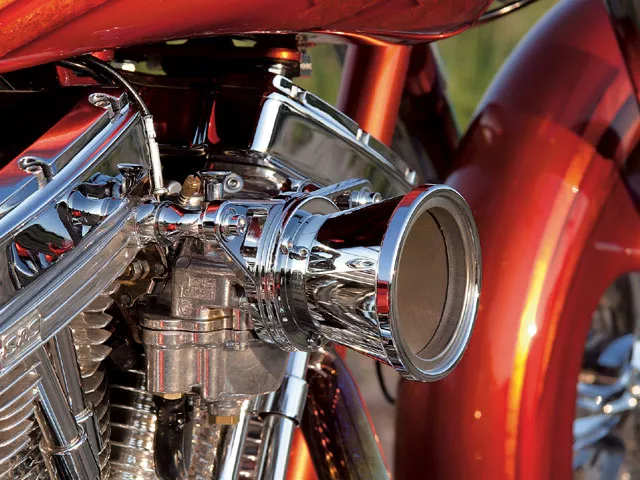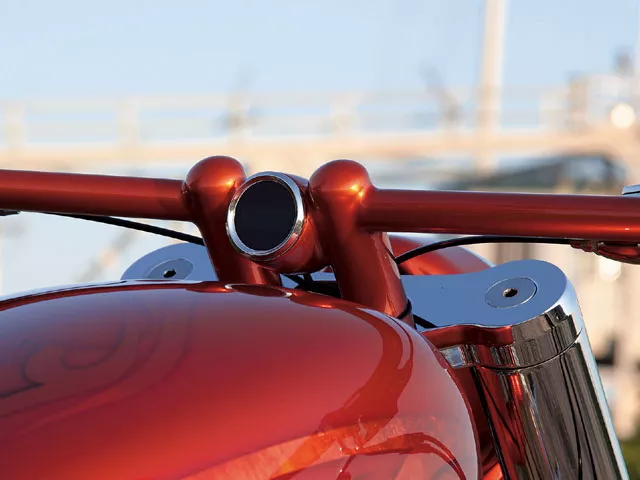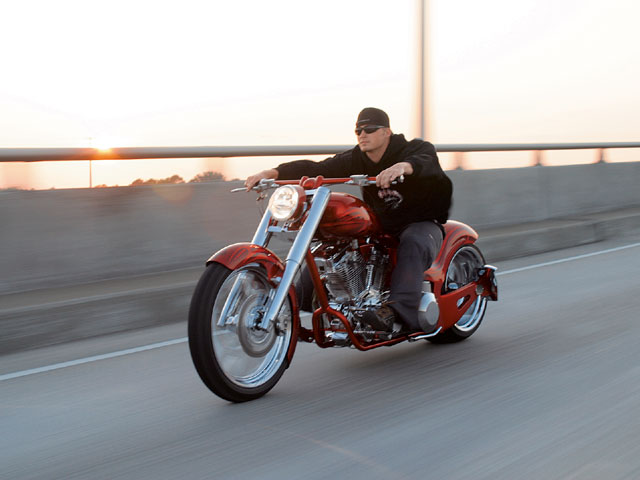 "When someone opens a shop in small-town South Dakota doing quality work and building clean custom bikes, word travels fast." This was the response Mark Puterbaugh (the owner of the bike you see here) gave when asked how he hooked up with Brian Klock and the Klock Werks "krew" (the builders of the bike featured here).
Flash back to several years ago, and we find Mark and his wife Gena living in Huron, SD, 50 miles to the north and about 3,000 heads fewer than the 15,000 residents in Mitchell, where Brian had just opened Klock Werks. It seemed as if everyone within a 200-mile radius who owned a motorcycle was talking about the work the company had been turning out, from paint to full-blown customs.
"I had a '98 Fatboy at the time," Mark recalls. "I thought that was my dream bike-all it needed was a custom paint job. So I headed down to Klock Werks, met Brian and the guys, and they took care of me."
After a few more trips to Klock Werks, Mark began to take notice of some of the full-blown customs they'd built or were in the process of building. Then the thought entered his head that maybe he wanted more than just a Fatboy with flashy paint. However, before he could act on his custom impulse, Mark and his wife moved 610 miles away from Mitchell to Pekin, IL. A few months after Mark moved into his new digs, the Fatboy got totaled. Call it a fortunate misfortune, but it was just the push Mark needed to make his new dream bike come true. So he jumped in his car and made the nine-hour trip back to Mitchell. Most likely he passed a dozen or so motorcycle shops along the way, but Mark knew he wanted Klock Werks to handle the build.
"I'd like to think that Klock Werks is different from most shops in the way we handle our custom builds," says Brian. "This shop isn't run like a dictatorship; everyone has input. We consider ourselves a design team, and we all work together to meet a common goal-building good-looking customs."
When Mark sat down with the KW team, it quickly became evident they were all on the same page for the build. Mark really liked the look of War Eagle's Conqueror 280 frame with its smooth lines, single downtube, 2-1/2-inch dropped seat pocket, and massive swingarm. The KW design team agreed that it would the perfect basis for a head-turning custom. Once they hashed out the major details, Brian appointed Tim Wagner (the guy shown riding the bike) to take the lead role for this project. "Each project we take on has a different lead guy who is responsible for making sure all the parts are ordered and everything is on schedule," said Brian. "This was Tim's first project as the go-to guy; he handled all the metalwork, with Dan Cheeseman serving as his mentor."
After thumbing through a couple of magazines featuring other bikes built on the Conqueror frame, the group noticed most of the bikes had the rear fender mounted to the swingarm, which left the bike looking somewhat incomplete. They all agreed that fabricating a custom fender and mounting it to the back of the frame with external struts would give the bike a clean and finished look from end to end.
The lines of the bike were further enhanced by Tim and the team, who molded the battery box and seat area into the frame. Then the Independent gas tank with Matt Hotch Design flush-mount cap was fitted to the 2-inch-stretched backbone with minimal clearance so it looked as if it were a permanent part of the frame.
"All it took was one call to MC Advantages, and the company supplied us with the entire drivetrain and all the electrical components we needed," Brian said. "The squat look of this bike is like a muscle car on two wheels. We needed a powerplant to back it up, so we went with a fully polished 124ci S&S; motor along with a Prowler RSD six-speed trans, Primo-Rivera 3-inch open primary, Wimmer Machine intake, and Bassani pipes from North County Customs."
After fabricating a set of handlebars with built-in risers and an integrated speedo/tach gauge from Dakota Digital, the raw metal chassis was sent to Brian and Leah Gall of Finishline Design. Everything was covered with an Xotic Orange Tangerine basecoat. Once the base was dry, they applied some variegated gold-leaf graphics and finished it off with several layers of a candy topcoat.
"Although it took six months to actually build the bike, the entire process from design to finish was more than a year and half," said Mark. "Brian and I talked almost daily. We spent more time trying to figure out what we wanted to do than actually doing it."
Although Mark loves the bike, he is already thinking about selling it and having Klock Werks build him another one. The only problem is Mark's wife. It seems Gena has taken over the bike from him and rides it more than he does. And from the way he described her, it must be quite a sight to see her ride by. "My wife is a 6-foot, 1-inch blonde bombshell, and she loves to ride that bike," said Mark. "In fact, this past year while we were at Sturgis she rode the bike through Deadwood, and everyone stopped what they were doing just to watch her. It was like time stood still."
It sounds as if Mark is going to end up with two KW customs in his garage: his and hers.