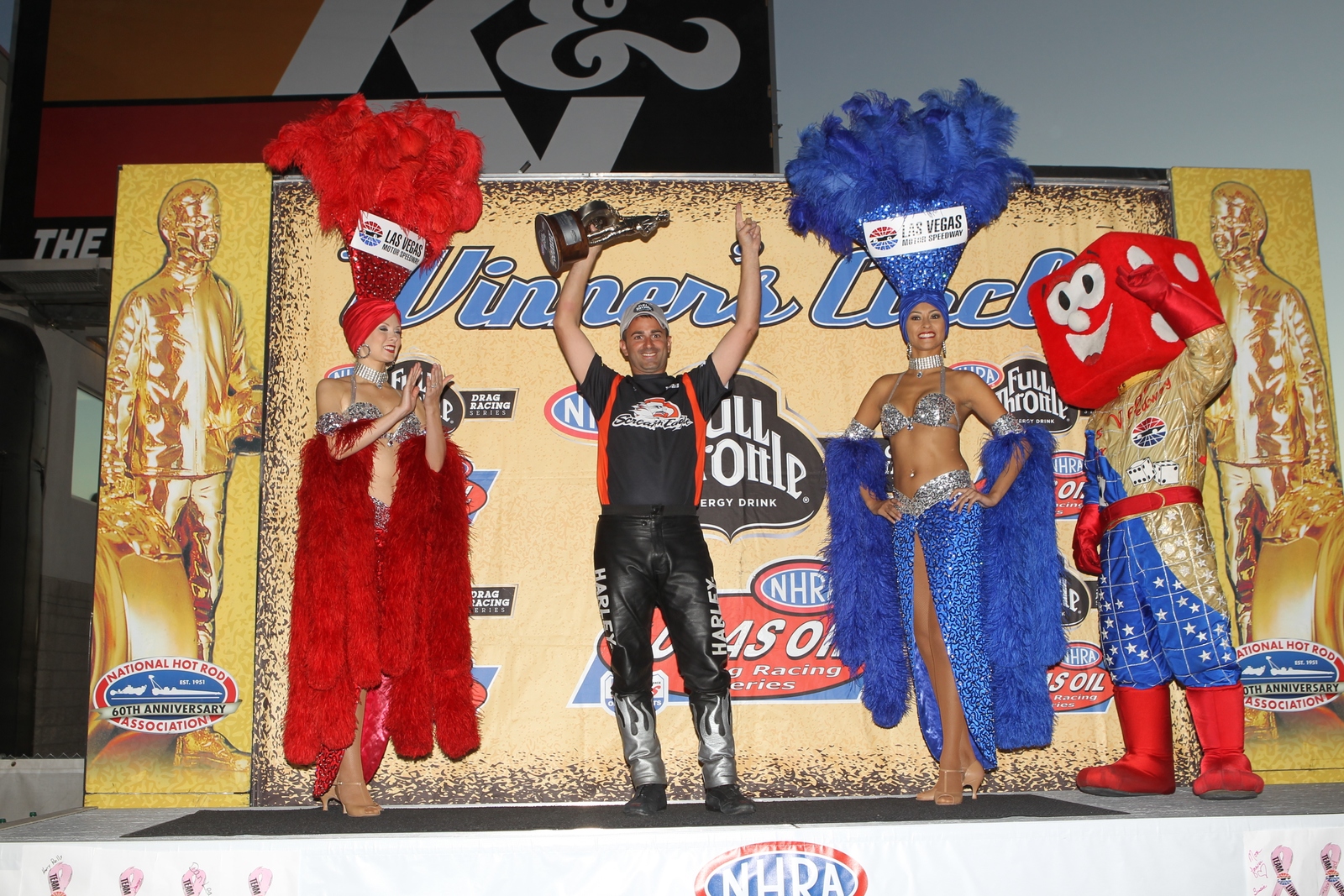 LAS VEGAS, Nevada (October 30, 2011) - Harley-Davidson® Screamin' Eagle®/Vance & Hines rider Ed Krawiec rode a Harley-Davidson® V-Rod® to win the Pro Stock Motorcycle eliminations at the Big O Tires NHRA Nationals at Las Vegas Motor Speedway. Krawiec defeated his Harley-Davidson® Screamin' Eagle®/Vance & Hines teammate Andrew Hines in the final. With one event remaining on the season schedule, Krawiec holds a 69-point lead in the Full Throttle NHRA Countdown to the Championship.
"This puts us in a great position for the championship, but we need to stay on our game," said Krawiec, who won the NHRA Pro Stock Motorcycle world championship in 2008. "We can't give up any points in qualifying, and need to just keep doing what we've been doing."
At the beginning of Sunday eliminations, Krawiec held a nine-point lead over Lucas Oil Buell rider Hector Arana, Jr., who gained a point on the Harley-Davidson rider in qualifying with a track-record 6.879-second run on Saturday to earn the No. 1 qualifying spot. Krawiec qualified second at 6.894 seconds. Hines qualified fourth at 6.902 seconds.
Krawiec defeated Vroom Racing Buell rider David Hope in the first round on Sunday, and got a win over Nitro Fish Suzuki rider LE Tonglet in round two. Arana Jr. lost in the second round to Angie Smith, handing Krawiec an opportunity to add to his points lead. The Screamin' Eagle rider took full advantage, with a big win over Hector Arana Sr. on the second Lucas Oil Buell in round three, and a victory over his teammate in the final, with a 6.936-second run that was his quickest of the day. It was Krawiec's fourth win of the season and 11th of his career.
"I had a great Harley-Davidson to ride all weekend," said Krawiec. "Matt Hines put a new-style exhaust system on the bike that was a big improvement in performance. Other than that, we've just been consistent on the lights and smooth down the track. Over the long haul, that's what it takes to win."
Hines worked through Sunday eliminations with wins over Rum Bum Buell rider Bailey Whitaker, Suzuki Extended Protection rider Jim Underdahl, and Angie Smith before facing Krawiec in a final-round match for the first time since 2009.
"We didn't have time to dyno-test this new exhaust, so we tried it on my bike first in qualifying before we put it on Ed's V-Rod, because we didn't want to take a chance with his points lead," said Hines. "It made a positive difference right away. Ed is sitting in a great position and I can't wait to get to Pomona and race this Harley. Maybe I'll have a chance to knock off Arana and help him with the championship."
With one Countdown event left on the 2011 schedule, Krawiec leads the Pro Stock Motorcycle class by 69 points, with 2,589 total points. Arana Jr. is second with 2,520 points. Matt Smith, who lost in round one at Las Vegas, is third with 2,403 points. Hines moves up to fourth place with 2,384 points. Geico Suzuki rider Karen Stoffer failed to qualify at Las Vegas and drops to fifth place with 2,329.
The NHRA Full Throttle Drag Racing Series returns to action on November 10-13 at the 47th annual Automobile Club of Southern California NHRA Finals at Auto Club Raceway in Pomona, California.
Company Information
Harley-Davidson Motor Company produces heavyweight custom, cruiser and touring motorcycles and offers a complete line of Harley-Davidson motorcycle parts, accessories, riding gear and apparel, and general merchandise. For more information, visit [harley-davidson.com](http://www. harley-davidson.com).
The Harley-Davidson Screamin' Eagle/Vance & Hines Pro Stock Motorcycle team is sponsored by Matco Tools and Dunlop.