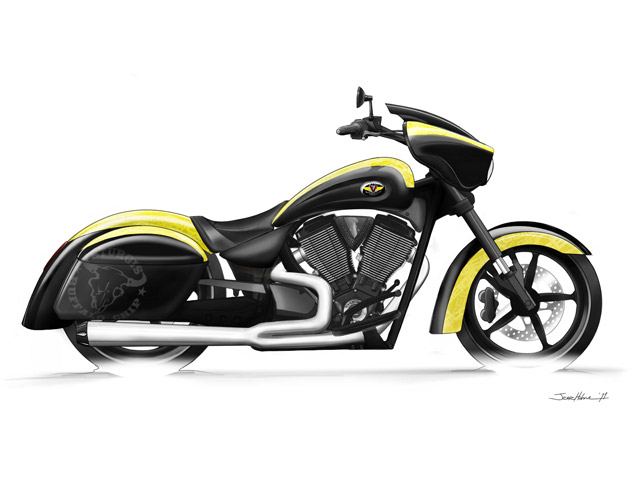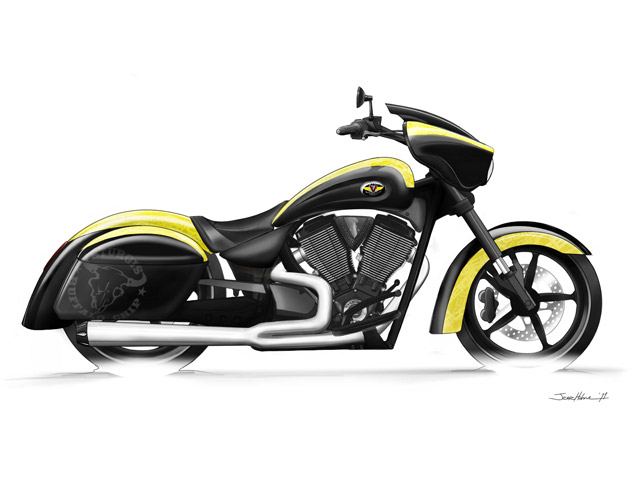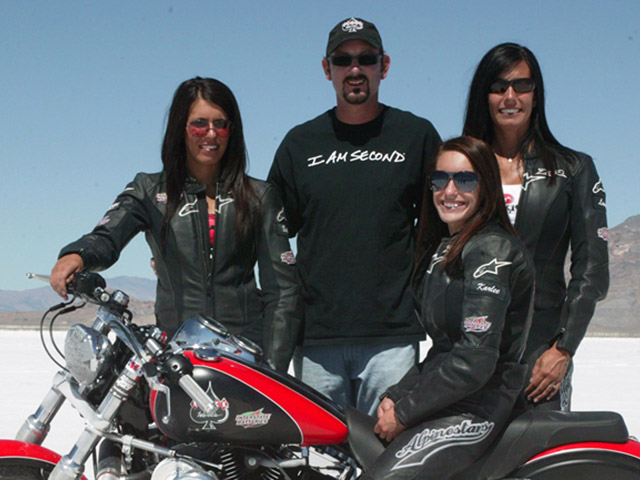 Sturgis, SD (April 21, 2011) - Known as the largest music festival in motorcycling, the Legendary Buffalo Chip has teamed up with GEICO for a special "30 Years Strong – Sturgis Buffalo Chip" bike give-away during this year's 71st annual Sturgis Rally. Ever since the first riders rode through its "Welcome Home Bikers" gates, The Chip has enjoyed a hard-riding love affair with motorcyclists from around the world.
Victory Motorcycles, another one of The Chip's official sponsors, provided one of their classic, Kingpin 8-Ball cruisers for renowned builders Klock Werks Kustom Cycle from Mitchell, SD to customize for the giveaway. The owners of Klock Werks, Brain and Laura Klock saw the potential for their daughters Erika and Karlee to design, build and fabricate a mini-bagger with help from parts sponsors Bassani Exhaust, Gearwrench, Interstate Batteries and Sportech. The finished motorcycle will encompass the Legendary Buffalo Chip's annual celebration of music, motorcycles, freedom and camaraderie.
Fans of the Legendary Buffalo Chip can register to win the Klock Werks customized Victory Kingpin by following this link www.buffalochip.com/EVENTS/contests/bikegiveaway.aspx to the Buffalo Chip's official website and filling out a contest form. One lucky winner will be chosen from a group of finalists live on The Chip's main stage Friday, August 12th to highlight the Sturgis Rally activities.
"GEICO is thrilled to be celebrating 30 Years Strong with the Sturgis Buffalo Chip," says Kelly Arsenault, GEICO marketing. "The Buffalo Chip is the most iconic entertainment venue and travel destination of its kind. We can't wait to celebrate with the best fans of the Sturgis Rally!"
"It's humbling to think about all the riders that have made the Legendary Buffalo Chip their home-away-from-home while attending the Sturgis Rally over the last 30 years," says Rod Woodruff, The Chip's owner. "Every year, we strive to make the party bigger and better and our extended family continues to grow. We have the most passionate and loyal motorcycle riders in the world and this special promotion is a way not only to celebrate 30 years strong in Sturgis, but the fact that we're just getting started."
The Legendary Buffalo Chip has been offering its guests a true Sturgis motorcycling experience for 30 years. It's going to be one rowdy, high-caliber good time with headliners like Alice Cooper, Pop Evil, Bachman & Turner, Styx, Def Leppard, Toby Keith, Poison, Lynyrd Skynyrd, Tesla, George Thorogood, Leon Russell, Jeff Bridges and Friends. Don't miss it! Visit www.buffalochip.com now and make your reservations for the 71st annual Sturgis Rally at "The Best Party Anywhere! ™"