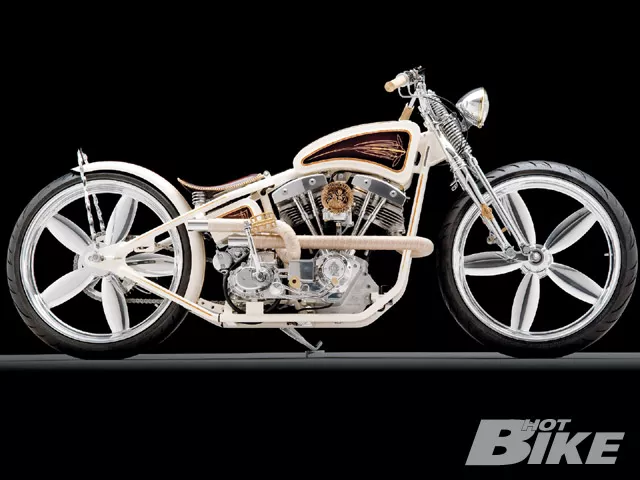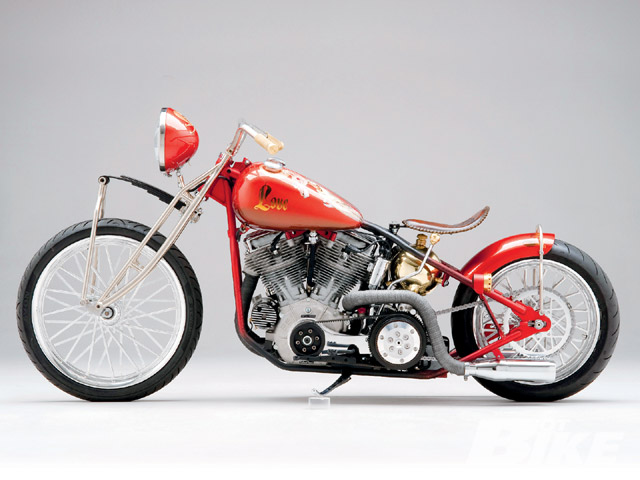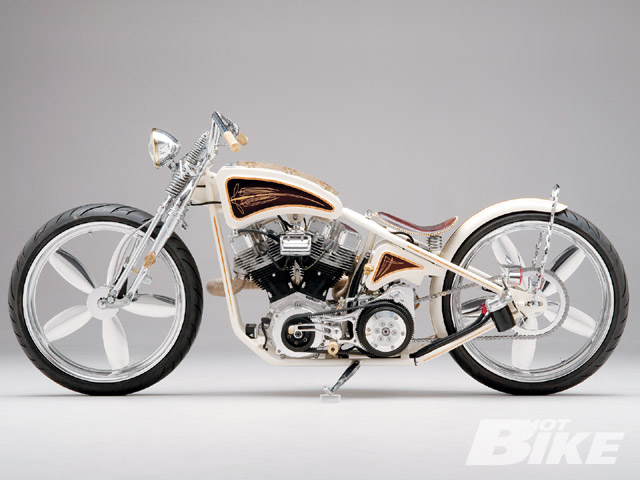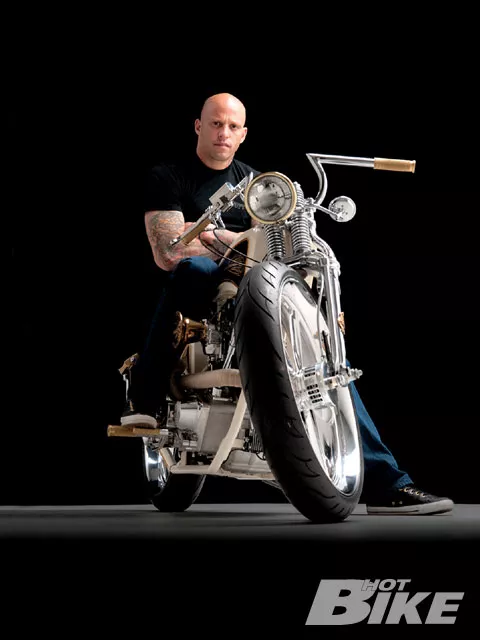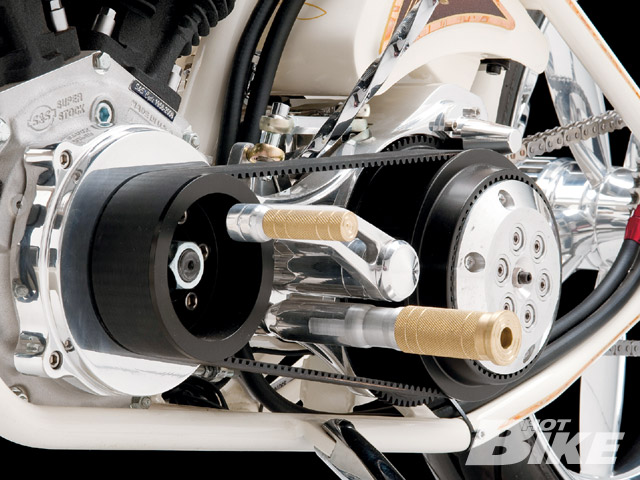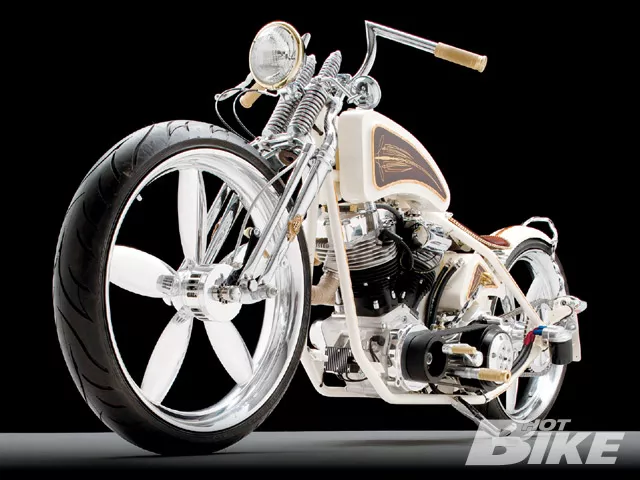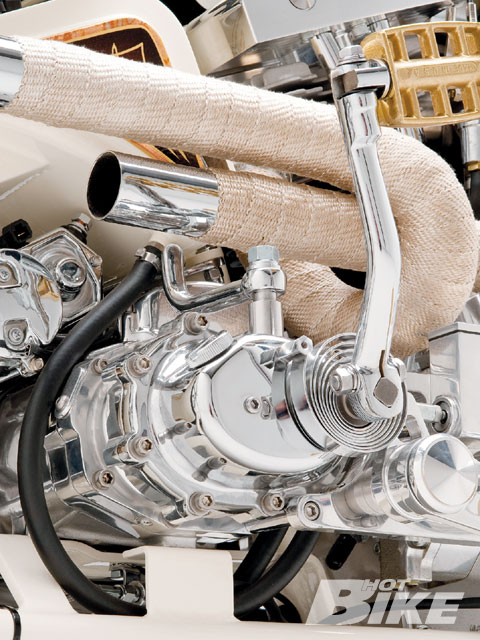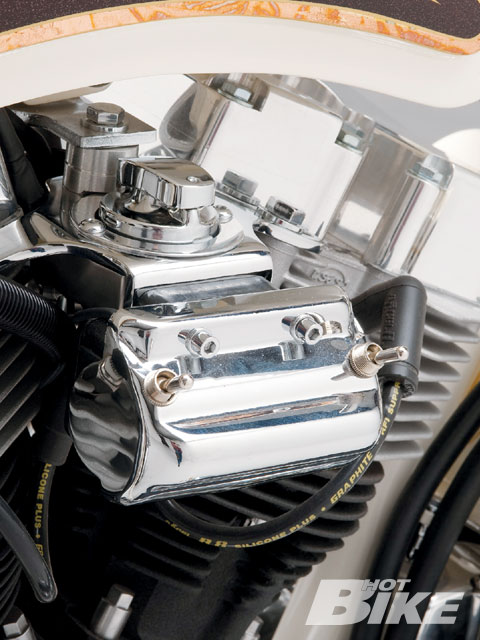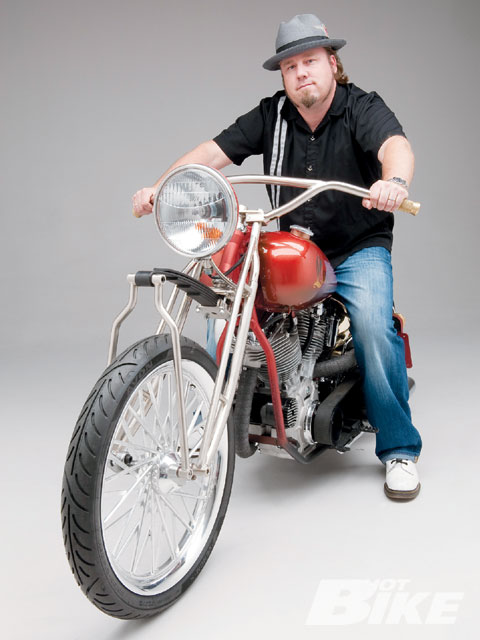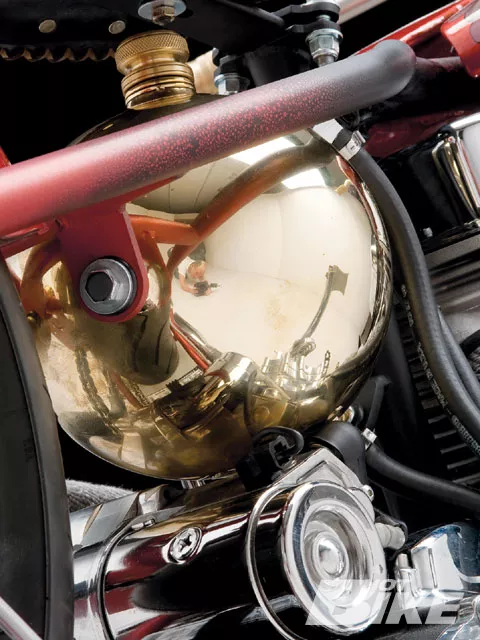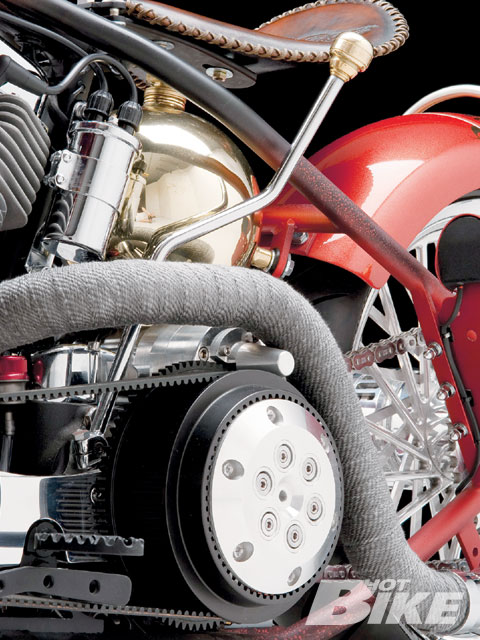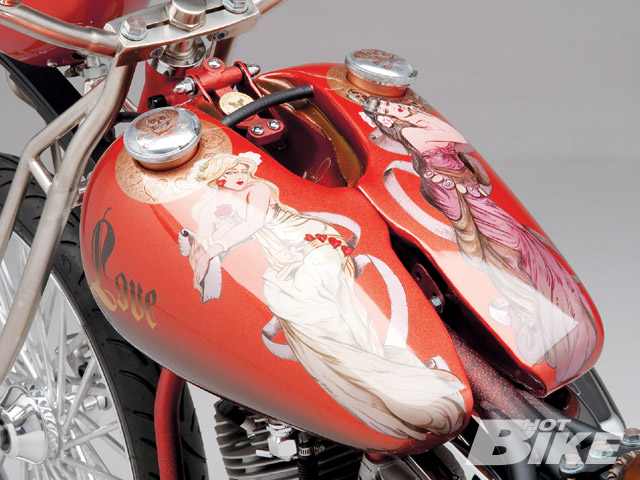 What do you get when you mix one part bike builder, one part tattoo artist, two parts of creativity, and two parts of style? Love Hate Choppers and the story how two guys from two different industries met up, crushed some ideas, and built two customs that would start up an even bigger idea to produce a line of production bikes.
The name Ami James of Miami Ink fame and Love Hate Tattoo and Love Hate Lounge may ring a bell. Ami was out in Daytona last year looking at bikes, hoping to find one that matched his ideal ride. He had a style in mind that he was after but was not really feeling anything he was willing to plop money down on. It was then he realized he was going to have to build the bike he envisioned.
About a year earlier Ami had ran into Christian Clayton, owner of Sucker Punch Sally's (SPS), at the ROT rally in Texas, and they had talked a lot about motorcycles and what they liked and would build, they both had a similar passion for bikes. Back in Daytona, Ami was walking passed the SPS booth and remembered the conversation he had with Christian a year earlier. After some discussion, Ami asked Christian if he could help him build the bike that he had in mind. Ami was also hoping that the bike could one day be turned into a line of production bikes called Love Hate Choppers. Christian was glad to see Ami and agreed to help him out with this project. Christian convinced Ami to come out to Arizona and see the SPS plant, the company's bikes, and what the facility could do for him and the Love Hate Choppers vision.
Once at the SPS factory, Ami pulled out a sketch of the bike that would later be called "Love." Ami wanted to be in the design process as much as possible. The bike in this drawing looked similar to a Miami beach cruiser, according to Ami. With a set of 23-inch wheels, flat-sided spilt tanks, Shovelhead motor, a tranny with a kicker, Springer frontend, mid controls, and a mild paintjob. The two spent the next several days coming up with ideas and concepts for the bike. With this being the first prototype and Ami wanting to turn it into a production bike, working out all the details was going to take some time.
They started with putting a SPS rigid frame with 30 degrees of rake on to the lift, added a Springer frontend and placed a set of wheels on the bike to size things up. A new 93ci S&S; Shovelhead motor was set in the frame along with a baker 6-into-4 tranny with a brass kicker. Then with pieces of cardboard they shaped the gas and oil tanks to the frame. Next, they started working on the handlebars and the seat. Once the seat pan was done they shipped it out to Duane Ballard to get the Love Hate logo tooled into the leather. As for the bars, Ami wanted them to have an up-sweep bend with tight points but look seem-less.
The wheels were next. Ami worked with the CNC designer to come up with a billet wheel that was 23 inches and looked like cherry blossoms, a wide five-leaf flower used in a lot of tattoo art work. The wheels needed to look clean so Ami turned to Dale at 360 Brake to put some super slick brakes on the wheels. As Larry Weymouth of Ami James Jewelry did all the custom wax cast badges and tank dash, Steel Visions did the paint. Everything was done one off the first time for this prototype from the wheels to the tank, bars and Jockey shifter. With the actual Love Hate production model it will have all the things required to make it compliant including horn, turn signals, headlight with high/low switch, and foot shift but more or less it will look like the bike you see.
As all the ideas for the Love bike were coming together Christian had a bike in mind that he wanted to build around a leaf spring frontend that he got from Billy Lane. He felt it would make the perfect match to the "Love" bike as the "Hate" bike.
The frontend was cut and reformed to fit the compact version of what Christian had in his head. He added a giant `32 Deuce coupe headlight and then he worked on a set of old school Hollywood bars, original flat side tanks and a leaf spring seat with leather also done by Duane Ballard. It all sat on a Santee wishbone frame he got form Custom Chrome. Christian called up S&S; and got a new 93ci Panhead for his build along with a Baker 6-into-4 tranny with a kicker. As he was planning and building his vision of the Hate bike Christian was keeping Ami in the loop and both were coming up with ideas to complement each other's bikes. There was a brass H-bomb oil bag sitting around the shop and as the Hate bike was taking shape it was obvious it would work for this bike. Christian nickel plated the frontend and had a custom set of mid controls made. They cut some billet spoke wheels and he had opted for a 360-brake setup out back. Christian turned to his painter Sara Ray for ideas. The theme of the Love bike was going with white with some old style pinstriping. So Christian decided the Hate bike should be red with some cool tank art. Christian was very happy with the way things turned out and was glad that it was what Ami was looking for to start the Love Hate line of choppers. He feels that they have comfortable bikes with a custom vintage feel. And with a limited production of about 25 Ami and Christian feel they will sellout fast.
For both Ami and Christian Love Hate Choppers is a labor of love. They both have enough going on that they didn't need another project, but this seemed like fun.
| | |
| --- | --- |
| ENGINE | |
| YEAR/MANUFACTURER | '09/S&S; |
| TYPE/SIZE | Shovelhead/93ci |
| BUILDER | S&S; |
| CASES | S&S; |
| CYLINDERS | S&S; |
| HEADS | S&S; |
| ROCKER BOXES | S&S; |
| CARBURETOR | S&S; |
| AIR CLEANER | Larry Weymouth |
| EXHAUST | SPS |
| | |
| --- | --- |
| TRANSMISSION | |
| YEAR/MANUFACTURER/TYPE | '09/Baker/6-in-4 |
| CASE | Baker |
| CLUTCH | Tech Cycles |
| PRIMARY DRIVE | Tech Cycles |
| | |
| --- | --- |
| FRAME | |
| YEAR/MANUFACTURER | '09/SPS |
| RAKE | 30 degrees |
| STRETCH | None |
| | |
| --- | --- |
| SUSPENSION | |
| MANUFACTURER FRONT | V-Twin Springer |
| TRIPLE TREES | Springer |
| MANUFACTURER REAR | NA |
| SWINGARM | NA |
| | |
| --- | --- |
| WHEELS, TIRES, AND BRAKES | |
| MANUFACTURER FRONT/TYPE | SPS/Billet 5-Spoke |
| SIZE-HEIGHT/WIDTH | SPS/Billet 5-Spoke |
| TIRE/SIZE | Avon/130-{{{90}}}-23 |
| CALIPER | 360 Brake |
| ROTOR | 360 Brake |
| MANUFACTURER REAR/TYPE | SPS/Billet 5 Spoke |
| SIZE-HEIGHT/WIDTH | SPS/Billet 5 Spoke |
| TIRE/SIZE | Avon/130-90-23 |
| CALIPER | 360 Brake |
| ROTOR | 360 Brake |
| | |
| --- | --- |
| FINISH/PAINT | |
| COLOR | Antique White with gold leaf |
| PAINTER | Steel {{{Vision}}} |
| GRAPHICS | Steel Vision |
| PLATING/POLISHING | Gold Tech |
| | |
| --- | --- |
| ACCESSORIES | |
| FRONT FENDER | None |
| REAR FENDER | SPS |
| FENDER STRUTS | None |
| GAS TANK∩ | SPS |
| OIL TANK | SPS |
| DASH | Larry Weymouth |
| HANDLEBARS | SPS |
| RISERS | V-Twin |
| MIRRORS | V-Twin |
| HAND CONTROLS | SPS |
| FOOT CONTROLS | SPS |
| FOOTPEGS | SPS |
| HEADLIGHT | Headwinds |
| TAILLIGHT | CCI |
| TURN SIGNALS | Not on this one |
| LICENSE MOUNT | SPS |
| SEAT | Duane Ballard |
| | |
| --- | --- |
| ENGINE | |
| YEAR/MANUFACTURER | `09/S&S; |
| TYPE/SIZE | Panhead/93ci |
| BUILDER | S&S; |
| CASES | S&S; |
| CYLINDERS | S&S; |
| HEADS | S&S; |
| ROCKER BOXES | S&S; |
| CARBURETOR | S&S; |
| AIR CLEANER | S&S; |
| EXHAUST | SPS |
| | |
| --- | --- |
| TRANSMISSION | |
| YEAR/MANUFACTURER/TYPE | '09/Baker/6-in-4 |
| CASE | Baker |
| CLUTCH | Tech Cycles |
| PRIMARY DRIVE | Tech Cycles |
| | |
| --- | --- |
| FRAME | |
| YEAR/MANUFACTURER | `09/Santee |
| RAKE | 30-degrees |
| STRETCH | None |
| | |
| --- | --- |
| SUSPENSION | |
| MANUFACTURER FRONT | Billy Lane/Leaf Spring |
| LENGTH | 2.5 over stock |
| TRIPLE TREES | Leaf spring |
| MANUFACTURER REAR | None |
| SWINGARM | none |
| | |
| --- | --- |
| WHEELS, TIRES, AND BRAKES | |
| MANUFACTURER FRONT/TYPE | SPS/Billet Spoke |
| SIZE-HEIGHT/WIDTH | 21×2.15 |
| TIRE/SIZE | Avon/ {{{90}}}-90-21 |
| CALIPER | None |
| ROTOR | None |
| MANUFACTURER REAR/TYPE | SPS/Billet Spoke |
| SIZE-HEIGHT/WIDTH | 17×3.0 |
| TIRE/SIZE | Avon/150-60-17 |
| CALIPER | 360 Brake |
| ROTOR | 360 Brake |
| | |
| --- | --- |
| FINISH/PAINT | |
| COLOR | Red/Copper |
| PAINTER | Sara Ray |
| GRAPHICS | Sara Ray |
| PLATING/POLISHING | Gold Tech |
| | |
| --- | --- |
| ACCESSORIES | |
| FRONT FENDER | None |
| REAR FENDER | SPS |
| FENDER STRUTS | SPS |
| GAS TANK∩ | CCI |
| OIL TANK | Brass SPS |
| DASH | None |
| GAUGES | None |
| HANDLEBARS | SPS |
| RISERS | SPS |
| MIRRORS | CCI |
| HAND CONTROLS | SPS |
| FOOT CONTROLS | SPS |
| FOOTPEGS | SPS |
| HEADLIGHT | {{{Ford}}} |
| TAILLIGHT | CCI |
| TURN SIGNALS | None |
| LICENSE MOUNT | SPS |
| SEAT | Duane Ballard |