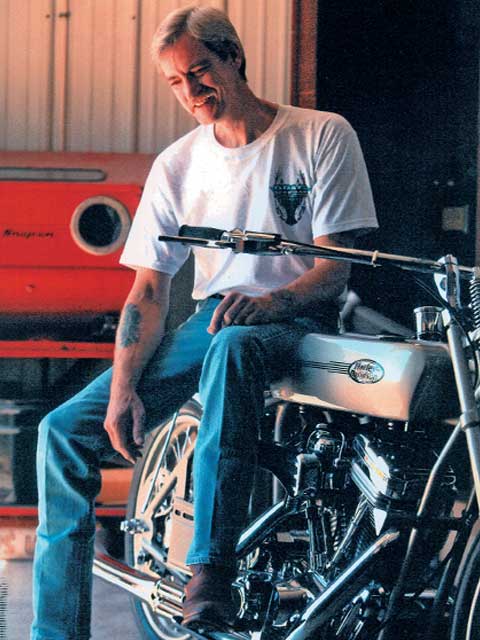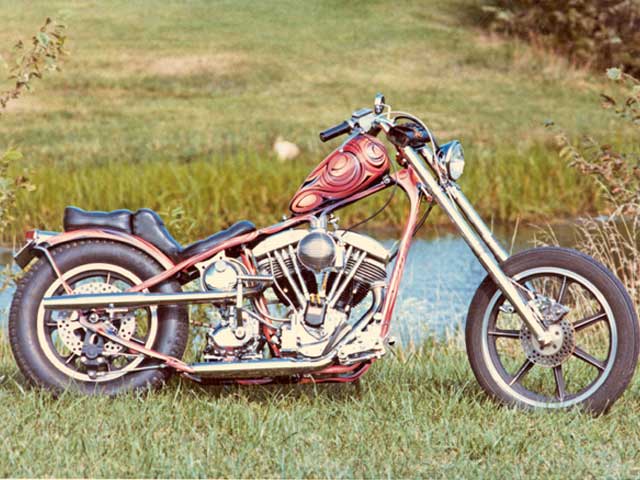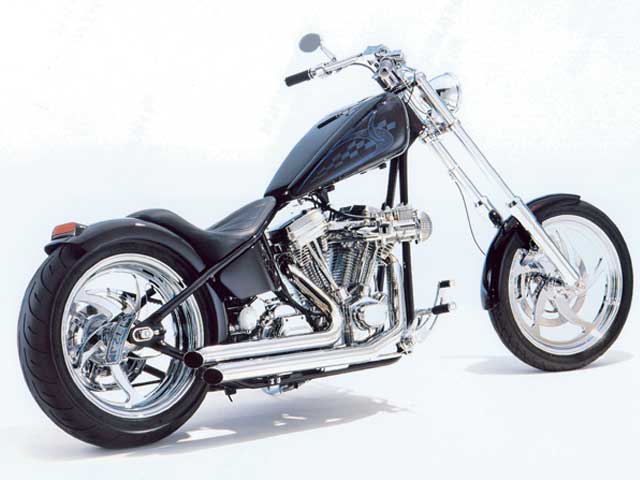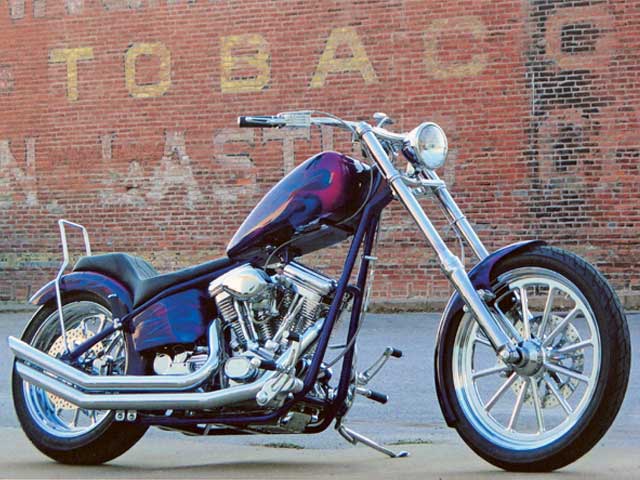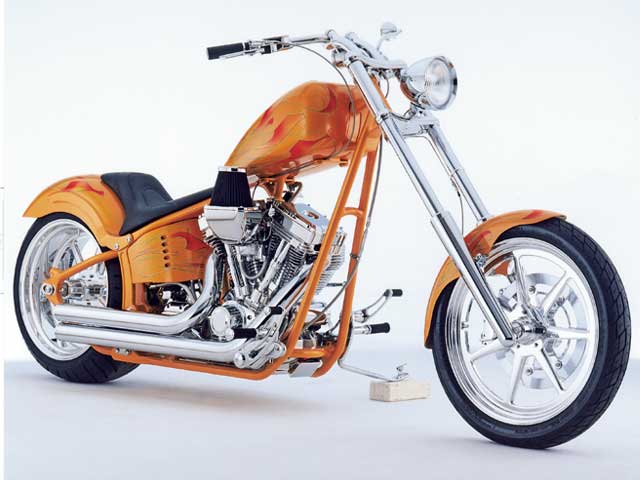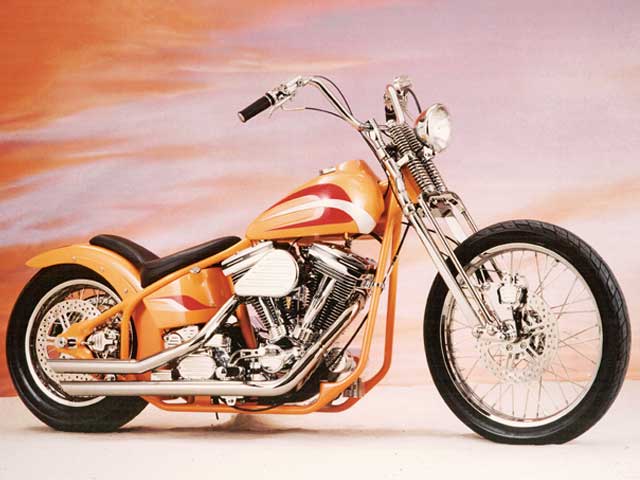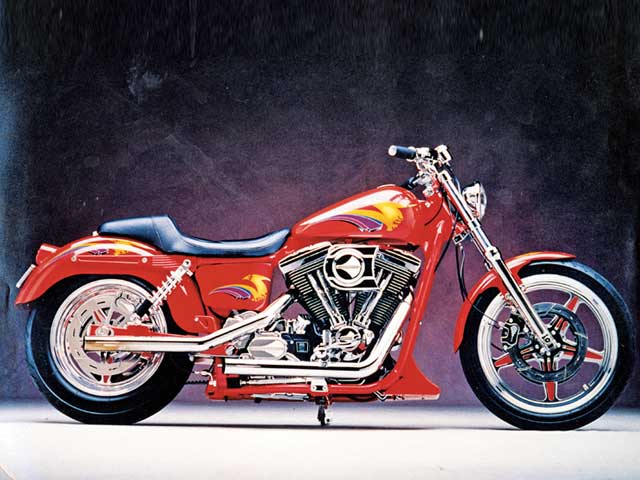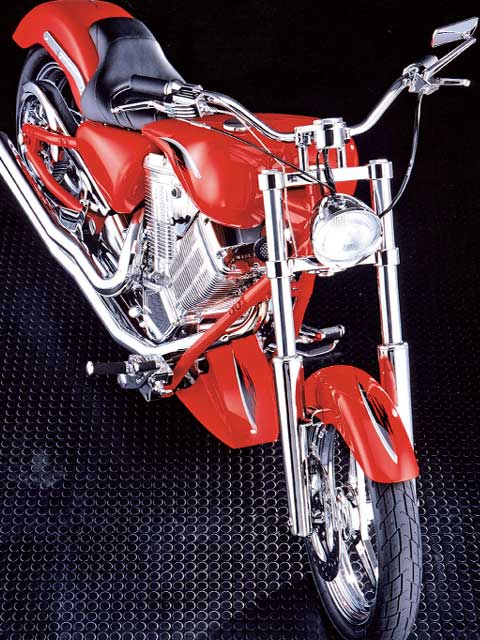 The last handful of years have seen the "master builder" label tacked on to quite a few constructors, some deserving, some not. "Master" anything is quite a heady title if there ever was one, and living up to it seems a daunting task. One truly deserving of such a celebrated moniker would have to be of a consummate skill level, as well as possessing talent and knowledge combined with a perspective only time could foster. That in itself probably narrows our current crop of "master builders" down to about 30 or so, most of whom have already seen their mugs spread across the pages of this magazine, including Mr. Don Hotop.
Don doesn't fit the mold of what we have come to know as the modern bike builder. He doesn't have a website, a fan club, or a clothing line, and if you were to wander by Don's Speed and Custom in Fort Madison, IA, it'd likely be Don who changed your oil. Why no TV crew, attached bar stocked with the requisite hotties, or pony-tailed business manager booking him on the next Biker Builder Bonanza? Because that's how Don likes it. He builds not to impress or to attain some sort of rock star-like fame, but for the pure pleasure gained from turning raw steel into an actual ridable motorcycle.
Although Don has been turning wrenches for more than 30 years, a good portion of the notoriety he has seen has stemmed from a series of bikes built for Drag Specialties' Fat Books. One of the standouts is the vintage-styled and Sporty-powered sidecar rig used in a prominent line of Drag marketing and featured in the April '05 issue of HOT BIKE. He's also responsible for 30 or so items within the catalog itself and, on top of that, does his duty as Drag's covert R&D; department. These are just the latest in a long list of accomplishments that, oddly enough, began with a game of Eight Ball in the early '70s
Like any true craftsman, Hotop began his climb to master status long ago. Born and raised in Fort Madison, IA, Don spent his early years doing maintenance in a Chevron chemical plant and searching for interesting things to do with his free time. That all changed three-plus decades ago, when the aforementioned game of Eight Ball resulted in a very ratty '45 Harley coming into his possession. The bike promptly grenaded, and its subsequent resurrection became the catalyst for Don's V-Twin passion. A few years later, he had moved on to a custom Sportster, and by 1974 Don's Speed and Custom was born. Innovative ground-up customs soon followed, the first of which was based on a '64 pan with a shovel top end bolted into a rigid frame and covered in popular (for the period) psychedelic paint. By the late '70s Hotop had graduated to journeyman status and had begun to draw local notoriety as a cutting-edge bike builder.
Not afraid to ride or race his creations, Hotop balanced wrenching with countless miles on a series of his motorcycles and never missed a Sturgis event (he still hasn't). Any given weekend would have Don blazing across a number of Midwestern states and leaving a trail of dust and admirers. One such day would forever alter the course of Don's Custom Cycle. With his lanky 6-foot, 4-inch frame draped over a heavily breathed-on rigid Springer, Don barreled back into his hometown. Seemingly from out of nowhere, a BMW blew past him, and the ensuing race into Fort Madison resulted in multiple lead changes, an untold number of asphalt-ground metal parts, and a partnership that still exists to this day. The Beemer pilot turned out to be Sig Wieler, an equally enthusiastic rider and highly accomplished machinist. Neither is saying who won, but nearly 30 years later the two continue to work together, building bikes and developing new products.
As the '70s came to a close, Hotop could be found building customs that would be considered innovative even by today's standards. One of the many highlights of that era was a 120-inch Harmon shovel that sported an 8.5-inch-wide radial out back and a Pro-Street-style chassis layout. Seen today, that would be a slick bike, yet he did it in 1979, creating every piece in-house and even going so far as to round off the corners of the Pirelli car tire adorning the rear of the bike. This was business as usual for Hotop and just an example of the inventive bikes that continued to roll out of his humble workshop. Unlike many builders, he was rarely bound by a particular custom format, and it was not unusual to see a chopper, Pro Street, and bobber under construction at the same time
During this period, Don took a brief vacation from bike building that would again change his life. With a number of show-winning customs under his belt-and already feeling the pressure of a hungry market-Don thought that a short rest in rustic Colorado might be the ticket. The unlikely result was a chance meeting with Arlin Fatland of the iconic 2Wheelers of Denver, who then turned him on to the Hamsters Motorcycle Club. He had discovered a like-minded group of riders, and by the early '80s Don could be found making his annual Sturgis run in the esteemed company of Arlen Ness and fellow Hamster club members. The '80s also saw an explosion of popularity within the custom-bike market, and Don would be consumed in its wake. Advertising and magazine features had created a demand for the Hotop style that approached overwhelming. By that time many considered him a master craftsman, and it wasn't long before phone calls and appearances consumed an ever-increasing amount of time. The balance of the '80s would see Don continuing his bike-building efforts, as well as venturing into product design for companies across the globe. Eventually this newfound success produced more demands than a small-town builder could handle. A seemingly endless succession of nights playing catch-up on a daunting workload would eventually eat away at his spirit and turned a labor of love into mostly labor.
By the early '90s, the industry was on fire. Hotop bikes populated the covers of many of the major pubs, Don's phone was ringing off the wall, and the pressure was mounting. The burden became just too much, and, recoiling from the chaos he had created, Don packed up and dropped out of the scene. He soon found himself reunited with Arlin Fatland and living on the outskirts of Denver, riding the Rockies. Happy to ply his craft and challenged by the majesty of the local mountains, Don settled into the unique Colorado lifestyle. The mountain air and break from the onslaught of deadlines had done exactly what Don had hoped for, and he was back to riding and building at a comfortable tempo. However, while Denver had served as the cure for his ills, Don couldn't shake the nagging feeling that the big city was not his home
A clear head and an enduring love of the countryside that raised him would eventually bring Don back to his roots in Fort Madison. Picking up where he left off, he began creating the foundation for what is now the modern-day Don's Speed & Custom. Still vowing to fly under the radar and create at his own pace, he's never again published an ad and has largely shunned self-promotion. A stint on the Discovery Channel's Monster Garage is one of the very few appearances he's made in the last 15 years, and that came about only after a persuasive call from the show's producer and Jesse James himself. "I've known Jesse since he was pounding steel for Boyd Coddington, and when he explained we would be building a real bike with a group of guys I respected, instead of some sort of Buick-based Blender, I knew I was in."
The one place you can always find Don is Sturgis, which he still attends every year (the last 20 staying in the same hotel room). When pressed about his loyalty to that particular event, he explains, "Sturgis is certainly my favorite; Daytona doesn't have anyplace to go motorcycle riding." It's a simple yet telling reply that not only embodies his love for building bikes but for actually riding them as well. Yet building is what pays the rent, and Hotop still puts out some of the nicest bikes in the country. In addition to customs, Don has also managed to create a few sought-after accessories. His original product, the Pro-Street-style air dam created in the mid-'80s, was featured on a good percentage of customs for the decade that followed, and the ideas have continued to flow ever since. By the late '90s, Don had expanded his line of accessories and caught the attention of Drag Specialties. The infamous Fat Book now contains a complete line of Hotop accessories, including some of the company's more popular dresser items. Tom Motzko of Drag Specialties describes Don as a consummate perfectionist and goes on to explain, "If Don builds you a bike, you can rest assured you'll be able to ride it right out of his shop and across the country without an issue." The Drag people obviously took quite a liking to ol' Don and began using him as a testbed for other manufacturers' products as well
In spite of his self-imposed underground status, Hotop still fields a surprising amount of requests for his flavor of custom motorcycle. "The guy who comes here for a bike has done some work just to find me, and that seems to weed out the folks who aren't too serious," rationalizes Don, who now handcrafts a half-dozen customs each year. A peek into Don's Speed & Custom today reveals a couple of long bikes under construction, a bobber on the lift, and a 145ci Pro Street in the works. There are even plans for a little bobber for Mrs. Hotop before this year's Sturgis run. In the far corner sits one of Don's personal rides, which for the last 13 years has been a nicely redone bagger. Naturally, he's added a few of his own touches, including high-compression heads, cam, revised chassis with 6 inches of stretch in the tank, and a six-speed tranny. "I've built a lot of bikes," muses Hotop. "I used to put a mark on the wall above my bench for every motor I built, but I ran out of wall a while back." Another rare bit of recognition for his efforts came in 2002, with an induction into the Sturgis Motorcycle Hall of Fame. Even without these occasional brushes with notoriety, Don continues to define the modern interpretation of master bike builder.
Although Hotop's stealthy manner and years of indifference to media infamy may have become part of his trademark style, the market is once again calling, and, perhaps tempered with a bit of moderation, he'll allow it. The bike builds for Drag Specialties are certainly a sign he's ready to bear public access to his very private world, and as of late there are even rumors of a small website in the works. It's still not likely you'll see a line of leather Hotop wear, or an episode of Don TV, but that's OK with Don-he'd rather focus his energy on building and riding bikes, anyway. Like any bona fide master craftsman, Don Hotop continues to produce masterpieces true to his chosen craft (and apparently play a mean game of pool). For that, we salute him, as well as all of the other craftsmen who build not for the glory, but for the pure joy of turning raw steel into ridable motorcycles.