I met a gentleman in Canada at one of the big shows up there called the Atlantic Nationals. The guy asked me to build him a bike similar to one of the "Righteous Fueller" we had built that year. After coming to an agreement, we came home and started the bike.
The Fueller, for those of you who don't remember, is a combination of Fuller and Buell. The first was done for Biker Build-Off, and this is the last of the run of five. On all of these bikes, we started with an XB-12. Using the front end, brakes, bearings, engine and trans assembly, and wiring components, we're able to take an American sportbike and put it into more of a cruiser riding position. These bikes are fast and fun!
The frames are made of 4130 chrome-moly custom for each of the five customers. Most of the brackets were cut on our MultiCam water jet, and the bungs were CNC lathed. We made our own wheels and hubs, which are one of the cooler pieces we believe. They're designed around the stock rotor, caliper, bearings, and front end of the stock Buell but in a 21-inch size. This way we can use their brakes right off the shelf. Replacement components are easy to get also, as they need to be replaced over time.
With the Millennium we decided to do something different: twin-spar frame tubes leading up the backbone. The idea was to bring the intake straight up like the stock Buell did and make a cool-looking stack coming up through the tank. Good idea so far, right? The problem with this setup is that the entire visuals of the tank area are defined by these two frame tubes. Anything you do with the sheet metal is defined and overtaken with these tubes.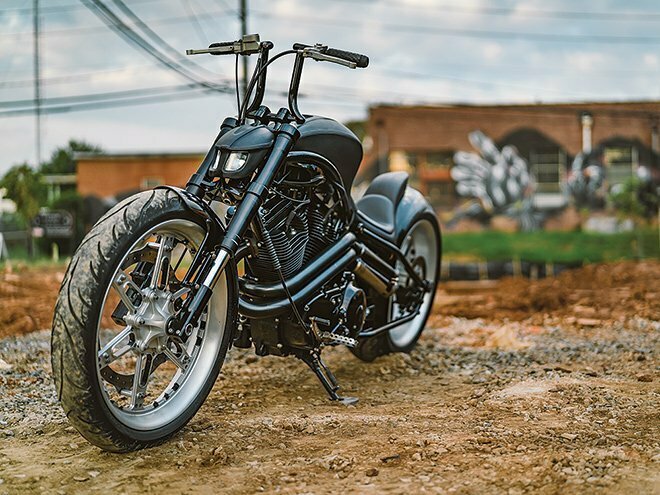 Once we had a roller, it was time to work on sheet metal. Our customer was willing to do this project all the way, so we wanted to get it right. I felt conflicted on how to do that, so I decided to use modeling clay as OEMs do. Automotive modeling clay allows you to change shapes, proportions, and lines very quickly. You can absolutely get everything exactly the way you like before heading into metal or some kind of composite.
I've been doing design lately at my home garage. It allows me to sketch, doodle, and clay in the morning, evening, and weekend around being a dad. My direction initially with the style was to mimic the surfaces of Star Wars ships like the Millennium Falcon. I love how they look futuristic but familiar. Unfortunately, every time I went that direction, it just didn't look right. Finally I started down a path I liked and went with it. About 150 hours or so later, I had one side finished in clay ready for reproduction in metal.
"My direction initially with the style was to mimic the surfaces of Star Wars ships like the Millennium Falcon. I love how they look futuristic but familiar."
Bryan Heidt, a.k.a. SuperB, has been at Fuller Moto for about nine years now. He's a very competent builder and has a good eye for style. He took the clay pieces apart and patterned each one then shaped them piece by piece in steel. We considered aluminum as we usually do, but there were so many intricate shapes, and rigid-mounted Harleys shake so much, so steel became the choice.

I particularly like how the scoop under the frame turned out. That was a really hard part to design and build. One side is the functional scoop, while the coils are mounted hidden within the other side.
With the bike finished in bare metal, I needed to pick finishes for the bodywork. The customer and I liked black. I wanted something interesting to pop. I was up one night late, toiling, watching Kate Beckinsale in the Underworld movies when it hit me. In fact, I watched two in a row being mesmerized by that outfit of hers! Here's the idea! I called the owner and said, "Let's cover the sheet metal and make it look like Kate Beckinsale's bum! Leather and lace!" He loved it!
As for the headlight, it's also steel with a custom-made light housing and plexi shield. We made a mold then warmed the plexi, making a drape form. Interior LED holders were made of aluminum and polished. Wes Hines at Fuller Moto wired and plumbed the "Millennium" up all nice and tidy. She sounds nasty!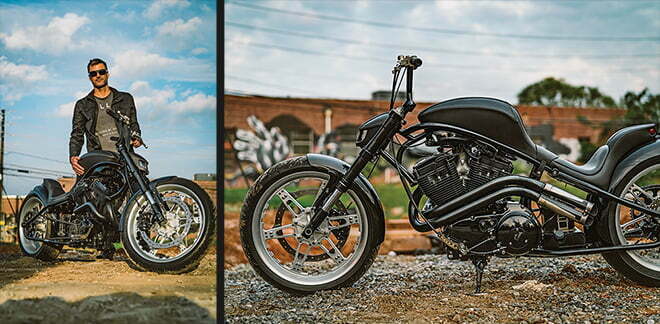 | Specifications | |
| --- | --- |
| General | |
| Owner | Secret |
| Shop | Fuller Moto |
| Website | fullermoto.com |
| Year/Make | 2017/Millennium Fueller |
| Fabrication | Fuller Moto |
| Build Time | 2 years |
| Engine | |
| Year/Type/Size | 2007/Buell/XB 12 |
| Builder | Buell |
| Cases | Buell |
| Cylinders | Buell |
| Heads | Buell |
| Rocker Boxes | Buell |
| Cam(s) | Buell |
| Throttle Body | Buell |
| Air Cleaner | K&N |
| EFI Controller | Buell Race |
| Exhaust | Fuller Moto Stainless |
| Transmission | |
| Year/manufacturer/Type | 2007/Buell/5-speed |
| Gears | Buell |
| Clutch | Buell |
| Primary Drive | Buell |
| Frame | |
| Year/Type | Fuller Fueller |
| Rake/Stretch | 36°/3 in. out/up |
| Suspension | |
| Front End | Buell Anodized Black |
| Length | Stock |
| Triple Trees | Fuller Custom CNC |
| Swingarm | Hardtail |
| Wheels, Tires, and Brakes | |
| Front | |
| Builder/Size | Custom Fuller CNC/21 in. |
| Tire/Size | 21 in. |
| Calipers | Buell |
| Rotors | Buell |
| Rear | |
| Builder/Size | Fuller Custom CNC/20 in. |
| Tire/Size | 20 in. |
| Caliper | Buell |
| Rotor | Buell |
| Sproket | PMP Custom |
| Finish/Paint | |
| Manufacturer | Painter Mike |
| Colors | Black |
| Paint/Graphics | Painter Mike and JDK |
| Powdercoating | Miller Powdercoating |
| Accessories | |
| Front Fender | Fuller Moto |
| Rear Fender | Fuller Moto |
| Gas Tank | Custom Steel |
| Dash | None |
| Gauges | None |
| Handlebars | Fuller Moto |
| Grips | Biltwell |
| Hand Controls | ISR |
| Foot Controls | Fuller Moto |
| Pegs | Fuller Moto Stainless |
| Headlight | Bryan Heidt and RetroFit Source |
| Taillight | Custom RetroFit Source |
| Turn Signals | RetroFit Source |
| Seat | All Upholstery by Cato's Upholstery |