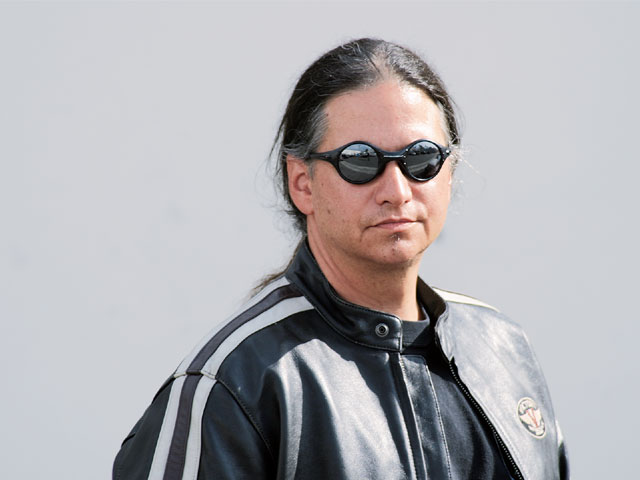 There are a couple of big words that seem to be tossed around a whole bunch these days. A lot of folks talk about respect-or the lack thereof-when it comes to the way they are treated. A lot of the folks I run into in these days seem to understand the concept quite well, but at the same time there are what seem to be way too many people who just don't get it at all. Along with being treated with respect comes the responsibility to treat others with the same courtesy.
Often I hear people bagging on the cops at rallies: "That SOB pulled me over for this or that," or "Man, I was just minding my own business-that's messed up." While I can't vouch for Johnny Law and whatever determining factor he uses to pull someone over, it seems to me that the majority of the time said motorcyclist (myself included) was doing something to break the law. Whether the law makes sense or not is an entirely different story.
Considering the huge popularity of motorcycles these days, there is an awful lot of attention being paid to us. Were we looking for it? Now, that's a good question. With the popularity of motorcycle shows on television, it seems that we as a group are no longer below the radar. Folks have taken notice, and there's no turning back; this lifestyle we lead is very visible these days. Why do you think every time you turn around there is another rally, ride, or poker run vying for your attendance? It's all about bringing money into local economies. People invite us into their communities because they know we spend a lot of money. We're not a bunch of spring-breakers jamming 10 to a hotel room while dining at 7/11. No, we are folks from all walks of life who ride our expensive motorcycles into someone else's town and spend our hard-earned cash on everything from lodging, food, drink, and gasoline to consumer goods and so on.
Now, here's where the responsibility comes in. We are guests in other people's homes, and we need to treat them with respect. Many of the communities and venues we visit are willing to put up with a little inconvenience to help out the area's coffers, especially in this era of decreased government spending. The amount of money taken in by cities and local governments when we roll into town can be quite substantial. Does this give us the right to do whatever we want? Absolutely not-these people invite us into their communities, and they're worthy of the same respect as someone we might know personally.
I've just returned from Daytona's Bike Week, and it still amazes me how many guys have so little regard for others when it comes to loud noise and wild riding. We as a group need to realize how the actions of a small percentage of riders can affect a community's reaction to all of us. Just listen to how often people blast around on bikes with little or no baffling-resulting in ear-splitting decibel levels emanating from their bikes. Even if just a few of us are the culprits, we will all pay in the long run. It's far too easy for the folks who don't want us in their backyards to point the finger at each and every one of us.
The next time you find yourselves at a rally-or in your own town, for that matter-remember that a lot of people don't want us around and will do whatever it takes to silence us. Don't give them the opportunity, because if we don't police ourselves, someone else will.Be well.Steve
| | |
| --- | --- |
| EDITORIAL | |
| Sr. VP, Group Publisher | John Cobb |
| Editor | Steve Bohn |
| Senior Editor | Eric Ellis |
| Feature Editor | Ernie Lopez |
| Associate Editor | Toph Bocchiaro |
| Managing Editor | Noel Wamboldt |
| Copy Editor | Joy Sillesen |
| Editorial Assistant | Carrie Tsai |
| THE AMERICAN MOTORCYCLE GROUP ON THE WEB | |
| www.hotbikeweb.com www.streetchopperweb.com www.bikeworksmag.com | |
| ART DIRECTION & DESIGN | |
| Art Director | Ron Huber |
| SUBSCRIBER SERVICES | |
| (800) 759-5540 International Phone (386) 447-6385 hotbike@palmcoastd.com P.O. Box 420235 Palm Coast, FL 32142-0235 | |
| | |
| --- | --- |
| ADVERTISING | |
| | |
| Craig Murrow | 714/939-2486 |
| Ron Nelson | 605/334-1018 |
| David Roe | 714/939-2564 |
| Brad Olshen | 714/939-2662 |
| Andy Fritts | 714/939-2488 |
| Performance Alley | Dan Acosta |
| Advertising | 714/939-3797 |
| Ad Operations Coordinator Richard Senteno | 714/939-3792 |
| Advertising Sales Assistant Elke Gamboa | 714/939-2489 |
| National Sales Offices | |
| New York Office | 201/712-9300 |
| Los Angeles Office | {{{323}}}/782-2000 |
| Detroit Office | 313/964-6680 |
| Chicago Office | 312/396-0600 |
| Florida Office | 813/675-3500 |
| Online Advertising | |
| Regional Advertising | Jeff Melei |
| Director | {{{928}}}/232-3955 |
| Performance Automotive Group | |
| President | Steve Parr |
| VP, Sales & Marketing | Ira Gabriel |
| CFO | Judy Anzalone |
| Group Operations Director | Amy Diamond |
| Senior Operations Director | Pauline Clark |
| PRIMEDIA INC. | |
| Chairman, CEO & President | Dean Nelson |
| Vice Chairman | Beverly C. Chell |
| PRIMEDIA ENTHUSIAST MEDIA | |
| Chief Creative Officer | Craig Reiss |
| President of Consumer Marketing | Steve Aster |
| Sr. VP, Chief Financial Officer | Kevin Neary |
| Sr. VP, Mfg., Production and Distribution | Kevin Mullan |
| Sr. VP, Chief Information Officer | Debra C. Robinson |
| CONSUMER MARKETING, PRIMEDIA ENTHUSIAST Media | |
| VP, Single Copy Marketing | Rich Baron |
| VP & CFO Consumer Marketing | Jennifer Prather |
| VP, Retail Analysis and Development | Doug Jensen |
| VP, Wholesale/Retail | Stefan Kaiser |
| VP, Consumer Marketing Operations | Elizabeth Moss |
| CONSUMER MARKETING, ENTHUSIAST MEDIA SUBSCRIPTION COMPANY | |
| VP, Consumer Marketing | Dena Spar |