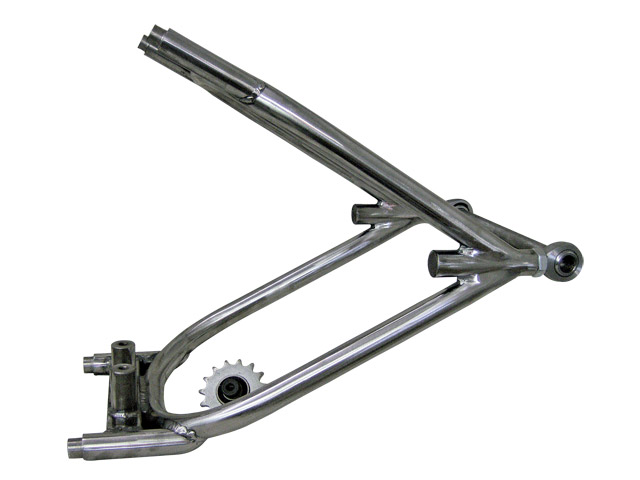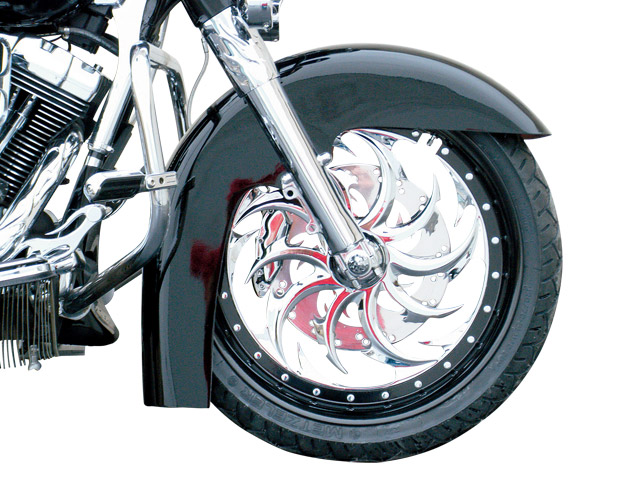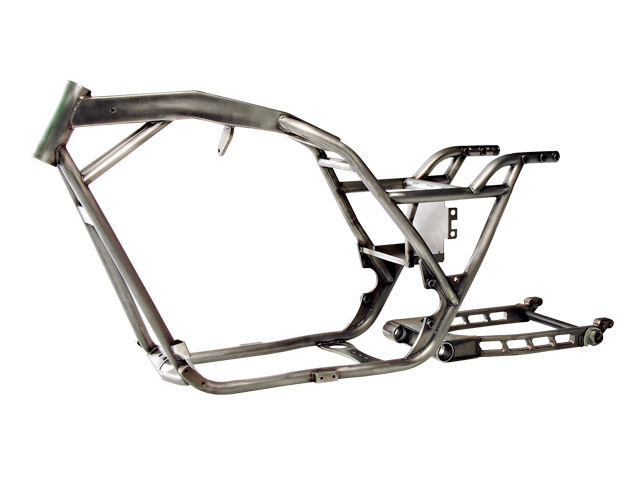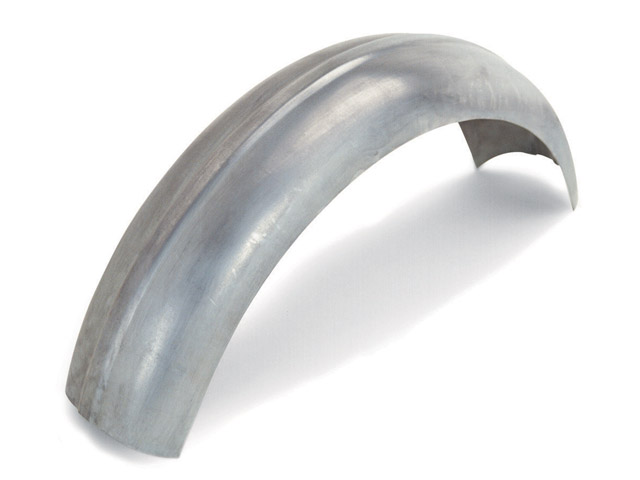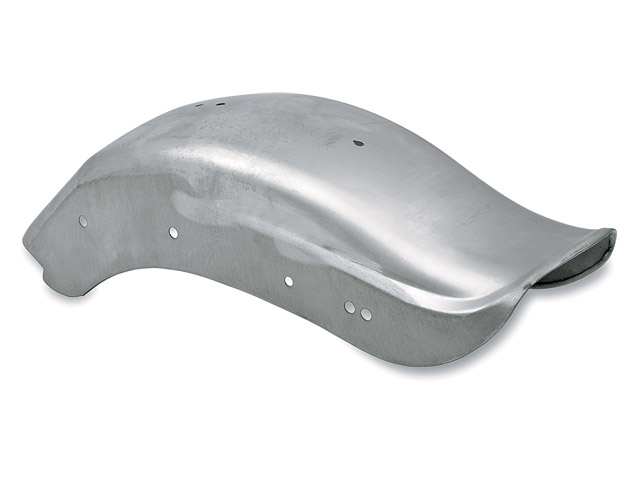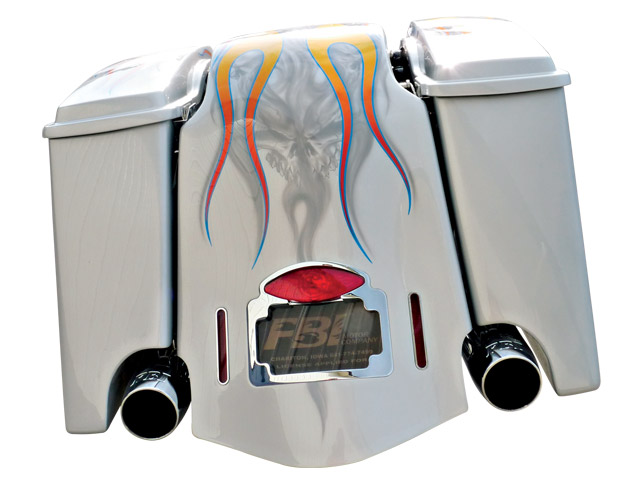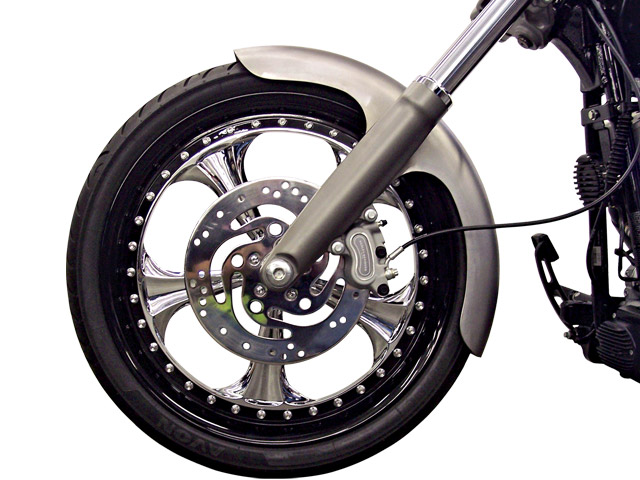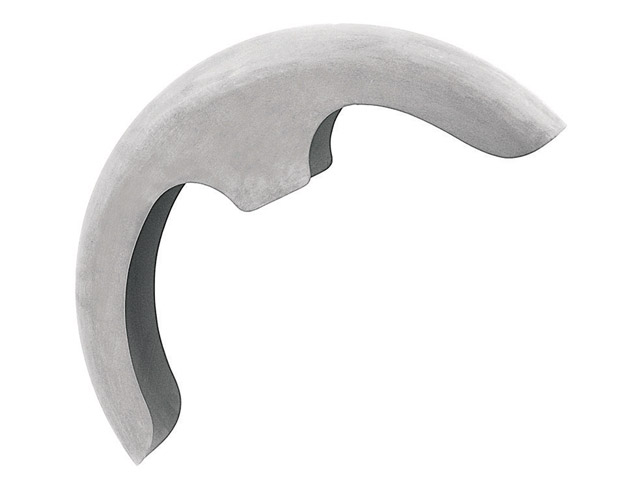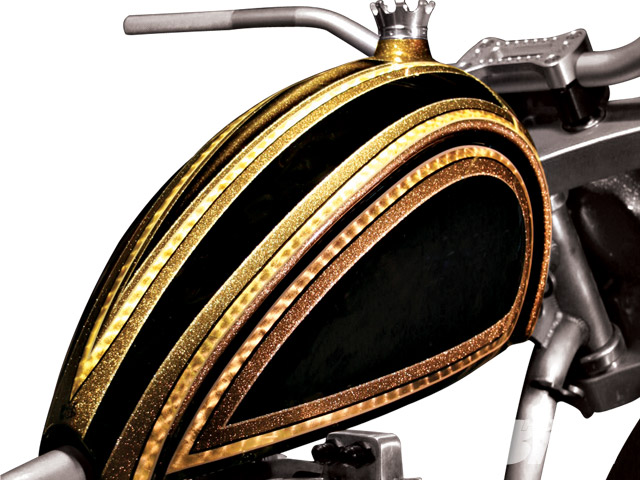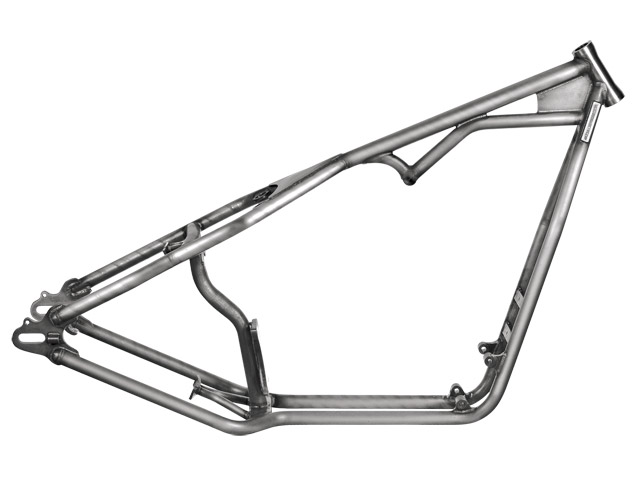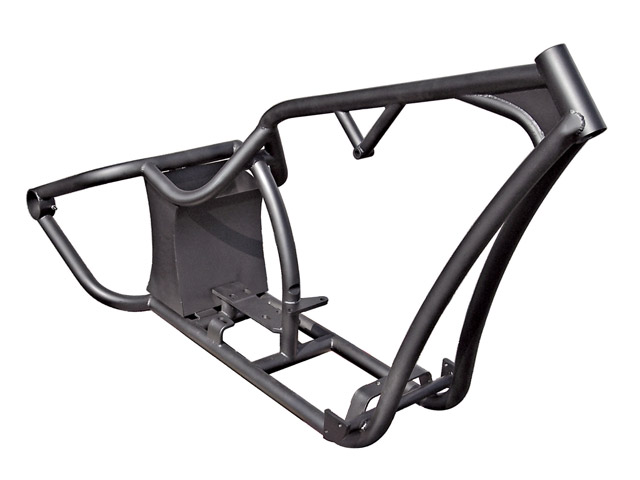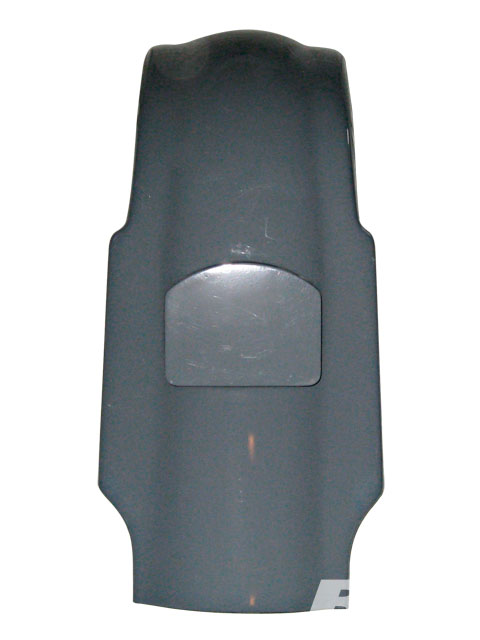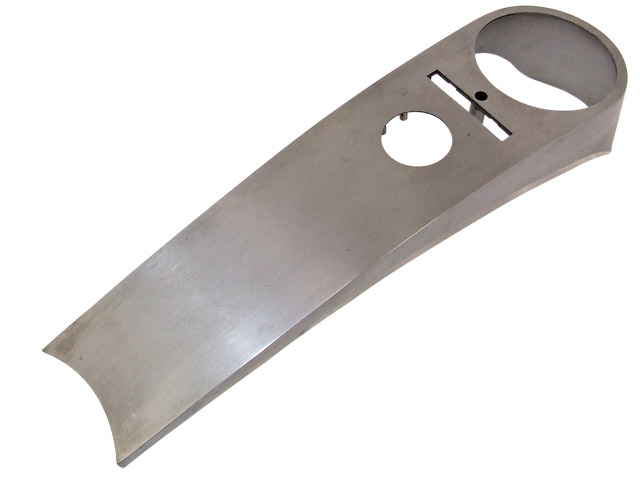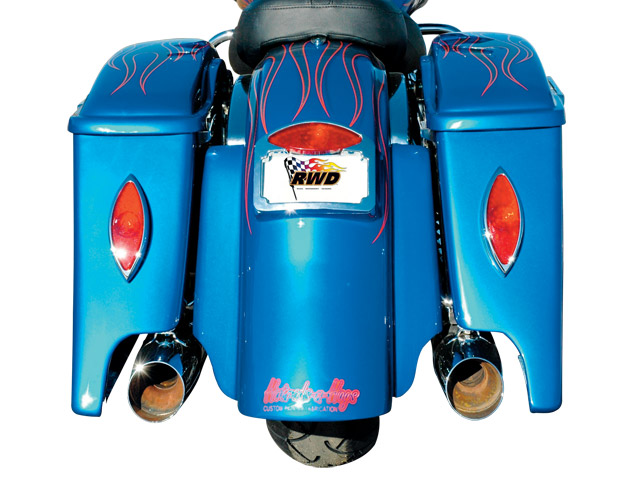 Black Sunshine Customs Weld-On Hardtail
Contact for Price
Fabricated from 1 1/8-inch DOM steel tubing (1-inch in the seat section), the new hard-tail weld-on conversion for stock Shovelhead frames is TIG welded and features a unique Heim joint axle block with a 3/4-inch axle and chain tensioner.
Black Sunshine Customs
(217) 433-8745
www.blacksunshinecustoms.com
---
Bad Dad 23-inch Front Fender
$315
Recently add a 23-inch front wheel and don't have the sheetmetal to cover it? Bad Dad's 23-inch FL fender is stretched to provide the clearance for 23-inch wheels. The fender's constructed of fiberglass and finished with a gel coat. Chrome mounting spacers are included with the fender, and it's also available for 21-inch wheels, too.
Bad Dad
(260) 407-2000
www.baddad.com
---
Chopper Guys FXR Frame
$2,739.40
The new drop-seat, pro-street FXR frame from Chopper Guys features a 180-200mm rear tire setup to fit either a Twin Cam or Evolution drivetrain. The frame has a 30-degree neck rake with a 3-inch lowered neck height, and 2 inches of stretch in the backbone.
Chopper Guys
(707) 557-2400
www.chopperguys.com
---
Chica Custom Cycles Rear Fender
from Custom Chrome
Contact for Price
This steel rear fender features a raised center rib for the utmost in style. Available in widths from 5, 6, and 7 1/2 inches, it comes unpainted and undrilled for maximum flexibility in mounting it on your custom bike project.
Custom Chrome
(408) 825-5073
www.customchrome.com
---
Drag Specialties Rear Fender
$189.95
This is a direct replacement rear fender for your stock '06-09 FXST, FXSTB, FXSTS, FXSTC, FLSTSB model. It comes raw, and is made from stamped steeel and pre-drilled to ease with the installation process. It accepts all OEM components and measures 9 1/2 inches wide.
Drag Specialties
www.dragspecialties.com
Fat Baggers, Inc. Long Rear Fender
Starting at $399.95
The FBI squad has developed a new rear fender for your '09 Harley-Davidson Touring model. The long composite rear fender is a direct replacement for your stock rear fender and is available unpainted with lighting cutouts or painted with lighting cutouts (shown). You'll need the required mounting kit, which is sold separately ($89.95).
Fat Baggers, Inc.
(877) FBI-BIKE
www.fatbaggers.com
---
Heartland USA Front Fender
$299
The company that bills itself as the cure for the common Softail, Heartland is at it again with a super snug fitting front fender for the Rocker models. When you Rocker owners are ready to step up to a 21-inch front wheel, this new fender will complement the look by hugging it oh so tightly. Constructed of heavy-gauge steel, the fender comes with all of the mounting hardware for a seamless install.
Heartland USA
(310) 822-2697
www.heartlandbiker.com
---
Milwaukee Twins Front Fender
$159.99
This heavy duty, 4 1/2-inch wide fender from the J&P; Cycles clan is ready to cover your 21-inch front wheel/tire. Made from 14-gauge steel, this fender is manufactured using a deep draw process.
J&P; Cycles
(800) 397-4844
www.jpcycles.com
---
LA County Choprods
$840
LA County Choprods' new "Pinche" Gas Tank features an inset panel detail on each side and was designed to mount high on the backbone like the old school Frisco tanks. Leakage shouldn't pose a threat due to its one-piece bottom and sunken mounts. Choose one of the company's gas caps, and where you want the gas cap and petcock bung located. All the hardware is included, but the sweet Buck Wild Design paint job shown here isn't!
LA County Choprods
(310) 353-2467
www.lachoprods.com
---
Kustomwerks Sportster Frame
$1,023.25
Attention Sporty owners looking to build that custom bobber of your dreams. If you own a '86-03 Sportster and you've always wanted to build your own custom, this frame gives you that option. The Kraft/Tech frame was engineered with 1 1/4-inch tubing to accept a 180-200mm rear tire depending on if you go with a belt or chain final drive.
Kustomwerks
(800) 498-4711
www.kustomwerks.com
Mammoth Choppers Woolly Hardtail Frame
Contact for Price
The Woolly Frame's low profile design accepts up to a 300mm rear tire and a right-side-drive transmission. The 1 1/2-inch DOM steel tubing that makes up the frame's design has been TIG welded for strength and structural integrity. Also included are the rear fender, rear axle, and oil tank, and the frame can be customized in any rake or stretch.
Mammoth Choppers
(800) 235-0272
www.mammothchoppers.com
---
Milwaukee Bagger Rear Fender Cover
$300
Yes folks, this is a fender cover. It bolts right up to your stock '97-08 FLH rear fender. It was made to fit the Russ Wernimont Cateye run, brake, and turn signal license plate frame as well. This cover was made to eliminate the gap between saddlebags and stock rear fender, and it's made of fiberglass with a smooth gel coat finish.
Milwaukee Bagger
(414) 550-9550
www.milwaukeebagger.com
---
Milwaukee Iron Dashes
Starting at $220
The Milwaukee Iron folks have a plethora of replacement dashes available that are constructed of 14- and 16-gauge cold rolled steel in the company's facility. All Milwaukee Iron dashes allow you to retain the stock speedo, key switch, and indicator lights, or any combination of the three.
Milwaukee Iron
(434) 385-1044
www.milwaukeeiron.com
---
Russ Wernimont Designs Extension Filler Panels
$298.95
Fill in that gap between your saddlebags and rear fender with these new filler panels from Russ Wernimont Designs. Made to fit '08-09 Road Kings and Glides with a 180 tire and hard bags. The panels are made of stamped 16-gauge steel and can be bolted on or welded on.
Russ Wernimont Design
(951) 698-9495
www.russwernimont.com
---
Sumax Big Bags
$980
Looking for more? The Big Bags are massive and fit approximately 30 percent more than the stock bags. Measuring 2 1/2 inches wider than stock, the Big Bags retain the use of the factory bag hardware and the insides have been finished in a durable charcoal lining. They're made of composite fiberglass and finished with a gel coating.
Sumax
(800) 654-5546
www.sumax.com
US Choppers Factory Race Platform Frame
$2,399
Reminiscent of the old board trackers from the early 20th Century, the US Choppers Race Platform frame fits any big twin motor and transmission back to 1936, except Shovelheads. It's available in 61- and 67-inch wheelbases and includes rear eccentrics and axle.
US Choppers
(714) 546-4699
www.uschopper.com
---
Washington Choppers Rolling Chassis
$3,295
This complete Legacy II roller frame includes the works: frame, sheetmetal, wheels, tires, frontend, and more. It comes with a Springer frontend and features 1 1/2 inches of backbone stretch with 4 inches of leg stretch. It also fits a 200 rear tire and a 120mm up front.
Washington Choppers
(360) 671-1916
www.washingtonchoppers.com
---
Zeel Design Wide Tire Kits
Starting at $4,395
Looking to fatten up the ass end of your '97-08 FLH? The 240 Wide Tire Kit from Zeel Design includes the new, fat 18×8-inch wheel, the new fender, and more it requires no welding and bolts directly onto your frame to utilize stock H-D bags, etc.
Zeel Design
(450) 772-5962
www.zeeldesign.com
---
Klock Werks 2009 Benchmark Rear Fender
$469.95
Klock Werks' 2009 Benchmark Rear Fender is 4 inches longer than the stock FLHT model fender and is made from 14-gauge steel as a direct bolt-on application that includes the mounting hardware. Installation is a snap because the holes have been drilled and the cuts have been made to ensure proper fitment.
Klock Werks
(605) 996-6000
www.kustombaggers.com
---
Arlen Ness Duck-Tail Rear Fender
Contact for Price
This new Duck-Tail rear fender is a direct replacement for the factory fender on '02-later FLT models that fills in the gap between the bags and fender. It's been pre-drilled to bolt in place of your stock bike's pre-existing fender and can fit up to a 200 rear tire.
Arlen Ness
(925) 479-6350
www.arlenness.com