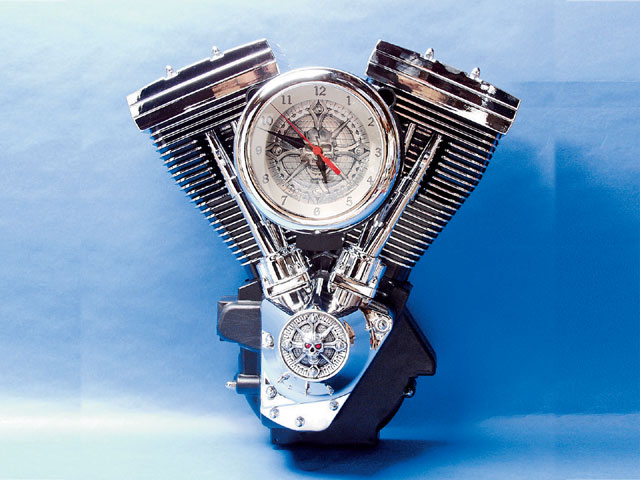 Art to the ExtremeExtreme Motorcycle Art is the first ever book devoted to painted art on motorcycles and features nearly 400 color photographs of amazingly diverse and imaginative art by 50 of the world's most talented motorcycle painters. Individual artist close-ups, profiles on specialist bike studios, specifications, and contacts for each artist complete Extreme Motorcycle Art's appeal. While other books have featured motorcycle construction and design, none has focused exclusively on the painted art on motorcycles. Extreme Motorcycle Art's coverage extends internationally, featuring examples from bike artists from the United States, Britain, and Europe. The book spotlights established artists such as Dave Perewitz, Mike Learn, Vince Goodeve, Mike Terwilliger, and Fitto, as well as talents on the rise, including Wizard, Ron Finch, Javier Soto, and Bianca Hennig.
For more information, contact Merrell Publishers or your local bookstore, or visit www.merrellpublishers.com.
The Sha Sha RedemptionSha Sha Fine Shoes Inc., a manufacturer of alternative-styled footwear for men and women, is introducing a new signature line for the motorcycle industry, co-created by master chopper builder Matt Hotch of Matt Hotch Designs. Matt's personal style of riding in low-top deconstructed athletic shoes inspired Sha Sha to work with him to develop his own signature line of footwear.
For more information, contact Sha Sha Fine Shoes, (877) 3-SHA-SHA, www.sha-sha.com.
If the Shoe FitsBandit Machine's heavy-duty solid chain-adjuster shoe for Big Twins will save you from the adjuster shoe failure that is prevalent in high-horsepower engines and which can cause chain breakage and inner primary breakage, with related damage to the engine and transmission. CNC-milled from solid Polydure for high strength and wear resistance, the solid shoes are CAD-profiled to ensure the chain path is the same as stock in the OEM chain adjusters. These are a must for high-horsepower Big Twins with chain-drive primaries.
For more information, contact Bandit Machine Works, www.banditmachineworks.com; or Kendall Johnson Customs, (336) 771-4222, www.kendalljohnsoncustoms.com.
Accessories GaloreOne of the fun things about owning a bike (besides riding it) is accessorizing it. You'll be like a kid in a candy shop when you go to www.zoom4parts.com and see the company's extensive online catalog of parts in a huge variety of styles. Shown here is the billet Fire Fighter Mirror, with a cross design that measures 3×3 inches and has a billet finish. The mirror is sold with both 3- and 5-inch stems for mounting options.
For more styles and options, contact Zoom4Parts, (888) 316-1994, www.zoom4parts.com.
Stay ChargedWhen your bike's feeling down, you can give it an uplifting boost with Compu-Fire's 40-amp three-phase charging system, which is designed for fuel-injected engines and bikes with six-speed and overdrive transmissions. The system provides 25 amps at idle and 40 amps continuously above 2,800 rpm. The narrow rotor and stator fits Softail/Dyna primary cases, and the voltage regulator bolts on without any frame modifications. The precision-balanced vented rotor keeps the stator cooler in closed-primary systems to maintain maximum output under all high-current-draw conditions. The large flanged-seal spacer provides maximum support for the rotor, and the voltage regulator has an output of 14.5 volts from idle on up.
For more information, contact Compu-Fire, (909) 598-5485, www.compufire.com.
Tail End of ThingsFor most of us, the flesh on our bums is not enough to make a ride comfortable. Buell Accessories offers the necessary extra padding with the new Triple Tail Pad, which is designed to fit over the Buell Triple Tail system on the '06 Buell Ulysses XB12X. The black gel-filled pad is designed to offer the passenger more comfortable support when the Triple Tail is in its upright, backrest position. A zipper makes it easy to install or remove the pad, which also features an embroidered XB12X logo on the back.
For additional information, contact your local Buell dealer, (800) 443-2153, www.buell.com.
Cleaning At The Molecular LevelEagle One believes in caring for your ride-one atom at a time. The company's new line of car/motorcycle-care products utilizes nanotechnology to provide better surface penetration, deeper high-gloss shine, and longer-lasting results. The new line consists of the NanoWax Spray, which produces a high-gloss shine with no hazing or white residue; the Nano-Protectant interior detailer, which cleans and conditions vinyl and leather surfaces with no oily, sticky residue; and the Nano-Polish, which is designed for use on mag, chrome, and aluminum wheels to prevent surface scratching and to fill imperfections in the surface, while an anti-corrosion formula provides a barrier against rust, oxidation, salt, and acid rain.
For more information, contact Eagle One, (800) 432-4531, www.eagleone.com.
Time Will TellNow that you have motorcycles in the garage, printed on your mug, and tattooed on your skin, you can hang one on the wall with the original V-Twin wall clock from V-Time. Meticulously handcrafted to the exact dimensions of the Evolution-pattern V-Twin motor, this is a truly unique piece. The cylinders' black and chrome finish depicts the look of an actual motor. The rocker boxes, pushrod tubes, lifter blocks, and cam cover are all show-quality chrome-plated. The clock mechanism features a battery-powered quartz movement. To give the V-Time clock a personalized look, it can be customized with factory or aftermarket points covers. The clock's V-Twin body is cast with all of the accessory attaching points in their stock positions.
For more information, contact V-Time, (909) 676-8047, www.v-time.com.
Listen to Your EldersIt's been quite a while since you last sat on your grandpa's lap (now substituted with a motorcycle seat). Grandpa's wisdom never failed you, which is why you can trust Grandpa's Motorcycle Products to have the right highway bar for you, whether you're short or tall. The new adjustable highway bar is designed to fit most Harleys and comes in two basic sizes: regular, and long-leg for riders who top out at more than 6-1/2 feet tall. Each model adjusts for varying inseam lengths by use of a two-piece connecting block that allows the bar to pivot a full 360 degrees, changing the distance between the pegs and saddle throughout that range. All bars are a bolt-on install, except for Electra Glides and Road Kings. Those bikes require the drilling and tapping of one hole in the frame brace. But Grandpa even includes the drill bit and tap with your order in those applications. Grandpas are like that-always thinking of everything.
For more information, contact Grandpa's Motorcycle Products, (574) 340-6111, www.granpas.com.
Now You See Me, Now You Don'tLike waving a magic wand, you can change the look and feel of the EXO-200 helmet from Scorpion Sports. The patent-pending SpeedShift quick-change shield/visor system allows easy tool-less swapping of one for the other (both included) in a mere 10 seconds. The aero-tuned and optically correct clear face shield features a downdraft leading edge for quieter performance, while the advanced composite-engineered shell is also aero-tuned for wind-tunnel-tested comfort. The helmet is lined with KwikWick moisture-wicking breathable liner and cheek pads that are cool and dry in warm weather, and warm in cool weather. If that doesn't keep you cool, the ventilation system, consisting of adjustable, indexed front and rear vents, keeps you well-aired and comfortable. The EXO-200 is Snell 2005- and DOT-certified.
For more information, contact Scorpion Sports, (949) 768-5517, (888) 672-6774, www.scorpionusa.com.
Big Pimpin'You've spent all that time pimpin' out your ride, so don't to forget to get your pimp on with Pimp Stixxx logo clothing line. If you want the same logo shirt that everybody else is wearing, then this clothing line is not for you. Want a shirt that will set you apart from the rest of the crowd? The company has top-quality T-shirts in long and short sleeves with two different logo styles: the "Pimp Daddy" logo and the "Legs" logo. Hoodies, ladies' strap Ts, baby dolls, and hats are available as well.
For more information, contact Pimp Stixxx, (888) 524-0351, www.pimpstixxx.com.
Get a GripWhen you're flying down the road at 80 mph, the only thing keeping you connected to the bike is the weight on your butt and your hands on the bars, which is why you need great grips. Luster Industries offer a line of grips fully CNC-machined from 6061-T6 aircraft-grade billet aluminum, with stainless-steel set screws. The grips are high-speed polished to a show-bike finish and are ready for post processing, such as anodizing, powdercoating, or chroming, or they can be mounted on a bike right out of the box. All grips receive a three-stage hand-polished finish. Stage one is hand-polished on a course-polishing wheel. Stage two is hand-polished on a fine polishing wheel, while the third and final stage is done with a soft cloth and jeweler's rouge. The throttle sleeves are designed to fit 1-inch-diameter bars and will accept single or dual throttle cables. Grips can be custom-tailored to fit your bike.
For more information, contact Luster Industries, (306) 565-1878.
Cleaning At The Molecular LevelEagle One believes in caring for your ride-one atom at a time. The company's new line of car/motorcycle-care products utilizes nanotechnology to provide better surface penetration, deeper high-gloss shine, and longer-lasting results. The new line consists of the NanoWax Spray, which produces a high-gloss shine with no hazing or white residue; the Nano-Protectant interior detailer, which cleans and conditions vinyl and leather surfaces with no oily, sticky residue; and the Nano-Polish, which is designed for use on mag, chrome, and aluminum wheels to prevent surface scratching and to fill imperfections in the surface, while an anti-corrosion formula provides a barrier against rust, oxidation, salt, and acid rain.
Spyked PunchGive your batteries extra juice with Spyke's complete charging system, which features a forged-steel rotor with a thicker spline for maximum engagement on even the biggest of motors. The magnets are encapsulated in a protective barrier to resist vibration-related breakage and prevent costly damage. The kit includes a high-performance stator and voltage regulator.
For more information, contact Spyke Inc., (888) 467-7953, www.spykeinc.com.
As Seen on TVYou've seen it on Speed TV's Build or Bust and on many custom builds from LA County Choprods, and now you can see it on your own scoot. LA County Choprods now offers the "Stop Here" license-plate mount/taillight. The light is an old-school Vincent repop straight out of the '50s, and the plate holder is an LACC original. The license-plate holder is available raw or powdercoated solar black, in either horizontal or vertical orientations.
For more information, contact LA County Choprods, (310) 353-CHOP, www.lachoprods.com.
Lock Up Your GoodiesDo you have a need to secure valuables in your Road Glide's upper fairing gloveboxes? eGlideGoodies has released the GDL-1 Glovebox Door Lock Kit for Harley-Davidson Road Glides. This kit allows you to lock your Road Glide gloveboxes when you want to store valuables such as cell phones and so on without having to go back to your saddlebags or Tour-pak. The kit also allows you to leave the gloveboxes unlocked for quick access to items such as earplugs and gloves. The chrome barrel locks match perfectly with your existing ignition or saddlebags' stock barrel locks and can be key-matched to your Road Glide's ignition key. The kit comes complete with two-barrel lock assemblies, associated hardware, and full installation instructions.
For more information, contact eGlide Goodies, (760) 753-4642, www.eglidegoodies.com.
Bladder ControlControlling your bladders has never been easier with American Drag Seat's new adjustable air bladders for motorcycle seats. Made from urethane with pleats to enhance shock absorption, these bladders are directly installed to the factory foam and then covered with a finishing material. The rider can adjust the air pressure manually, or a pressure regulator can be retrofitted. American Drag Seat offers a 12-month warranty under the condition that the company complete the service install. The bladders are available in a variety of styles.
For more information, contact American Drag Seats, (713)987-1237, www.adscustoms.com.
Do It YourselfYou may have the most well-made bike with the best parts and intricate metalwork, but it can quickly become a useless pile of metal if you neglect its upkeep. Fix My Hog has recently released a maintenance DVD tailored for Harley-Davidson Sportster models. The two-disc DVD, spanning three-plus hours, covers factory-recommended maintenance, including oil changes, transmission fluid service, clutch and primary chain adjustment, cable adjustment and lubrication, brake-pad and brake-fluid service, and more. A total of 30 procedures are demonstrated, with bonus footage of rider safety tips and scenes from the Hollister Independence Rally.
For more information, contact Fix My Hog, (619) 269-9321, www.fixmyhog.com.
Vegas TeeezEven if you don't live in Vegas, you can still wear it. Gearhead Planet's "Vegas Cool" line of T-shirts features Aces and 8s, Deuces Wild, Snake Eyes, and, of course, Lucky 13. Kinda makes you want to hop on your ride and head straight for the Sin City. Created using the latest in silk-screen technology, cutting-edge inks, and the finest-quality shirts on the market, these very cool threads from the guys and girls who brought us the Route 66 shirts, Lady Luck collection, and other classic "Teeez" make great gifts at any time of year.
For more infor-mation, contact Gearhead Planet, www.gearheadplanet.com.
Great RackJust as you have shoe racks, your motorcycle needs a tire rack for its extra shoes. Built for looks, strength, and functionality, the RB Component tire rack is available in multiple lengths: 24-, 32-, and 48-inch mounting centers. End plates are made of .160-inch-thick aluminum for superior strength, while the center tubes are made of 1-inch-OD tube by .125-inch wall. A machined insert is welded into each end of the tube to provide threads for assembly. All racks come with two end plates and three tubes and are designed to fit 24- to 28-inch-OD tires.
For more information, contact RB Components, (714) 893-1088, www.rbcomponents.com.
One-Eyed MonsterEurocomponents introduces its Cyclops headlight, a perfect finishing touch that completes the aggressive look of your monster. The headlamp, measuring 6 inches wide, 2-3/4 inches in height, and 5 inches deep, features high and low beams. The light is available chromed or black powdercoated.
For more information, contact Eurocomponents, (386) 274-5729, www.eurocomponentsusa.com.
Join the PlatoonDesigned to survive and follow you as you battle daily traffic, not to mention wind and harsh weather conditions, the Platoon tail bag from Rapid Transit is made of wind/water-resistant nylon. It features scratch-guard rubberized contact fabric, expandable compartments, a quad-adjust bungee mounting system, removable insulated cooler bag, backpack-convertible options, and 48x42x35cm storage, equivalent to 70.6 liters. It's available only in black.
For more information, contact your local Rapid Transit dealer, www.rapid-transit.com.
Moving Your StuffWe are all pack rats at heart, and our major purpose in life is to gather and buy stuff. We buy a house to store our stuff, then a bigger house when we have too much stuff. When we go traveling on the road, we need something to move our stuff. Leather Threat Designs has a solution for that. The company's Flaming Skull trailer decal set, which features highly detailed airbrushed designs reproduced as top-quality decals, will move your stuff as safely as your driving. The designs are screen-printed on five-year outdoor vinyl, printed with fade-resistant inks and thermal die-cut to the exact shape of the design. They look and feel like an expensive custom paint job at a fraction of the cost. Also available is the USA Eagle trailer decal set.
For more information, contact Lethal Threat, www.lethalthreat.com.
Oil EaterGluttony may be a sin, but you'll think this Oil Eater cleaner from Kafko International is a godsend when it eats through the grease and oil on your engines, tools, and other equipment, cutting your cleaning time in half. The non-flammable formula dissolves grease and oil, as well as all kinds of dirt, and can be used on engines, tools, concrete floors, equipment, driveways, walls, and even clothes. This unique cleaner is water-based, fresh-scented, and biodegradable, contains no acid, abrasives, or petroleum solvents, and is perfectly safe on skin. It penetrates rapidly, rinsing off easily without leaving residues. Oil Eater is available in a 32-oz spray bottle and in 1- and 5-gallon containers.
For more information, contact your local Kafko International Oil Eater dealer and auto parts retailers, (800) 528-0334, www.oileater.com.
Tales From the CryptYou don't have to be a doctor-or a psycho-to enjoy the human anatomy. Crypt Custom Cycles is offering its new detailed skeleton hand mirrors with fully adjustable mirror glass. They are available in chrome, satin finish, or custom finishes.
For more information, contact Crypt Custom Cycles, (334) 705-0283, www.thecryptcycles.com.
Fifth WheelA third wheel may be annoying on dates, but a fifth wheel is great for traveling! Blue Ox has expanded its Sport Carrier line to include a model built specifically for fifth-wheel trailers. The SportCarrier II by Blue Ox incorporates a wheel dolly to allow its use on the back of fifth-wheel trailers. (It is a good idea to check with your chassis manufacturer to ensure that it will support this product.) Featuring a 48×84-inch steel deck with a removable tire stop, the SportCarrier II allows you to carry two motorcycles, an ATV, golf cart, or whatever else your trip calls for. The black powdercoat finish and tie-down locations built into the deck make the SportCarrier II one of the most useful, convenient, and durable carriers on the market.
For more information contact Blue Ox, (402) 385-3051, www.blueox.us.