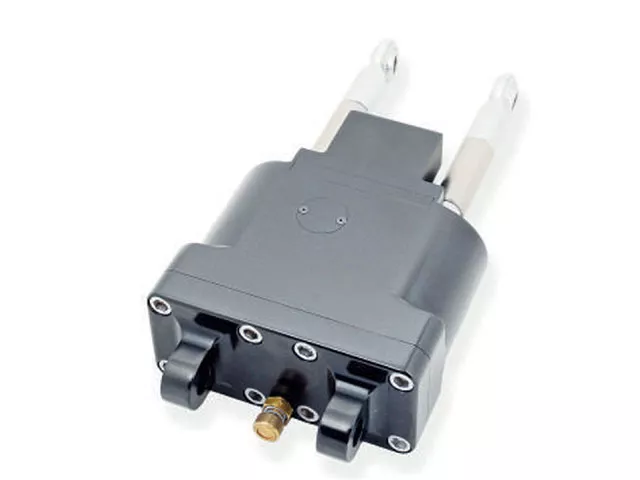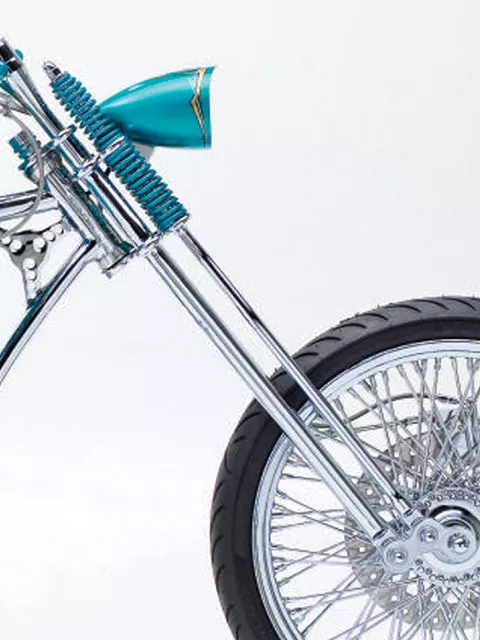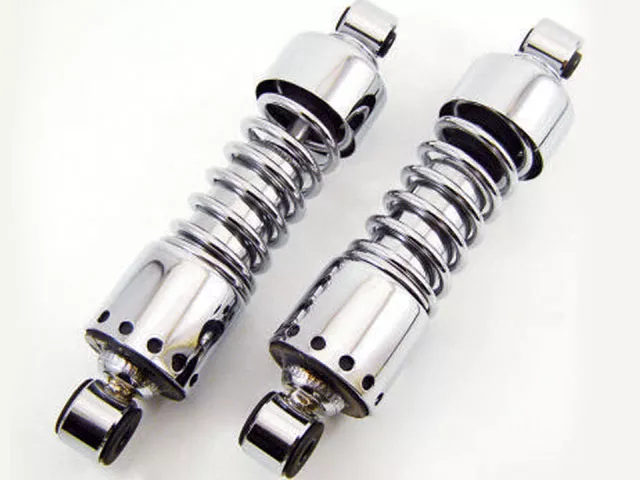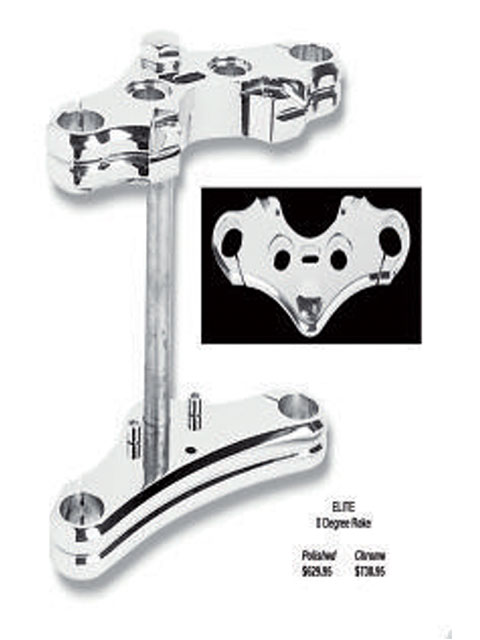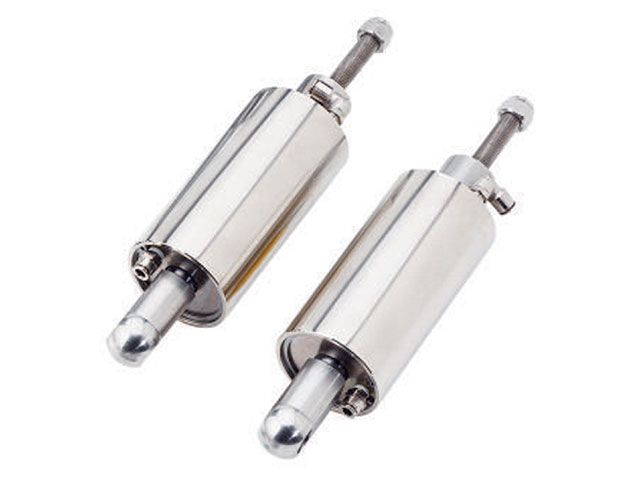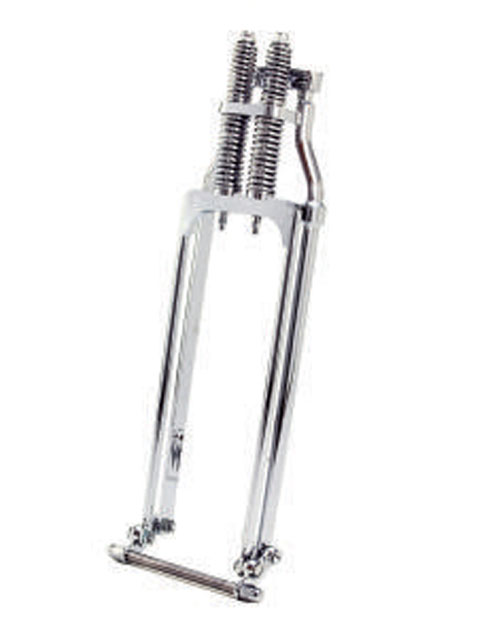 Caddy ComfortRiders using RaceTech's Caddies suspension will notice a much plusher, smoother ride on square-edge bumps such as expansion joints and railroad crossings. They are available with chrome or black springs, and different lengths are available to accommodate lowered and custom applications. The spring preload can be quickly adjusted to accommodate those extra-load journeys. Made in the USA, Caddies are constructed of the highest-quality materials. The shock shaft is hard-chromed, the body is made of highly polished chromed steel, and the eyelets and spring collars are polished-billet 6061-T6 aluminum. For more information, contact RaceTech at (951) 279-6655, or visit www.race-tech.com.
Eye-OpenersThese 41mm billet lower fork legs will stop folks in their tracks. Manufactured by and available exclusively from Pro-One and its dealers, the beautifully designed and precision-machined lower legs are as rugged, durable, and reliable as they are good-looking. Offered in four unique styles with a deep-luster show-chrome finish, Pro-One legs are offered for single- or dual-disc applications. For more information, contact Pro-One at (800) 884-4173, or visit www.pro-one.com.
Air-SimplifiedImagine a self-contained air suspension that grants both truly clean results and an easy install. The passages are ported internally, and the compressor is integrated with the cylinder housing-no hoses to run, no fittings to fail, and no worries about where to hide the compressor. It comes in hard-anodized black or chrome. For more information, contact Custom Cycle Control Systems at (702) 438-2129, or visit www.customcyclecontrols.com.
Spring AwayCyril Huze's Springer frontend is offered in any length from 2 inches under to 20 over, in narrow, mid-, or wide-glide styles. Rounded trees and corners give it a smooth, sleek appearance, and it uses Delrin isolated springs and needle-bearing rockers. It is available raw or in chrome. For more information, contact Cyril Huze at (561) 392-5557, or visit www.cyrilhuze.com.
Old-Style SpringerPaughco is now offering what may be the ultimate chopper Springer. This latest addition is fitted with the company's bulletproof OEM-style tapered rear legs. Stronger and more closely resembling original Springers, the new Paughco frontends are available in a mind-boggling collection of styles and sizes. Tapered-leg chopper models can be ordered in traditional "wide" styles fitted with or without the factory-style shock. All models are offered in lengths ranging from stock up to 21 inches over in increments of 3 inches and are finished in Paughco's in-house chrome. For more information, contact Paughco at (775) 246-5738, or visit www.paughco.com.
Riding on AirFor smooth, predictable ride quality at any ride height, turn to Air Systems Engineering's AirFX suspension systems. The system uses air pressure from an onboard compressor to create lift from a twin-piston air-cylinder package. Air is also supplied on the opposite side of the triple-sealed pistons, with stainless-steel piston rods providing complete control. The FXA-1002 (shown here) is a lightweight, one-piece, rebuildable, billet-aluminum cylinder that's been given a NiTuff hard-coat anodized finish for long-lasting durability. Other features include a self-lubricating composite rod and mounting-point bushings and remote micro-control buttons supplied with 7 feet of cable. The Air Systems Engineering FXA-1002 is prewired, factory-tested, and comes in a black-anodized or polished finish. For more information, contact Air Systems at (800) 210-1454, or visit www.airsystemsengineering.com.
Tall Ain't AllIf you've got an '04-or-later XL model and you want to drop it a bit, check out Harley-Davidson's low front-suspension kit. It'll lower the front suspension by approximately 1 inch while preserving ride quality. The shorter fork springs are progressively wound to allow a compliant, controlled ride, and the kit includes two fork springs and damper tubes. For more information, contact Harley-Davidson at (800) 443-2153, or visit www.harley-davidson.com.
Takes a Lickin'…Licks Cycles just keeps 'em coming: The company's new short shocks will have you rolling along on your dropped scoot in no time. These shocks were developed specifically to maintain ride comfort while lowering the rear stance. The 10-inch short shock is designed for use on '88-and-later Sportster, FXR, FLT, V-Rod, and Bagger models. Licks' short shocks offer direct bolt-on installation for specified machines and feature a durable, show-quality chrome finish. For more information, contact Licks Cycles at (888) 522-8191, or visit www.lickscycles.com.
Among the EliteAccutronix has added the "Elite Smooth" raked triple-trees to its complete line of raked triple-trees and Elite products. Machined from 6061 billet aluminum and made in the USA, these trees' pinch bolts are concealed on the backside for a smooth appearance. They are available in 41mm wide glide with a 5- or 7-degree rake and 39mm wide- or midglide with a 3-degree rake. Show-polished, chrome, and black-anodized finishes are available. For more information, contact Accutronix at (602) 993-2675, or visit www.accutronix.com.
The Black TorpedoIf you like the look of this black torpedo, you're in luck-Hawg Halters Inc. (HHI) offers complete 41mm frontend packages in a black-anodized finish. Various kits include wide-glide or midglide smooth-top triple-trees with 0-, 3-, 5-, 6-, and 7-degree rakes, as well as fork lengths up to 20 inches over stock. For more information, contact HHI at (877) 442-5837, or visit www.hawghalters.com.
The Pogo EffectSick of suspension rebound? MC Advantages' Platinum air suspension utilizes bleed/feed technology that controls the uncomfortable "pogo effect" while being fully adjustable for riding, even with a passenger. Designed for simple plug-and-play installation, bleed/feed Platinum air suspension kits have fully adjustable ride height and ride dampening. Bleed/feed models are available for '84-'05 Softails, FLH Dressers, V-Rods, and customs. Deluxe and simple models are available for '84-'05 Softails, Dynas, Road Glides, Road Kings, Sportsters, and customs. For more information, contact MC Advantages at (800) 726-9620, or visit www.mcadvantages.com.
Avalon AwaitsMean Street is introducing two new styles to its innovative Avalon fork line. The Avalon II (shown here) and Avalon III offer different lower leg treatments for more variety. With their dramatic design and seamless flowing lines, Avalon forks may look like sculpture, but you won't have to visit a museum to experience these beauties. They are available in almost any configuration to bring your bike to the next custom level. For more information, contact Mean Street at (915) 592-6887, or visit www.meanstreetproducts.com.
Smooth and CleanLifeStyle Cycles' Signature Series full-radius triple-trees come complete with upper and lower trees and a full-radius milling, giving them a clean, smooth look all the way around. They feature a 6-degree rake, giving your bike the street-worthy stance it was born for. The triple-trees have been drilled for internal stops (sold separately), preserving the clean look throughout. Milled from high-quality billet aluminum and polished to a high luster, these triple-trees are just the thing to set your bike apart from the rest. For more information, contact LifeStyle Cycles at (714) 490-0155, or visit www.lifestylecycles.com.
RoadmaximizeRoadmax is pleased to announce this unique Springer fork assembly. Conforming to the company's stringent guidelines for quality workmanship, performance, and rugged reliability, Roadmax Springers are designed for use on all H-D models from 1990 to the present. Sizes currently available include 2 inches under stock, stock, and 2, 4, 6, 8, and 10 inches over. The complete assembly as delivered includes a Roadmax custom axle and applicable spacers. The frontend's unique design provides accommodations for the use of internal fork stops and fitting of right- or left-side disc brake. Optional fender mounting hardware is available. For more information, contact Roadmax at (714) 446-0787, or visit www.roadmax.net.
ShockingDrag Specialties introduces high-quality adjustable shocks for your Softail. These fully assembled chrome shocks have an adjustable internal spring for preload. The improved multi-stage, velocity-sensitive internal valving with hydraulic anti-bottoming provides a comfortable, jolt-free ride. Shocks utilize a Freon-gas cell for fade-free shock operation and double-walled construction for extra durability, and will lower the bike up to 2 inches. For more information, contact your local Drag Specialties dealer, or visit www.dragspecialties.com.
Flat-OutSafety ascends to a new level with Works' air shocks for Softails. Besides looks and confident, smooth riding, the air Softail shocks are designed to "run flat" in an emergency. This means that if there were a loss of pressure, the bike could still be ridden at reduced speed to get to a safe haven. Additionally, if a line fails, the system deflates slowly to allow the rider to react and reduce speed and lean angle. To guard against line problems, stainless-steel sheathed hoses are used for strength and durability. Two versions are available: an eye-to-eye style for '89-'99 models and the "post" style for '00-up. Currently, the shocks are available in black only, with polished-billet compressor brackets and switch mounts. For more information, contact Works Performance Products at (818) 701-1010, or visit www.worksperformance.com.
To SpecCustom Cycle Engineering extension fork tubes range from '49 Harleys up to the newest models. The tubes start with special-ordered DOM 1026 steel tubing, and then the company grinds the outside diameter to OEM specifications and machines it to exact ID specs. The final product is plated to a show-chrome finish. Sizes for FXD range from 2 inches under to 18 inches over, and for the FXDWG sizes range from 4 inches under to 16 inches over. For more information, contact Custom Cycle Engineering at (760) 941-6487, or visit www.customcycleengineering.com.
Stick a Fork in ItSpyke's beefy 63mm inverted frontends feature speed-sensitive damping and progressive-rate springs for a plush ride with uncompromised handling over a variety of surfaces. The fork has chrome-plated triple clamps machined from 6061-T6 billet aluminum, a chrome-plated 63.5mm-diameter upper tube, and a hard chrome 45mm-diameter slider tube. The fork's sturdy legs are billet-machined and chrome-plated for that refined, smooth look. In addition, they are set up to handle single-disc or dual-disc brakes and are available (in 2-inch increments) from 2 inches under to 24 and 30 inches over. For more information, contact Spyke at (562) 869-9333, or visit www.SpykeInc.com.
Bear NecessitiesIf you're looking for a cool frontend, Big Bear's Merc Springer is the way to go. The Springer is 18 inches over with 2 degrees of rake, but it can be built to your desired length with up to 2 degrees of rake in the trees. A spiffy set of spikes on top of the springs and killer rockers at the wheel make this deadly-looking Merc something to be reckoned with. For more information, contact Big Bear Choppers at (909) 878-4340, or visit www.bigbearchoppers.com.
Cool FactorThe Hi-Lo Rider from Bike Buddy Pro is a complete air-suspension kit available for a wide variety of bikes, allowing custom adjustments and designs to be made to suit your riding conditions and the design of your bike. This all-in-one system gives you both function and looks, along with an optional remote control that allows operation from up to 200 feet from the bike. Hi-Lo shocks come with a lifetime warranty. For more information, contact Bike Buddy Pro at (818) 203-2853, or visit www.bikebuddypro.com.