If you could gather the collective consciousness at the 2018 Quail Motorcycle Gathering, you'd have a compendium of motorcycle history. It'd be filled with firsthand accounts of both racing glory and ignominious endings. It'd feature innovative tricks of the trade sitting side by side with marvelous feats of engineering straight from the factory. Between the 350-plus motorcycles spread about the lush lawns of the Quail Golf Club and the 3,000 builders, restorers, collectors, racers, and motorcycle enthusiasts filtering through its gates, the 10th annual Quail Motorcycle Gathering showcased the evolution of motorcycling, from turn-of-the-century singles to the new generation of avant-garde electrics.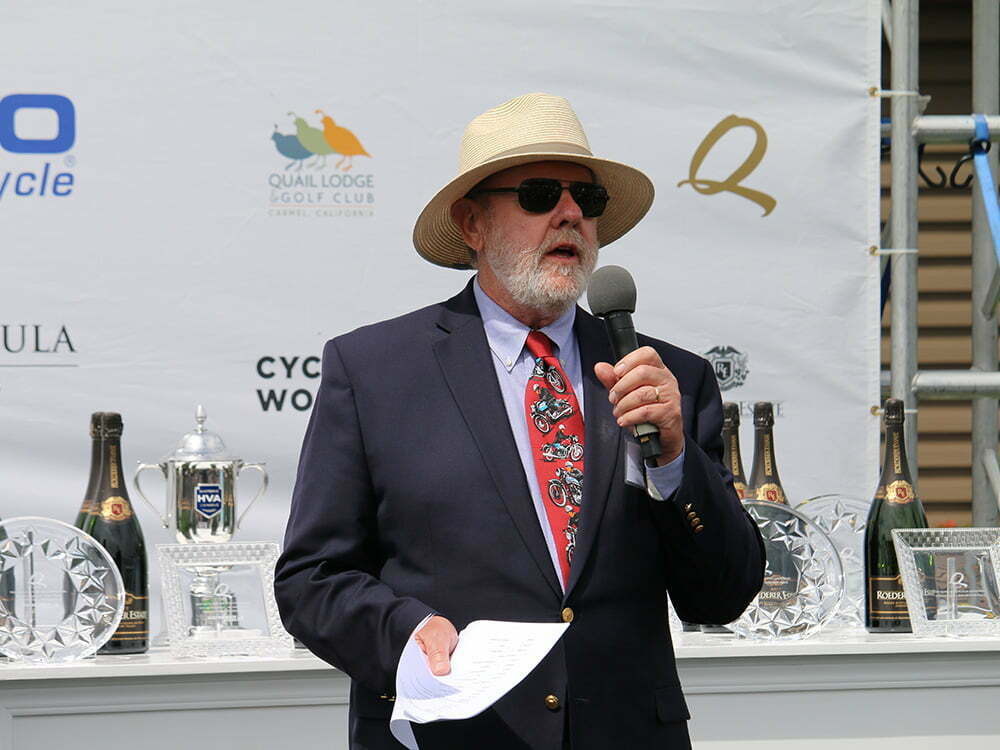 A prime example of this year's diversity would be Legend of the Sport honoree Arlen Ness, whose career as a custom motorcycle builder and painter extends more than 50 years and over three generations, as son Cory and grandson Zach have followed in his builder footsteps.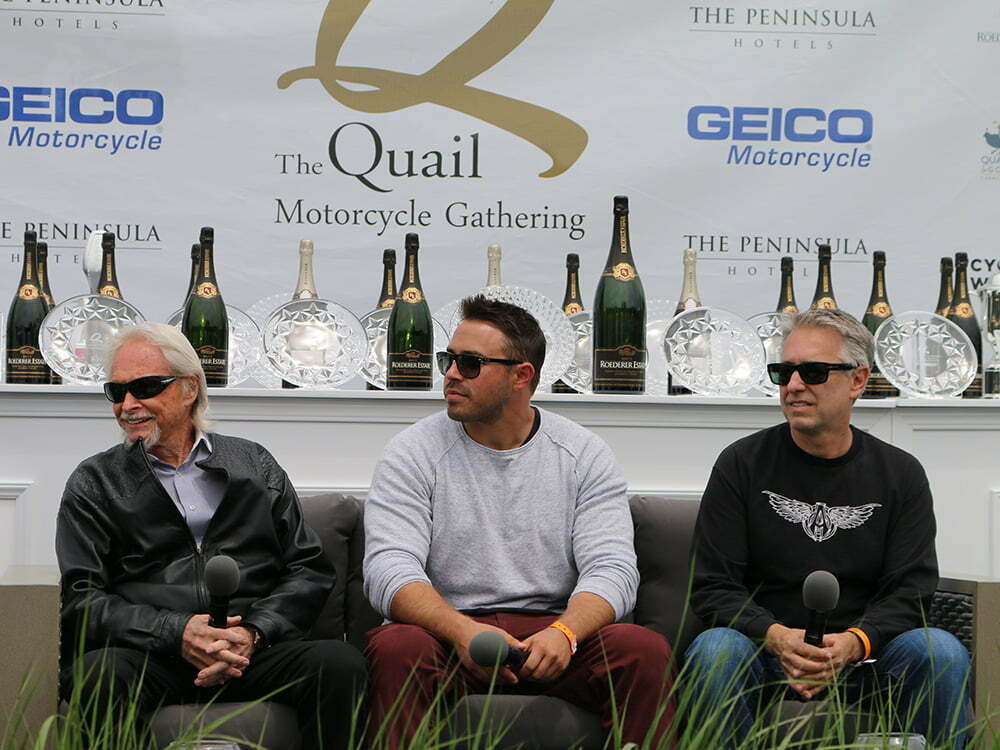 Arlen shared the tale of one of his most iconic builds, the digger known as "Untouchable," with the enthusiastic Quail crowd.
"Yeah, the red Knucklehead, the '47, that was my first bike. I paid $300 for it. I was bowling at that time and I'd win little pot games and would stash the money and finally got enough to buy a bike, which [my wife] didn't want me to have. I kept watching one down in Oakland that had a for-sale sign on it. Finally I went down there and took somebody who knew how to ride with me, bought the bike, and he rode it home for me, or close. I got about a block from home then figured, well, I'm going to ride it. Suicide clutch, of course, so I killed it about 20 times trying to go half a block," Arlen said.
"Anyway, I pull up in the driveway, I'm revving it, and Bev opens the kitchen door. She gives me this dirty look and slams the door. She was mad at me for a while but she got over it. She's still around," Arlen said as laughter rose from the crowd.
"In those days we were showing in the Oakland Roadster Show. But if you wanted to show the bike the next year, you had to make major changes—paint job or new motor, new frame. I just had the one bike so I just kept redoing it every year. It's been in its current condition for about 35 years now."
Joining Untouchable at the show was Arlen's Art Deco masterpiece called "SmoothNess" along with a personal fave, the orange and matte gray Dyna-style build with a Shovel lower and a Knuckle upper, one of the first of its kind outfitted with belt drive.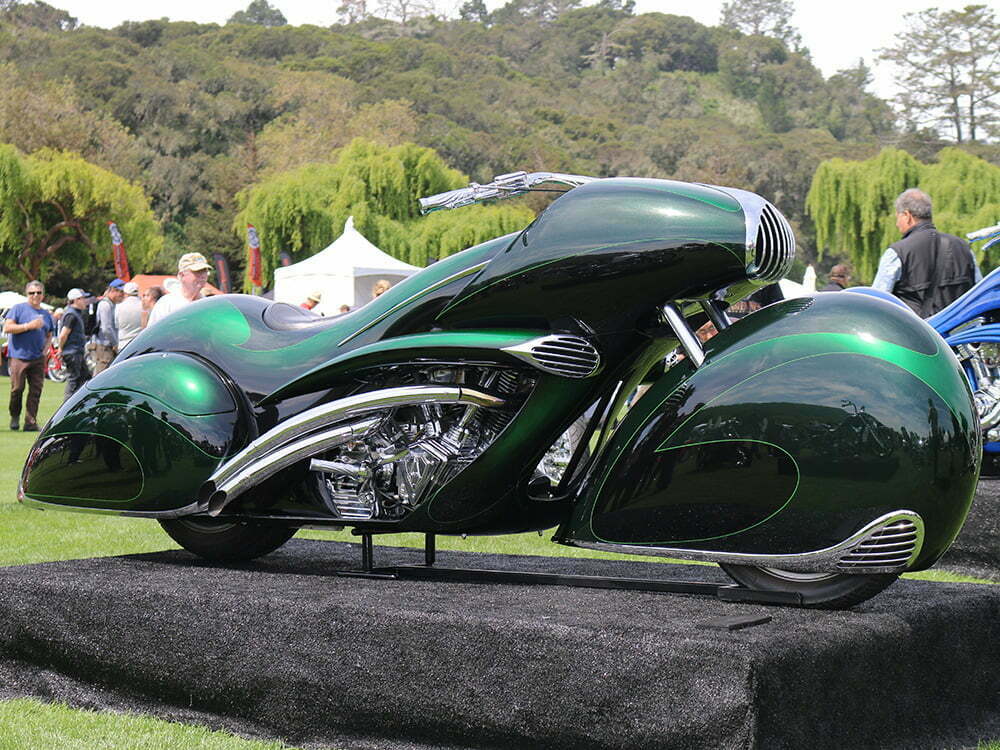 Cory Ness demonstrated that the apple doesn't fall far from the tree with the debut of his Indian digger at the show, a motorcycle with both a single-sided swingarm and fork. "I started with a Chieftain that had been wrecked. Built a frame for it from scratch. Did a single-sided swingarm and a single-sided fork. I drew the wheels up a long time ago. No engine mods, just a custom exhaust and air cleaner. The lower cam cover, horn cover, and the derby cover are something new we make for Indian. It's fun to ride, it practically weighs nothing," Cory said.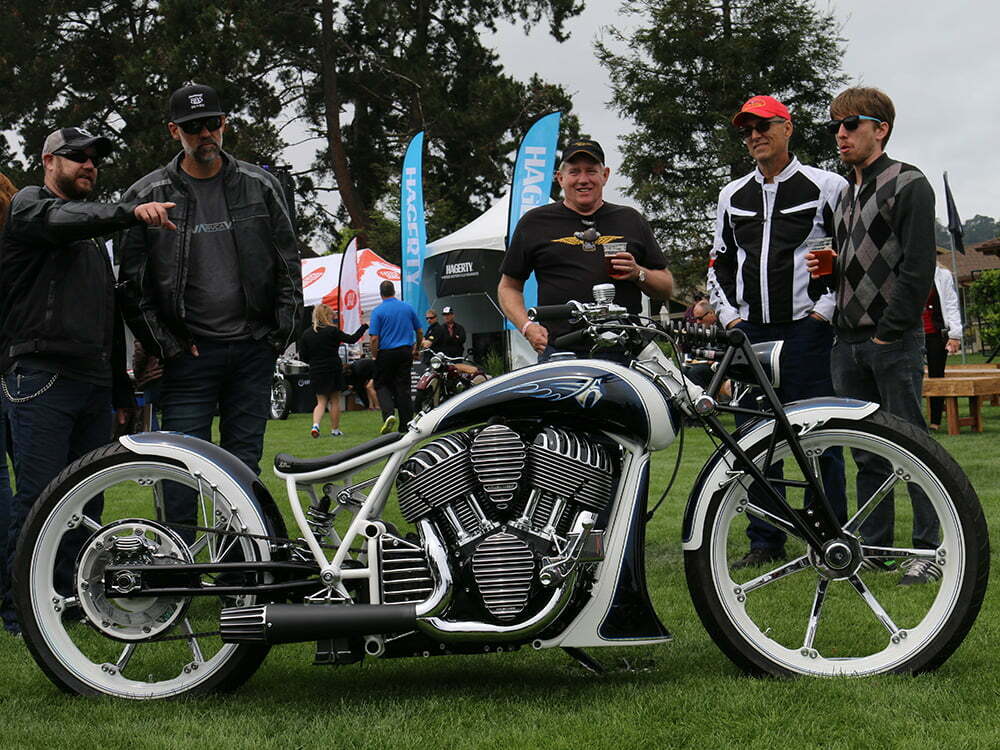 Almost on par with the presence of the Ness family was the special showing of Burt Munro's 1920 Indian Scout Streamliner. This was the real deal, the one Munro painstakingly milked every iota of horsepower out of what was initially a 606cc engine. With only half of the streamliner bodywork attached to the frame, it was a treat to be able to intimately inspect Munro's highly modified engine, leaf spring fork, and extended tubular chassis. It was a special moment when they wheeled the streamliner onstage to accept the Spirit of the Quail award and fired it up. Granted, it doesn't sport the same crazy-high compression ratio it did when it was setting land speed records, but the historic Scout still pounded out a glorious exhaust note. Many thanks to its current owner, Clyde Crouch, for sharing this iconic motorcycle with the masses.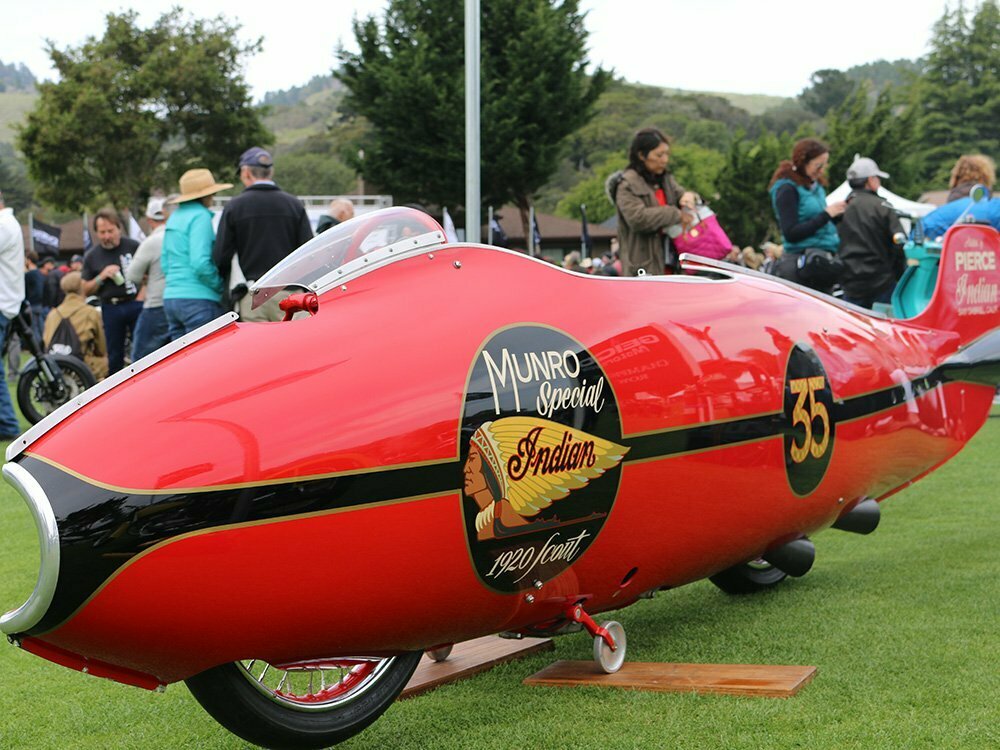 While the 2018 Quail Motorcycle Gathering was rife with historic builds, companies seeking to write the next chapters in motorcycling's archives also used the show to unveil their latest handiwork. This included the North American debut of the Method 143, a wicked carbon-fiber-clad creation by Arch Motorcycle that blurs the lines between cruiser and sportbike. We asked the driving force behind the design, Gard Hollinger, what sets the Method 143 apart.
"What all is unique to this bike? Almost everything. Single-sided swingarm, carbon mono-cell chassis, totally different geometry, different rider position than the KRGT-1. This idea of layers, so you see how the bodywork flows whether it's carbon, aluminum, or leather," Hollinger said.
"This is a preproduction prototype so when we get to production it will have a unique drivetrain, so a different transmission and drive system, and obviously the engine. The 143 cubic-inch engine will have its own unique downdraft system from what we use on the KRGT-1. And the wheels are proprietary. We're only going to build 23 of these."
Hard not to like a 2,343cc motorcycle with a titanium/carbon-fiber exhaust based on MotoGP technology, an Öhlins FGRT-series fork with a carbon-fiber airfoil that's proprietary, and radiant BST carbon-fiber turbine wheels designed in-house by the Arch team. Major Tom to ground control, we need clearance for liftoff because a new two-wheeled rocket has been born.
And speaking of rockets, Curtiss Motorcycle used the 2018 Quail Motorcycle Gathering to debut its 2020 Zeus electric motorcycle. We say rocket because mind-numbing numbers like an estimated 290 pound-feet torque and 170 hp were bandied about in conversations on this bike—Curtiss' first electric offering.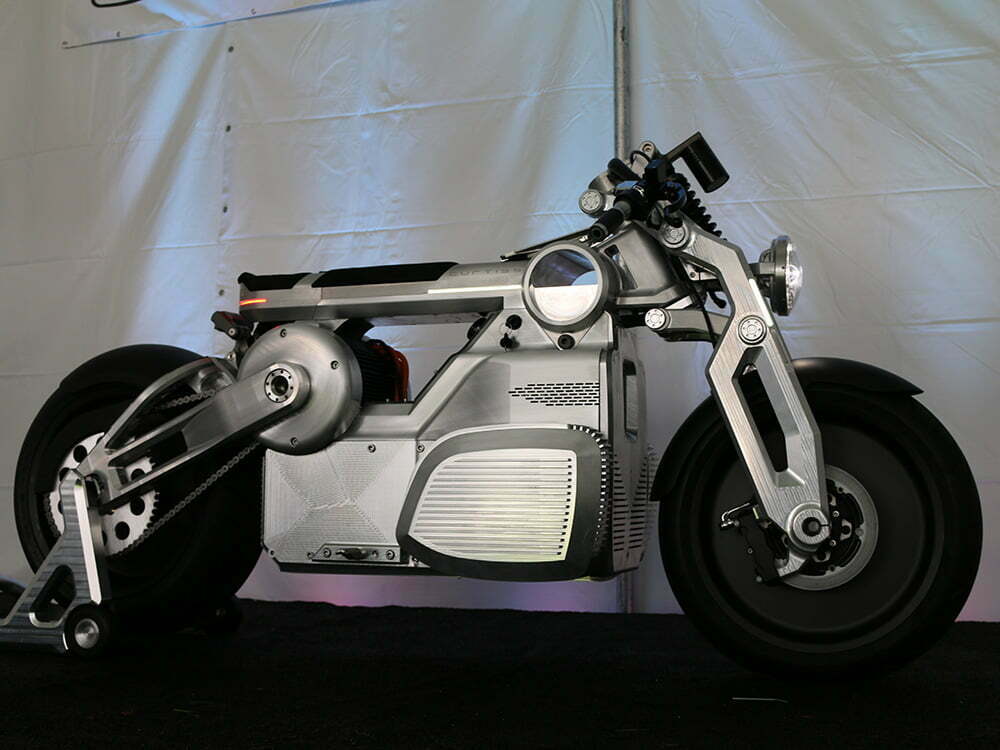 But first, a little backstory. Curtiss Motorcycle Co. is the new name of Confederate Motorcycles, a company that for 26 years produced high-end internal combustion V-twins with a decidedly industrial design slant. The switch from Confederate to Curtiss not only reflects new branding, it signifies the company's switch from gas-fed twins to torque-rich electric engines. The first of these Curtiss electrics, the Zeus, features an "E-twin" motor; that's two electric motors mounted in one case, running on one shaft.
While the bike's front end looks very Confederate-like, its twin electric motors, battery pack, and final chain drive are housed in billet bodywork. The rear is anchored by a single Race Tech shock. Curtiss' 2020 Zeus prototype was singled out by motorcycle aerodynamics pioneer Craig Vetter for the Innovation Award at the show.
These peeks at the future of motorcycling, however, did not prevent Doug and Marian McKenzie's 1913 Flying Merkel Twin, a motorcycle with more than 100 years of history, to claim Best of Show honors at the 2018 Quail Motorcycle Gathering.
"There's so many fascinating details about the Merkel. It's got full suspension front and rear, it's got a monoshock on the back, the oil tank is contained within the loop frame, it's just an incredibly advanced motorcycle for its time," said guest host Paul d'Orléans, publisher of thevintagent.com.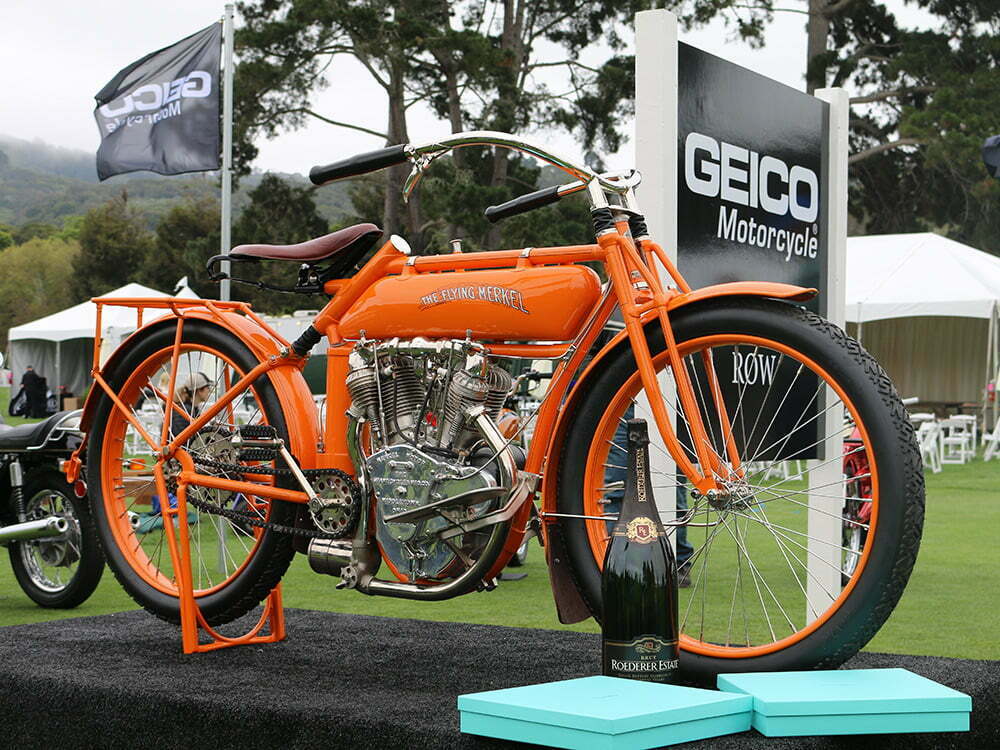 McKenzie first bought the 1913 Flying Merkel Twin, sight unseen, from a gentlemen in Australia.
"I bought the bike 20 years ago. I bought it, learned to ride on it, and owned it for a decade. Then I sold it. The guy who bought it from me had it restored to the condition it's in now, then I bought it back about six to seven months ago. The bike means everything to me."
The restoration of the 1913 Flying Merkel Twin was flawless, making it more than worthy of Best of Show laurels. Kudos go to Chief Judge Somer Hooker and his esteemed panel of experts for picking winners from among the numerous truly worthy entries at the 2018 Quail Motorcycle Gathering.
2018 Quail Motorcycle Gathering Award Winners
| Category | Bike | Builder | Class |
| --- | --- | --- | --- |
| Best of Show | 1913 Flying Merkel Twin | Douglas & Marian McKenzie – California | Antique Class |
| Spirit of The Quail Award | 1920 Indian Streamliner | Clyde Crouch – Texas | Competition On Road Class |
| 25th Anniversary of the Ducati Monster Award | 2010 Ducati Monster | Isaac Villanueva – California | |
| Café Racers Award | 1961 BSA DBD-34 Gold Star | Craig Steggall – Washington | |
| Electric Motorcycles Award | 1974 Corbin Bonneville Partial Streamliner Salt Racer | Mike Corbin – California | |
| Industry Award | 1960 Harley-Davidson Super 10 | Jackson Burrows – Canada | Custom/Modified Class |
| Innovation Award | 2020 Curtiss Zeus | Curtiss Motorcycle – Alabama | |
| Design and Style Award | 1968 Ducati 250 Narrow Case | Analog Motorcycles – Illinois | Custom/Modified Class |
| AMA Motorcycle Hall of Fame Heritage Award | 1971 Honda CT70 | Steve Mast – California | |
| HVA Preservation Award | 1920 Indian Streamliner | Clyde Crouch – Texas | Competition On-Road Class |
| Significance in Racing Award | 1981 Freddie Spencer's Factory Honda Racing NS750 Flat-Tracker | Anthony Giammanco – California | Competition Off-Road Class |
| Why We Ride Award | 1970 Indian Little Indian | Clive Belvoir – California | American Class 1936–1979 |
| Extraordinary Bicycles/Scooter Award | 1969 Lambretta Vega | Siobhan Ellis – California | Extraordinary Bicycles & Scooters Class |