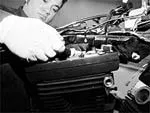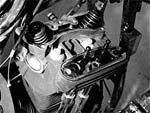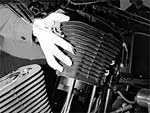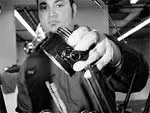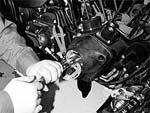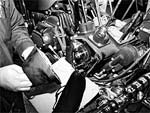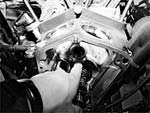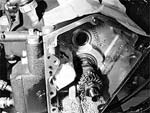 Engine hop-ups can become addictive. Sometimes we're content with what we've accomplished and leave it at that, but then there are a few bikes that we just can't leave alone. Each upgrade drives us to the next level — our '99 Softail Night Train is one of those bikes. Even though it is logging more than 100 miles per day traveling back and forth to work, we keep giving it more power. We just can't seem to keep ourselves from tinkering with it.
A few months ago, we took the Night Train over to Orange County Harley-Davidson/Buell to add a cam and a new ignition system. At first, that added horsepower was enough to make the bike fun, but it didn't take very long to outgrow, and the fun began to wane. It seems that some bikes, such as our Softail, become more and more fun with each modification made — a sort of addiction, if you will.
This time we decided to stick with our original displacement of 80 inches, but we wanted to push it a bit with a high-compression package consisting of cylinders, heads, pistons, cam, single-fire ignition system, and a few other select items. Knowing it's always best to leave guesswork involved in creating a kit to the experts, we contacted Zipper's Performance in Maryland for a little guidance.
Danny Fitzmaurice, the tip of the cheese pile at Zipper's, steered us toward his 80/80 Evolution Performance Kit. This aptly named kit promises to provide more than 80 horsepower at the rear wheel with an accompanying torque reading near the 90 lb-ft mark. The 80/80 kit includes: CNC-flowed cylinder heads with a set of pistons carefully matched to the combustion chambers, a RedShift 559E-cam, a steel replacement breather gear, pushrods, gaskets, and a precise cylinder bore machinework.
The kit also comes with a Zipper's high-performance CV carburetor, but we opted to go with one that our contributing editor/tuner extraordinaire Tracy Spencer set up for us, using his T-mod procedure. And we added a module and coil package from Dyna to give our bike single-fire ignition, and stuck with our Thunderheader that found its way onto the bike months ago.
We loaded up everything and went back to the Orange County Harley to meet Richard Hodges, service department head. Rich told us he knew we'd be back (he's spent enough time with us and our '99 Softail to know we can't keep our hands off of it), and set us up with Tony Luffredo to do the work. Tony had our bike torn down, built up, and running again in no time at all. After the work, we logged a few hundred break-in miles and went back for a dyno printout to see how we did.