Making it as simple as possible to achieve the look you want to make your bike uniquely you is at the heart of Klock Werks product development. The team loves to kustomize, and they want you to love it too! If your bags are beggin' for an up-grade, Klock Werks has you covered with an economical way to achieve a stretched bag look – Saddlebag Extensions. And if you want to go one step further, consider Klock Werks "THE ONE" stamped steel rear fender.
"Klock Werks saddlebag upgrades will guarantee that all eyes are on the rear… of your Harley-Davidson bagger. (Iron Aces Speed Shop)"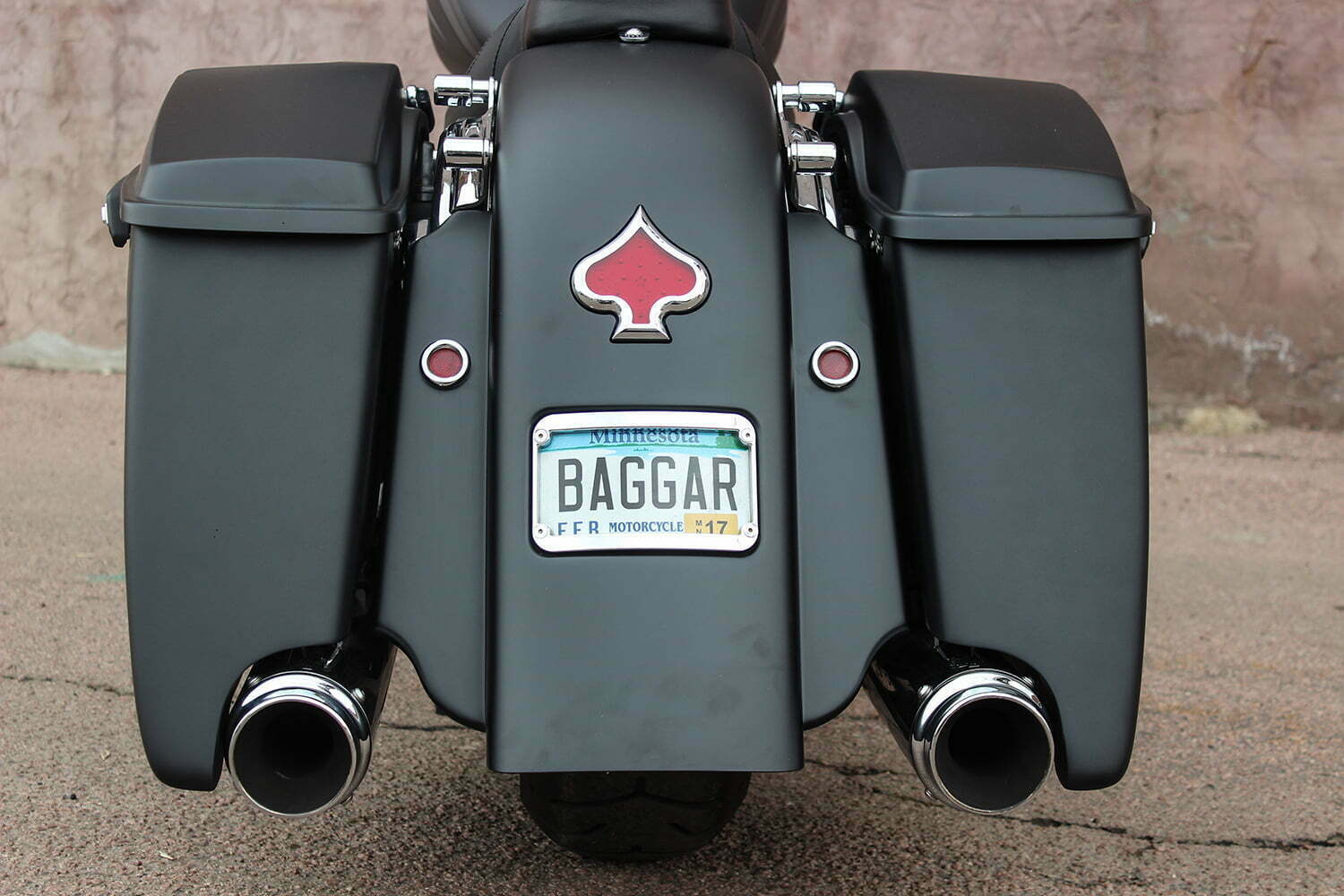 Klock Werks "THE ONE" stamped, 14-gauge steel, stretched rear fender with integrated filler panels is a one-piece combination that eliminates the need for separate rear fender and filler pieces, making installation simple and offering a seamless, smooth rear end for your bike. The ONE offers perfect spacing, lining up with HD rear top strut covers, and either extended bags, Klock Werks bag extensions, or stock bags. They are manufactured using the same deep draw stamping technology as the rest of the Klock Werks sheet metal line, giving you unmatched quality. Integrated filler panels are 100% TIG welded to the fender. The ONE accepts all stock detachable mounting hardware/brackets and comes pre-drilled with mounting holes. Fitments are available for 2009+ FLHT, FLHX, FLHR, FLTR, CVO touring models.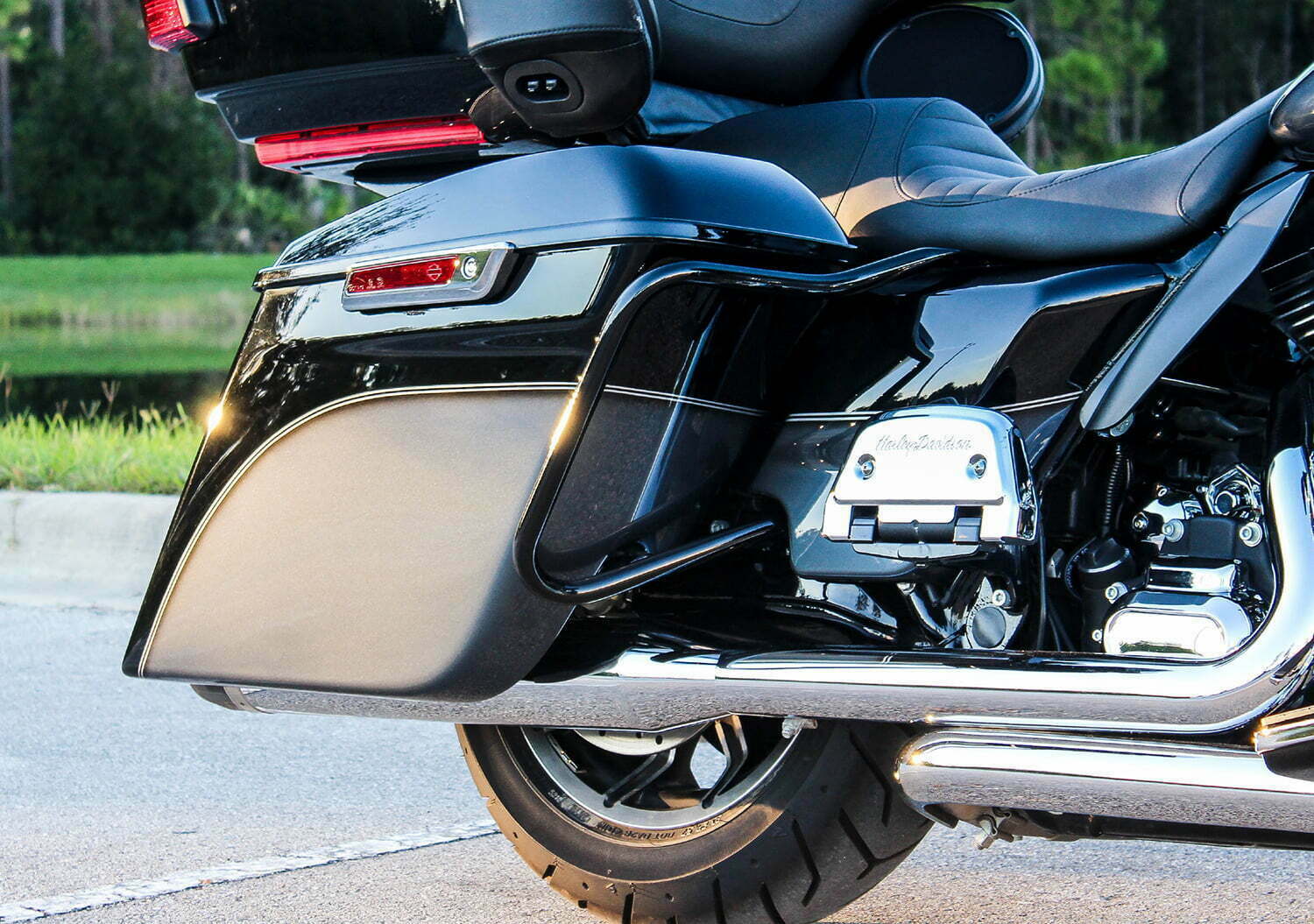 Saddlebag Extensions are available for hidden exhaust, 2-into-1, and dual exhaust and fea-ture fiberglass construction with a gel-coat finish for easy bonding. A wider lip allows for easier mounting to 2014+ factory FL models with hard saddlebags, so you will enjoy a flawless fit with less installation and finishing time. Fitments are also available for 1993-2013 factory FL models with hard saddlebags.
"The ONE rear fender setup is our answer to the one-piece fender bag filler trend. While others are made from fiberglass and plastic, Klock Werks The ONE rear fender is made from 100% US stamped 14-gauge steel, and made right here in the USA by proud craftsmen. Combine it with our easy to install saddlebag extensions, and you've got a completely kustom look," states Klock Werks C.O.O, Dan Cheeseman
Klock Werks always seeks to make parts that look great, make sense, fit right out of the box, and are made of the best quality, right here in the USA. Klock Werks saddlebag parts and rear fenders are available online at getklocked.com or through your local Drag Specialties dealer.
About Klock Werks
Located in Mitchell, South Dakota, Klock Werks has grown from humble beginnings to a nationally and internationally recognized Brand. Achieving status as "Air Management Experts", Klock Werks credits this to the success of the original, patented, Flare™ Windshield. Also supplying fenders, handlebars, and other motorcycle parts, Klock Werks proudly leads the industry through innovation in design and quality of materials and fitment. Team Klock Werks has been successful for years designing parts, creating custom motorcycles, and setting records on the Bonneville Salt Flats. You will find motorcycles, family, and faith at the core of Klock Werks, along with a commitment to caring for the needs of enthusiasts around the world who enjoy their products.
Subscribe now and get Hot Bike delivered to you on nice paper in full color.