Last week Hot Bike posted a list of some of the newest products on the custom motorcycle market for the start of 2017. Here's the second part of our four-part list of even more stuff for your ride. Parts 3 and 4 will be later this week. Take a look.
Biltwell's beefy Murdock Risers are now available with 2 inches of back sweep. With 8-, 10-, and 12-inch height options, these risers put the control center right where it needs to be for maximum control and comfort. Murdock Risers feature 2 inches of back sweep, an investment-cast steel one-piece top clamp and threaded lower mounting bungs, mounting bases accept stock H-D hardware, and TIG welded 0.120-inch wall 4130 chrome-moly steel uprights. The handlebar clamp bolt pattern fits the speedo/tach bracket on many stock Harleys. They come in black or chrome.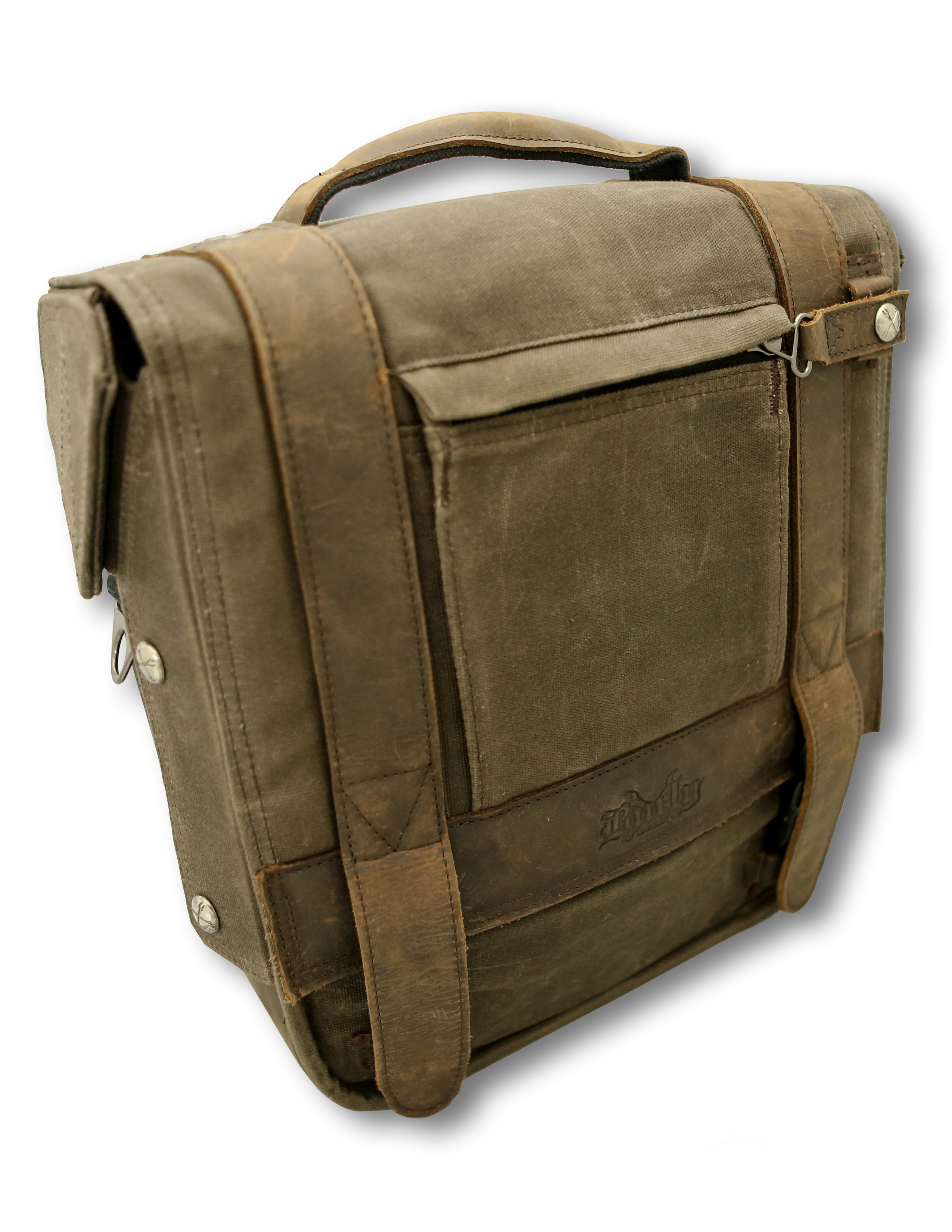 For riders on the go looking for more stylish utilitarian luggage options, the Voyager Luggage Line has arrived. Finding storage on motorcycles has often been attributed to giant packs with bungees attached every which way; minimize the stress involved with trying to find room for riding essentials with the Detachable Saddlebag(s), Tool Roll, Roll Top Backpack, Tank/Tail Bag, and Magnetic Map Tank Screen. Bear the elements with rugged 500gsm wet waxed UV treated cotton canvas construction and leather paneling/straps that will age and show character over time. Each item features high-quality "moto centric" speed buckles and zippers with metal Burly Brand embossed button snaps and accents as well as an "Anti-Flail Snap System" (on all zipper pulls and strap ends).
Style and function come together with these LED panels. They're designed to create a full custom look, yet blend in seamlessly to match the existing style lines of the back of your bike. Run lights, high-intensity brake lights, and ultra-bright plasma amber turn signals dramatically increase visibility for safety. Easy to install with simple plug-and-play connections—no drilling, splicing, or special tools are necessary. The lenses are easily removed to make painting to color match effortless. Available in chrome and gloss black for '06–'09 FLHX and '10–later FLHX, and FLTRX. All Ciro LED products come with a two-year warranty.
New for 2017, Florida-based Coastal Moto is proud to announce its new Precision-Cast Series of wheels, COMO3D. The first in the new series is called the Largo, and it has set a high bar for the wheel industry. Full 3-D design, beautiful contours, and an unbelievable price. Additionally, the wheels have full three-dimensional design elements that continue all the way out to the edges of the rim. These wheels also accept 2014–later style OEM brake rotors, so you can use your stock rotors and save huge bucks there as well, plus ABS wheels ship with Intelligent ABS pre-installed so there is no need to recalibrate your ABS system on Linked Brake models. These babies arrive totally pre-assembled with bearings and valve stems and are ready to roll. The Coastal Moto Largo is exclusively distributed by Drag Specialties.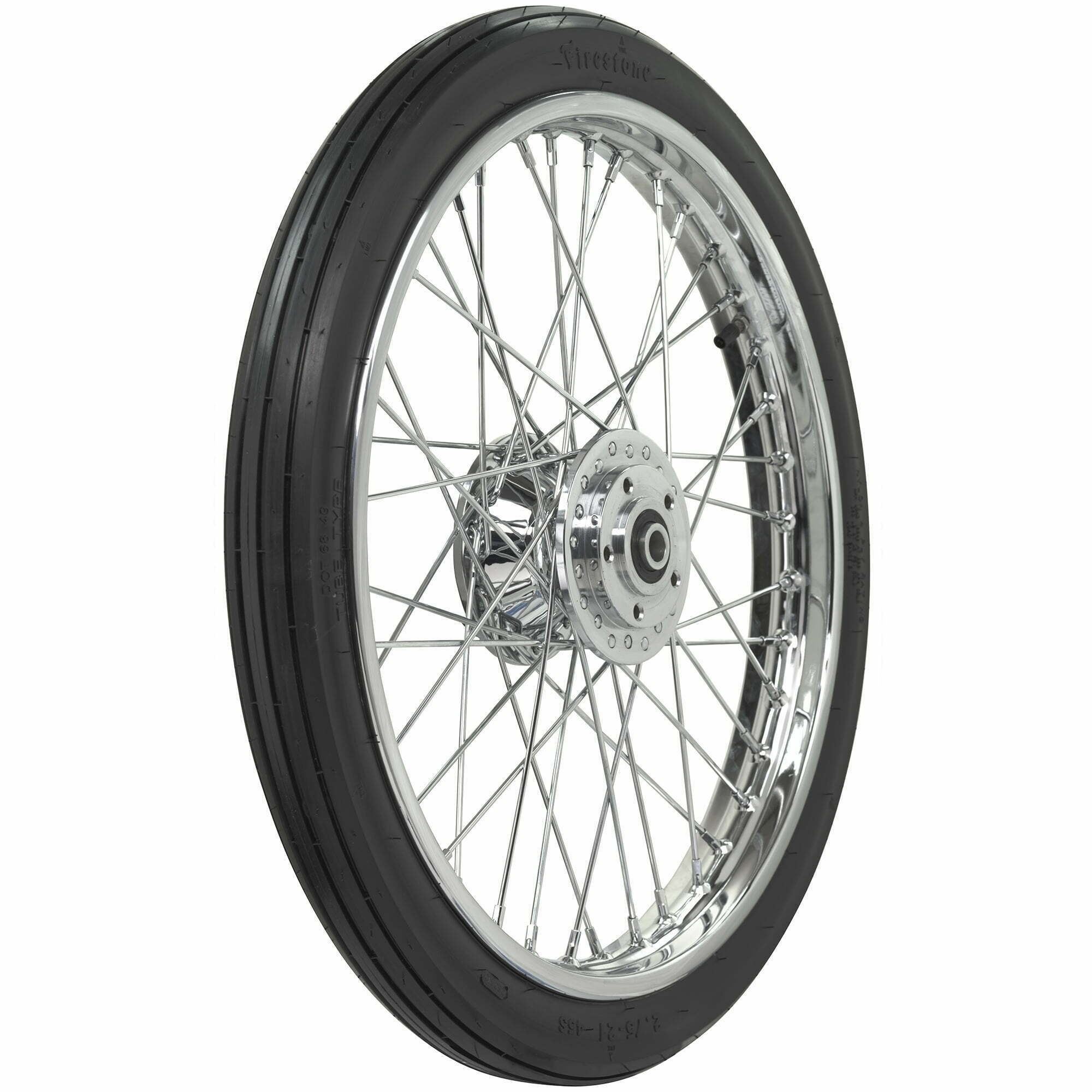 Firestone is a legendary brand in the motorcycle community and the racing community in general. When it comes to period-correct styling, Coker Tire leads the way with its Firestone products, and the new Firestone 2.75-21 and 3.00-21 tires are no exception. The straight-groove tread pattern is inspired by vintage racing tires, which has minimal tread designs, while the sidewall is smooth and clean. The two sizes are very desirable for custom motorcycles using a 21-inch wheel, as a vintage-style tire for the large-diameter wheel has not been readily available until now.
(800) 251-6336 cokertire.com
Previously created as a one-off, custom design for bikes built in-house, this popular exhaust is now available for 1995­–later Harley-Davidson bagger and Touring models. A variation on the original Destroyer exhaust system, the new Hole Shot edition offers additional visual detail and has been proven to increase horsepower and torque on both stock and modified motors. Exhaust systems include heat shields, baffle, mounting hardware, O2 ports, and plugs. Pipe includes a three-stepped header with a patented Covington's three-bolt collector design, full header heat shields, and a short baffle. Made in the USA.
Its concentrated formula is biodegradable and cleans engines in a snap without damaging delicate metal parts. Just spray and rinse; it's that easy. Works extremely well for brake dust, RV streaks, and general dirt and grime. Non-toxic. Non-acidic. Superior multi-surface cleaning.
Crusher's Maverick Pro Air Cleaner features aggressively styled forged and machined 6061 aluminum covers offered in Chrome, Satin Black, or Satin Black Machined finishes. Its slim design maximizes legroom, and integrated crankcase breathers eliminate the need for external hoses or fittings for a clean, tight appearance. Fits all '99–'17 Harley-Davidson Twin Cams and includes a high-flow K&N filter.
The newest version of the Wrap-Around offers both a bright White DRL illumination along with incredibly bright amber turn-signal functionality. White LEDs illuminate as a driving light then upon applying turn signal turn off completely provide greater visibility to the amber turn signal. Built into T06061 billet aluminum, you're able to stay visible on the road while still achieving a sleek, custom look. Choice of Chrome or Gloss Black Anodized Finish with Smoke lens. Lifetime warranty against LED failure. Sizes available include 39mm, 41mm, 43mm, 49mm, and 56mm.
Contact your Drag Specialties dealer.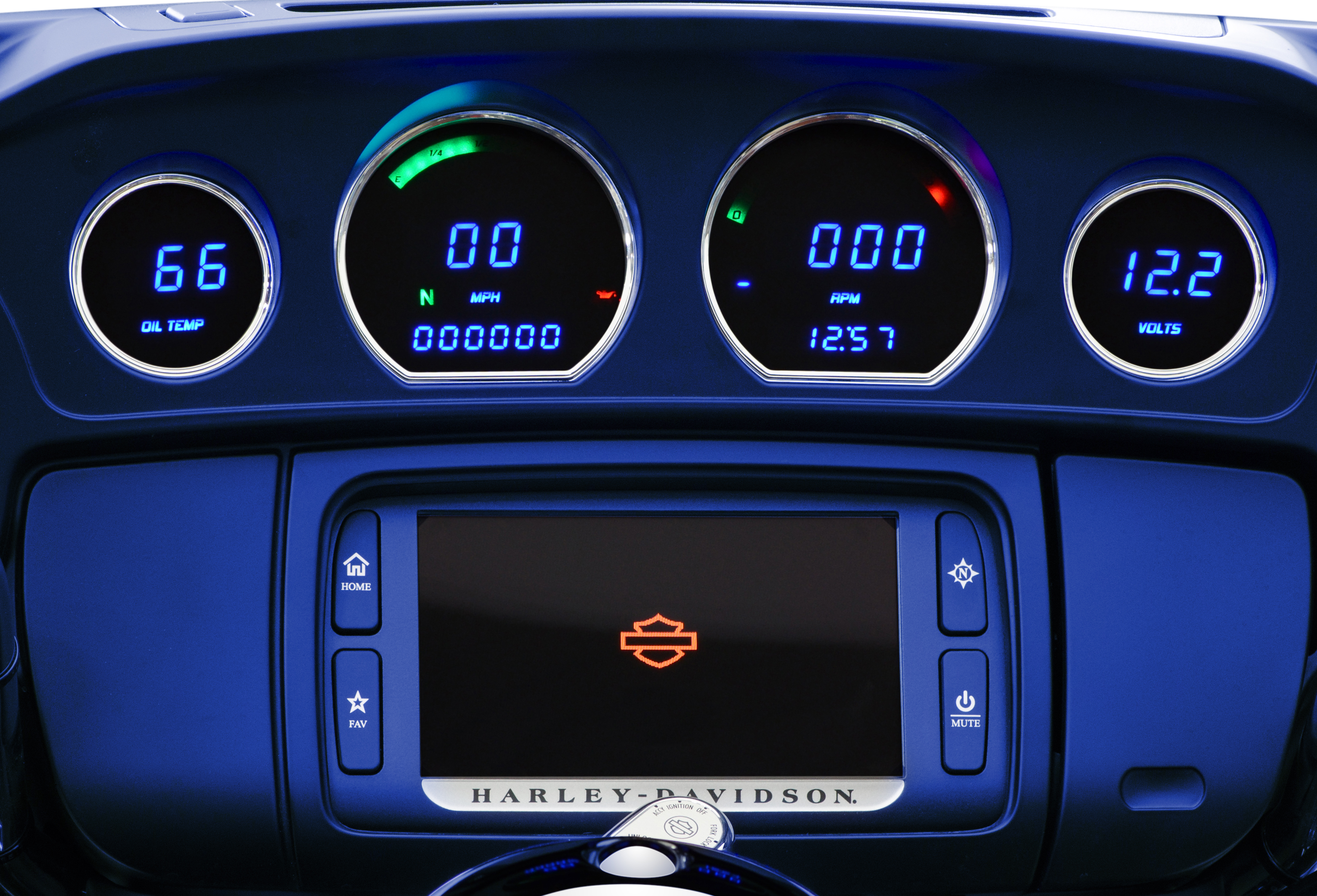 Dakota Digital's new MCL-3014 (Blue) and MCL-3014-R (Red) Digital LED Gauges are a direct plug-in kit that directly replaces the stock gauges while adding a lot more functionality. The set includes speedometer, tachometer (with bar graph tach), volts, oil temperature (sender included), and bar graph fuel gauge. Gauges use stock chrome bezels as well as mounting hardware. Additional features include clock, gear position, 0­–60 time and speed, quarter-mile time and speed, and high-speed and rpm recall.
(800) 852-3228 dakotadigital.com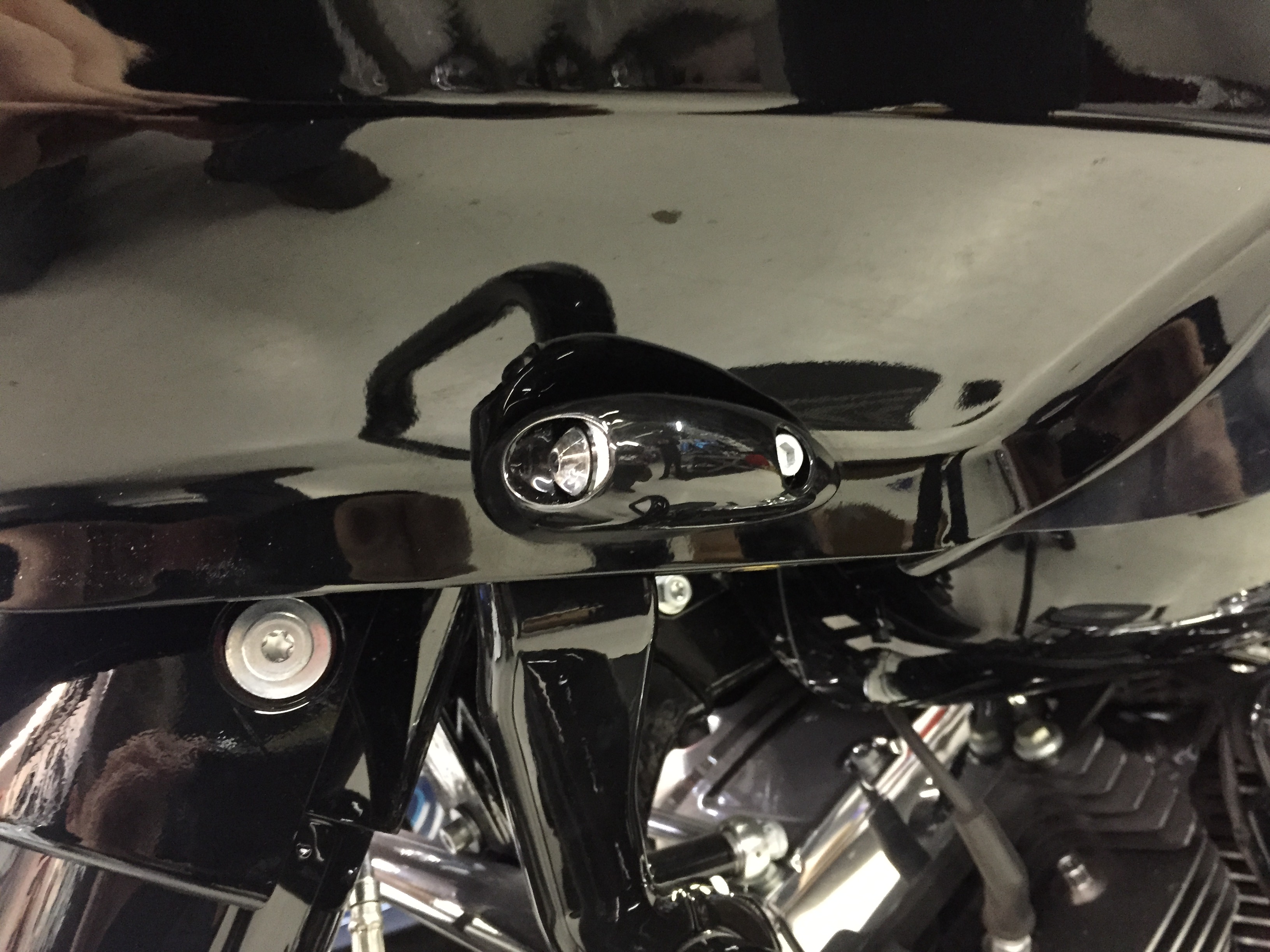 Replace those stock front signals on the 2015–2016 Harley-Davidson Road Glide models with the stylish new 6061-T6 3D machined billet aluminum signals from DD Custom. Featuring amber LEDs, they're available in raw, chrome, and black finishes. No load equalizer is required, and they come ready to install with resistor and EPZ module already in place to calibrate the LED draw so the indicators flash correctly. No cutting or slicing is needed. They are wired for running and signals but can be easily modified to operate as signal only. Each kit includes two eliminators with installed LED and install instructions.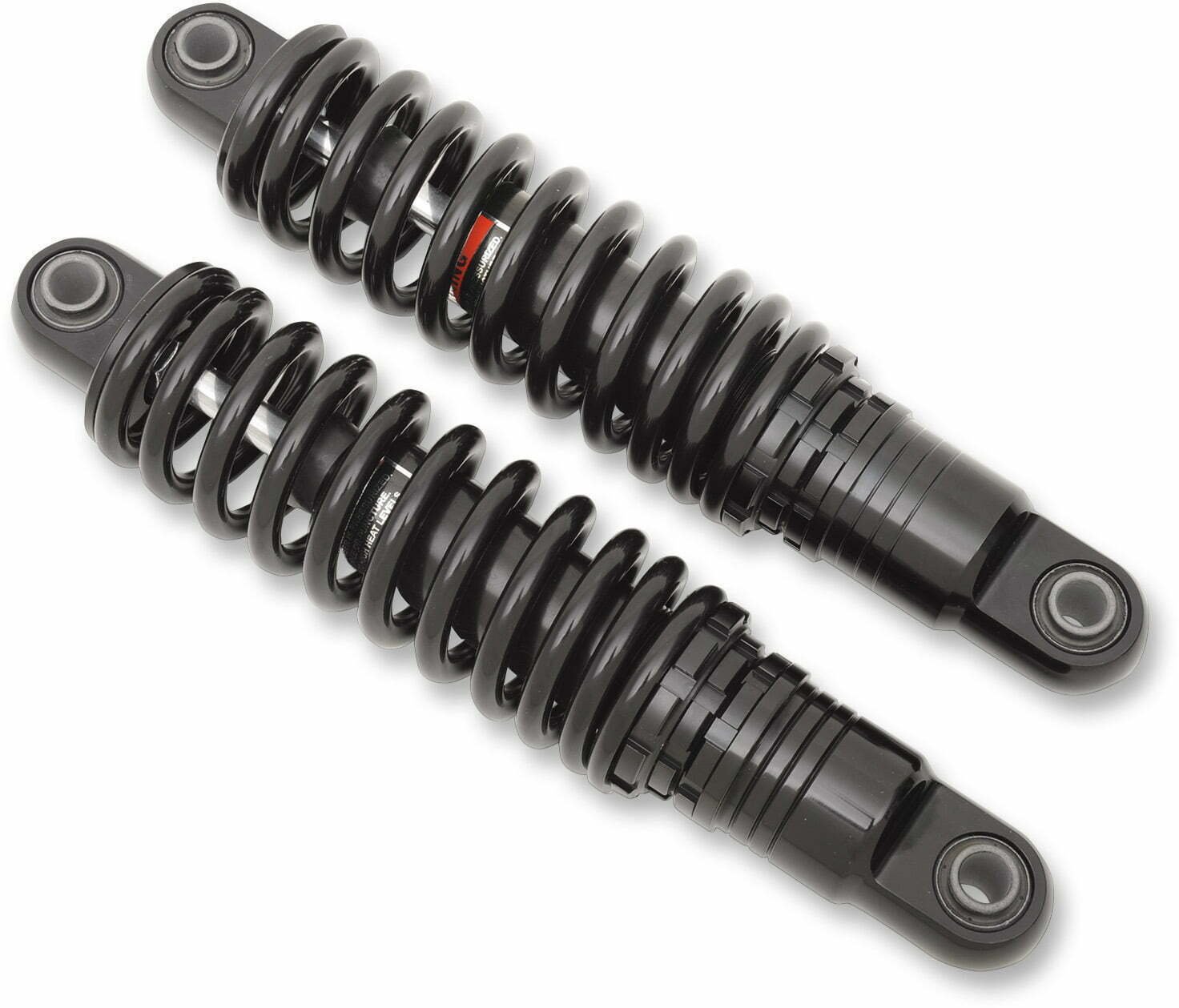 These shocks feature dual-rate progressive wound springs with nitrogen-charged steel monotube damper bodies and hard chrome-plated shafts for a smooth, comfortable ride. The adjustable ride-height feature allows the length of the shocks to be lengthened or shortened a half-inch of their standard length, and they mount using the existing hardware. Available in chrome or black at ride heights of 11, 12, and 13 inches for '84–'16 FLT, FLHT, FLHR, FLTR, '91–'16 FXD, FXDWG, and '04–'16 XL models.
Power Vision CX for Indian motorcycles is a performance tuner and data monitor that offers the latest flash-tuning technology, real-time data monitoring, and other industry exclusive features. Developed to tune all 2014–later Indian motorcycles, including the Thunderstroke 111ci powered models, Scout and Scout Sixty, as well the 2017 Polaris Octane. The Power Vision CX product Suite includes a handheld flash device, vehicle interface cable, and Power Core (Windows PC-based tuning and datalogging application).
(800) 992-4993 dynojet.com
First Mfg's Invader Jacket offers 12 pockets with two interior concealed-carry pockets, with the jacket featuring an additional zip-out liner. Continuing the theme with mixed textile and leather, the Hutch Glove ($45) offers reinforced knuckles with black denim accent. All First Mfg products are backed by a lifetime warranty.
The Slasher and 6-Shooter designs bring out two new ways to express a person's style. Either of these designs, or the many other selections available in multiple finishes, made in Hendersonville, Tennessee, and guaranteed for a lifetime, is sure to create the perfect look. The directional Slasher wheel offers eight spokes with 3-D "Slashes" to the outer edge. The straight spoke 6-Shooter offers a more open design with identical highlights to the major diameter of the rim. From stock to the nasty 32-inch, there is a size for every bike and trike. Matching accessories for each of the wheels are available to complement the total look.
The new Fuel Moto 126-inch Outlaw crate engine unleashes the performance of 150-plus horsepower and torque for your '07–later bagger. Each engine is custom built by Fuel Moto and features absolute top-shelf components. Professional installation and dyno tuning is also offered at the facility.
(920) 423-3309 fuelmotousa.com
New for 2017, Garage Leathers' latest is the Black Ops latch bag for Softails and rigids. This particular bag is a special-order right-side bag. Like the rest of Garage Leathers' bags they're made out of heavy leather, no plastic, and built to last for many years.
(888) 917-6789 garageleathers.com
Made for 2008–2013 Harley Street Glides with cruise control and without ABS brakes, this kit includes everything that you need to put a set of these chrome 1-1/4-inch apes on your Harley except for labor. You will receive a completely assembled handlebar set with new ergonomic style chrome controls, chrome switches, and prewired with the factory harness plugs installed. Included are stainless braided cables and a stainless braided brake line in correct lengths. The stainless braided cables have chrome ends and a UV-resistant plastic armor coat to protect your paint and keep them looking good for a long time. Due to the variety of applications, Hill Country Customs does not have specific instructions with each kit. It's recommend that you purchase an H-D service manual for your bike if you don't have one.
(877) 755-4455 hillcountrycustomcycles.com
Hog Wash Brand Swine Shine cleans and shines all surfaces safely and quickly without using water. Swine Shine contains no harsh solvents and is fortified with Polyseal Protection to give your bike a deep, rich shine that protects from UV damage, acid rain, and water spotting. Its high-lubricating agents encapsulate dirt and grime so that it is safely and easily removed from the surface without scratching. Cleans, shines, and protects painted surfaces, windshields, chrome, aluminum, fiberglass, plastic, rubber, and laminated vinyl graphics.
Icon's Airframe Pro Cottonmouth lid meets DOT FMVSS 218 (US), ECE 22-05 (Europe), SAI AS1698:2006 (Australia) and PSC (Japan) Helmet Safety Standards. It includes a clear fog-free Icon Optics shield with Rapid-Release system and ProLock positive shield-locking system. The helmet is comprised of a modular five-piece moisture-wicking HydraDry liner inside a hand-crafted carbon-fiber shell. XS to 3XL sizes are available.