If you're any sort of performance junkie when it comes to your Harley-Davidson, you already know that hard riding demands a good clutch. Belt Drives Ltd understands that better than a lot of people which is why they offer enthusiasts what may be the largest selection of superior quality OEM replacement kits on the market.
With fitments dating back to 1941 through V-Rod and Buell these kits are 100% Made In The USA and boast the very latest in application specific materials and contemporary manufacturing procedures. All clutch plates are made of either 6061 T6 or high-tempered steel with BDL's own race proven Kevlar® material. Each plate design was tested so that maximum performance is achieved. Different groove patterns were designed for maximum oil circulation and heat dissipation. The steady flow of lubricant will cool and determine the longevity of your clutch. All Big Twin kits are packaged with frictions and steels and a pre-measured stack height for easy installation.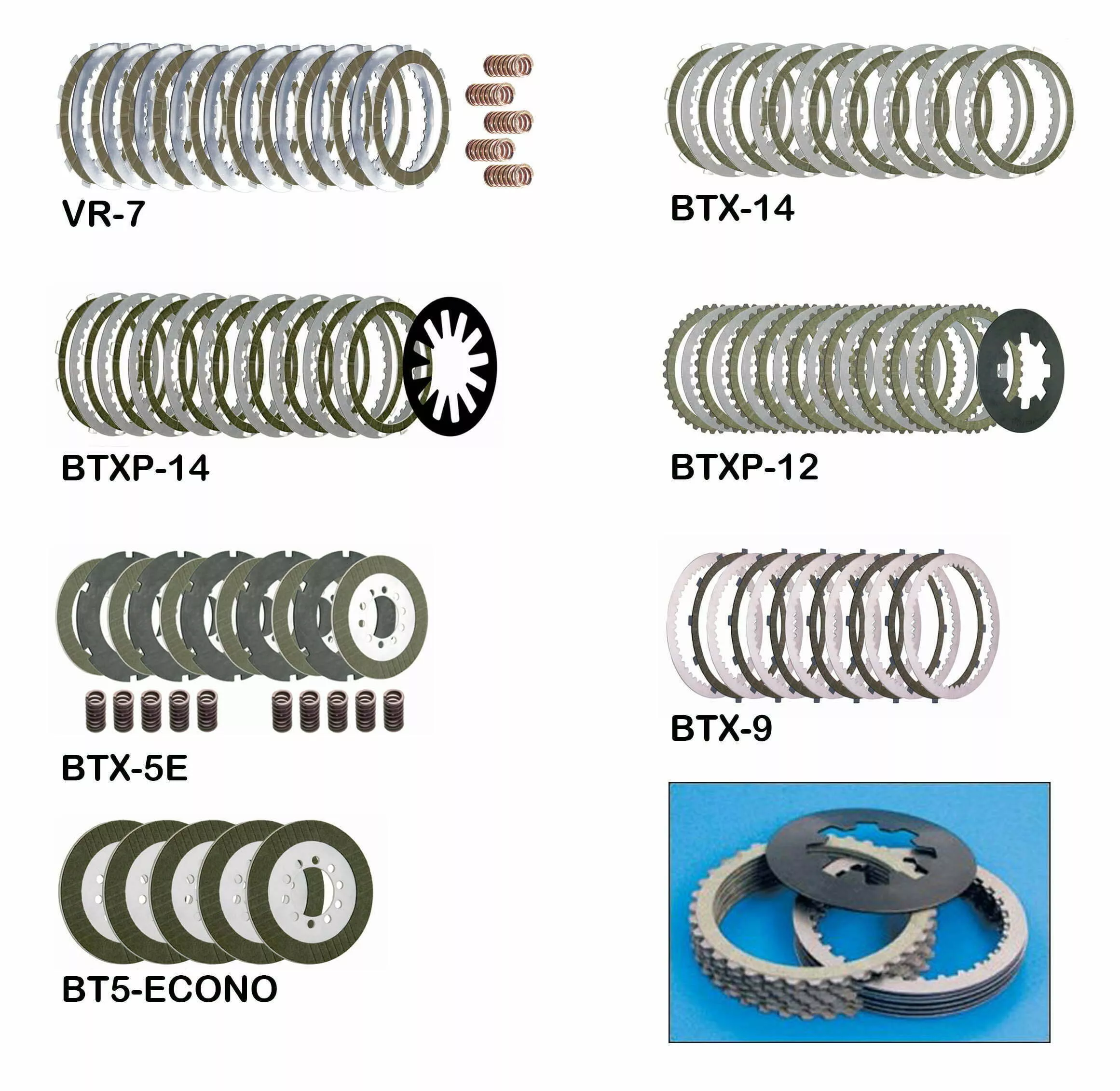 Here's a breakdown of what's what and what it costs:
BB-21 BB-21 BUEL BLAST (ALL) 5 FRICTIONS, 5 STEELS W/ DIAPHRAGM $73.50
BT-5-ECONO 1968-84 Big Twin KEVLAR FRICTION $54.00
BTX-11 KEVLAR CLUTCH BT 90-97, XL 91 UP $126.00
BTX-14 BIG TWIN CLUTCH KIT 1998-2001 $139.00
BTX-5 BTX-5 KEVLAR CLUTCH KIT BT 1941-84 Big Twin $96.00
BTX-5E EXTRA PLATE KIT 1941-83 Big Twin $133.00
BTX-9 KEVLAR CLUTCH KIT BT 84-89 Big Twin $111.00
BTXP-12 KEVLAR CLUTCH KIT BT 90-97, XL 91-UP $146.50
BTXP-14 1998-UP BT & TC EXTRA PLATE KIT, 10 FRIC. 9 STEELS & DIAPHRAGM SPRING $198.50
VRX-7 V-ROD 2002-2008 9 FRICTIONS, 8 STEELS W/ 5 COIL SPRINGS $170.50
VRXP-7 V-ROD 2002 -2008 EXTRA PLATE KIT 10 FRICTIONS, 9 STEELS W/ 5 COIL SPRINGS $191.00
For additional details head over to your nearest BDL dealer or visit them on line at the Belt Drives Ltd website.