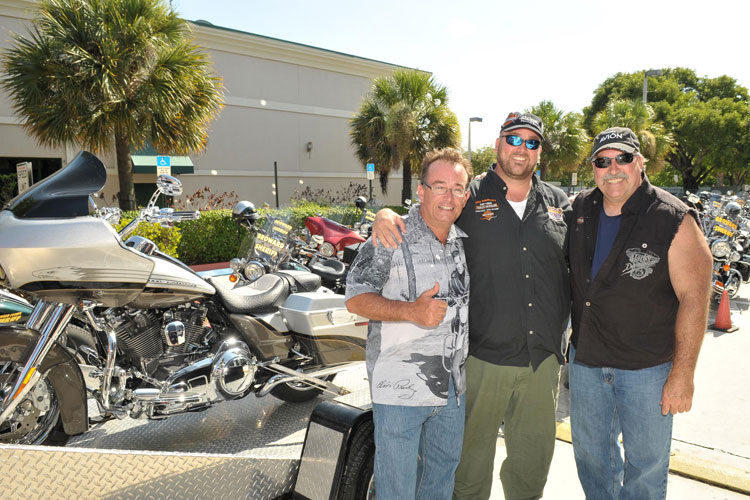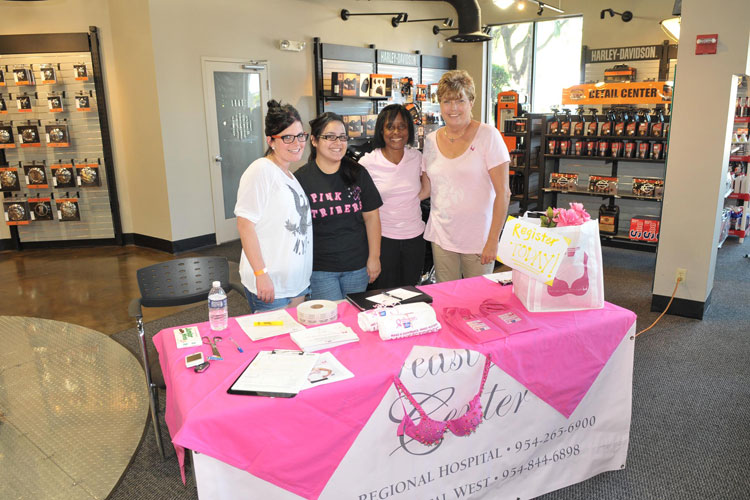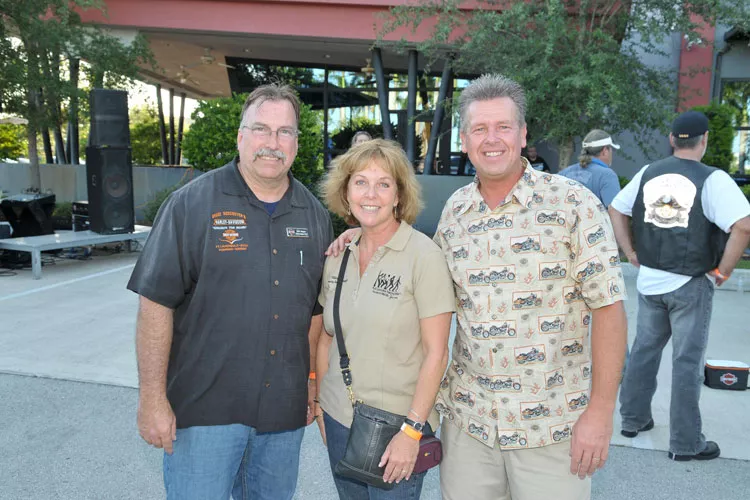 FT. LAUDERDALE, FL (August 8, 2011) – Bruce Rossmeyer's Sunrise & Ft. Lauderdale Harley-Davidson dealerships, held their 2nd Annual South Florida Memorial Ride which paid tribute to the late Bruce Rossmeyer by celebrating his life on July 30, 2011. More than 500 Harley enthusiasts and Bruce Rossmeyer supporters gathered at Fort Lauderdale Harley-Davidson for a police escorted motorcycle ride where more than 200 riders and passengers lined up their bikes ready to ride in Bruce's honor. Benefitting the Youth Automotive Training Center (YATC), the event raised over $2,400 for one of Bruce Rossmeyer's most beloved organizations.
The Memorial Ride departed at 5:15pm from Harley Davidson in Fort Lauderdale. Riders were led by the bright lights of the Broward County Sheriff's Department and an orange Harley-decorated monster truck, appropriately towing Bruce Rossmeyer's favorite motorcycle. The ride shut down the streets taking them approximately 30 miles west to Bruce Rossmeyer Harley-Davidson in Sunrise.
Upon arrival at the Sunrise dealership, fans were greeted with a true celebration of Rossmeyer's life. Guests feasted on a Country BBQ and enjoyed the sounds of the Marshall Brother's Band. The event also featured heart-felt words and many thanks from Will Rossmeyer, Bruce's son; Scott Wagner, Bruce Rossmeyer Harley-Davidson Sunrise General Manager; Terry Routley, YATC Executive Director; and a video memorial tribute commemorating Bruce's life.
On July 30th 2009, while heading to the Sturgis biker rally in South Dakota, Bruce died in a motorcycle accident. His remarkable business success was matched only by his dedication to family, and his zest for life. Bruce's passion was motorcycles, but family was his first love. As wide-ranging as his business empire grew to be, it always remained, at heart, a family business. All five of Bruce's children — Mandy, Wendy, Randy, Will, and Shelly – have throughout their lives been actively involved in the family business. Bruce's appetite for life and the way in which he lived it are legendary, but what he will be most remembered for by those who knew and loved him was his total devotion to his family. His wife, Sandy and the family's greatest wish is to continue Bruce's legacy of giving.
_Bruce Rossmeyer's Harley-Davidson dealerships include the legendary Daytona Beach location, as well as the famed Bruce Rossmeyer's Daytona Harley-Davidson located in Ormond Beach at Destination Daytona, the World's Largest Harley-Davidson dealership, in addition to 9 other nation-wide locations. The Rossmeyer's are dedicated to carrying on the family tradition, where the dealers are the lifelines to the customers. Employees at the stores provide clients with the knowledge, service and information necessary to get riders on the road. Bruce Rossmeyer Harley-Davidson serves South Florida with two locations in Fort Lauderdale and Sunrise. For more information, please call Bruce Rossmeyer's Fort Lauderdale Harley-Davidson at (954) 724-2800 or visit www.BruceRossmeyerH-D.com. _