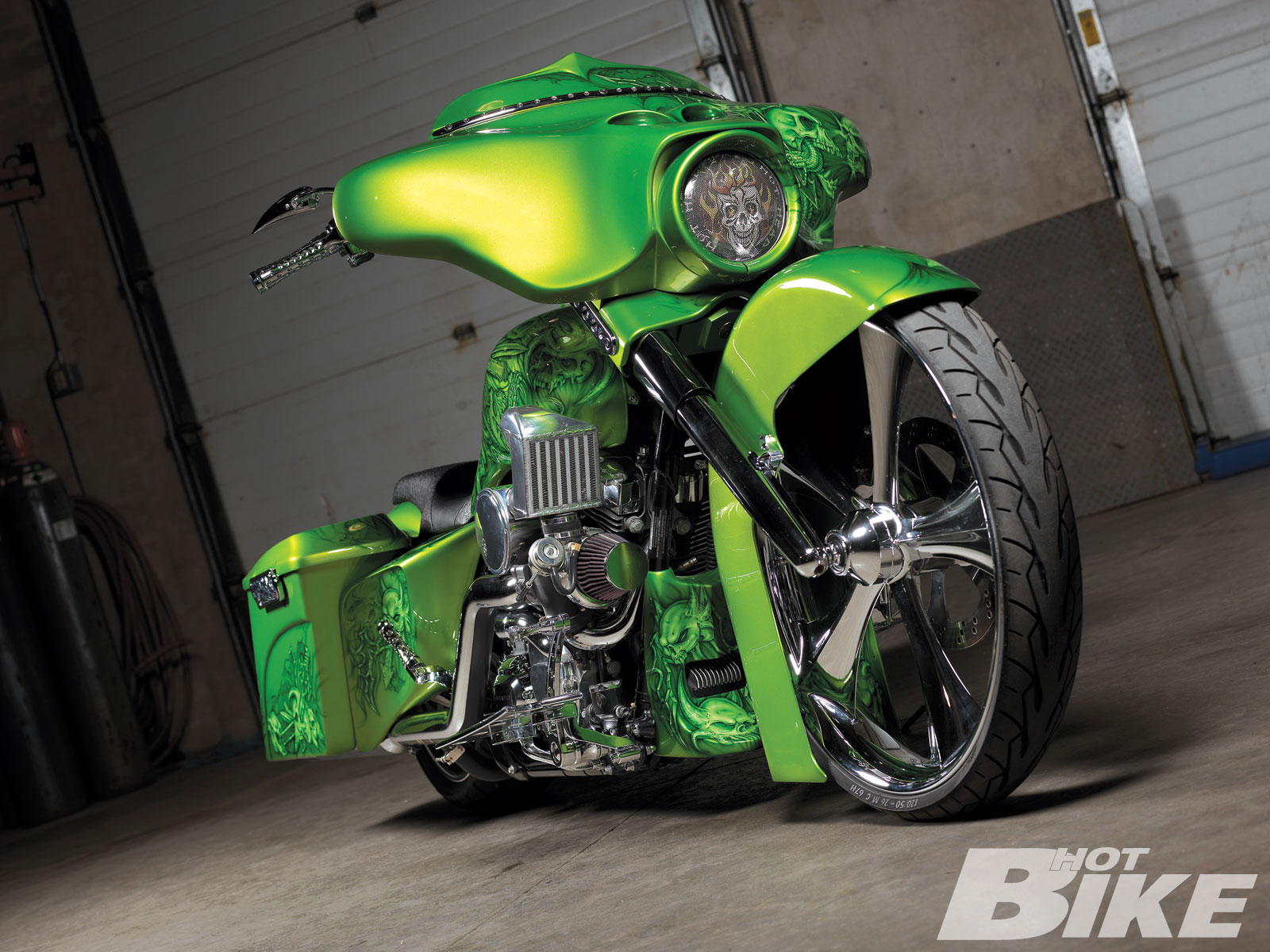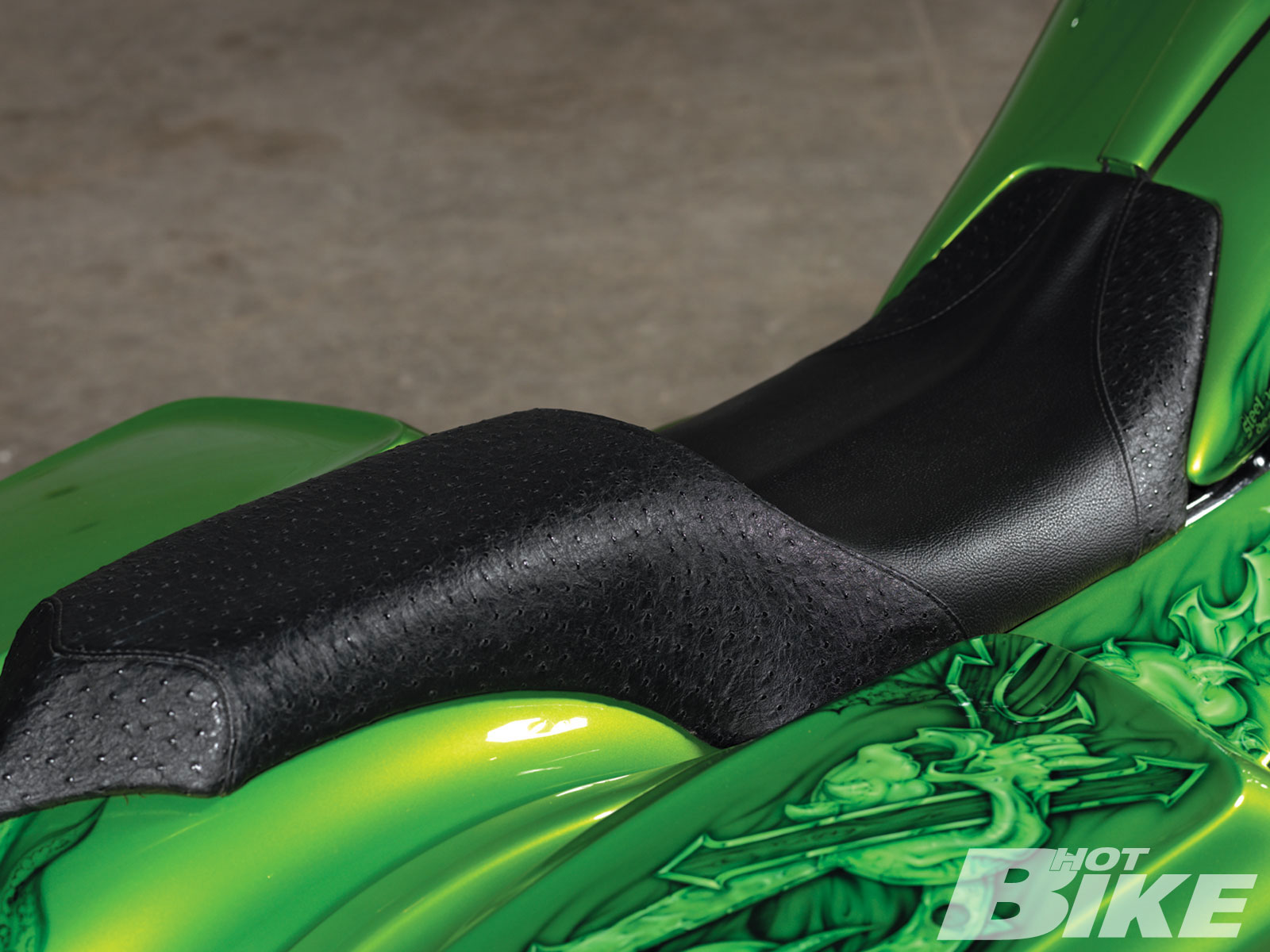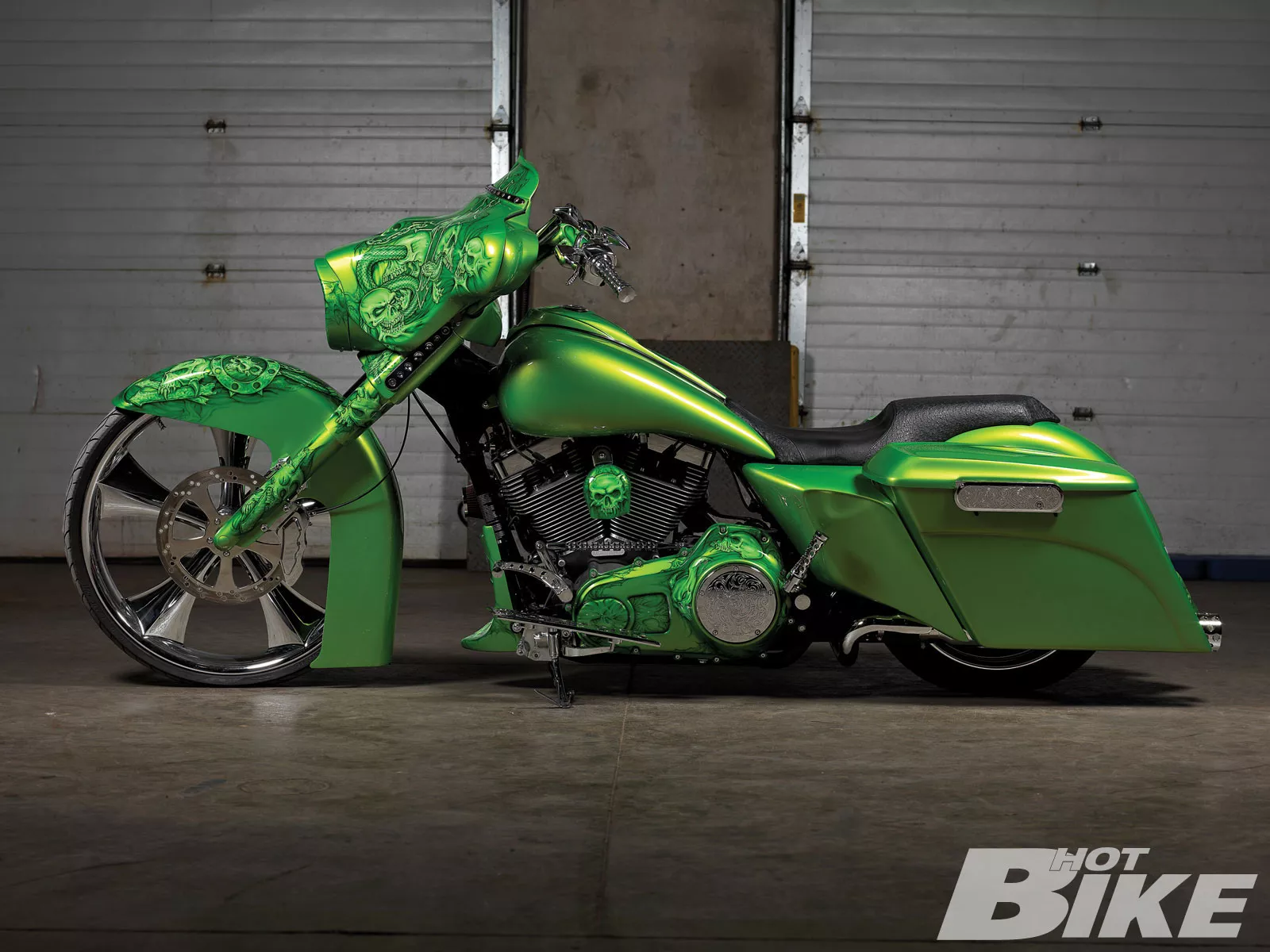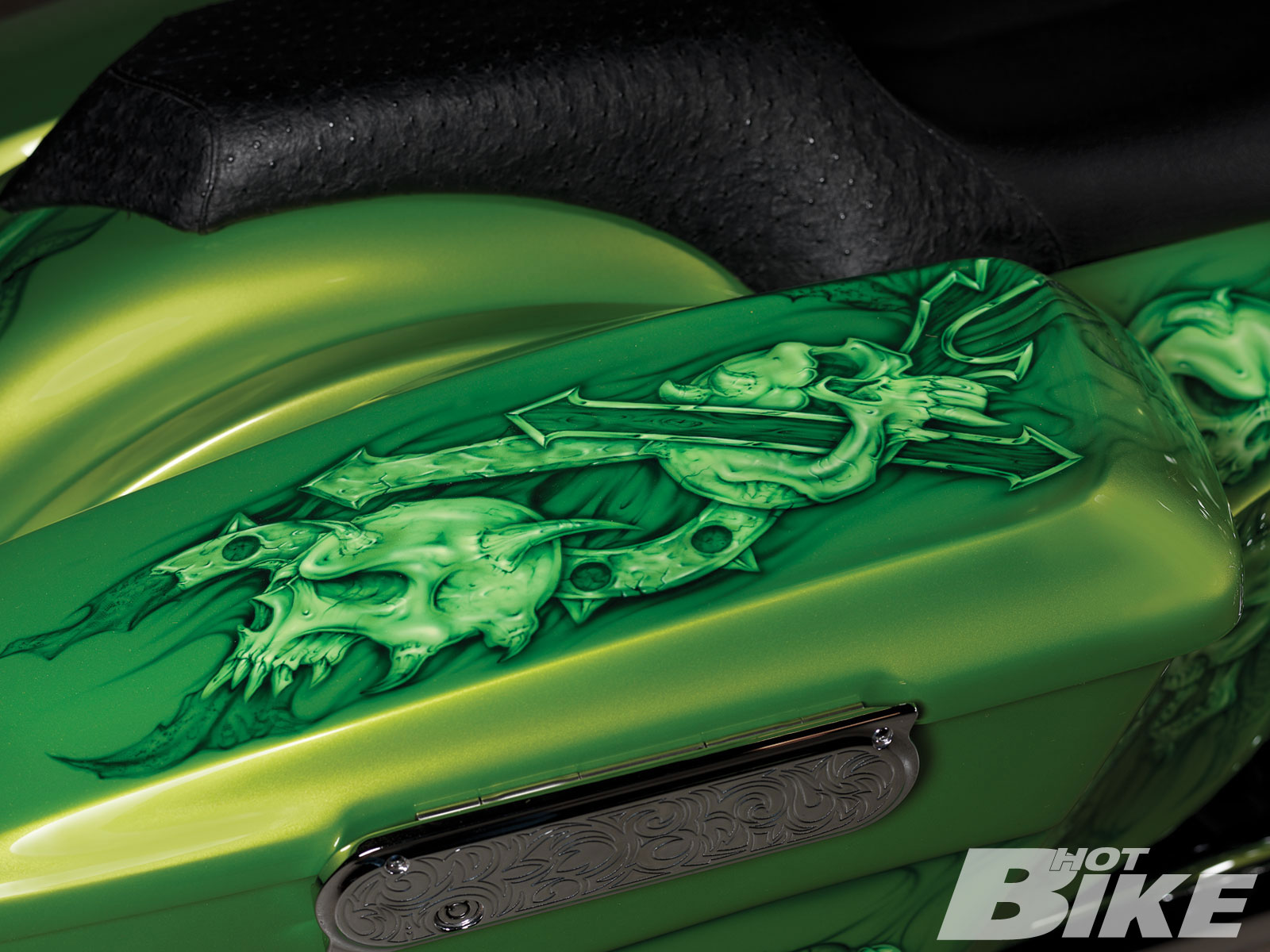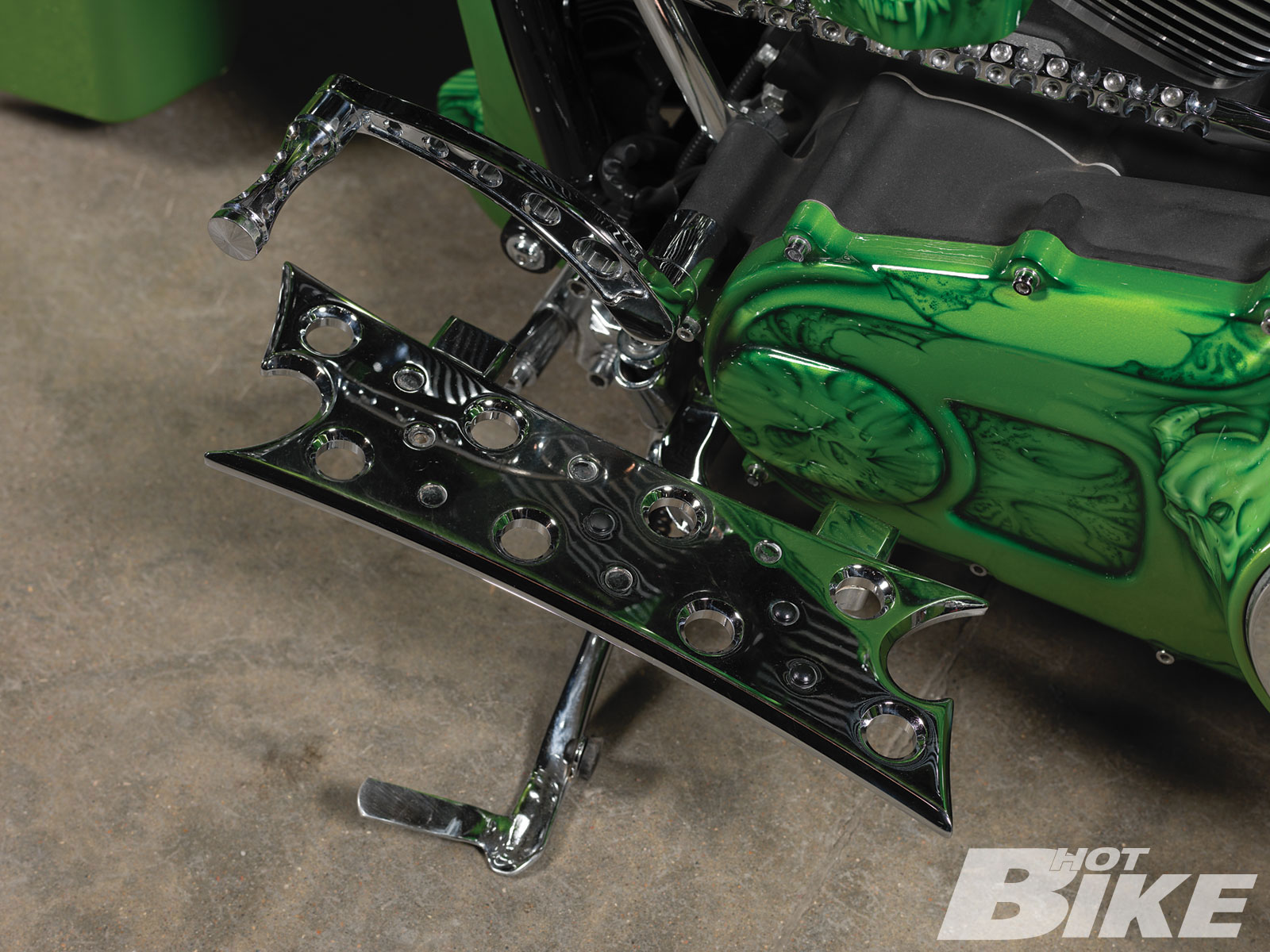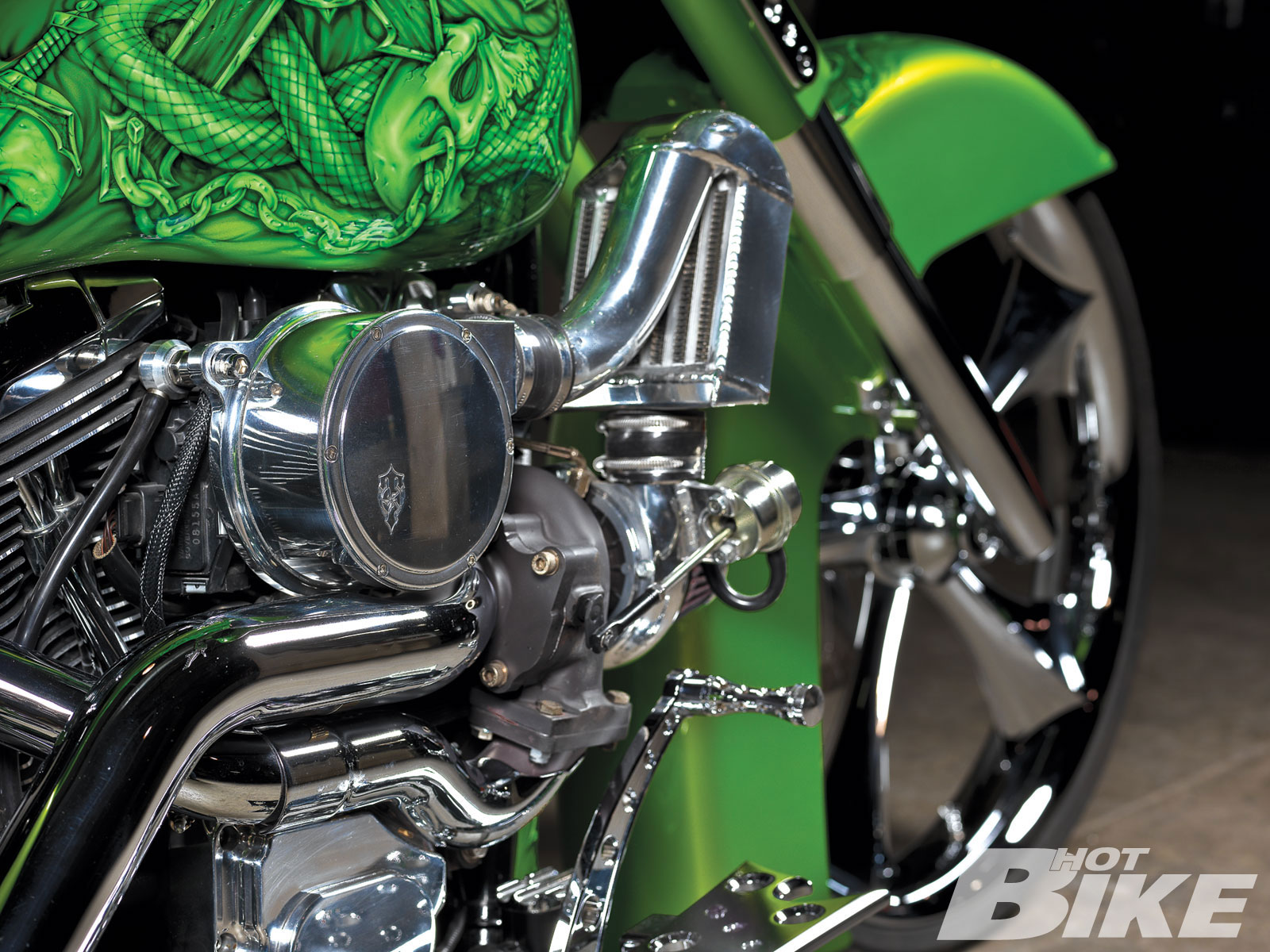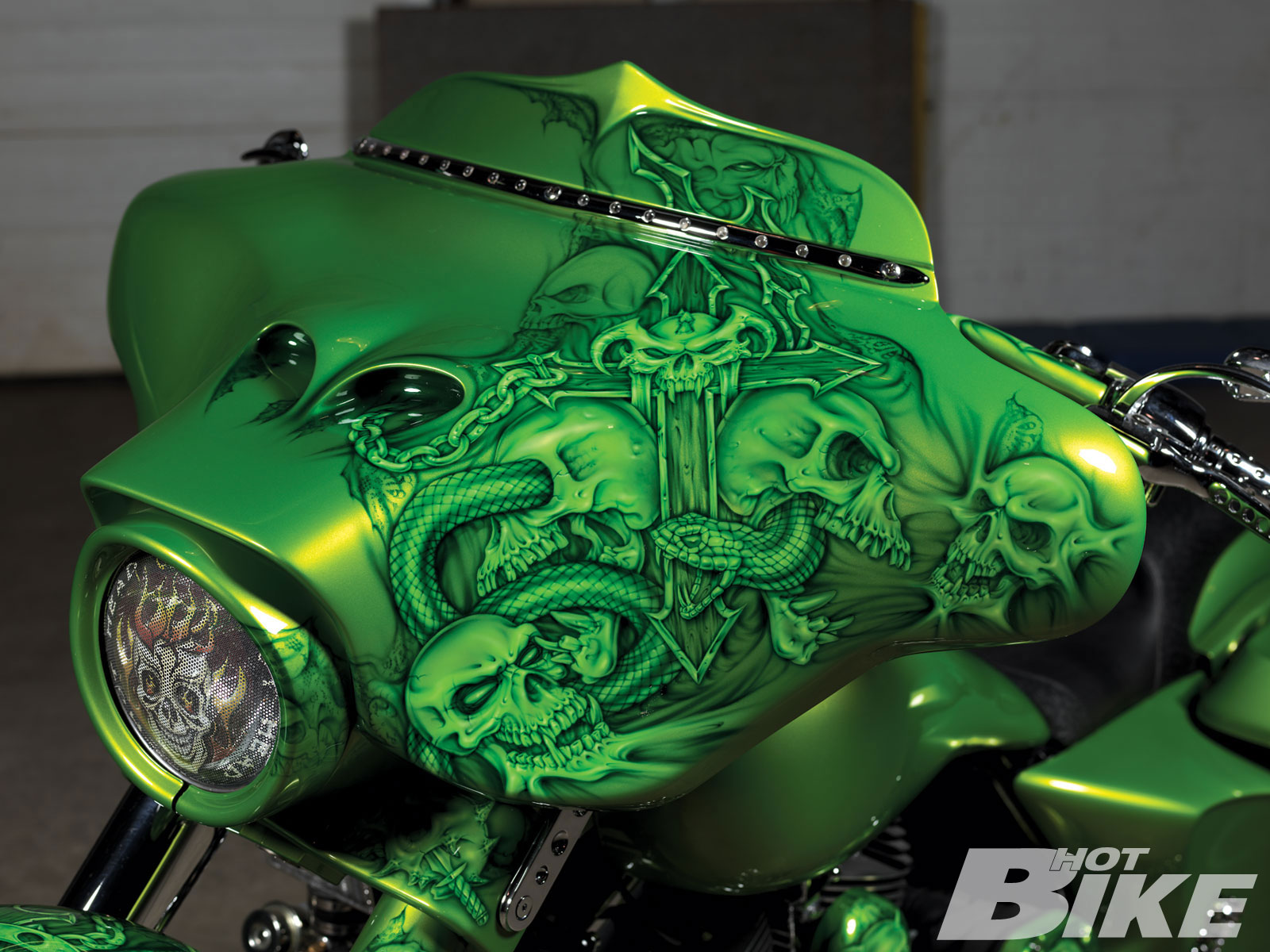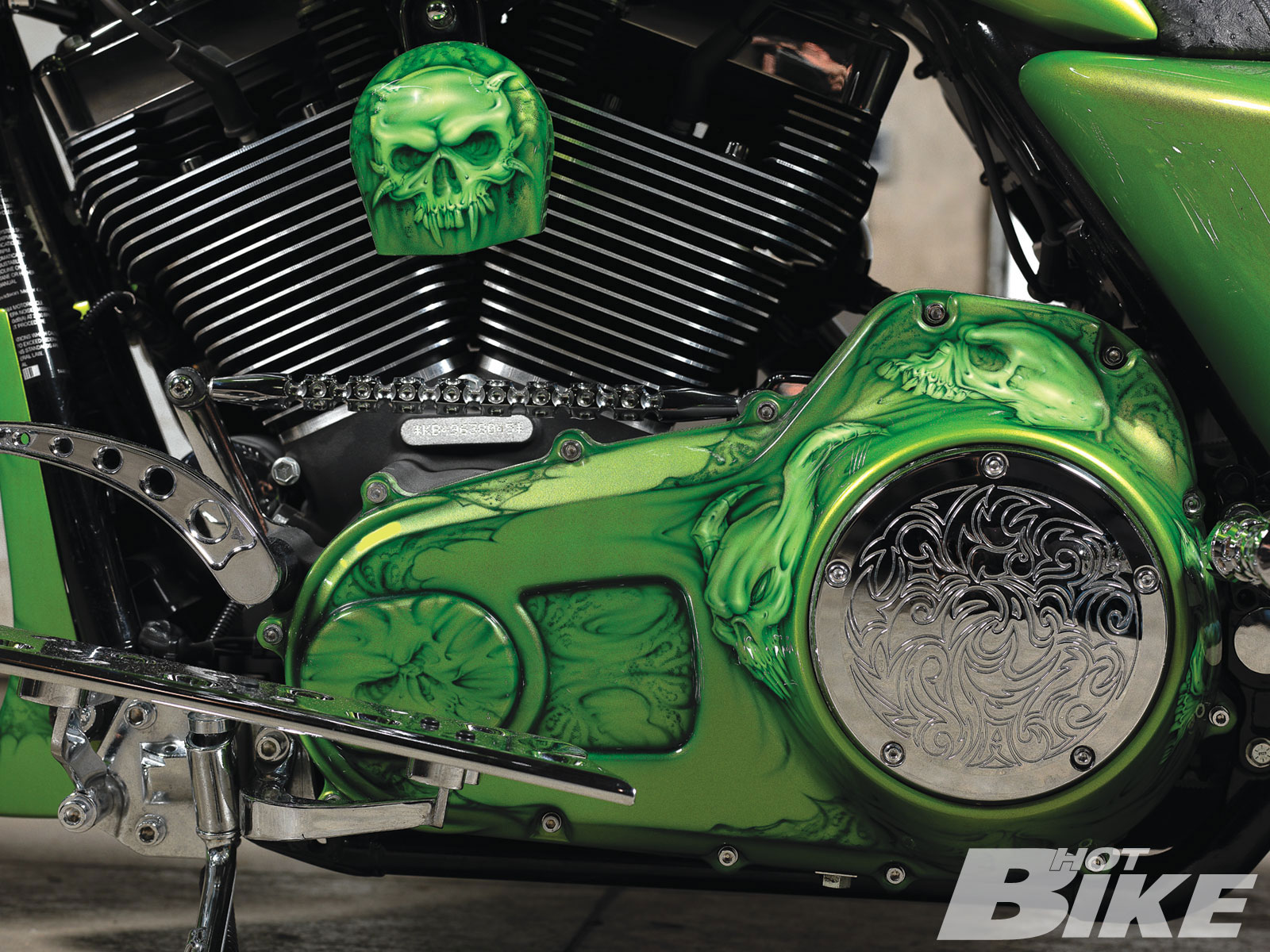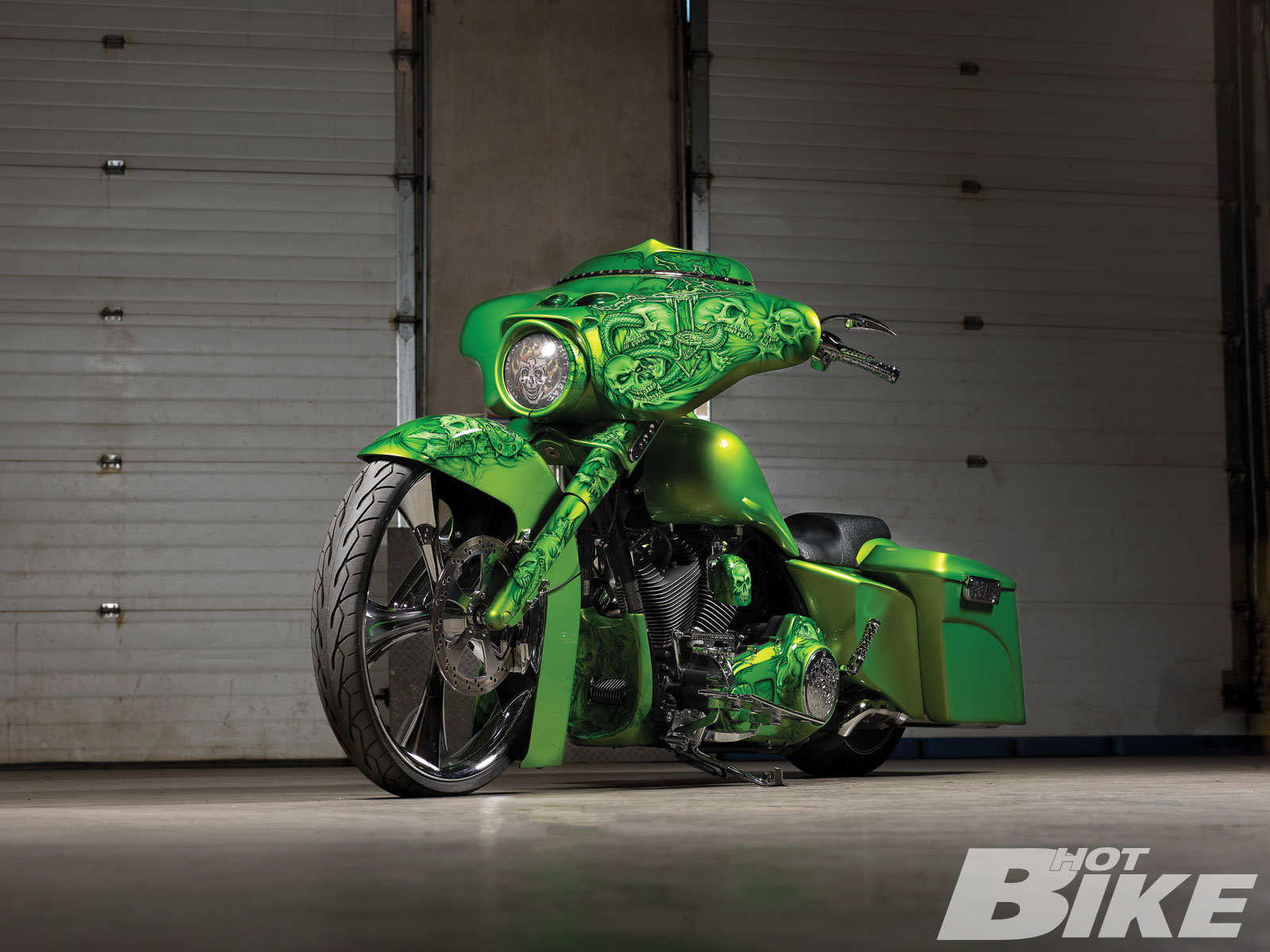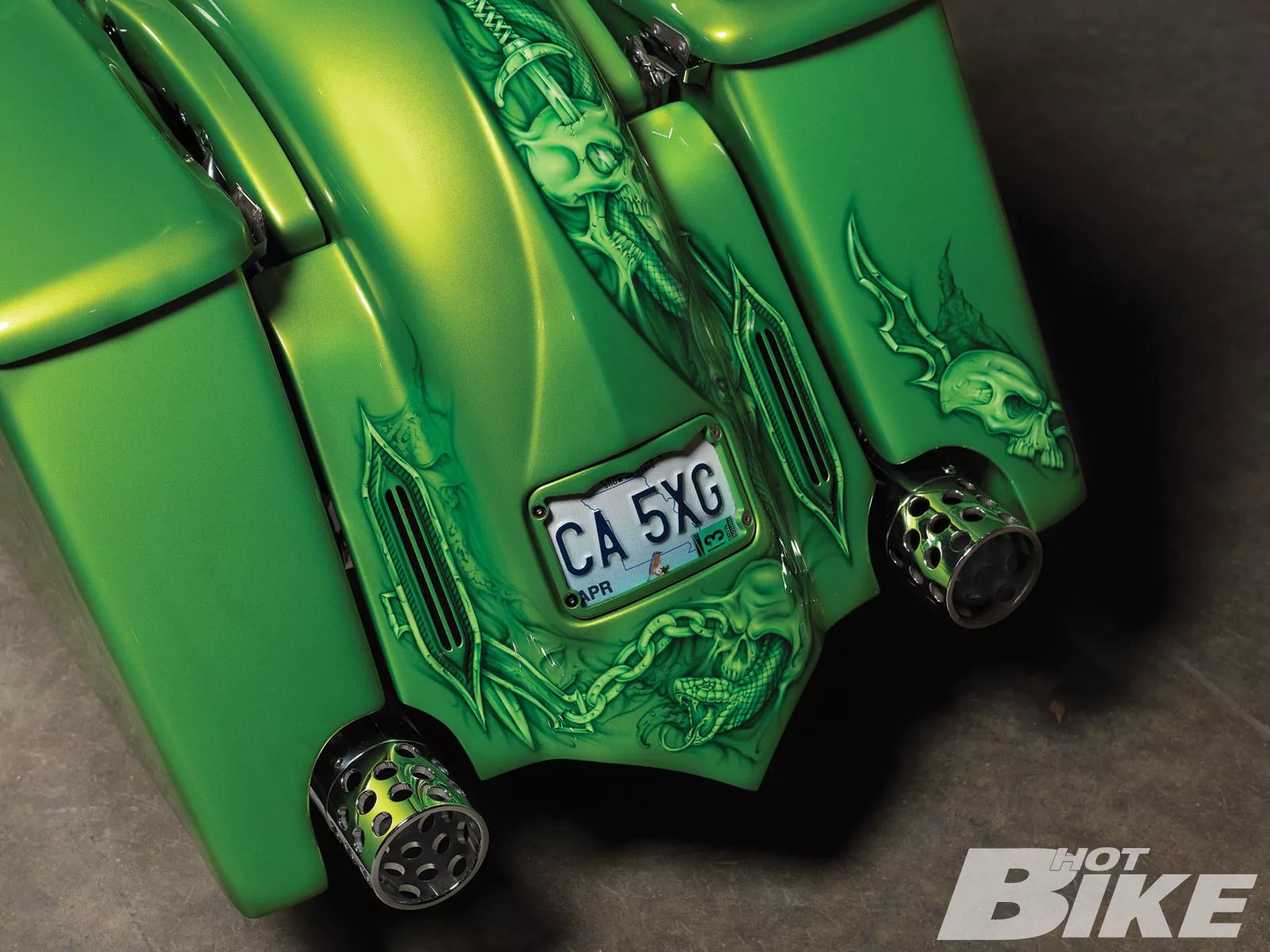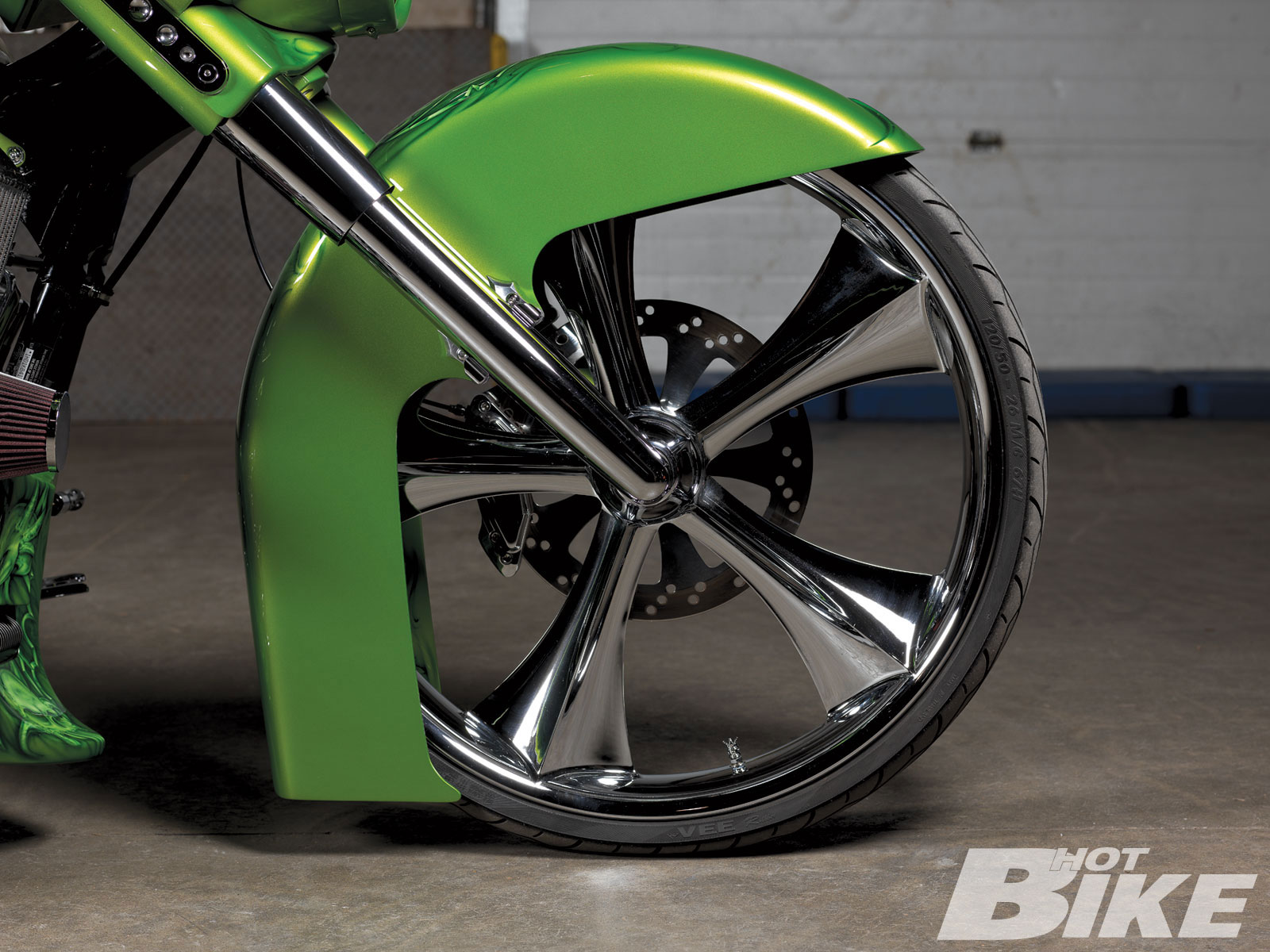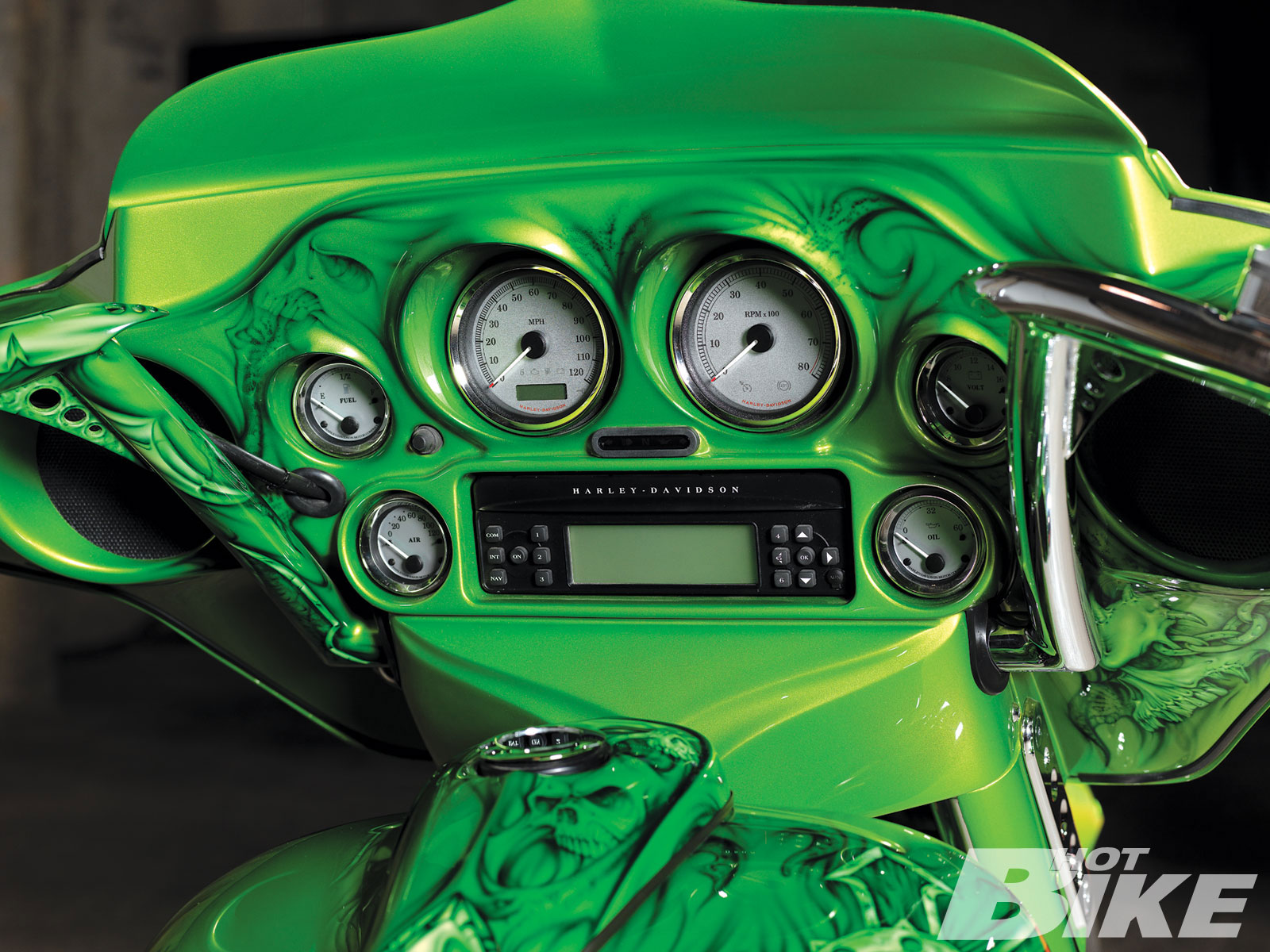 If you'd told Jim Tinnin 10 years ago that he'd be creating custom parts for Harley baggers, he might have laughed at you. His folks raised him on a steady diet of dirt bikes and sport bikes; cruisers just weren't in his picture.
Until his brother got a Heritage Softail.
That was almost five years ago. Jim's sibling urged him to get a Harley-Davidson of his own so they could go riding together. At first Jim wasn't having it, but bit-by-bit his resolve eroded until Jim caved in and bought an '05 Road King.
He liked that well enough. Cruisers are a different world from crotch rockets and living on Planet V-twin took a little getting used to. Jim was "in like" with the experience. Love came later in the form of a new '09 Street Glide. Between the new chassis design and the radio, he was officially hooked.
Jim didn't just magically abandon the other side of riding, though. He was also into dirt buggies and used his fabricating experience amassed from that end of the spectrum to start making cool parts for his '09 H-D. He didn't have much choice, really. This was back when the '09 was too new—the aftermarket offered about as much support as a Nerf training bra. Word got out about his work, requests piled up, and one day he basically threw caution to the wind and decided to turn it into a business.
<div class="st-block quote text-
Notice: Undefined index: st_text_align in C:laragonwwwhotbike-importblocksquote.php on line 1
">
Jim stretched the stock frame 2 inches out and re-raked the neck to 46 degrees using a combination of cutting, welding, and Hawg Halters triple-trees.
The lovechild born of that decision is Hot Head Baggers. Since Jim opened his doors, he's gone full throttle, fabricating and building bikes just as fast as ideas hit him. Really, that's his favorite part of the job. "I love expressing my thoughts and artistic side. Usually there's a lot of thought that goes into making a motorcycle," he tells it. "The toughest part is topping your last project."
At some point after he was done with that initial '09, Jim went on to Plain Jane here. Yes, we know. This is a very ugly bike. Provided, if by ugly you mean pretty effing sweet. She wasn't that way when Jim found her, though. This Street Glide was the sad victim of an accident. "I bought a wrecked bike to save cash and keep from working on my other '09," Jim stated.
Jim's creativity had turned to thoughts of 26-inchers. No, not those 26-inchers. We mean wheels, gutterbrain. Jim stretched the stock frame 2 inches out and re-raked the neck to 46 degrees using a combination of cutting, welding, and Hawg Halters triple-trees. That gave him what he needed to run the 26-inch SMT Edge wheel he'd picked out for the project.
Jim's shop gave the motor plenty of attention too, adding some extra cubes to the stock mill. The cases and rockers stayed stock but the head work was handled in-house. Motorwork is pretty normal for Jim's shop. He does it for customers frequently. What isn't normal for the shop is the Trask turbo system he mounted to the 107-inch Twin Cam. Between it, the Zipper's EFI, and the Trask exhaust, the hard-charging power monger makes a reported 149-hp. One hidden advantage of the turbo is that if Jim's haggling over price with a customer on the bike, he can pull it off, knock a few grand off the price of the motorcycle, and put the turbo on another bike. Although he switched over to a Screamin' Eagle clutch to better handle all of that power, Jim left the transmission and primary drive stock.
If you really want to see Jim's handiwork, though, check out the gas tank. It's a precise marriage of curves that cradles the top of the motor while melding around the front of the Hot Head Baggers seat. Which, by the way, is just tall enough to offer cushion between the riders and the rear fender. Seen from the side, the whole sheetmetal equation is very crisp and streamlined. The extended bags are Arlen Ness pieces, but Jim has plans of his own for the next shop bagger: "We're coming out with our own fiberglass parts. From now on, my personal bikes will have our new 6-inch stretch, 6-inch extension bags. I like to use more of my own parts on my personal bikes as I come up with them." The light cover and handlebars are his work too.
You'd think that all of this fab work would be the hardest part of a project like this, but surprisingly, it was the paint that gave Jim fits. He has a few friends who paint funny cars, all of whom are great at their art and capable of what he wanted. The problem was communicating what he wanted. He'd describe how he envisioned the paint, they'd send him sketches, and none of it fit the bill. "I wanted skulls and snakes, the demon look," Jim said. John Shope at Sinister Industries eventually helped him out. Shope recommended Steel Vision for the job. Jim was thrilled with the results. That Snake Skin green color is his favorite part of the whole bike. It took him a long time to decide on a color but he never gets tired of how that green attracts people like a magnet.
For a guy who was raised with a disdain for Harley-Davidsons, Jim sure has embraced it. He has no plans to sell Plain Jane. In fact, she's part of a greater plan of his. Jim's next bagger is going to be a blacked-out night raider. He's going to show the two bikes off as polar opposites of exactly what his shop is capable of. You can't say it much plainer than that. HB
Specifications
| | |
| --- | --- |
| Bike Owner | Jim Tinnin |
| Shop Name | Hot Head Baggers (HHB) |
| Shop Phone | (314) 570-6914 |
| Shop Website | hotheadbaggers.com |
| Year/make/Model | '09/H-D/Street Glide |
| Fabrication | HHB |
| Assembly | HHB |
| Build Time | Four months |
| | |
| Engine | |
| Year/Manufacturer | 2009/H-D |
| Type/Size | TC/107 ci |
| Builder | HHB |
| Cases | H-D |
| Cylinders | H-D |
| Heads | HHB |
| Rocker Boxes | H-D |
| EFI | Zipper's |
| Air Cleaner | Trask Performance turbo |
| Exhaust | Trask Performance |
| | |
| Transmission | |
| Year/Manufacturer/Type | '09/H-D |
| Case | H-D |
| Clutch | Screamin' Eagle |
| Primary Drive | H-D |
| | |
| Frame | |
| Year/manufacturer | '09/H-D |
| Rake | 46 degrees |
| Stretch | 2 inches out |
| | |
| Suspension | |
| Manufacturer Front | American Suspension |
| Length | Stock |
| Triple Trees | HHI |
| Manufacturer | Arnott Air |
| Swingarm | H-D |
| | |
| Wheels. Tires, and Brakes | |
| Manufacturer Front | SMT Edge |
| Size-Width/Height | 130mm/26-inch |
| Tire/Size | Vee Rubber 130-26 |
| Caliper | HHI six-piston |
| Rotor | SMT 13-inch |
| Manufacturer Rear/Type | RC Components Solid Disc |
| Size-Width/Height | 6.25×17-inch |
| Tire/Size | Metzeler 200mmx17-inch |
| Caliper | H-D |
| Rotor | H-D |
| | |
| Finish/Paint | |
| Color | Snake Skin Green |
| Paint | Steel Vision |
| Graphics | Steel Vision |
| | |
| Accessories | |
| Front Fender | Sinister Industries/HHB |
| Rear Fender | Sinister Industries/HHB |
| Gas Tank/Cap | HHB |
| Oil Tank | H-D |
| Dash | HHB |
| Gauges | H-D |
| Handlebars | HHB |
| Risers | HHB |
| Hand Controls | H-D/SMT |
| Foot Controls | SMT/Battistini |
| Footpegs | SMT |
| Headlight | H-D with HHB head light cover |
| Taillight | HHB |
| Licesne Mount | HHB |
| Seat | HHB |
| Audio | HHB |