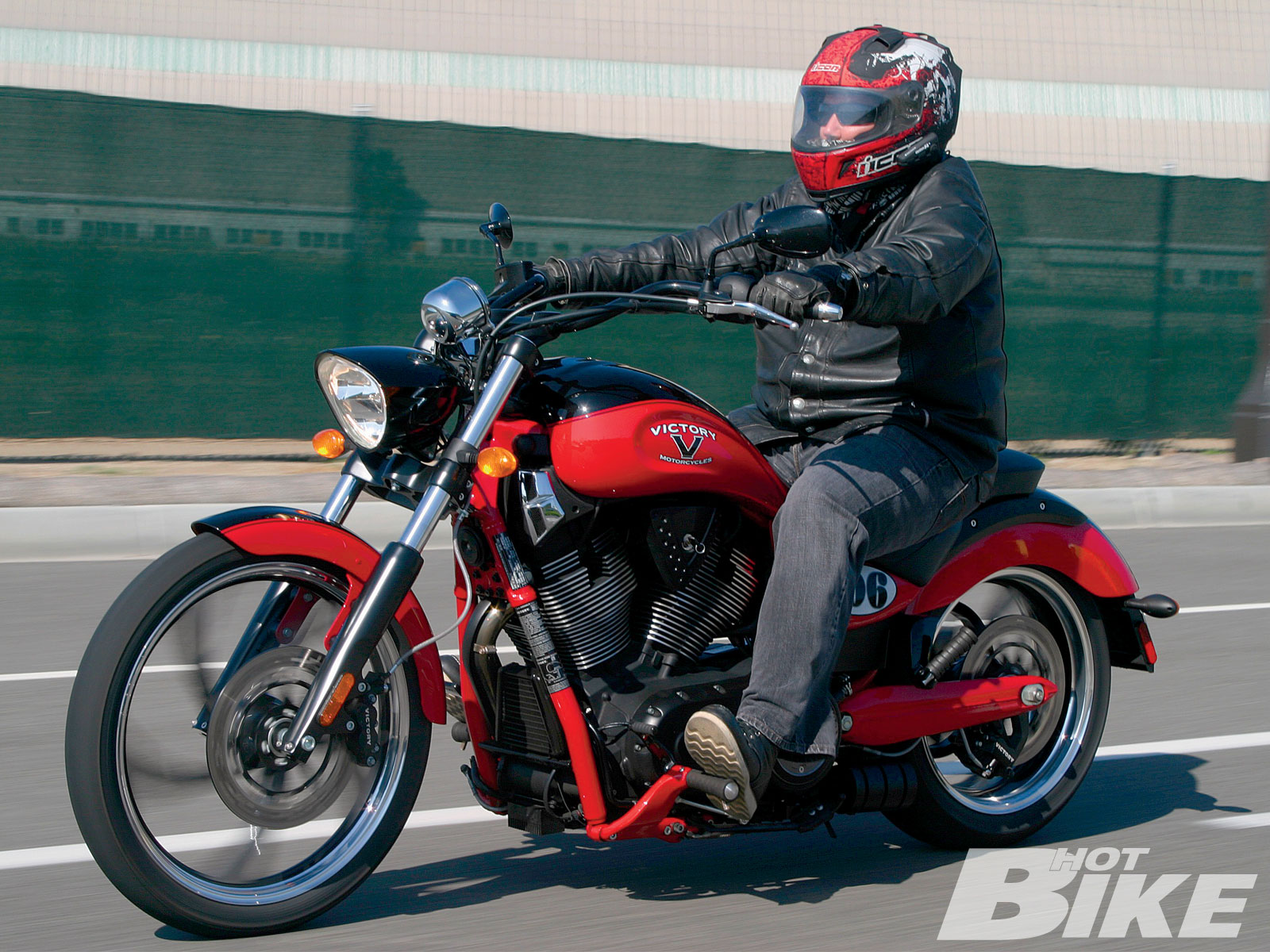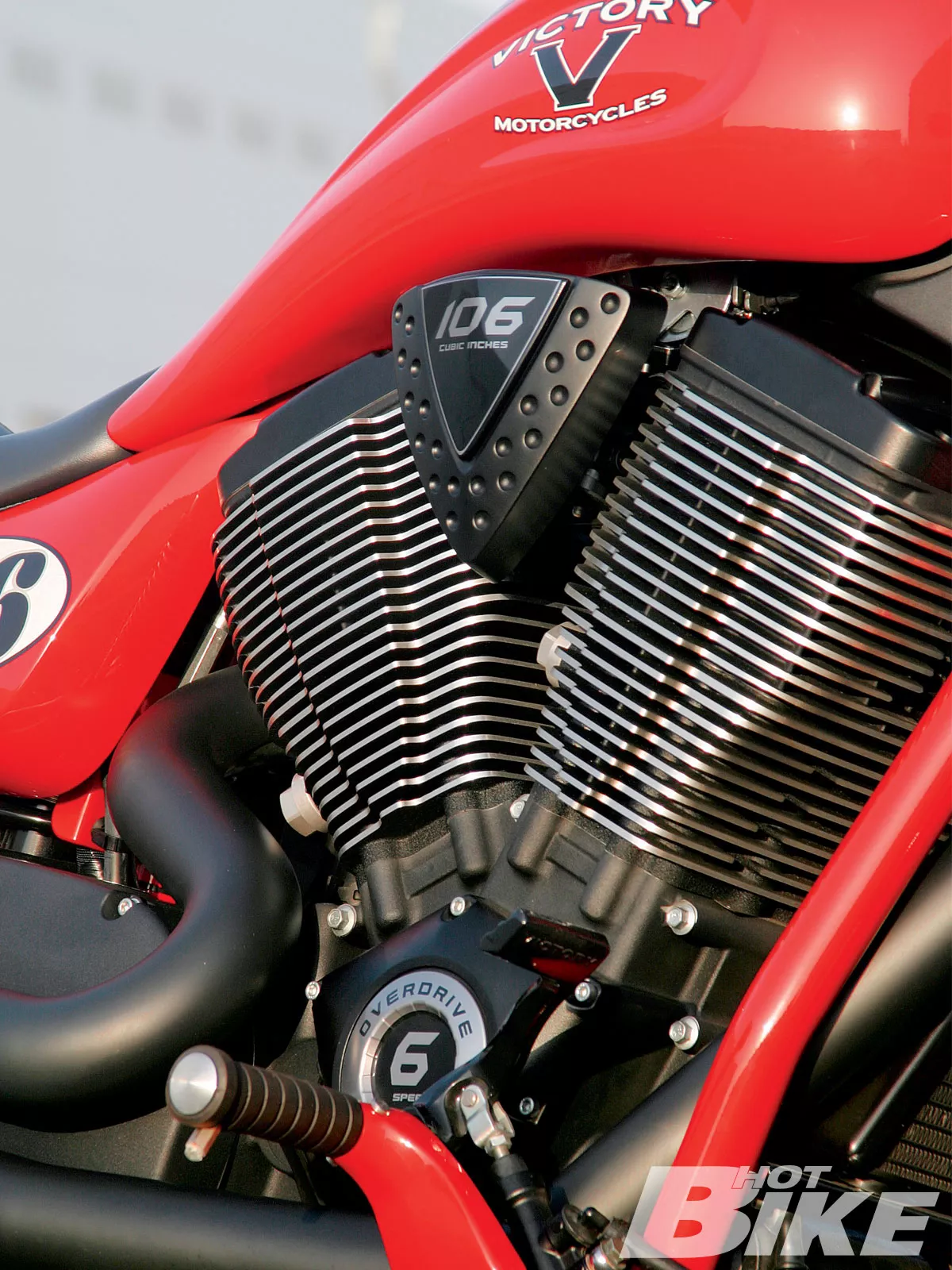 Ever since early man accidentally dropped his brontosaurus burger on a dried up salt lakebed and realized salt's tasty goodness, the mineral has been used by humans for everything from food preservation, trade, and religious activities to hide curing and food seasoning. However, this may be the first instance in which salt has been the inspiration behind a motorcycle model.
Well, to be more specific, the Bonneville Salt Flats and all the racers who have tempted fate in the search of speed aboard a Victory motorcycle is what inspired Victory to honor those adrenaline junkies by building its quickest production motorcycle to date, the Vegas LE (Limited Edition). To achieve this feat, the company took its lightest model, the Vegas, and ditched the 100ci Freedom engine and replaced it with the company's largest displacement drivetrain, the Freedom 106, and sprinkled in some stage two cams for a little more bite.
"We wanted to honor those racers that have brought Victory Motorcycles to the Bonneville Salt Flats," stated Victory Product Manager Gary Gray. "Bonneville is one of the most harsh racing environments on the planet, and racers such as Gregor Moe, Laura Klock of Klock Werks, Matt Waring of MBW, and others have helped show the potential of our motorcycles to the world." Just like Bonneville has its exclusive 130- and 150mph clubs, Victory wanted to make this production model special and did so by limiting production to just 100 models with four Limited Edition Salt Flat Inspired Paint Schemes: Fire Ball Red, Competition Yellow, Pearl White, and Turbo Silver. Other select features of the Vegas LE include, a numbered badge plate (1-100 obviously), 106 race plate graphics, color-matched frame and swingarm, blacked out forks, engine and other accessories, and a passenger seat and pegs. According to Victory, by stuffing its 106ci Freedom engine with stage two cams and six-speed transmission into the Vegas frame, it has created its quickest bike ever, which puts out 97 hp and 113 lb-ft of torque.
Aside from the bumped-up engine package and special paint/graphics, the LE features the same components as the standard Vegas model; EFI with dual 45mm throttle body, 4.5-gallon fuel tank, gear drive primary with torque compensator, wet multi-plate clutch, six-speed overdrive constant mesh transmission, conventional 43mm telescopic front fork, single preload adjustable rear spring shock, and 21×2.15-inch front and 18×5.5-inch rear black and chrome wheels.
Not only were we fortunate enough to get our hands on one of these elusive models, but we got to "break in" No. 1 out of 100, before it was shipped off to its new owner (actually we suspect this bike would probably be kept in the Victory archives). Our test model was upgraded even further with a set of blacked out true dual pipes from the Victory Accessory catalog and as soon and we fired up the bike and heard the deep rumble escaping the exhaust, we knew it was going to be a fun ride.
The combination of the Vegas platform and the 106ci engine with hopped up cams really launched the bike out of the hole and helped it burn down the road. Running down the freeway there was more than enough power in Sixth gear to get around any obstructions, in fact very rarely did we find the need to drop down into Fifth to pass, we just hammered the throttle in Sixth and cars were flashing by. In the turns the bike just flicked from side to side with ease, and while the exhaust did sound damn good, we noticed that we dipped the tips into the asphalt a couple times. We always like to do a little brake check on the test bikes we get and the four-piston front and two-piston rear calipers grasping down on the 300mm floating rotors did a great job of bringing the bike to a reasonably quick halt.
We had a lot of fun riding the LE; it was definitely quick and had plenty of power through all six gears. The off-the-line torque made for some great stoplight-to-stoplight blips and the two-tone red and black paint scheme really fit with the muscle-car-esque look and performance of our test bike. While we wouldn't really expect to roll onto the Salt Flats and break any land speed records on the LE (maybe with some motor work though), we'd definitely expect to get noticed.
To coincide with the aggressive look and performance of the LE, Victory priced the bike pretty aggressively with an MSRP of $15,999, that's only $1,200 more than a standard Vegas model with the 100ci/six-speed drivetrain. Ok, now here's the kicker, being that it is a Limited Edition bike with only 100 units being produced, Victory has already closed out orders on the bike. This means you can't order an LE from the factory anymore, but maybe you can find one at a dealership or online. But we will say, if Victory continues to offer limited edition bikes with upgraded performance and exclusive paint schemes at reasonable price points like this Vegas LE, we think it'll definitely encourage those who have been on the fence or maybe never even considered buying a Victory to take a closer look.
| | |
| --- | --- |
| MODEL | VEGAS LE |
| ENGINE/DISPLACEMENT | Freedom/106ci |
| INDUCTION | Dual 45mm throttle body |
| PRIMARY DRIVE | Gear drive with torque compensator |
| CLUTCH | Wet multi-plate |
| TRANSMISSION | Six-speed overdrive constant mesh |
| FINAL DRIVE | Carbon fiber belt |
| FRONT BRAKE | Four-piston caliper/floating rotor |
| REAR BRAKE | Two-piston caliper/floating rotor |
| FRONT WHEEL/SIZE | Black, chrome/21×2.15 |
| REAR WHEEL/SIZE | Black, chrome/18×5.5 |
| FRONT TIRE/SIZE | Dunlop/90/90-21 |
| REAR TIRE SIZE | Dunlop/180/55-18 |
| FRAME RAKE | 32.9 degrees |
| FUEL TANK CAPACITY GAL. | 45 gallons |
| SEAT HEIGHT, INCHES | 25.2 inches |
| MSRP | $15,999 |
| WEBSITE | polarisindustries.com |