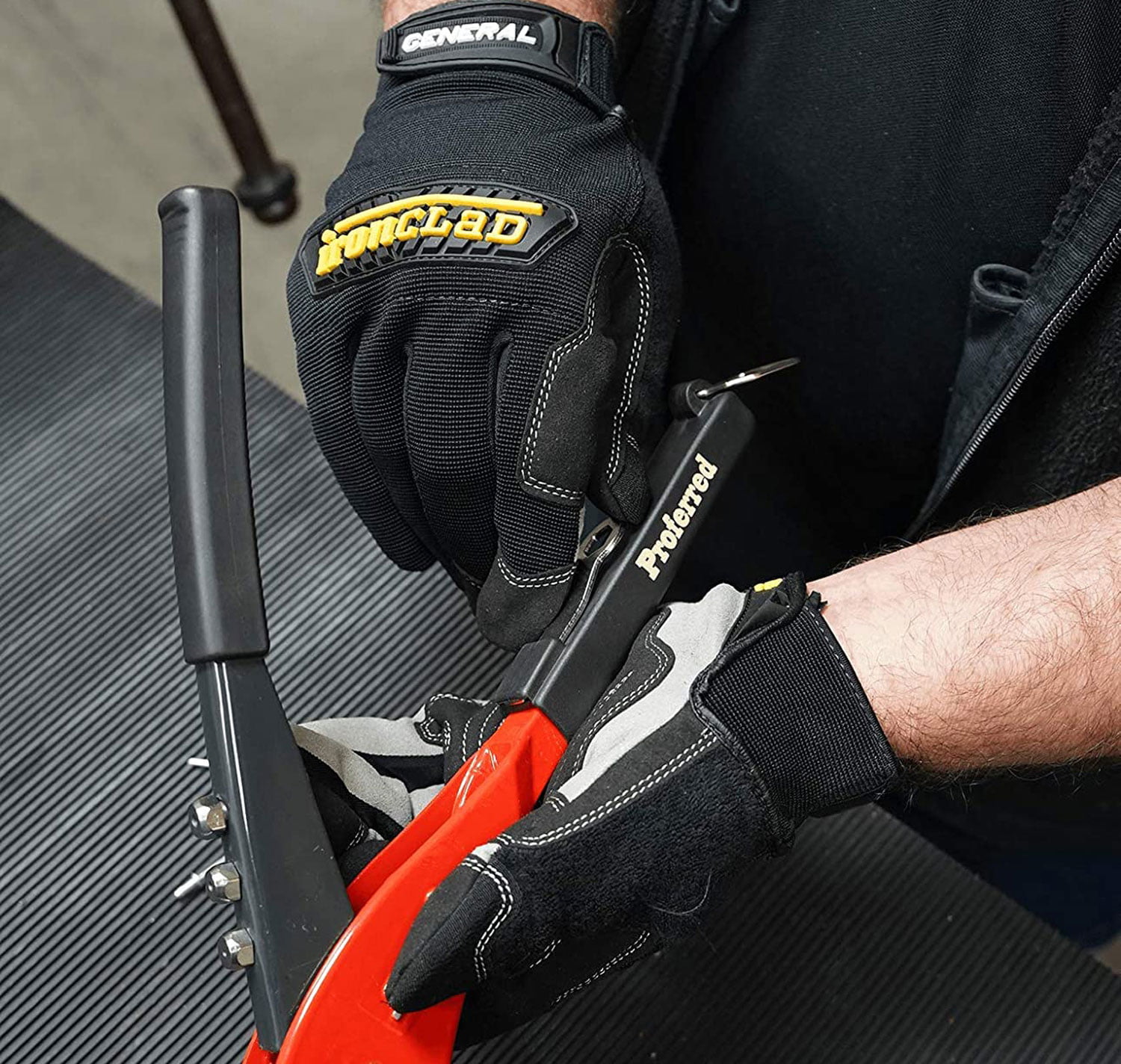 Gloves: They're essential for riding, but what about for wrenching? Survey says…yes! Borrowing from literature, "Let us count the ways." First and foremost, a good pair of reusable work gloves protects your hands from injury, whether that's from a sharp metal edge on that taillight bracket you're fabricating, or from a slip of the wrench that drives your knuckles into a bolt head or brake caliper. Second, gloves make truly sucky jobs like levering old tires off, or torquing axle nuts, more comfortable. And then, there's neatness. Mechanics who have gotten anti-seize or Pematex Form-A-Gasket Sealant on their fingers know it'll still be there when they're at dinner hours later. Finally, gloves can improve your grip, and extend your work hours. And so, for the small amount of coin that reusable gloves require, they're quite simply a must-have. Here are four good choices.
Smart, Comfortable, And Washable
Available in sizes from extra small all the way up to XXL, these Ironclad General Utility Work Gloves are designed to provide several distinct advantages. First is safety, thanks to a thermoplastic rubber knuckle that provides both abrasion impact and protection. Second is fit, owing to 16 application-driven measurements used in their design, along with an adjustable hook-and-loop closure. Perhaps unexpectedly, next comes sweat management; a terry cloth sweat wipe on the back of each thumb lets you wipe your brow without removing the gloves. And finally, the gloves are machine washable.
Tactical Protection
From Mechanix Wear comes these Multicam FastFit Tactical Touchscreen Gloves. We like them for several important reasons, starting with the pinched fingertip construction, which is said to improve fingertip strength and durability—though, in our experience, this improves dexterity too. After all, if work gloves make you ham-fisted with parts and tools, they're not fully effective. So that's good. Now let's look further: The breathable TrekDry material allows evaporative cooling to help keep your hands cool and comfortable, and stretch-elastic cuffs enable a secure fit at the wrists. We also like that the camo coloration hides dirt and grease.
Trick Construction
Looking almost as trick and technical as riding gloves, these Handyman Flex Grip Work Gloves from CLC Custom Leathercraft are touted as being stretchable, providing excellent grip and improved dexterity, and tough and shrink resistant. Their synthetic leather construction provides toughness and resists both shrinking and hardening over time, while built-in insulation helps keep you working comfortably in cold or wet conditions. A feature we really like is the wing closing strap, which keeps the gloves in place when you're wrestling with heavy jobs such as engine installs, wheel mounting, or tire changing. Small to XXL sizes are available.
Get A Grip
Why didn't we think of this? Affordably priced, and packaged in an amazing 15 pairs per pack, the Grease Monkey General Purpose Nitrile Coated Work Gloves are made to order for bike guys (and girls). Their secret formula is a nitrile coating on the palms for protection and a strong grip while conducting oil changes, changing tires, swapping spark plugs, and other maintenance duties. A breathable material (including a snug-fit knit wrist) comprises the rest of the glove. Due to their universal nature, though, these general-purpose gloves are offered in size large only.