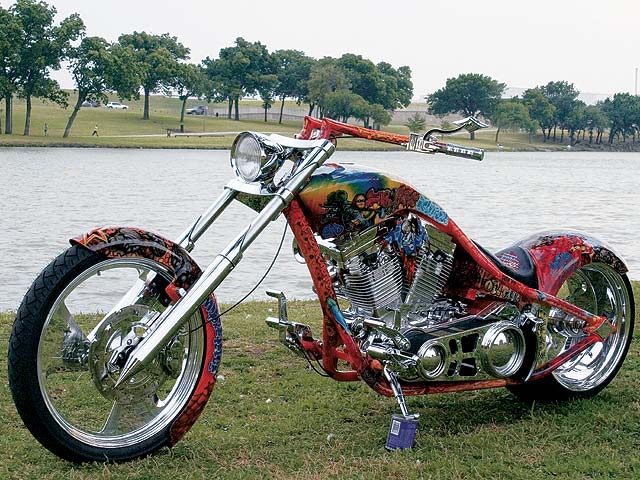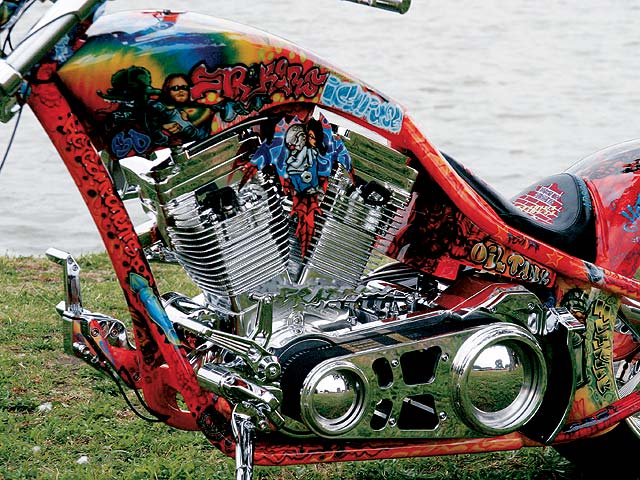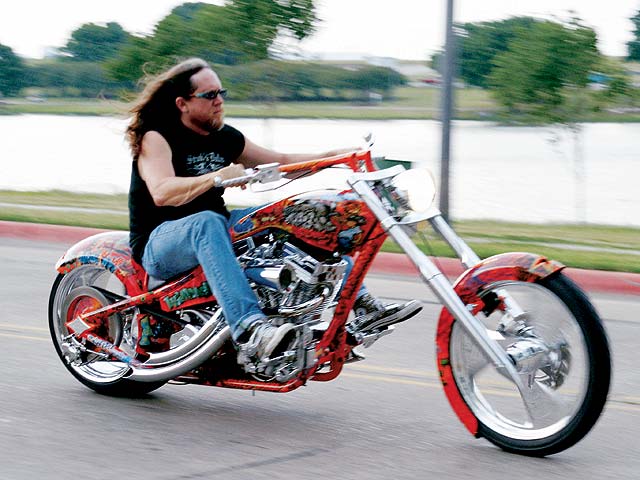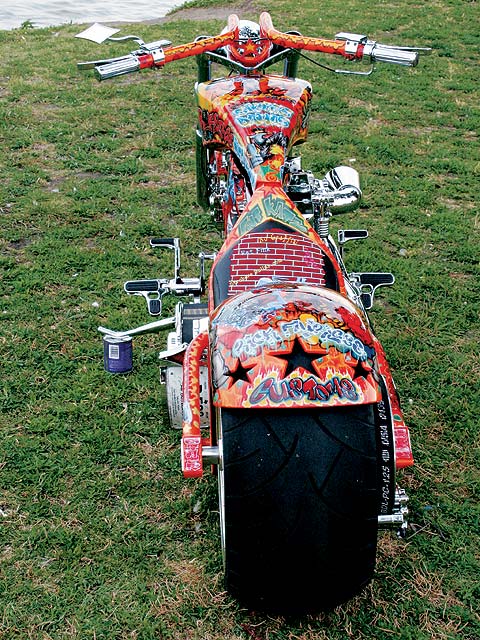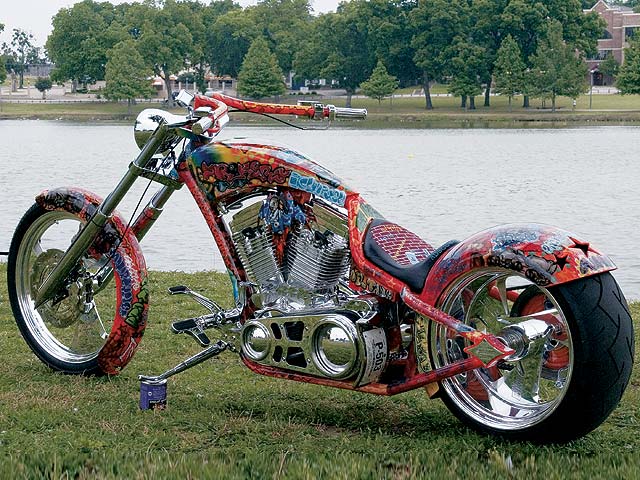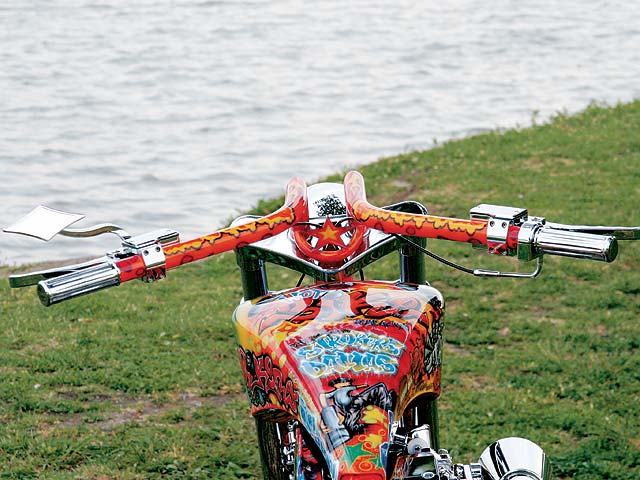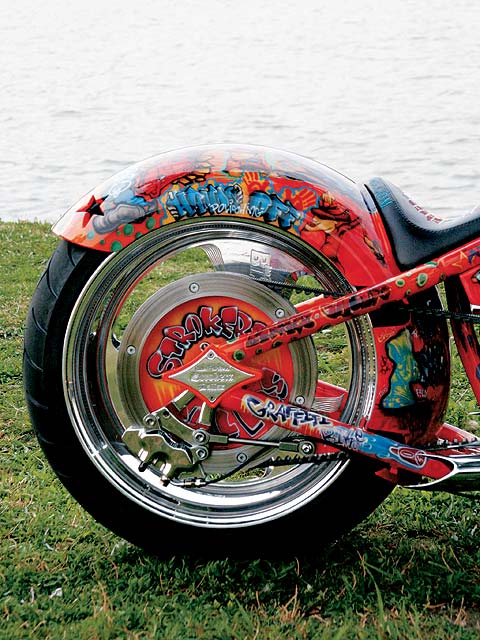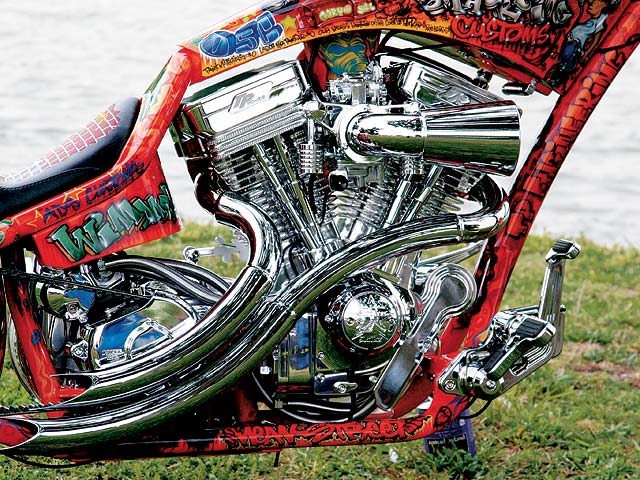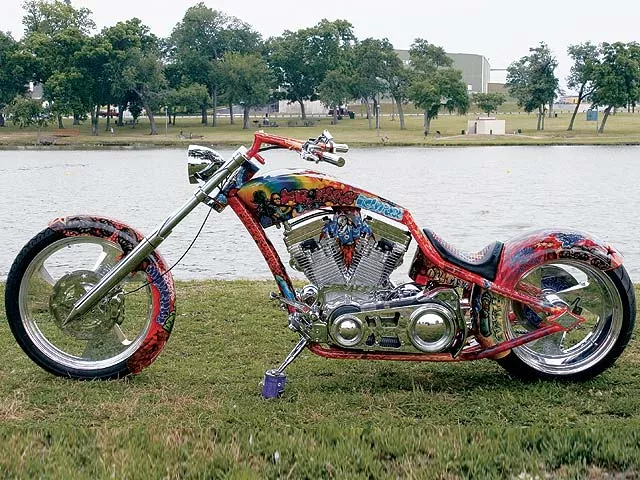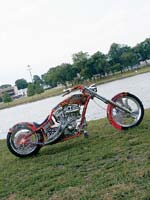 Everyone knows one of those guys that seems to live under a charmed star. No matter what they do, it works out better than just good for them — they just hit on all cylinders all the time. Rick Fairless is one of those guys. He opened a bike shop, Strokers in Dallas — it did great. He opened a bar next door — it did great. He built custom bikes for people — they did great in shows. Everything Rick seemed to touch did great, except no one really knew who Rick was; they knew the shop and bar, Strokers, but not Rick.
So, as we neared closing time at Strokers on a hot Dallas night, we were discussing things Rick could do to help let people know who he is. Not for an ego thing, but he just thought that if he was having all these cool ideas and coming up with radical designs for bikes, it might be nice that people knew him so they could ask questions. Rick asked what the most popular thing in HOT BIKE was. It was an easy answer: "Build a giveaway bike! Everyone loves the chance to win a free custom motorcycle." Rick lit up like one of the paintjobs he incorporates on his bikes, and started making notes on cocktail napkins. Who says no business ever gets done in a bar? Rick's first order of business was to get with the crew at Scooter Shooterz about a frame they were planning on building together. Proprietary to Rick, the rigid chassis had a 40-degree neck and 4 inches of stretch in the backbone. To enhance the clean look of the chassis, the downtube was built 1-inch under a stock length measurement. The next thing to get done was to mount the Mean Streets 41mm fork assembly and 5-degree raked trees to the chassis. The Scooter Shooterz crew took on the task of building some custom wheels for Rick as well. Up front, they machined a 21-incher that wears HOT BIKE logos and a wide Metzeler 120. In the rear, they created an 18-inch hoop to carry a brand new 280 Metzeler for some extra-cool looks. Both ends of the bike stop with RC Components calipers and rotors, and the rear features a drive-side conversion.
It was time to power your new custom bike, and Rick pulled out all the stops. He had a long talk with Tom Pirone and the TP Engineering crew, and explained to them the importance of his first ever sweepstakes bike build. They understood fully and felt that a bike worth winning was a bike equipped with their radically fast 121-cubic-incher. The show-polished mill was also equipped with TP's new Pro-Vent rocker boxes for good looks and efficiency. Rick added a Wimmer air intake, a Crane ignition, and Martin Brothers 2-into-2 pipes to make things even more exciting. Next, a right-side drive Baker six-speed was put into place. By running this way, the massive 280 can sit more centered in the frame and offer better handling. Rick connected the driveline with a Biker's Choice open beltdrive and BDL clutch.
To ensure everyone would remember who built this bike, Rick turned the intensity up on the sheetmetal. Up front, a Fat Katz fender was modified to hug the tire and feature a very cool star cutout pattern. Next, Rick worked with Rockett Customs to build an angular, stretched gas tank that could mount really low on the backbone. Scooter Shooterz developed the oil tank that rides under its drop seat frame. Out back, Rick did more star cutouts and shaping on a Fat Katz fender blank. Once the shape was in place, a seat loop was incorporated as well as internal struts for additional cool points. Then, things got crazy. Rick turned the metal assembly over to the crew at Other Side Customs where Gary and Sal were given free reign to do something cover-worthy to the bike. They did not disappoint anyone — to say the paintwork is wild would be the biggest understatement we've printed all year.
The crew at Strokers had a surprise for Rick to be incorporated in the build. It came in the form of a set of handlebars that incorporated the now predominant star theme throughout the bike. To that, Joker Machine hand controls were added, along with a mirror from Paul Yaffe. Down below, a set of Joker foot controls with plenty of support for long riders was incorporated, and lighting the way up front is a Biker's Choice headlamp, and a Pro-One taillight alerts those you have passed that you just went by. The last piece to install was a seat made by ADS Customs, and Rick was ready to testride your new bike. Rick blasted around Dallas for our cameras and to shake down the bike. He did a good job on both accounts, and now, the bike is just waiting for you to win it. So, fill out the entry card in this issue, run it down to the mailbox, and sit back with your fingers crossed. Or, if you like this bike enough that you have to have one like it, call Strokers and ask for Rick directly. He will be happy that you know who he is and you will be happy to be on one of his creations!
| | |
| --- | --- |
| **Spec Sheet | |
| GENERAL | |
| OWNER | Could be you |
| MAKE/YEAR | '04/Rick Fairless Custom |
| FABRICATION | Rick Fairless/ Strokers |
| ASSEMBLY | Strokers |
| BUILD TIME | {{{90}}} days |
| ENGINE | |
| SIZE/TYPE | 121ci TP Engineering |
| CASES | TP Engineering |
| FLYWHEELS | TP Engineering |
| RODS | TP Engineering |
| PISTONS | TP Engineering |
| CYLINDERS | TP Engineering |
| HEADS | TP Engineering |
| CAM | TP Engineering |
| CARB | Mikuni |
| IGNITION | Crane |
| PIPES | Martin Brothers |
| TRANSMISSION | |
| YEAR/TYPE | '04/Baker |
| CASE | Baker |
| GEARS | Right-side drive |
| CLUTCH | BDL |
| PRIMARY DRIVE | Biker's Choice |
| FRAME/SUSPENSION | |
| YEAR/TYPE | '04/Scooter Shooterz/ Strokers |
| RAKE | 40 degrees |
| STRETCH | 4 inches out |
| SWINGARM | Rigid |
| REAR SUSPENSION | See above |
| FORKS | Mean Streets |
| EXTENSION | 4 inches over |
| TRIPLE-TREES | Mean Streets 5-degree |
| WHEELS, TIRES, AND BRAKES | |
| WHEELS | Front: Scooter Shooterz Rear: Scooter Shooterz TIRES| Front: Metzeler 120 Rear: Metzeler 280 |
| BRAKES | Front: RC Components Rear: RC Components |
| FINISH | |
| MOLDING | Other Side Customs |
| PAINTER | Other Side Customs |
| COLOR | Many |
| GRAPHICS | A lot |
| CHROME PLATING | Hands Off AND POLISHING |
| ACCESSORIES | |
| BARS | Strokers |
| RISERS | Built in |
| HAND CONTROLS | Joker |
| HEADLIGHT | Biker's Choice |
| TAILLIGHT | Pro-One |
| ELECTRICAL | Strokers |
| FUEL TANK(S) | Rockett Customs |
| OIL TANK | Scooter Shooterz |
| FRONT FENDER | Fat Katz/Rick |
| REAR FENDER | Fat Katz/Rick |
| FENDER STRUTS | Built in |
| PEGS | Joker |
| FOOT CONTROLS | Joker |
| SEAT | ADS Customs |