Singapore Sun is a Harley-Davidson Softail built in 2003 for a dude who goes by "Mr. Ang." He bought it originally in Singapore from the local H-D dealership. Like most of us, he caught the customization bug and had it changed—only not for the better.
Looks only count until you throw a leg over and fire up the bike. Once that bike is in gear and you're piloting that motorcycle through traffic or through country roads, it's all about how it handles. Mr. Ang's Softail looked wild. And handled wild. The kind of wild you get while holding a trash bag filled with wet wolverines—a dangerous handful best left alone. Which he did. The bike sat untouched for a few years waiting his decision for what to do with it.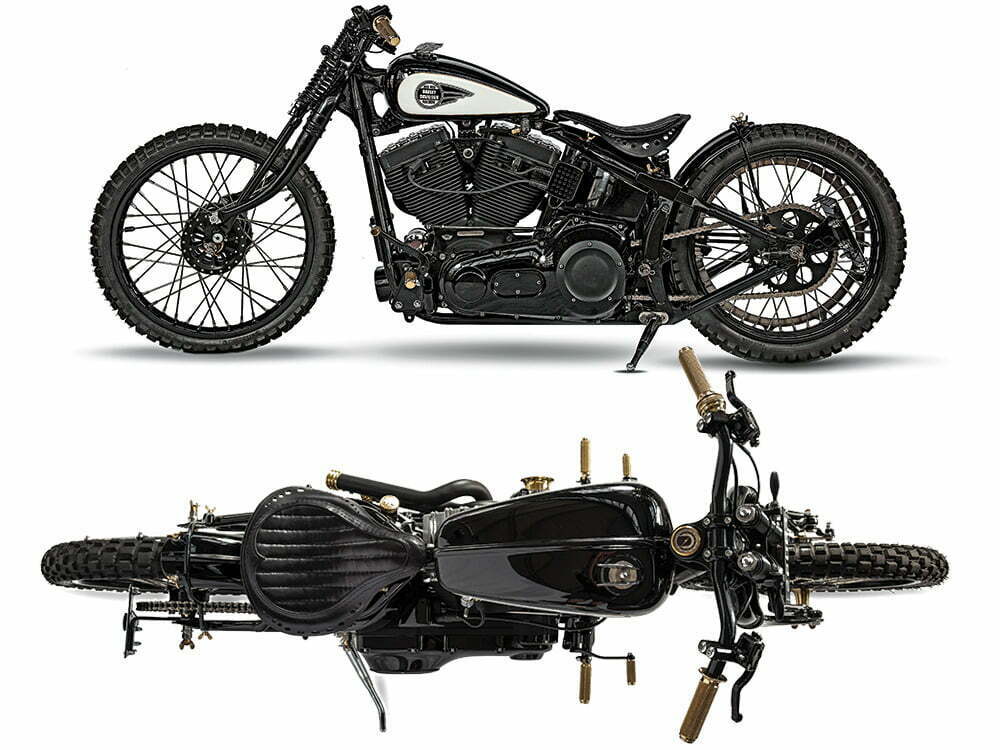 Eventually he came to the decision to give it one more try, and this time he wanted it to be right. From the beginning it was clear to him that nobody from Singapore could do the job he wanted. Instead he was looking for a pro from abroad.
After some intense research he found One Way Machine online. Immediately he was sold on the style and the workmanship from the OWM bikes. He checked the homepage in detail and realized the owner is a German engineer who had won more than 50 bike shows at this time. Mr. Ang decided to let OWM do the complete makeover of his bike.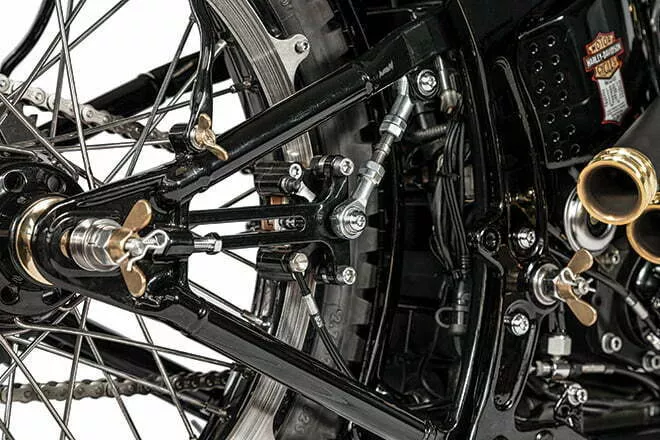 One does not simply ship a bike to Germany, however. At least, Mr. Ang didn't. He flew out there for a one-on-one meeting to see OWM's other iron in person. He really liked the workmanship and was even more convinced he picked the right partner for his project. So they signed the contract and Mr. Ang got back to Singapore. Mr. Ang's only specification was that he wanted his bike to look like the La Salle bike OWM had built before. Since OWM's owner Julian doesn't build a bike twice, they agreed on a bike that looked alike but was even better.
First Julian disassembled the bike and modified the frame and the swingarm. The next step included the engine, the transmission, and the oil tank. Julian got an old Triumph tank, which was best suited for the concept of this bike. He followed up with a total makeover of the tank so it would match the Softail frame. He manufactured a fuel-tank plug, assembled an old hood ornament, and built a tank holder that he fused to the base tank.
The seat was made by Spirit Leather. The back fender is an aftermarket part, which was completely revised for this project. The wheels are original 21-inch Harley-Davidson rims with cross tires. The Hillclimb fork was delivered by W&W. The handlebar is a new product by OWM. In the front, Beringer Inboard brakes were installed. The controls and instruments are from Beringer, and the rocker boxes are from Ness. Quite a few small components were especially made for this bike. The exhaust pipe was also handcrafted by Julian himself.
Since there was still some time between the completion of this bike and the shipping back to its owner Mr. Ang, Julian put it on display on some exhibitions and shows. One day after the last show the bike was packed up and shipped to Singapore. Mr. Ang was more than happy when he got to see his "new bike" for the first time. He sent more than one thank-you note and quite a few pictures on the road and on tour with his remodeled bike. This operation took an enormous amount of effort and wasn't cheap, but since Mr. Ang is more than satisfied and enjoys his time with his Harley, we're sure he thinks it was worthwhile. And so did Hot Bike Brand Director Jeff G. Holt, who gave it his pick at the Art of Speed Show 2017 in Malaysia.