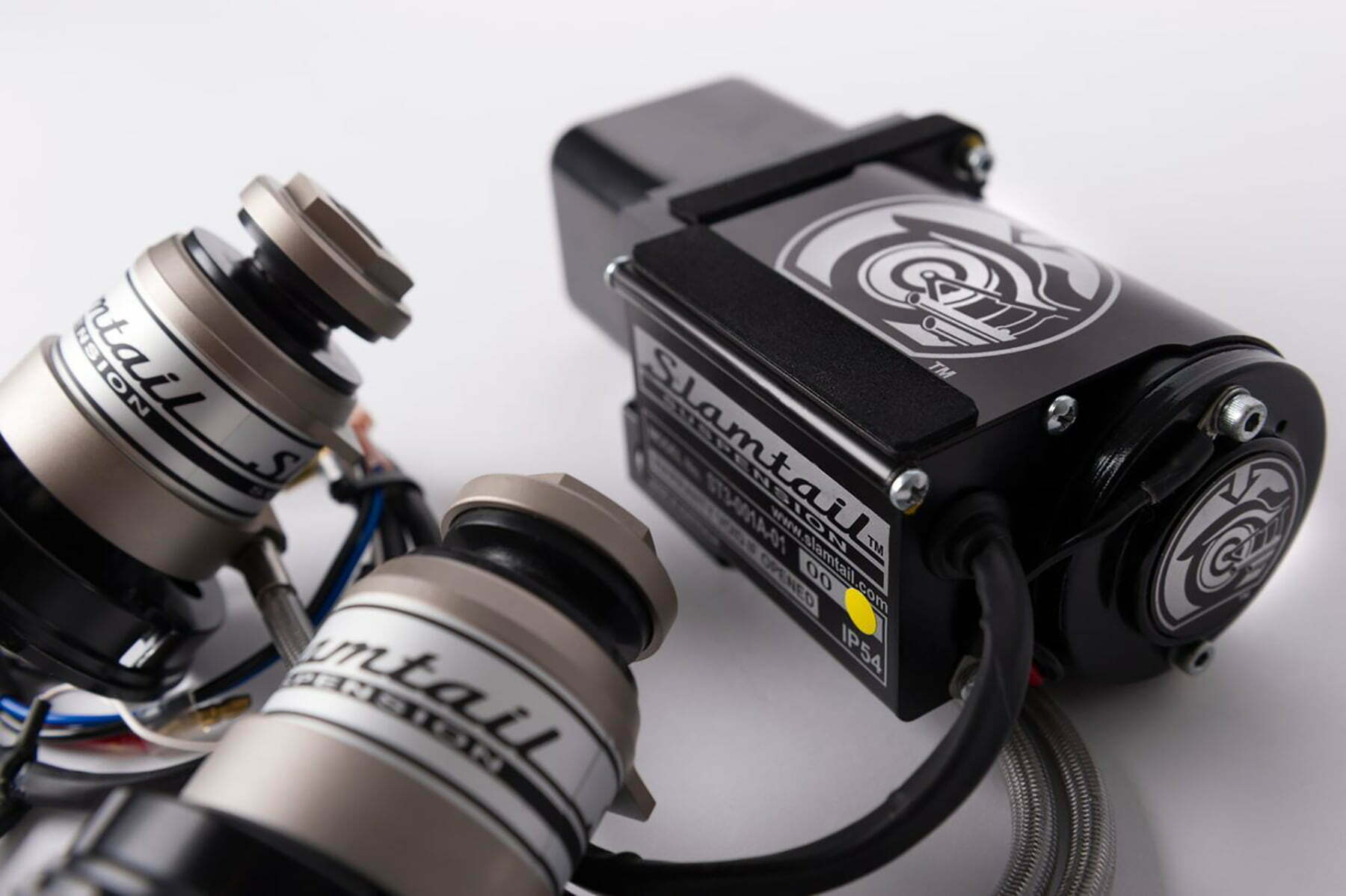 Slamtail, the world's only hydraulically actuated lowering system for Softails, can be installed on all 2016 Harley Softail models. Whether you purchase the recently released CVO Pro Street Breakout or the new for 2016 Fat Boy S and Slim S you can rest assure that the Slamtail will fit your ride.
Thanks to Ken Rutherford's forward thinking engineering and a simple design, the Slamtail will even fit those models that come from the factory already lowered like the Fat Boy Lo and Deluxe. In fact when put on factory "lowered" models the Slamtail will actually give you more clearance when in the up position than the bike had stock.
This kit perfectly integrates with the Softail look and when it is installed it is virtually invisible from the outside. Since the stock OEM shocks are reused and the fact that Softail frames have not dramatically changed since the Twin Cam B engine was introduced, the Slamtail will fit any Softail dating back to the frame redesign in model year 2000. That means it doesn't matter whether you own a discontinued model like the blacked out Night Train, chromed out Custom, retro Springer, straightforward Standard, or the stretched tank Deuce, you can still set up your ride with the Slamtail.
Slamtail is a high quality product with a unique design. It is easy to install, retains the OEM ride quality and can be ridden at any height. The closed loop hydraulic operation will never leak and offers owners reliable, quiet, linear operation when raising or lowering your Softail. It is guaranteed to fit the hundreds of thousands of stock frame Twin Cam powered Softails produced since 2000. In other words Slamtail will seamlessly integrate with all OEM variants including: 88″, 96″, 103″ & 110″ engines; Five and Six-speed transmissions; with or without ABS, carbon canister, or OEM exhaust flapper valve. In addition since the original spring/shock units are reused, easy access to the stock transmission drain plug is retained.
It seems like the aftermarket hasn't produced any new, innovative and exciting products for Softail models in recent years. Well thanks to Slamtail, we now have one that ticks all the boxes, and the icing on the cake, is the key-fob remote control!
To upgrade you Softail contact Slamtail. Email Ken Rutherford at [email protected] or check them out at www.Slamtail.com. While visiting the website there be sure to check out the videos of the Slamtail in action.