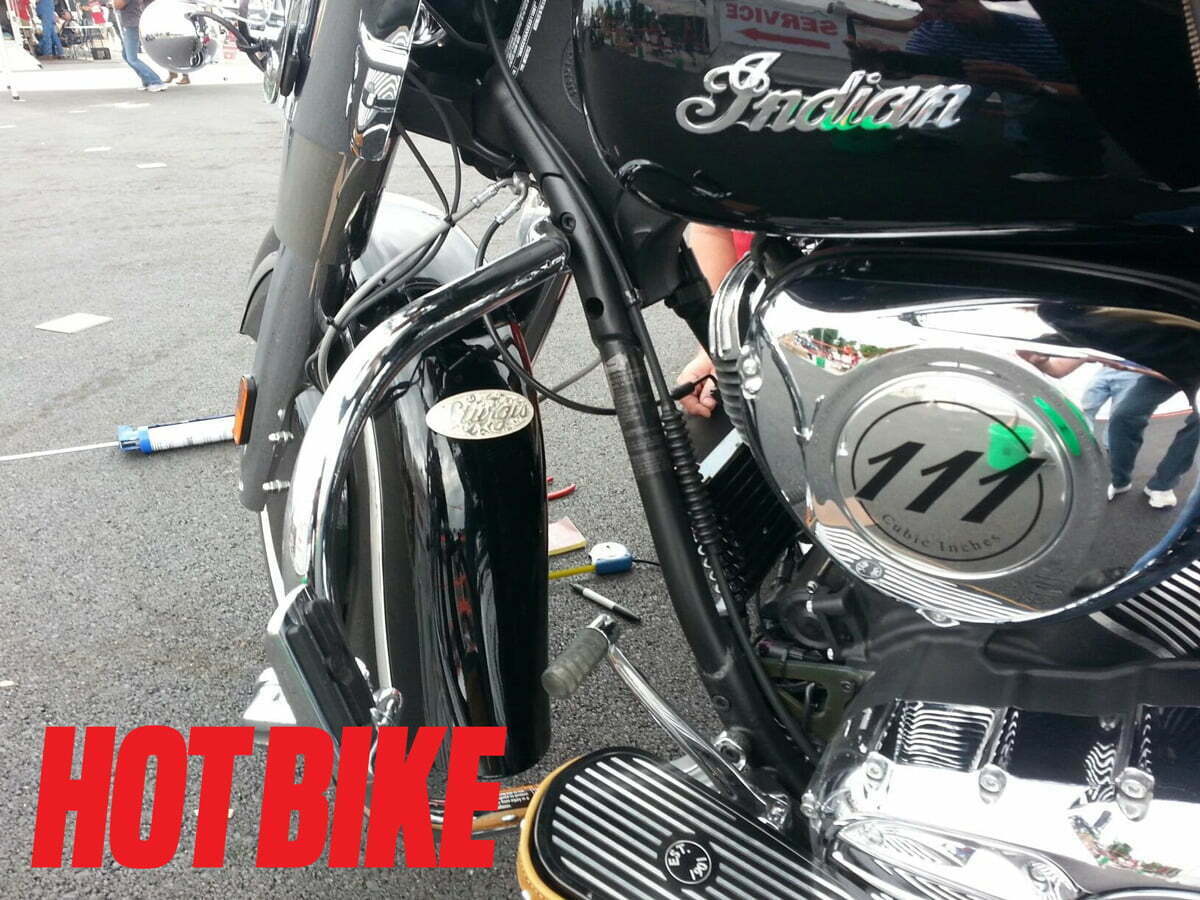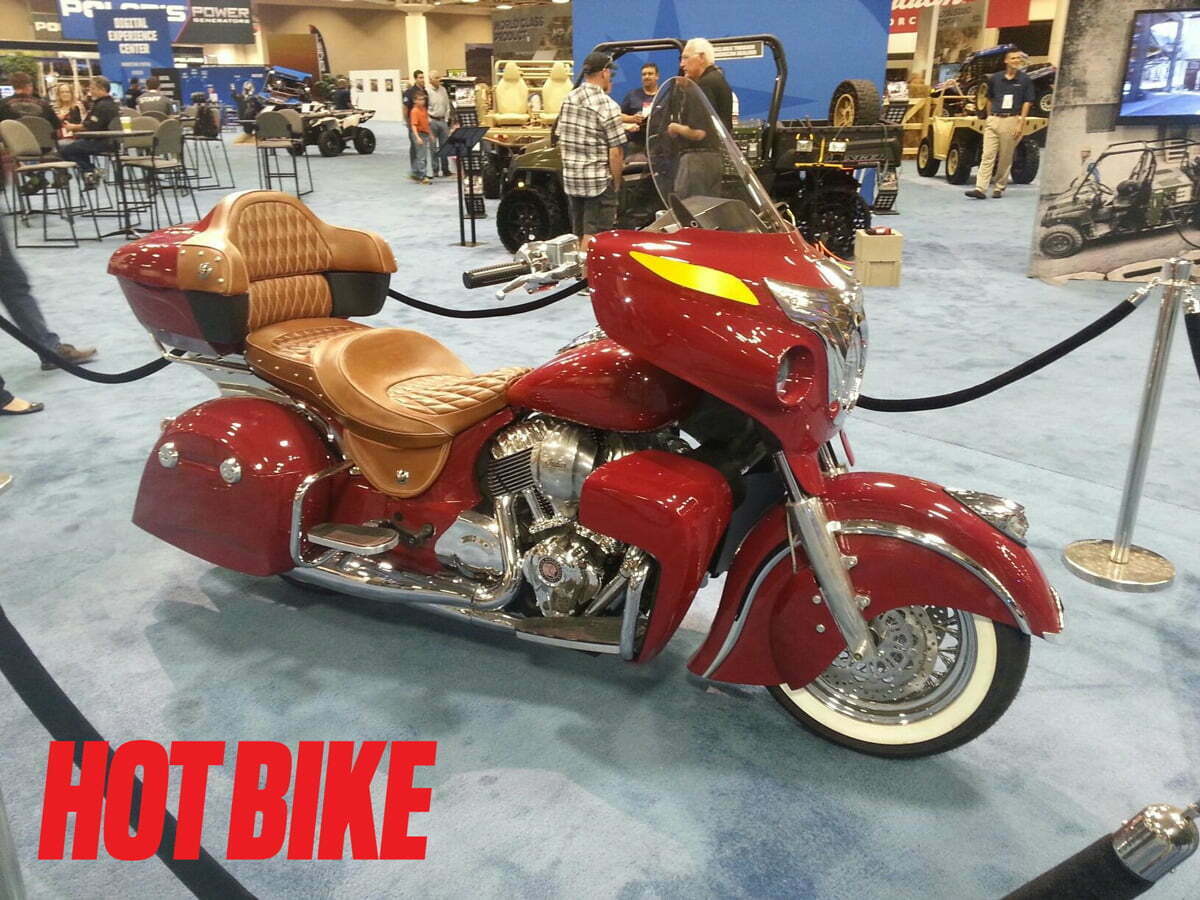 The Indian is back. With an iconic American motorcycle dating back to 1902 (that's one year before Harley-Davidson's founding), the history of Indian Motorcycles has certainly had its ups and downs. The original company went through three ownerships before ultimately filing for bankruptcy in 1953, and since then the Indian name has been brought back no fewer than nine times, often just offering aftermarket H-D clones restyled to appear like classic Indians. All have failed for one reason or another, everything from design and production woes to lack of financing and sales. But this time it's a different story. Polaris Industries, a giant in the powersport world, is the force behind this Indian resurgence, and it's done a clean-sheet redesign of the complete Indian motorcycle line, infusing the classic look with a modern ride, and right at the center of those iconic valenced fenders there's a brand-new engine, the Thunder Stroke 111 V-twin.
A fresh design from the ground up, the Thunder Stroke 111 has the classic Indian engine look while implementing lots of modern technology into a 49-degree V-twin. It wasn't easy. Retaining the outward look of a classic Indian powerplant with the outward-angled fins on the heads, the downward-angled exhaust pipes, and, most noticeable of all, those big, parallel pushrod tubes required, among other things, three separate cams. There's a center cam for the intake valves flanked by single-lobe cams for the exhausts. Classic design coupled with modern, fuel-injected technology resulted in a smooth, efficient, and undeniably powerful engine. Sales brochures claim 119 pound-feet of torque. Impressive.
"Right off the bat we could tell that the Thunder Stroke 111 is a pretty solid motor," Jason Hanson says. At Sturgis last year Speed's Performance Plus was set up about half a block away from the new Indian dealership in town, and the guys at Sturgis Indian took advantage of that by rolling a few of their brand-new bikes down to the Speed's Performance tuning center for a little attention. "It was the first time we got to work on them," Jason says. "In fact, it was the first time anyone had seen the new Power Commander for the bike. Dynojet brought the first ones up to us direct from their R&D labs in Las Vegas." A sign of faith in the reborn Indian, Dynojet isn't alone in its attention to the new bike. A lot of companies are tooling up and making all sorts of add-on parts for that Indian and its Thunder Stroke 111.
Performance-wise, slip-on mufflers and free-flowing air filters are available now, along with that Power Commander, and head pipes and camshafts are in the works with more to surely come. Barnett already has cables available.
"So what we did with the Indians we saw at Sturgis," Jason says, "was set them up with everything available now, the performance slip-ons and the free-flowing air filter from S&S and of course Dynojet's Power Commander." What did all that accomplish? Exactly what you'd expect and exactly what traditional "Stage 1" performance tuning has been doing for Harley-Davidsons for years. The stock horsepower, base-lined at right around 70, jumped up into the 80s, give or take. And the OE torque, which Indian had optimistically pegged at 119 but was really closer to 100, went up to about 110 pound-feet or a little better. Those numbers, of course, weren't carved in stone, and they weren't exactly consistent bike-to-bike.
The guys at SPP had the chance to try all this on a number of different Indian motorcycles, and just like any motorcycle built anywhere no two are ever exactly the same. But generally speaking, with an air-cleaner upgrade, a pair of slip-ons, and of course that custom dyno-tune with a Power Commander the horsepower always ran right around 80 or a little better, with that 110 pound-feet of torque,
or thereabouts. "One bike made 112, I remember," Jason says, "and another made 115. And one bike made 85 horsepower; another topped out at 83. They were all right in that range." Not a bad range to be in, a nice performance bump all round, a 10- to 15-percent increase.
In 1940 the original Indian Motorcycle Company sold nearly as many bikes as did Harley-Davidson, that year going head to head with the leader. Will history repeat itself? That remains to be seen, but what's for certain right now is that the performance aftermarket is gearing up for the new Indian TS 111, and that speaks volumes.
Source:
Speed's Performance Plus
speedsperformanceplus.com
(605) 695-1401 – MN
(605) 695-2272 – SD