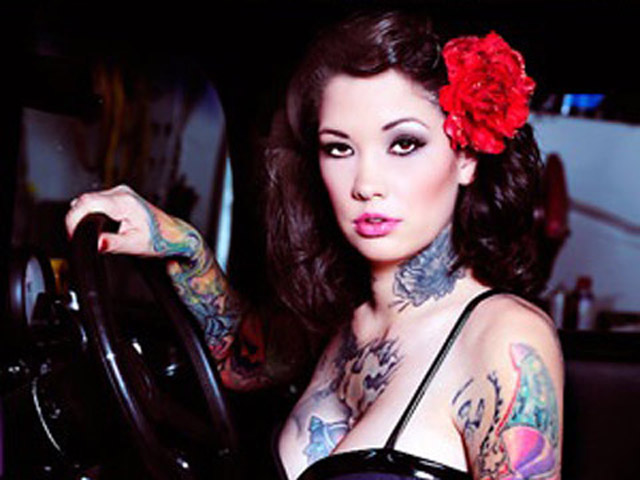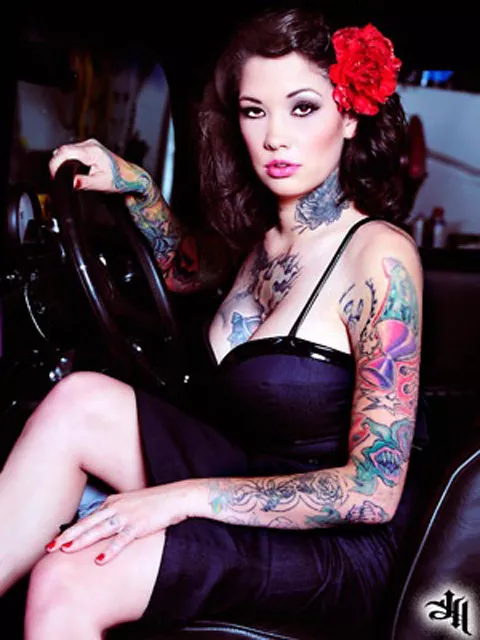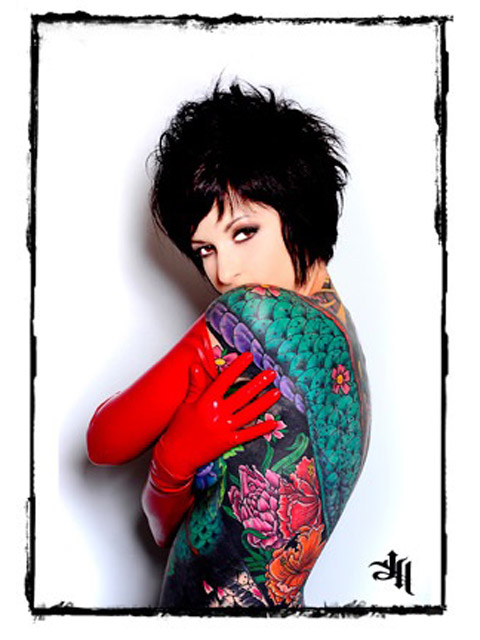 BUFFALO CHIP, S.D. (JULY 21, 2011) -- For 30 years some of the finest, most creative artwork at the Legendary Buffalo Chip® has been on the bodies of the campers themselves. This year, the Buffalo Chip® joins with Trusted Tattoo of Corona, Cal. to offer a world-class Buffalo Chip® Tattoo Cafe. It's a truly inspired idea.
The Tattoo Cafe is a can't-miss opportunity to get a commemorative tattoo, get custom work done by some of the top artists in the country and to make that fantasy tattoo pinging around in your head a permanent reality. The Legendary Buffalo Chip® has partnered with only the best tattoo artists in the business, chosen for their diversity, style and artistic abilities.
Shaun Kama is one of the superstar artists who helped conceive the idea of the Tattoo Cafe. Kama has been tattooing for over 10 years and his personal tastes lead him to the dark and macabre. Prebook a tattoo with Kama by emailing [email protected].
Dejah Garcia was one of the original crew at Hart and Huntington in 2004, during the first season of "Inked. She now owns Trusted Tattoo in Corona, Cal. Email to book an appointment at [email protected]
Lacy also garnered fame as a tattoo artist during her tenure at Hart and Huntington Tattoo Company in Las Vegas, Nev. while the A&E; show "Inked" was being filmed. She currently works at Trusted Tattoo Company. Email to prebook at [email protected].
Nikki Sin of Valor Tattoo Parlor in Reno, Nev., Rob Hill of High Class Tattoo of Ventura, Cal., AJ Kochel of Aasylum Tattoo, Billy of Modern Electric Tattoo Company of Bakersfield, Cal., Brett A Rosepiler of Pussykat Tattoo in Las Vegas, Nev., Kristin Jones of All American Tattoo in Fullerton, Cal. and Jimmy of Rogue Parlour Tattoo in Tucson, Ariz. are esteemed and talented artists who will be at the Buffalo Chip to tattoo campers with special, custom and commemorative designs.
Portfolios of every artist, as well as all pre-booking contact information can be found at BuffaloChip.com
For thirty years the Legendary Buffalo Chip has proven itself as the heart of Sturgis Rally Week. Poised and ready to once again offer their visitors the complete biker experience, the Legendary Buffalo Chip has rounded up an enormous selection of biker-centric fun and festivities in addition to offering the summer's biggest and most authentic music experience of Rally Week. Reservations for multi-day passes or daily admissions available online at BuffaloChip.com or by calling 605-347-9000 between 8 a.m. and 5 p.m. (MST) Monday through Friday.