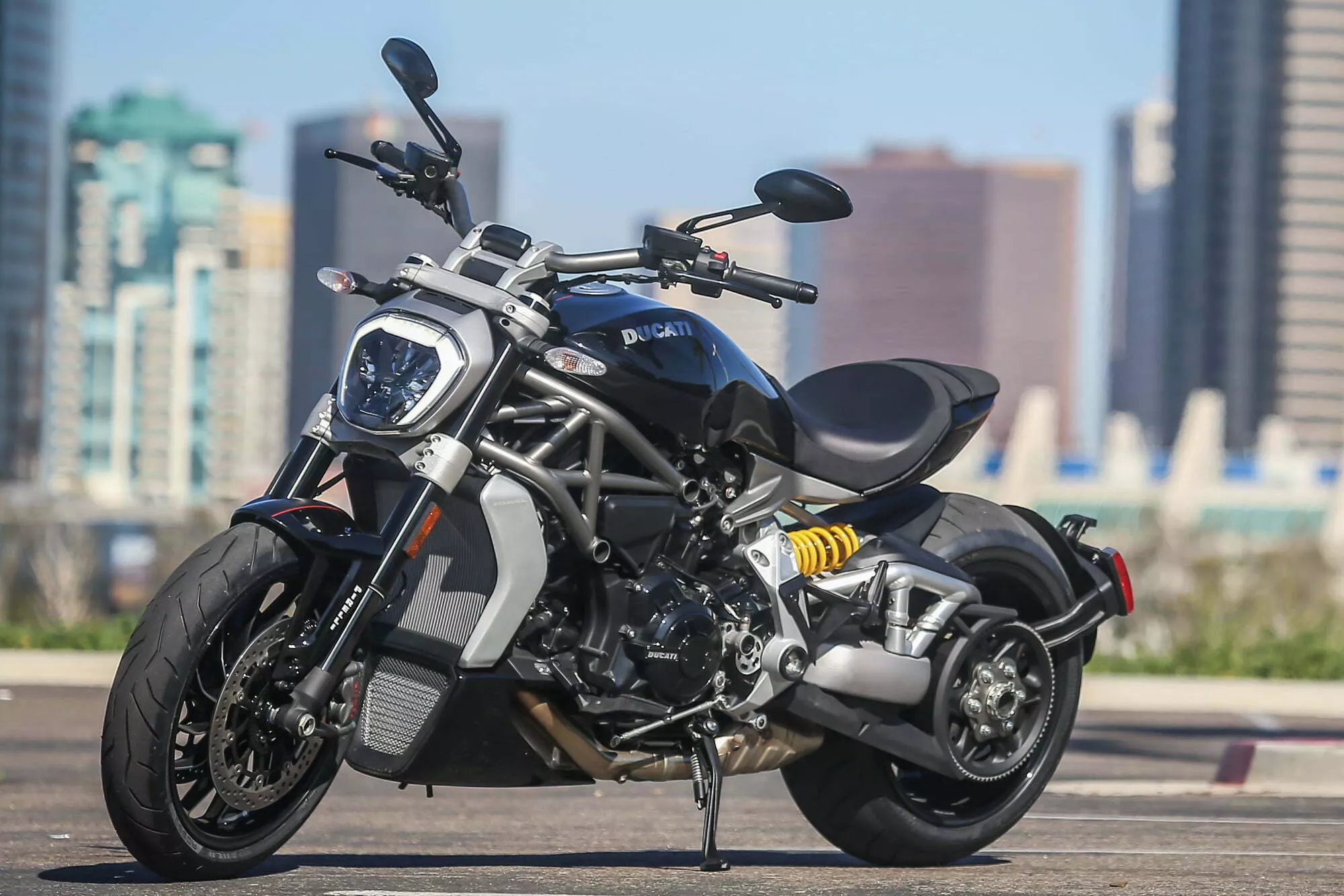 The first impressions of the 2016 Ducati XDiavel have been available for a while now. Unfortunately, due to scheduling conflicts, we were unable to attend the press launch held earlier this year in San Diego, California (and we wanted it that way). The truth about new model press launches is that they end up being closely monitored rides from one photo op to another, all while the highly competitive world of motorcycle editors are all trying to see who can get the story up online first. Rather than regurgitate the same story as everyone else, we wanted to really know what this bike was all about, so we opted to have the bike for a longer period of time in order to truly test it over a greater variety of riding conditions. We wanted to really get to know this bike and then report back with a better educated evaluation.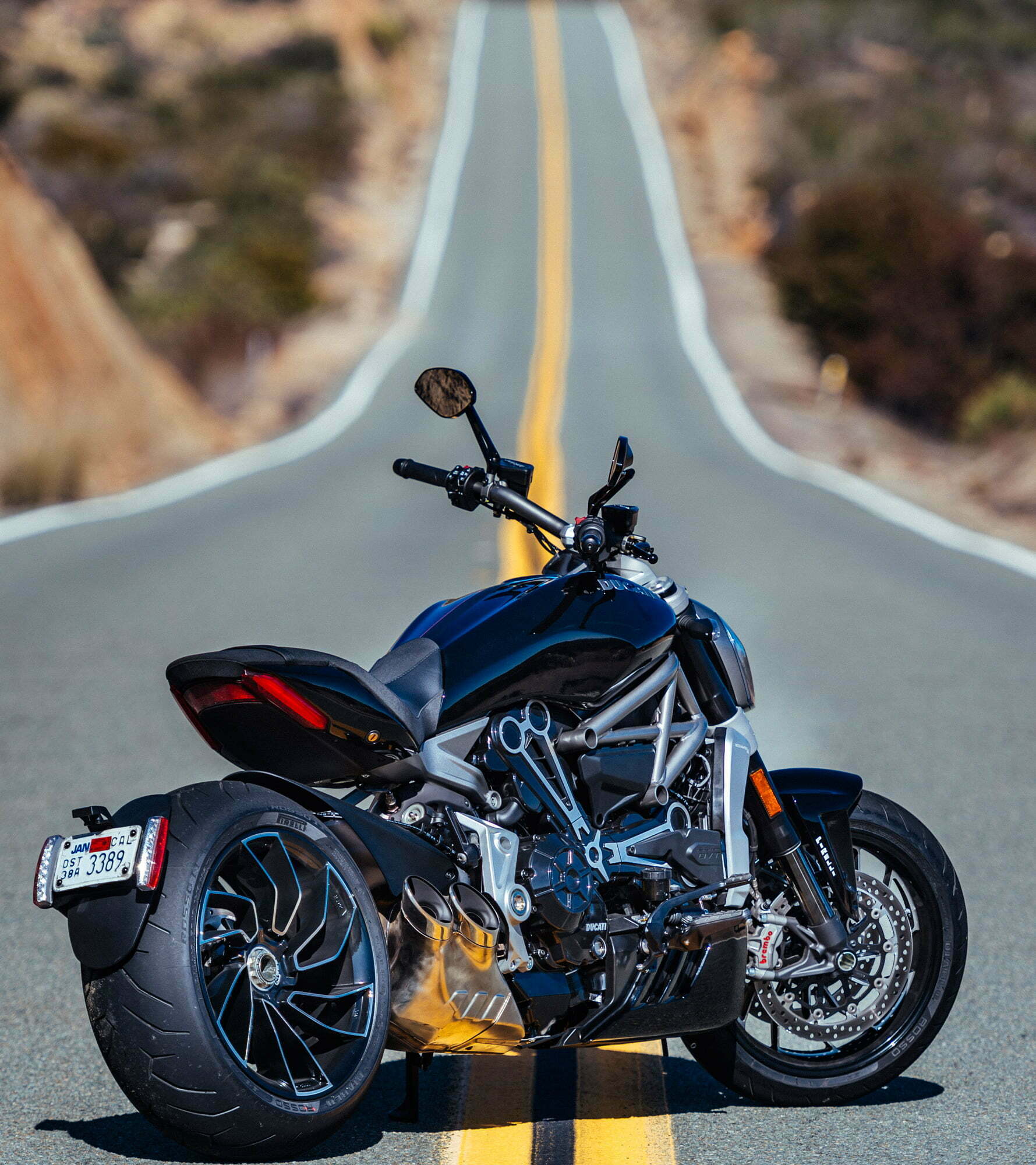 Let's stop the first comment bound to be put on social media and state the XDiavel is not the Diavel. Let me repeat that. The XDiavel is not a Diavel. The original Diavel was a brutal, naked, beast of a streetfighter. The X in XDiavel should be representative of some type of X-Men superpower because it is very much a gentleman by day with the power to morph into a different creature with a simple twist of the wrist.
So what is the XDiavel? To be honest, that question has been the hardest to answer. The best way to describe it is Ducati's answer to a question that has never been asked. As a cruiser, it's a long, lean, mean, and powerful bike that is intended to be comfortable to ride. The feet-forward foot controls, swept back handlebars and meaty 240 rear tire are made to compliment the wind in your face. At 85 miles per hour and above, you get that cruiser sensation of speed that makes you feel like you're moving.
I am in the unique position to be the editor of both Hot Bike magazine and Super Streetbike and have an equal appreciation for both cruisers and sportbikes. I understand both markets and own and ride both types of motorcycles on a regular basis. When you regularly swap between sportbikes and V-twins, you literally have to reprogram your mind every time. While both are motorcycles, there is no real comparison between the two bikes, people, and riding styles. Today's sportbikes have reached a level that the majority of the riders on the road will never be able to use 100 percent of all the available technology and power. Going slow on a fast bike is not nearly as much fun as going fast on a slow(er) bike. It's at this point where the XDiavel merges the two worlds of comfort and performance.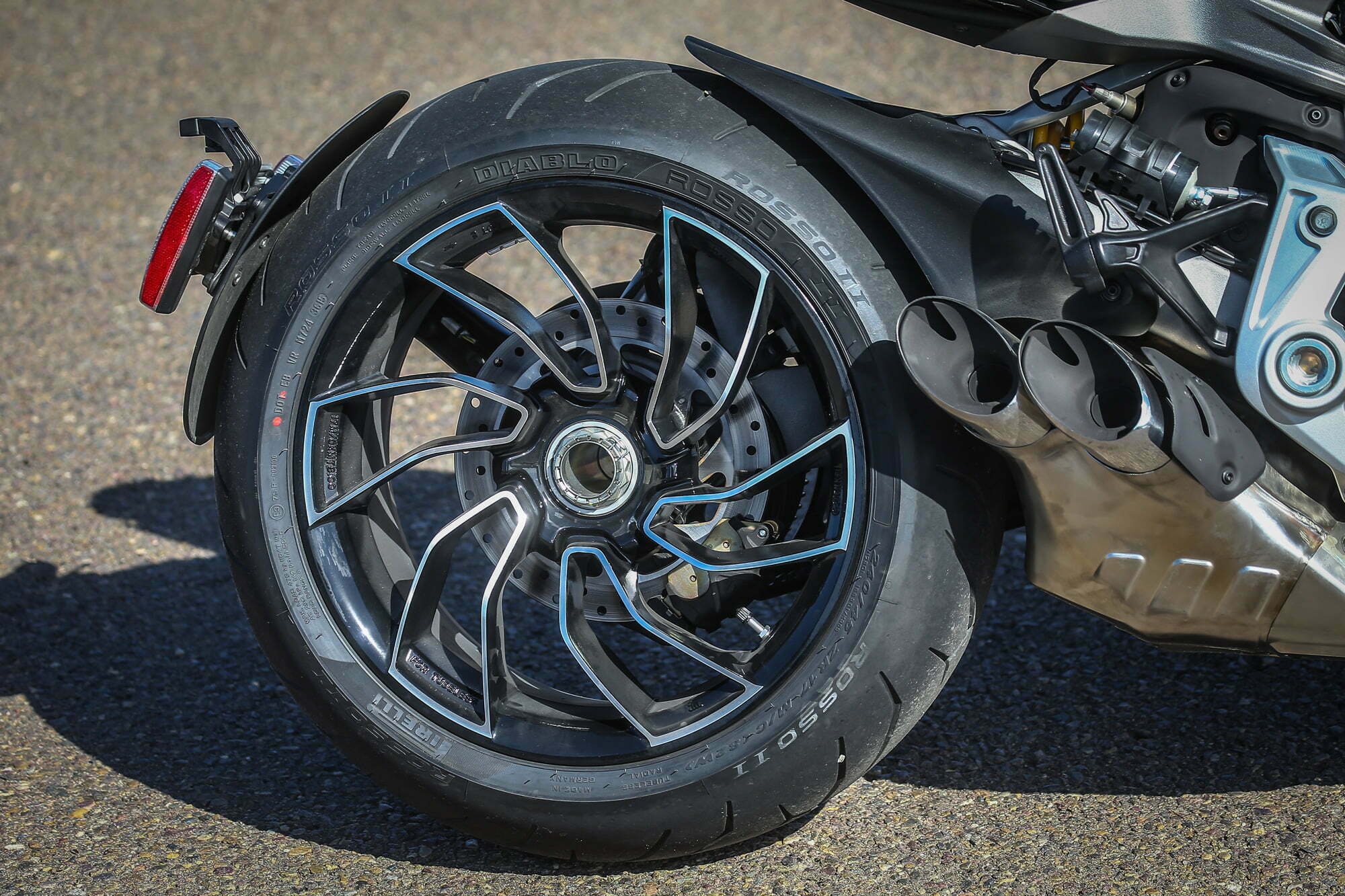 Twist the throttle on the XDiavel and you're gone. That simple. With 156 horsepower at 9,500 rpm and 95 pound-feet of torque at 5,000 rpm at the motor, this bike is incredibly fast for a cruiser. But it's not so fast that you'll never be able to utilize all of the available power either. It'll boot, scoot, and boogie from just about any gear at even American lovin' low rpms. For those that really want that stoplight-to-stoplight experience, the bike even comes with Launch Control. It also has three different modes for limiting power output. Again, this is something that has become standard for the performance crowd, but something new for V-twin market and helps to keep your ego in check.
The XDiavel is as equally impressive when it comes to stopping as well. Standard ABS brakes clamping on dual radial mounted Brembo monoblock, four-piston calipers squeezing on semi-floating 320mm discs. That my friend is what you call real brakes with the best of the best parts that work unbelievably well. Therein lies a reminder that you are indeed riding a motorcycle from one of the finest companies in the world. Although it does come at a slight cost.
Cruisers are typically made to go fast in a straight line. Today's riders however are demanding a bike that can still offer a great deal of comfort but also handle when the roads start to bend. The suspension on the XDiavel follows that heritage of Ducati's world class ingenuity and quality but at the expense of comfort. The suspension is stiffer than a traditional V-twin cruiser for sure. Sportbike riders will be used to the bumps and jars on rough roads and concrete freeways, but it may be a bit of a rude awakening for older riders. If you can deal with the stiff ride, than the bike, even with it's 240mm rear, will corner for days. It's one of those bikes that if you're scraping something, chances are you are crashing for most V-twin riders.
The XDiavel is a long bike at over 7.5 feet. It hides its length well with remarkable low speed manners and maneuverability. I didn't actually realize how long it was until I kept bumping into my other bike's rear tire when parking in the garage.
Styling is always a subjective thing. To me, the XDiavel is somewhat of a combination of a Harley-Davidson Breakout/Rocker and a sportbike streetfighter. It has sort of a functional Euro-custom feel to it. While it doesn't scream typical Ducati Italian sex, it has a certain sophisticated exclusive charm to it. It's almost like wearing a formal tuxedo or expensive suit.
So did Ducati finally manage to build a bike that American masses will want to ride? Perhaps. If you're a hard and true, American V-twin-or-die type of rider, then you may not trade in your Road King just yet. But, if you are ready to unfold yourself from a cramped sportbike riding position, but don't want to give up any of the technology that you now demand on a bike, then the XDiavel could be the perfect bike.
Finally, one must never forget one of the greatest reasons for owning an XDiavel and that is the Ducati prestige that comes with ownership. Similar to how people might not watch basketball, but they know who Michael Jordan is, they might not have heard of the XDiavel, but they certainly know of Ducati.
If you really want to to know if the XDiavel should hold a place in your garage, you really are in luck. Ducati has launched the XDiavel Xperience and will be heading all across the nation with bikes that you can judge for yourself.
| Specifications | |
| --- | --- |
| | |
| Engine | |
| Type | Ducati Testastretta DVT (Desmodromic Variable Timing), L-Twin, 4 Desmodromically actuated valves per cylinder, Dual spark, Liquid cooled |
| Displacement | 1262 cc (77,0 cu in) |
| Bore x Stroke | 106 x 71,5 [mm] (4,17 x 2,81 [in]) |
| Compression ratio | 13:1 |
| Power | 156 hp @ 9500 rpm |
| Torque | 95,0 lb-ft @ 5000 rpm |
| Fuel injection | Bosch fuel injection system, Full ride-by-wire system, Øeq 56 oval throttle bodies |
| Exhaust | Stainless steel exhaust and muffler with dual oval exits, Catalytic converter and 2 lambda probes |
| Transmission | |
| Gearbox | 6 speed |
| Primary drive | Straight cut gears, ratio 1.84:1 |
| Ratio | 1=37/15 2=30/17 3=27/20 4=24/22 5=23/24 6=22/25 |
| Final drive | Belt, Front sprocket Z28, Rear sprocket Z80 |
| Clutch | Slipper and self-servo wet multi-plate clutch with hydraulic control |
| Chassis | |
| Frame | Tubular steel Trellis frame |
| Front suspension | Adjustable Ø 50 mm (Ø 1,97 in) USD fork with DLC treatment |
| Front wheel | Light alloy, Cast and machined, 3,5″x17″ |
| Front Tire | Pirelli Diablo Rosso II, 120/70 ZR17 |
| Rear suspension | Single shock absorber, Adjustable preload and rebound, Remote reservoir, Single sided cast/trellis frame swingarm, natural anodized and brushed swingarm |
| Rear wheel | Light alloy, Cast and machined, 8,00″ x 17″ |
| Rear tire | Pirelli Diablo Rosso II 240/45 ZR17 |
| Front wheel travel | 120mm (4.7in) |
| Rear wheel travel | 110mm (4.3in) |
| Front brake | 2 x 320 mm (12,60 in) semifloating discs, Radial Brembo monobloc 4-piston M4-32 calipers and radial master cylinder, Bosch cornering ABS as standard equipment |
| Rear brake | 265 mm (10,43 in) disc, 2-piston floating caliper, Bosch cornering ABS as standard equipment |
| Instrumentation | 3.5″ TFT color display and dedicated warning light display |
| Dimensions and weight | |
| Dry weight | 485 lb |
| Wet weight | 545 lb |
| Seat height | (29.72 in |
| Wheelbase | 63.58 in |
| Rake | 30° |
| Trail | 130mm 5.1in |
| Fuel tank capacity | 4.75 US gal |
| Number of seats | Dual seat |
| Equipments | |
| Standard Equipment | Riding modes, Ducati Safety Pack (Bosch cornering ABS + DTC), DPL (Ducati Power Launch), RbW, Cruise control, Hands-free, Full-led lighting with DRL*, |Backlit handlebar switches, Bluetooth module, Infotainment system, Glossy black engine with machined belt covers, Premium seat, Machined aluminum mirrors |
| Warranty | 24 months unlimited mileage |
| Maintenance service intervals | 7,500m/12 Months |
| Valve clearance check | 18,000m |
| More info | ducati.com |
| | |
---
Get the all the latest issue of Hot Bike magazine! Subscribe directly from us.