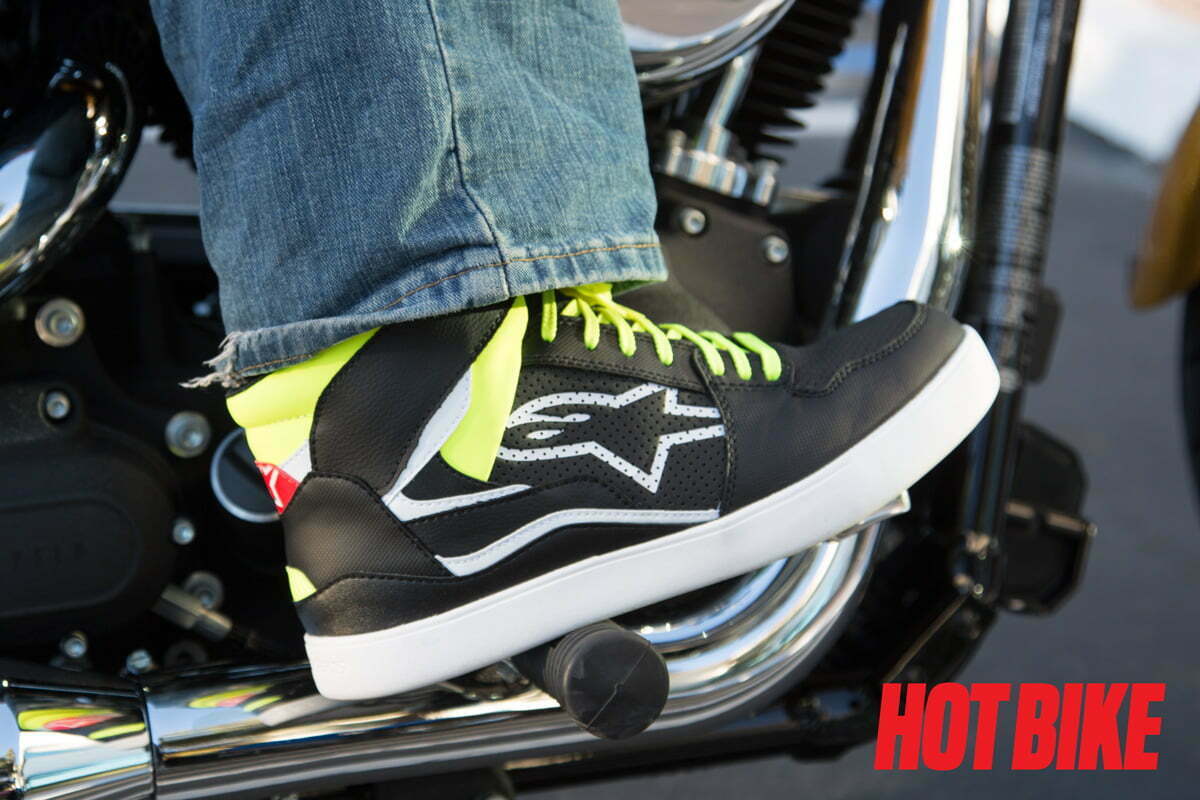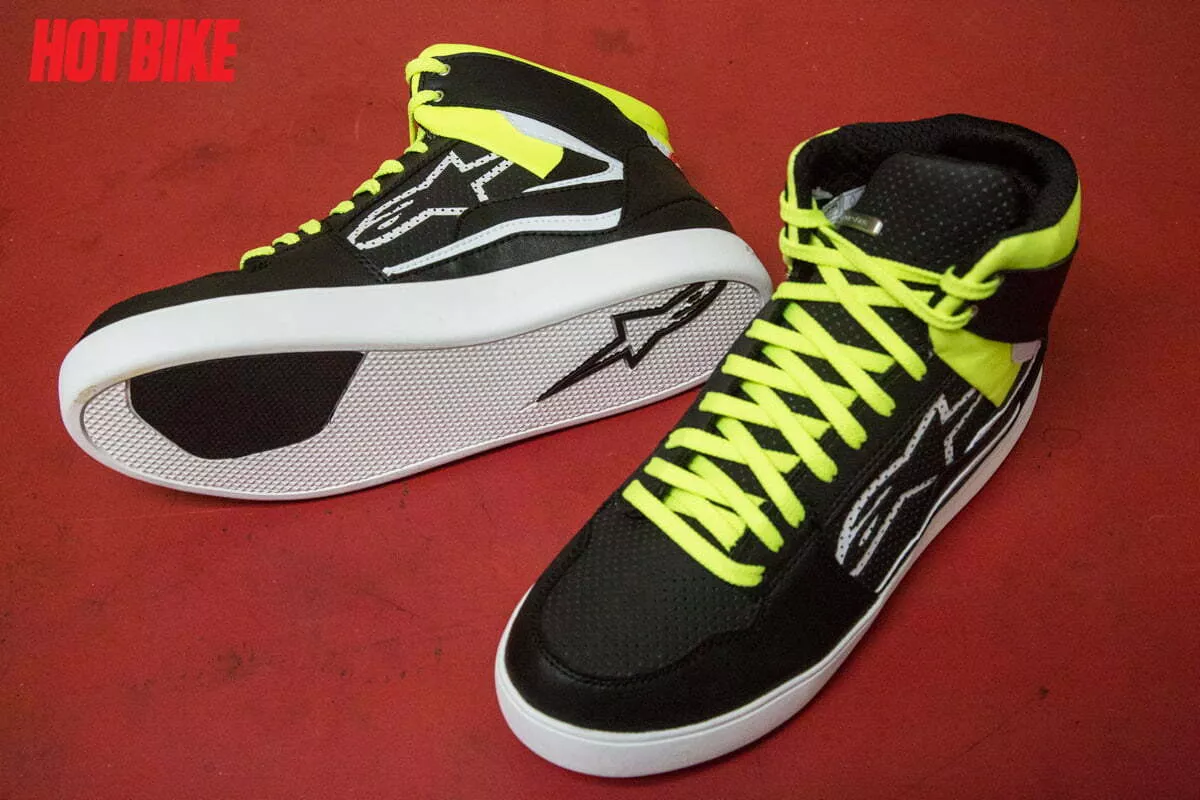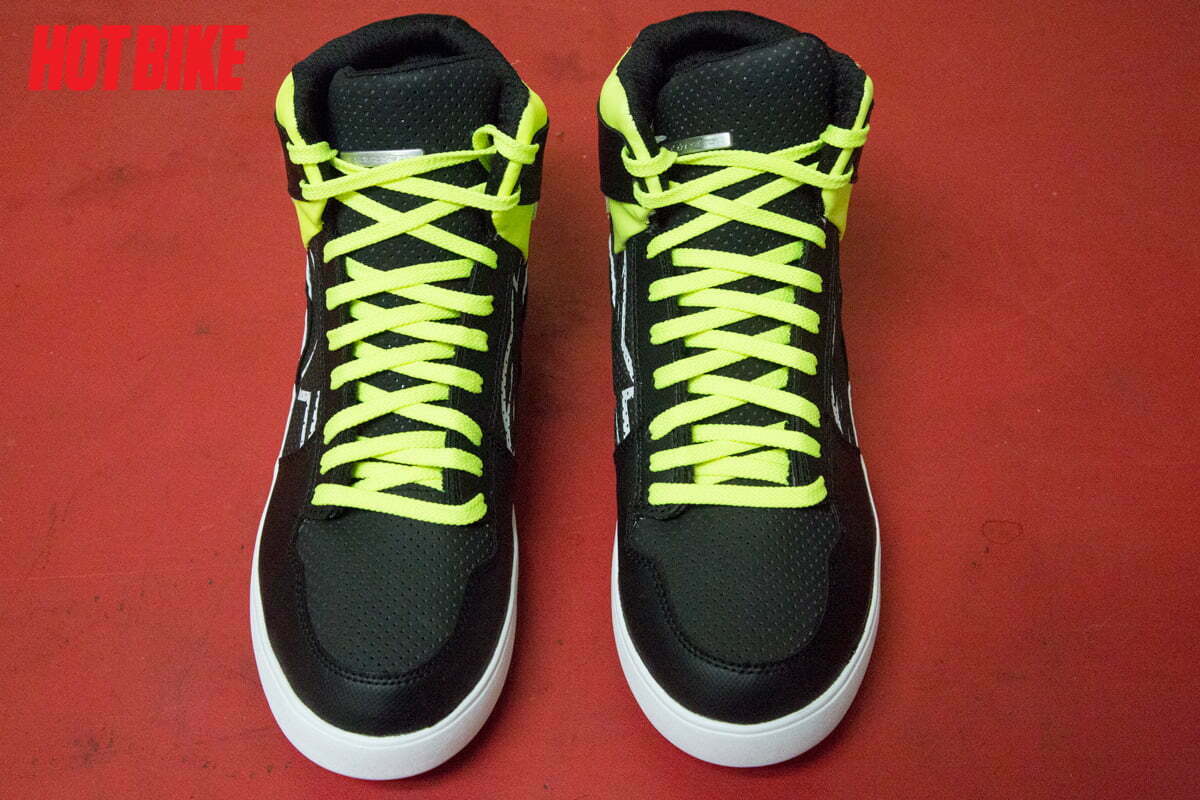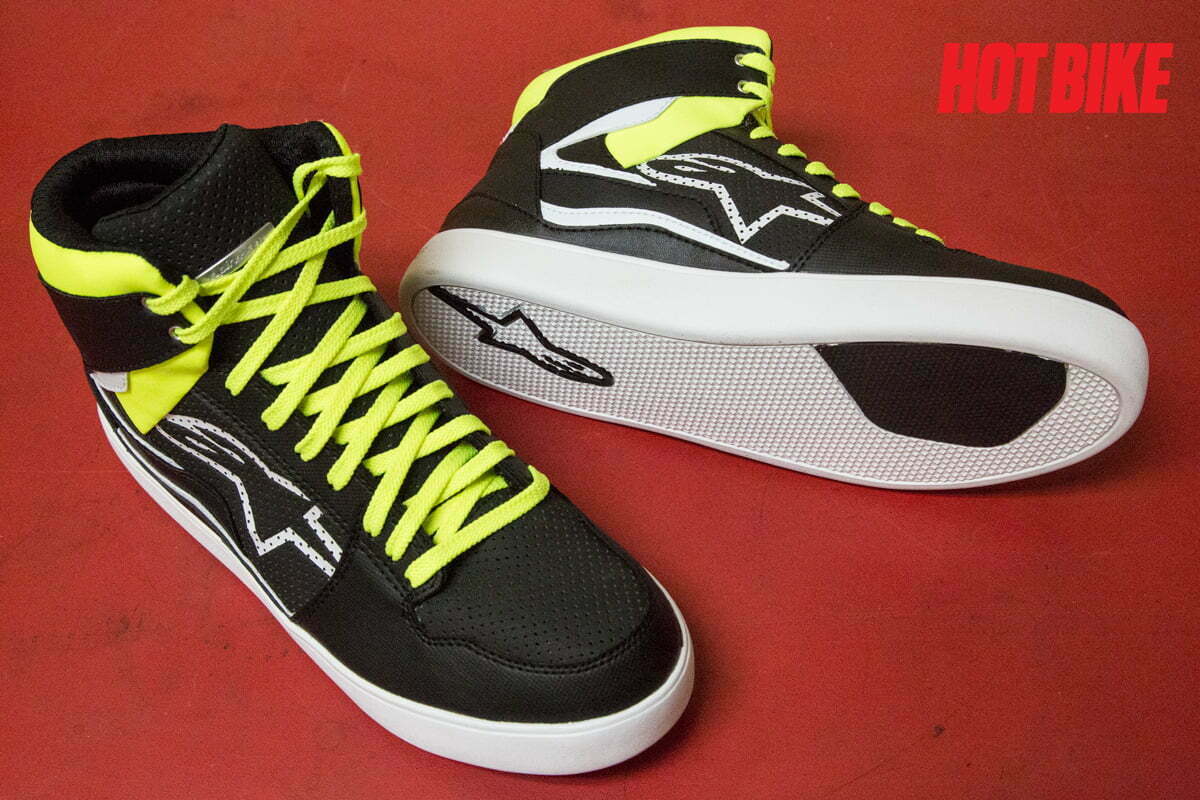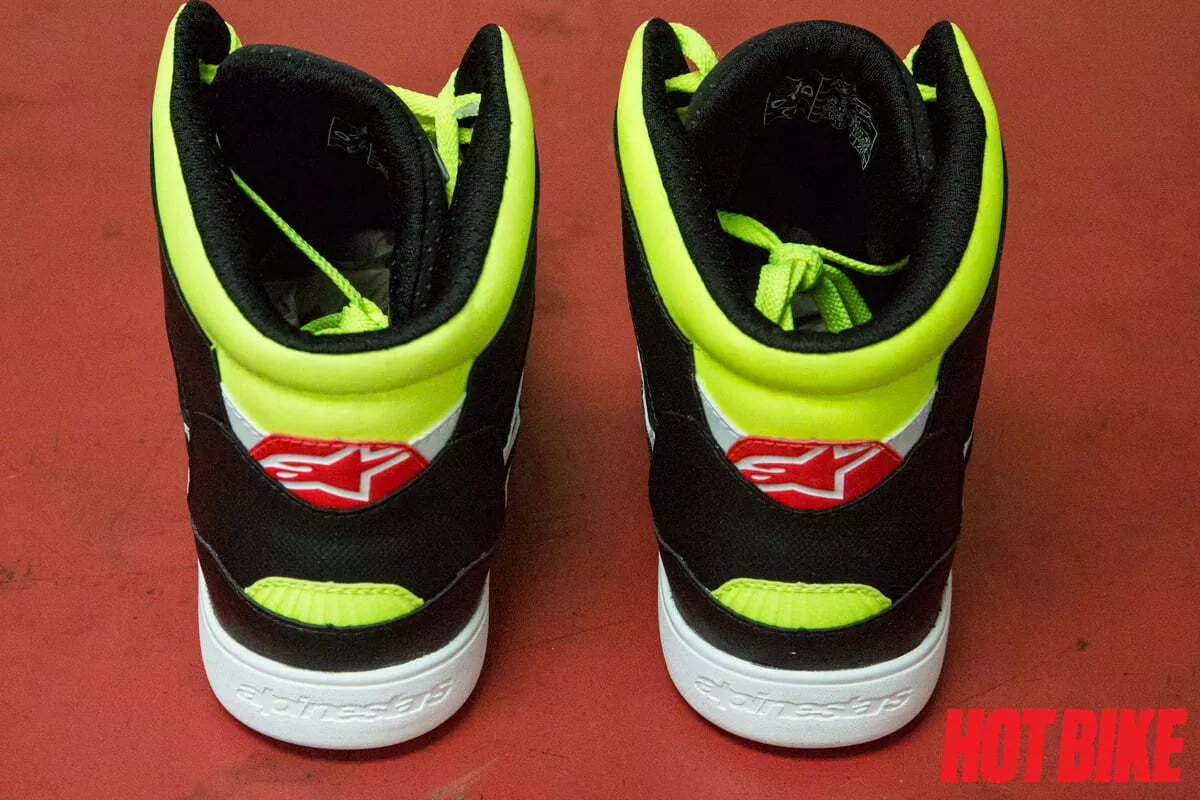 I'm far from a sneaker head and in general on any given day you can find me sporting a pair of the cheapest skater shoes I can buy. But when it comes to riding, I've had my fair share of crashes and have luckily had no damage to my ankles or feet. This is probably because you'll be hard pressed to find me wearing said $20 skater shoes when I'm riding a motorcycle.
I must admit, I was pretty intrigued when I saw the Stadium Riding Shoes from Alpinestars. These super stylish high tops appear to be much more on the fashion and less on the functional side. But you don't equip the top riders in the racing world without a damn good reputation and with that familiar Astar logo placed promintenly on the side, I knew there had to be some protection built in.
When it comes to airflow, the ventilated uppers flows air like a t-shirt and testing these shoes for the first time on a winter night ride made me very aware of that. Walking around out and about there are zero issues with these shoes. When it comes to comfort, the Stadium shoe is as comfy as they come and have now become my favorite shoes off the bike.
<div class="st-block quote text-
Notice: Undefined index: st_text_align in C:laragonwwwhotbike-importblocksquote.php on line 1
">
When it comes to comfort, the Stadium shoe is as comfy as they come and have now become my favorite shoes off the bike.
Where things get interesting is the added padding on toes, ankles and reinforced mid section that should take a mild punch in a pinch. Don't get me wrong, you won't catch me wearing the Stadium Shoes if the road get's twisted or the chances of a serious spill or increased, but for commuting back and forth to work they fit the bill to a tee. While I don't stunt (on purpose anyway) I could see how the flexibility and comfort of the shoes would allow for better brake feel for better control than a typical riding boot.
My only complaints on these pads for my puppies would be the florescent shoestrings and minor squeak they make when walking. I do foresee a pair of black shoe laces being added and with a little extra pull on the strings to help subside the squeak.
If you are shoe fanatic, and I know you are out there, the Stadium Riding Shoes are a worthy addition to any collection that offer more protection than typical non-riding shoes.
FEATURES:
CONSTRUCTION
• Lightweight, durable, street-styled main upper material made in microfiber with perforated microfiber side panels and tongue for excellent levels of ventilation and comfort.
• Integrated 3D mesh lining for high levels of breathability with anti-sliding suede in heel.
PROTECTION
• The Stadium shoe is CE certified to CE Standards (CE 89/686/EEC – CAT 2)
• TPU dual density and ergonomic MX-derived ankles and heel protectors are applied between the upper and padded lining to provide all-around strategic protection and flexibility in key area.
• Internal toe box and heel counter reinforcement for support.
• Tongue and ankle soft padding integrated for comfort and improved fit.
• Reinforced mid sole inserted under upper for improved strength.
KEY FEATURES
• Replaceable anatomical EVA footbed with top Lycra lining for comfort and support.
• Traditional metal eyelet lacing system for convenience and secure closure.
• Rubber cup offers stability, grip and support as well as durability.
• Alpinestars metal logo on the tongue, heat-press Astars logo on the lateral and medial panel plus reflective detailing on heel.
$169.95
To order and to find more information visit alpinestars.com.