Cabana Dan Rognsvoog is no stranger to creating terrific custom motorcycles or having them run in magazines like Hot Bike. You may have seen his sidehack here on the website or in print (if not, you should; we'll be here when you get back). This triple-engine Harley-Davidson Hummer land-speed racer is one of his latest. Here's what we had to say about it.
Hot Bike: What made you want to build this?
Cabana Dan: You may remember the scene from Back to School with Rodney Dangerfield. The scene opens as Thornton Melon climbs the ladder at the swimming pool. He bypasses two lower diving boards and gets to the top diving board. He pauses for a moment. He makes a couple armpit farts. He jumps off the diving board and does back flips, front flips, and uses every board on his way to the swimming pool below. He hits the water with a tremendous splash. Thus, the "Triple Lindy Dive" was born. Thornton wins the competition, passes the semester, and dates the teacher.
That scene inspired me to build the three-engine land-speed bike called the Triple Lindy.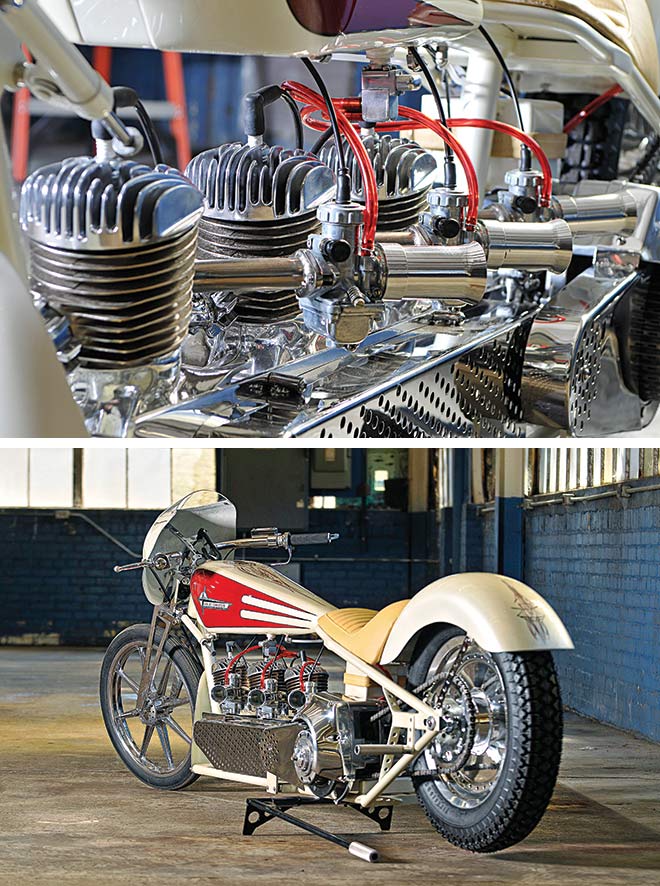 HB: What do people think when they first see it?
CD: The bike often creates interesting conversations and lots of questions. Some of the more frequently asked questions include, "How fast does it go?" The answer is I don't know! I haven't run it hard yet. Next, they ask, "How do you shift?" The answer is an air shifter. Finally, they ask, "How tall do you have to be to ride it?" I'm a little over 6 feet tall and fit the bike just fine.
HB: What are your plans for it?
CD: It's not enough to have a cool engineering concept. You've got to look good running the Salt Flats and have great friends to make it rock.
HB: Any thank-yous?
CD: Jayme Schmidt of Blue Moon Kustoms pulled together a screamin' paint scheme that features Pearl White and 1950 Mercury Red. Joe A. of Calico Hand Painted Pinstripes added his unmistakable artwork to the rocket. Adam at Pierce Street Seats covered the seat in record time, using golden deer hide. Chromer Cheater Carl and polisher Terry Sheckles made the metal sparkle. Finally, Rodney never did get much respect. Maybe a Triple Hummer will finally get him some.
| Specifications | |
| --- | --- |
| General | |
| Owner | Cabana Dan Rognsvoog |
| Shop | Cabana Dan's Customs |
| Year/Make/Model | 1948/1949/1950/H-D/Hummer special construction |
| Fabrication | Cabana Dan |
| Build Time | 8 months |
| Engine | |
| Year/Type/Size | 1948/1949/1950/H-D Hummer motors/each 125cc |
| Builder | Cabana Dan |
| Cases | H-D |
| Cylinders | H-D |
| Heads | Heavily Modified |
| Carburetor | Mikuni x 3 |
| Air Cleaner | Velocity stacks x 3 |
| Exhaust | 3-into-1 Custom made by Cabana Dan |
| Transmission | |
| Year/Type | 1982/H-D |
| Gears | 5-speed |
| Clutch | H-D |
| Primary Drive | Custom made by Cabana Dan |
| Frame | |
| Year/Type | 2016/Cabana Dan |
| Rake/Stretch | Custom/Long |
| Suspension | |
| Front End | Aluminum |
| Triple Trees | Aluminum |
| Swingarm | Rigid |
| Rear Shocks | None |
| Wheels, Tires, and Brakes | |
| Front | |
| Builder/Size | 7-spoke moped/17 in. |
| Tire/Size | 17 in. |
| Calipers | None |
| Rotors | None |
| Drum | None |
| Rear | |
| Builder/Size | H-D FLSTF/16 in. |
| Tire/Size | 16 in. |
| Caliper | Dual PMs |
| Rotor | eBay find |
| Sprocket | eBay find |
| Finish/Paint | |
| Colors | White and red |
| Paint/Graphics | Paint: Jayme Schmidt, Blue Moon Kustoms; pinstriping: Calico (Joe), Calico Hand Painted Pinstripes |
| Plating/Polishing | Cheater Carl/Terry Sheckles |
| Powdercoating | None |
| Accessories | |
| Rear Fender | Modified eBay find |
| Gas Tank | Modified Texas Choppers |
| Gauges | Air shifter |
| Handlebars | Cabana Dan |
| Grips | Arlen Ness |
| Hand Controls | Performance Machine |
| Pegs | Cabana Dan |
| Seat | Adam Pierce Street Seats, Milwaukee, WI |