This article was originally published in the August-September 1999 issue of Cycle World's Big Twin magazine.
At the mere mention of the name Jesse James, dusty Kansas images of a century ago come to mind. Pistoleros and desperados. Bandits on the run. And a young outlaw who became a legend before he became a man.
The purple chopper pictured here, with its legs stretched out 'til next Tuesday, has an attitude suggesting that Jesse James might have owned a bike like this in his time. But the truth is that although he doesn't own this nasty creature, Jesse James actually built it. Jesse James of Long Beach, California, that is.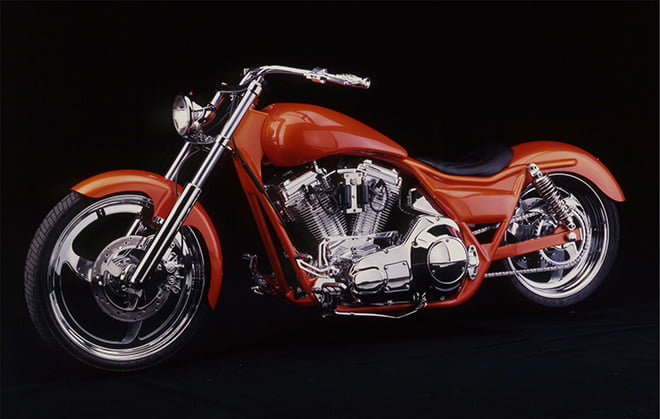 Jesse James the bike builder isn't a historical figure, but he's well on his way to gaining legendary status among chopper aficionados. At just 30 years old, he's the owner of West Coast Choppers in Long Beach, California, and long-known to customizers all around the world as a go-to guy for fenders and metal fabrication.
But James is also a custom builder of the first water. He employs 29 people at West Coast Choppers, but still does most of the fabrication for individual bikes himself, and his infinite attention to detail is abundantly apparent on every bike he makes. "I did everything on this purple bike myself," says James. "I made the tank out of aluminum by hand. I made the headlight, which frenches down and covers that whole adjustable triple-clamp. I also did the fenders, seat, oil tank and pipes."
For James, the building process for the purple bike was optimum. "The owner gave me the money I needed to do the bike," he says, "and also gave me all the pieces he had that he wanted on it. Then I didn't see him for a year."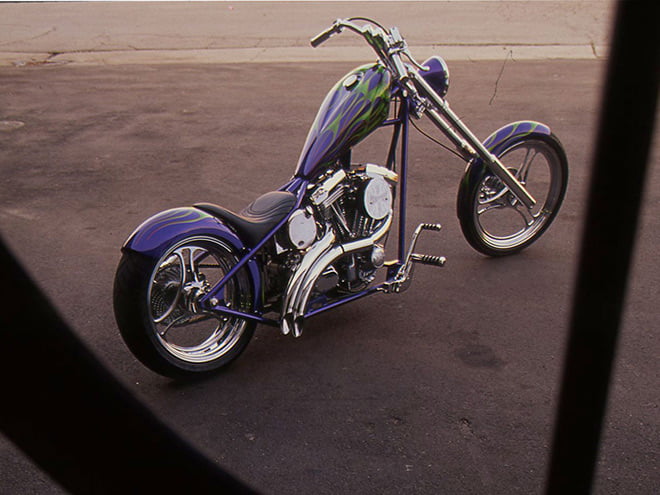 "The owner gave me the money to do the bike, and also gave me all the pieces he had that he wanted on it. Then I didn't see him for a year."
With that amount of freedom, James constructed the bike as though it were his own. "On a chopper, you can do pretty much anything and it's accepted," he says. "For instance, you can stick your hand through this bike's wheel, which American Wheel makes exclusively for us. I like that kind of stuff."
On the other hand, the orange bike came to James almost completed—sort of. It had bounced around from one custom shop to another, the last of which went out of business. After the owner retrieved the nearly completed custom, he took it to James and asked him to put the finishing touches on it. "Everything those other shops had done was bad," says James, "like the motor, for example, which hit the frame."
Reluctantly, James finished the bike. But after the owner rode it around the block just once, he brought it back and asked James to tear it completely apart and rebuild it from scratch—the right way. After 10 months of work, the completed bike is a gem.
When asked why so many of his customs have solid paint schemes, James replied, "A lot of people think crazy paint is like an extra ingredient, but I believe most bikes don't need it. If a bike has good lines and you put a radical paint job on it, the paint kind of cancels everything out; all you notice is the paint instead of all the metal work."
---
---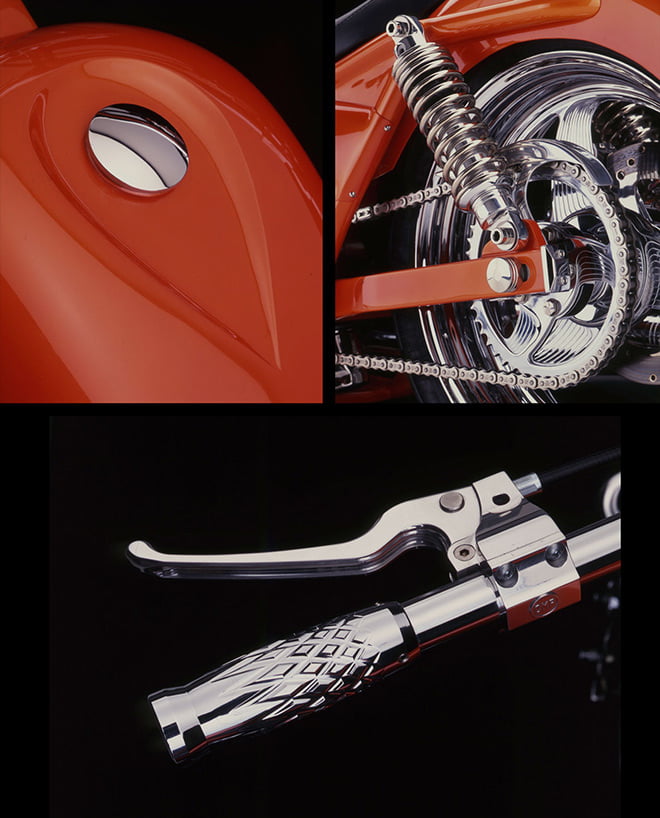 That's just one example of how the view about motorcycles at West Coast Choppers is refreshing. For James and his crew, it's all about fun and making customs that are ridable. "People sometimes forget that these are motorcycles we're making here, so I try to stress that fact. My philosophy is, ride it. If it breaks, fix it or get it fixed. The whole time I'm spending 200 hours on a gas tank or a fender or frame or something like that, I'm wondering how it's going to feel to ride it. Some people treat these things like they're holy relics, but I don't care how much a bike costs or how much time I have in it; if I can't go out and do a burnout or a wheelie on it, then screw it. What fun is it?"
With that kind of an attitude, it's no wonder that Jesse James is a genuine legend in the making.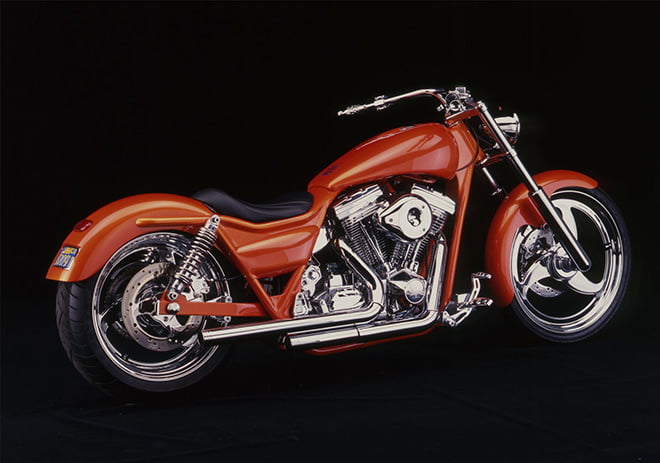 | Specifications | |
| --- | --- |
| GENERAL | |
| MACHINE | Rigid Chopper |
| OWNER | Dr. Bob Williams |
| DESIGNER/FABRICATOR/BUILDER | Jesse James' West Coast Choppers 718 W. Anaheim Street Long Beach, CA 90813 562/983-6666 |
| PAINT AND CHROME | |
| Molding | Kal Koncepts |
| Painter | Kal Koncepts |
| Graphic artist | Craig Frasier |
| Polishing | West Coast Choppers |
| ENGINE | |
| Year | 1999 |
| Model | Evo |
| Builder | Jim Lilligard |
| Displacement | 80 in. |
| Cases | H-D |
| Lower end | H-D |
| Rods | H-D |
| Pistons | H-D |
| Heads | H-D |
| Valves | H-D |
| Cam | Andrews |
| Pushrods | H-D |
| Lifters | Jims |
| Primary cover | West Coast Choppers |
| Ignition | Crane |
| Coils/wires | Crane |
| Carb | Edlebrock |
| Air cleaner | West Coast Choppers |
| Pipes | Jesse James |
| Mufflers | None |
| TRANSMISSION | |
| Year | 1999 |
| Type | H-D |
| Primary drive | Karata |
| Clutch | Rivera |
| FRAME | |
| Year | 1999 |
| Make | Gambler |
| Type | Rigid |
| FRONT FORK | |
| Year | 1999 |
| Make | Kennedy's |
| Type | Adjustable |
| Modifications | Polished |
| REAR SUSPENSION | |
| Type | None |
| FRONT WHEEL/TIRE | |
| Wheel | JJ3 |
| Tire | Metzeler |
| Tire size | 3.00-21 |
| Rim width | 2.125" |
| Brake | Tolle |
| REAR WHEEL/TIRE | |
| Wheel | JJ3 |
| Tire | Metzeler |
| Tire size | 180/55-18 |
| Rim width | 5.5″ |
| Brake | Tolle |
| ACCESSORIES | |
| Handlebar | Super Bars |
| Risers | Pure steel |
| Grips | Simms |
| Gas tank | Jesse James |
| Oil tank | Kennedy's/Jesse James |
| Front fender | Jesse James |
| Rear fender | Jesse James |
| Headlight | Jesse James |
| Taillight | LCS |
| Turn signals | None |
| Electrics | Koon |
| Speedo/tach | None |
| Instrument/gauges | None |
| Seat | Danny Gray |
| Foot controls | American Made |
| Rider footpegs | American Made |
| Passenger pegs | None |
| Specifications | |
| --- | --- |
| GENERAL | |
| MACHINE | Orange custom |
| Base model | 1991 FXR |
| OWNER | Gary Cooper |
| DESIGNER/FABRICATOR/BUILDER | Jesse James' West Coast Choppers 718 W. Anaheim Street Long Beach, CA 90813 562/983-6666 |
| PAINT AND CHROME | |
| Molding | Damon's |
| Painter | Damon's |
| Graphic Artist | Damon's |
| Chroming | South Bay |
| Polishing | West Coast Choppers |
| ENGINE | |
| Year | 1996 |
| Make | S&S |
| Builder | West Coast Choppers |
| Displacement | 98 in. |
| Cases | S&S |
| Lower end | S&S |
| Rods | S&S |
| Pistons | S&S |
| Heads | S&S |
| Valves | S&S |
| Cam | Red Shift |
| Pushrods | Rivera |
| Lifters | Jims |
| Primary cover | H-D |
| Ignition | Crane |
| Coils/wires | Crane |
| Carb | S&S |
| Air cleaner | S&S |
| Pipes | Samson |
| TRANSMISSION | |
| Year | 1991 |
| Type | FXR |
| Primary drive | Chain |
| Clutch | Rivera Pro |
| FRAME | |
| Year | 1991 |
| Make | H-D |
| Type | FXR |
| Builder | West Coast Choppers |
| FRONT FORK | |
| Year | 1996 |
| Make | Jonny Anderson |
| Type | Smooth |
| Modifications | Chromed |
| REAR SUSPENSION | |
| Make | Progressive |
| Swingarm | H-D |
| Modifications | Polished |
| FRONT WHEEL/TIRE | |
| Wheel | Mickey Thompson |
| Tire | Metzeler |
| Tire Size | 3.00-21 |
| Rim width | 2.125" |
| Brake | Performance Machine |
| REAR WHEEL/TIRE | |
| Wheel | Mickey Thompson |
| Tire | Metzeler |
| Tire Size | 180/55-18 |
| Rim width | 5.5" |
| Brake | Performance Machine |
| ACCESSORIES | |
| Handlebar | West Coast Choppers |
| Grips | Ness |
| Gas tank | Battastinis/West Coast Choppers |
| Oil tank | H-D Chromed |
| Front fender | Jesse James |
| Rear fender | Jesse James |
| Headlight | Custom Chrome |
| Taillight | Badlands/Frenched |
| Electrics | Koon |
| Speedo/tach | None |
| Instruments/gauges | None |
| Seat | Danny Gray |
| Foot controls | Performance Machine |
| Rider footpegs | Performance Machine |