Victory Motorcycles is proud to announce that Swiss endurance rider Urs "Grizzly" Pedraita has achieved a new world record by riding across five continents in less than 120 days aboard his Victory Cross Country Tour.
Grizzly covered roughly 47,390 miles in 72 riding days and 13 hours by the time he reached a celebration in his honor at Volusia Motorsports in New Smyrna Beach, Fla., on July 10. The previous record for such a ride was 120 days and 2 hours, and included time-stops for transfers. Grizzly's overall time without time-stops was 119 days and 21 hours.
From Daytona Beach, Fla., he traveled 3,971 miles in six days and 14 hours to complete the first leg of the ride in Panama City, Panama.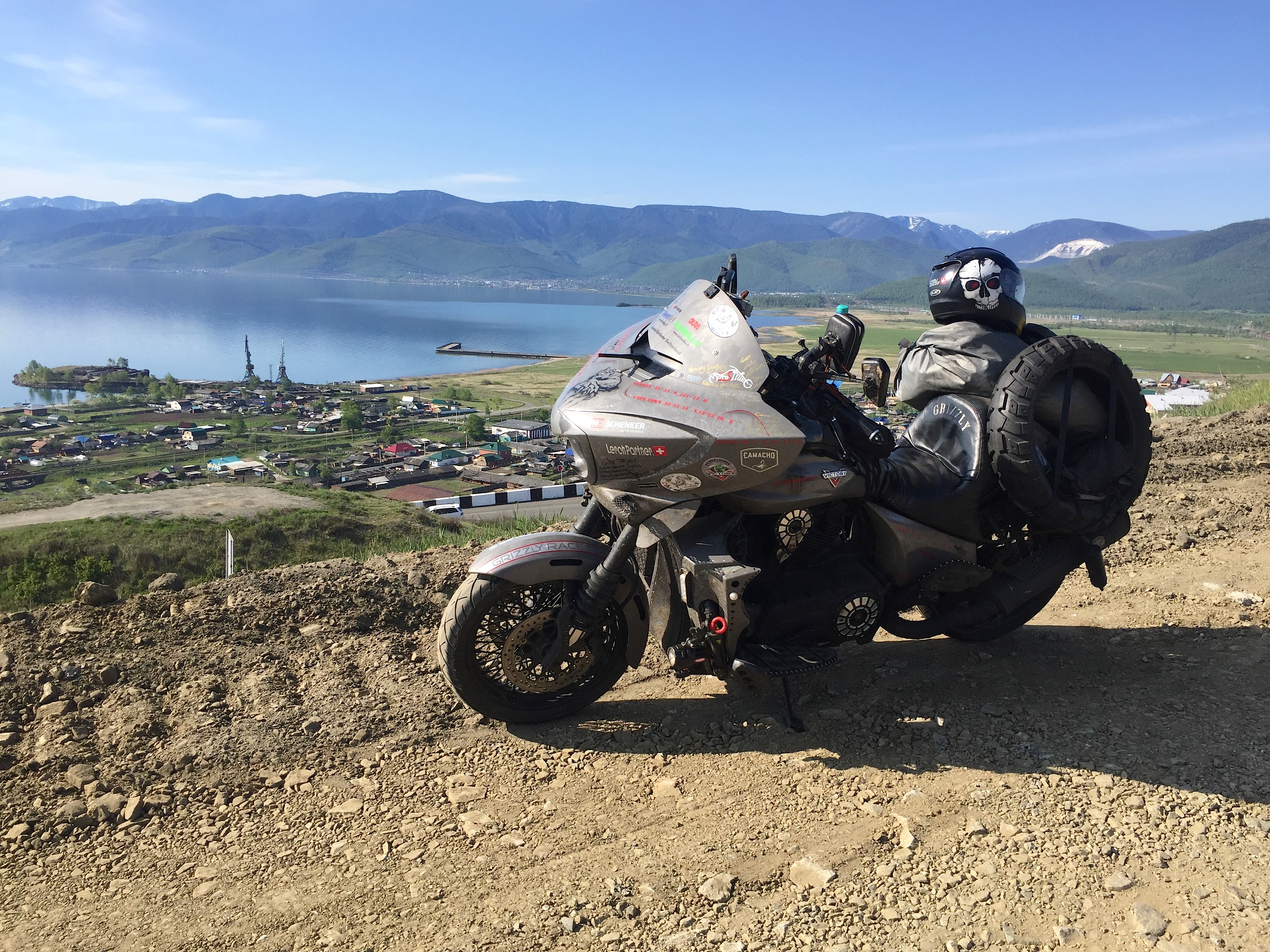 From there, he returned 2,088 miles to Santiago, Chile, loaded his bike onto a plane and transferred to Australia.
From Perth, Grizzly and his Victory were flown to Cape Town, South Africa, and awaited clearance through customs. Thereafter, he took 13 days and 23 hours for a 7,509-mile journey from Cape Town to Cairo, Egypt, and a ferry to take him across the Mediterranean to Tarragona, Spain. From there, he rode 5,447 miles in six days and 23 hours from northern Spain to Gibraltar to North Cape (Nordkapp) Norway.
Grizzly then turned his wheel east, riding through St. Petersburg, Moscow, Irkutsk and Vladivostok during an 11-day-7-hour, 7,280-mile journey across Russia, a 4-hour and 249-mile tour through South Korea, and a 5-day-11-hour and 2,989-mile ride through Thailand and Malaysia.
"With this journey the spirit of the pioneers of the past was re-established," Grizzly said upon his arrival. "There is no place for time-stops in this kind of adventure. This victory belongs to the team, and is dedicated to my brother and my guardian angel, Emelie from Peru."
The Victory Cross Country Tour used for this record-setting ride was specially modified by Motostyling Zurich. While the engine, frame and running gear remain relatively untouched, other parts of the bike have been redesigned to fit Grizzly's needs as he covers long distances in remote parts of the world.
"This record is a testament to the durability, capability and dependability of our Cross Country Touring platform," says Nate Secor, Marketing Manager for Victory Motorcycles. "Victory Touring owners love to roll back the miles. If you asked them, they'd likely say there's a little bit of Grizzly in each of them when they're covering ground during their own journeys."
Time and position measurement for Grizzly's record-setting ride were done via GPS and satellite tracking. Timing was not stopped on overland routes (i.e., when waiting to pass a country border or when the rider is sleeping). However, timing was stopped for air and sea transfers between continents and restarted once the bike arrived on the new continent.
Visit GrizzlyRaceTeam.ch for additional information about Grizzly's travels. Learn more about Victory Motorcycles at VictoryMotorcycles.com or follow on Twitter, Facebook, YouTube and Instagram.
ABOUT VICTORY MOTORCYCLES
Victory Motorcycles designs, engineers, manufactures and markets a full line of cruisers, baggers and touring motorcycles. Every Victory model delivers industry-leading performance, comfort, style, storage and reliability. The first Victory was produced on the Fourth of July, 1998, in Spirit Lake, Iowa, where every Victory motorcycle continues to be produced today. Information about Victory motorcycles, apparel and accessories is available at www.victorymotorcycles.com and on Facebook.