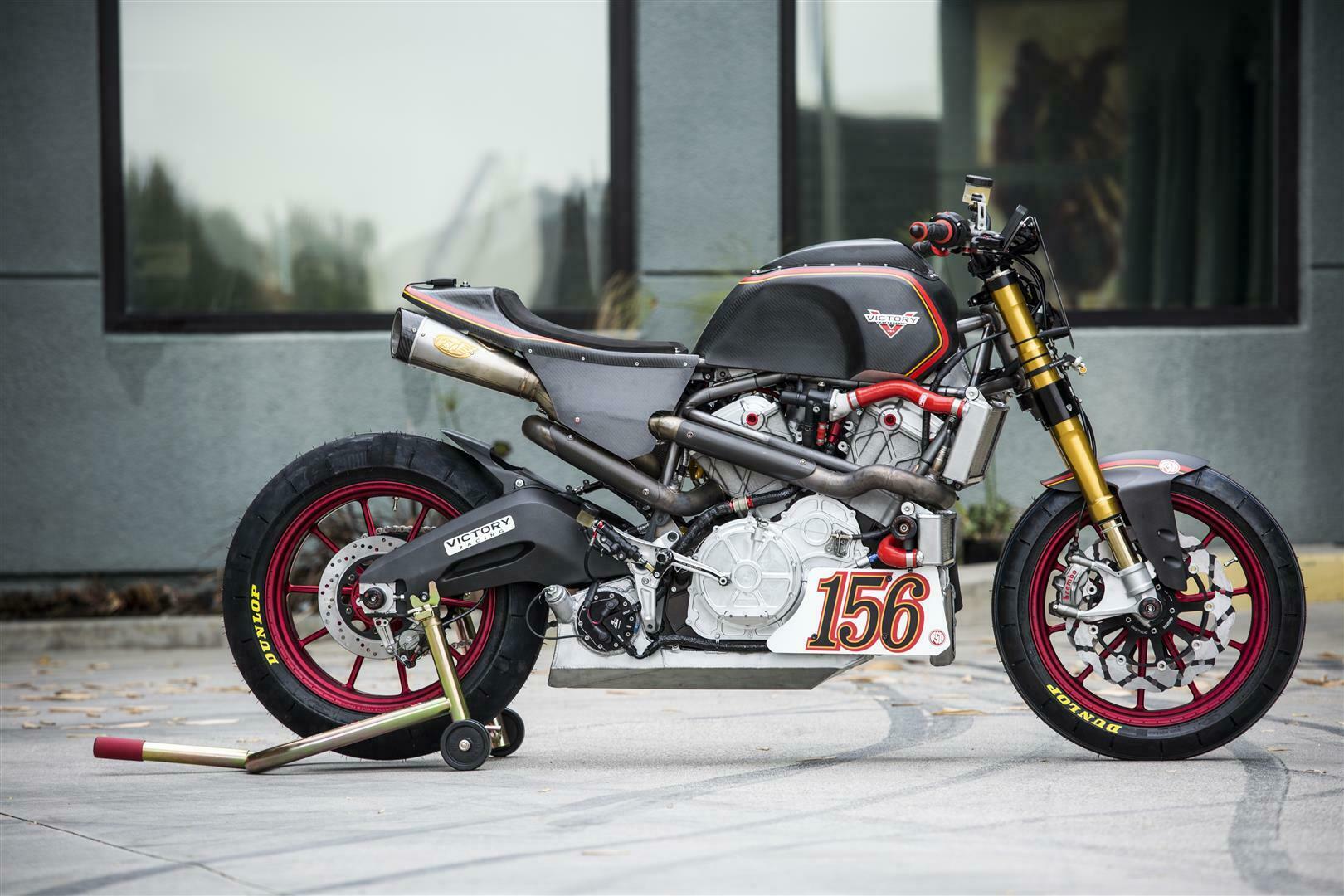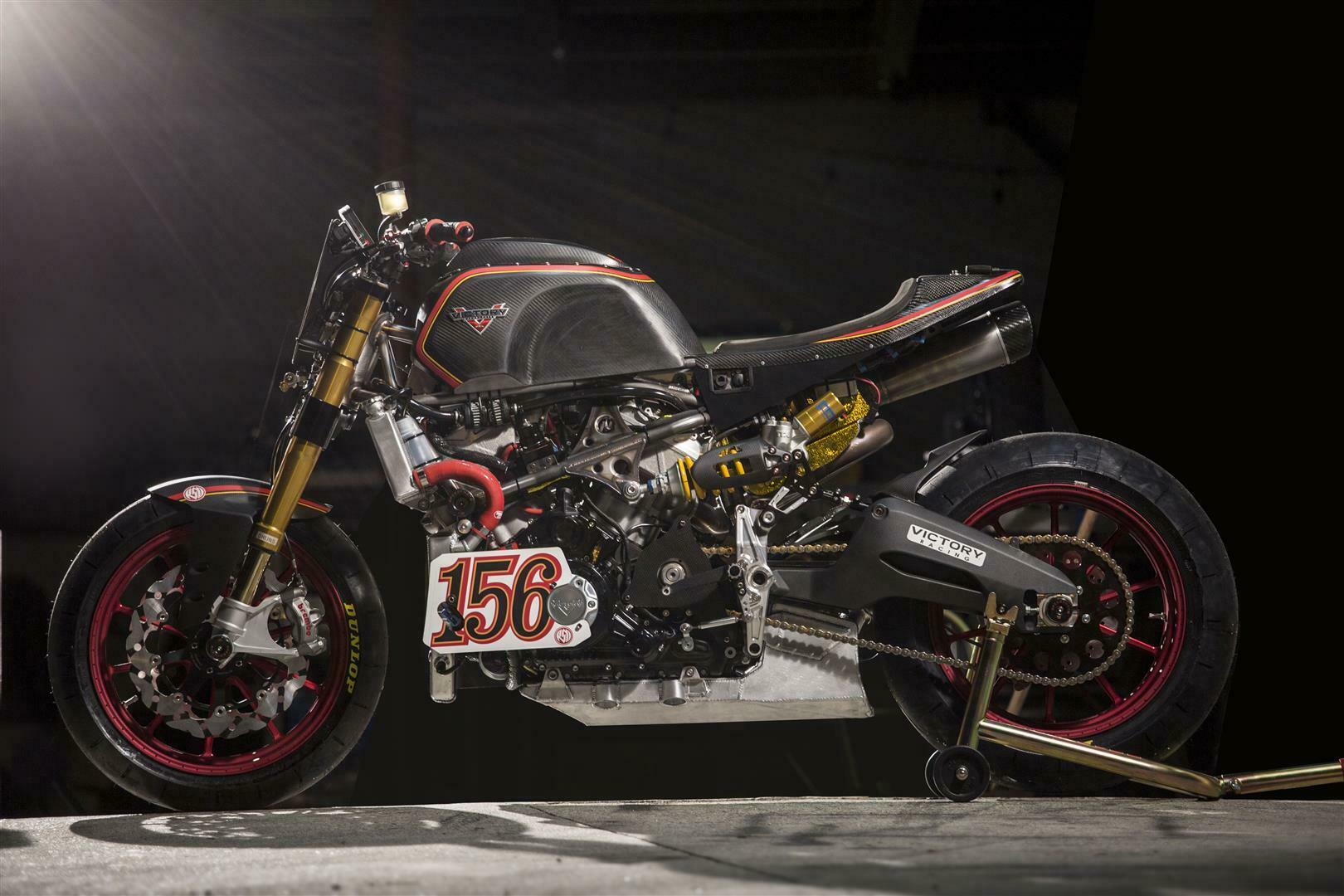 When I first started working in the industry back in 2000, Victory Motorcycles wasn't nearly as advanced as they are now. They've come a long way since the days of the old clunky V92 and now they're moving into racing with Roland Sands Design and Cycle World. On June 28, the company and its teammates will race a new prototype engine at the Pike's Peak International Hill Climb.
The prototype racing motorcycle, named Project 156 for the 156 turns in the Pike's Peak International Hill Climb, also known as the Race to the Clouds, will feature a liquid-cooled engine and be piloted by Cycle World Road Test Editor Don Canet.
"We have an intense focus at Victory Motorcycles to prove the performance of our vehicles," said Rod Krois, Victory General Manager. "Competing as an American OEM at America's race is an exciting opportunity. The grueling conditions at Pike's Peak provide the perfect proving ground for our new Project 156 race engine."
The Project 156 motorcycle is a hand-built road-racing bike with a prototype Victory motor developed at Victory's Minnesota research and development facility. This liquid-cooled engine represents the future performance of the Victory brand. It features intake Twin 67mm throttles with downdraft runners for maximum power and torque as well as a performance valvetrain including titanium intake and exhaust valves to allow for maximum engine speed.
The Roland Sands Design team developed and built the chassis to cradle the Project 156 motor. "This truly has been an All-American effort," said Roland Sands. "The Race to the Clouds is a legendary event and we couldn't be more proud to partner with Victory on the endeavor. We've built lots of custom motorcycles, but building a purpose-built race bike for this project has been a unique experience that we'll remember for a long time."
The Pike's Peak International Hill Climb, an annual automobile and motorcycle hill climb to the summit of Pike's Peak, Colorado, will take place on June 28, 2015. Having started in 1916, it is the second-oldest motorsport event in America after the Indianapolis 500. The track measures 12.42 miles (19.99 km) over 156 turns, climbing 4,720 feet (1,440 m) from the start at Mile 7 on Pike's Peak Highway, to the finish at 14,110 feet (4,300 m), on grades averaging 7 percent.
To support the Pike's Peak International Hill Climb, Victory Motorcycles has moved the 2015 American Victory Rally to Colorado Springs, Colorado from June 25–28. The weekend will feature not only Project 156, but loads of riding through stunning scenery, and a showcase of Victory Racing initiatives including the NHRA Drag Racing team. Victory owners can visit http://vic.mn/AVR for more details.
To learn more about Project 156, the sponsors, and Victory Motorcycles, visit www.VictoryMotorcycles.com/en-us/project-156 or follow on Twitter @VictoryBikes and on Facebook at facebook.com/VictoryMotorcycles.