With boardtrack rigs becoming mainstream in the custom space and electric motors showing up everywhere, we're seeing more and more mash-ups of both designs. Throw in the fact that most of the early racing motorcycles were essentially bicycles with powerful engines and you get this especially slick design from Vintage Electric, a California-based E-bike manufacturer that's been cranking out premium electric bicycles for several years.
Based on the firm's Tracker model, the Tracker S takes its styling cues from early boardtrackers but with an even leaner look and more comfortable ergos. The engine-shaped electric battery is placed right where you'd expect it—floating between the aluminum frame's top tube and downtube—and the rolling stock consists mainly of motorcycle components. Up front, the rigid fork has been swapped for a dual-crown, inverted suspension system, which keeps the front end planted for a smoother ride. In fact, along with the inverted fork, hydraulic brakes, and LED headlight, the Tracker's components seem far more trick than the early boardtrack stuff and make this machine feel way more motorcycle than bicycle (which it's classified as).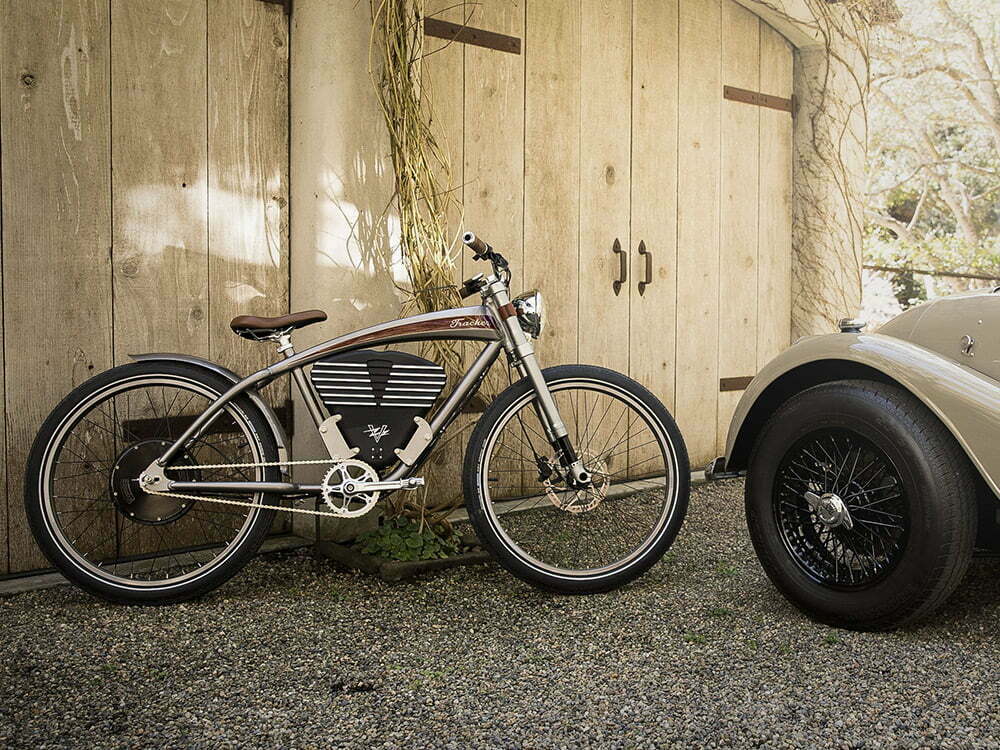 More moto-like features include a 75-mile range on a full charge from the powerful 1,123-watt-hour lithium battery delivering power to a torquey hub-mounted motor. On-demand acceleration is delivered via human power or—the part we like—with a flick of the thumb throttle. Vintage says you can wick the thing up to 36 mph (but that's only in Race mode, and it's only supposed to happen on private property). Five power modes are available so you can punch in a ride that's more pedal power when you need it, or wild when you want it. And you slow things down with the regenerative hydraulic disc brakes which simultaneously return power to the battery. A bar-mounted LED status screen serves up essential real-time data while a large LED bulb keeps your path ahead well-lit. And the thing looks cool, too, wearing a slick of coat of automotive silver and crowned with that elegant motorcycle-like, vintage-inspired headlamp.
It's all blending together, isn't it? Shrimp Burns, one of the most popular boardtrack riders, was recently honored by Anvil Motociclette with an Indian Scout Sixty, so we wouldn't be surprised to see Vintage do the same. But, like anything with an electric motor that's street legal and not butt-ugly, the Tracker S isn't exactly cheap: Almost $7,000 is a lot of cash, especially for a bicycle. Nevertheless, this machine looks awesome and is probably just the ticket for short hops around town or to the bar.