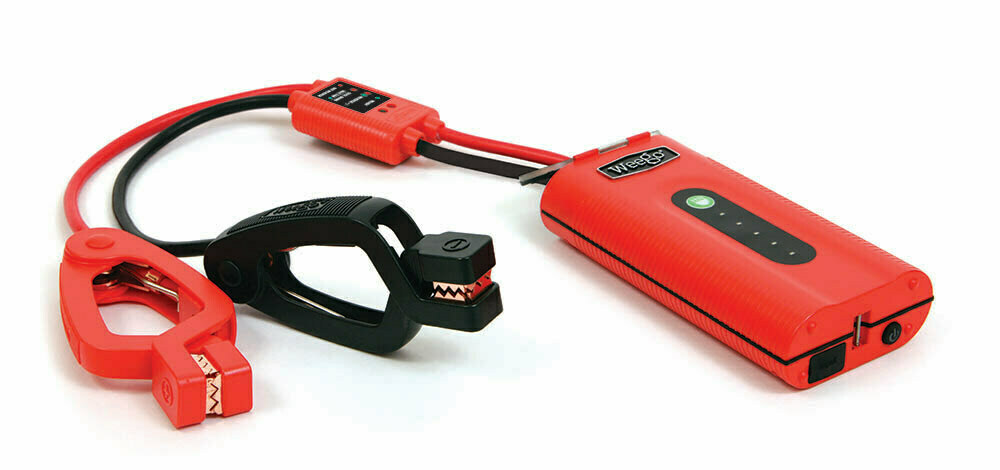 Weego, innovator of portable jump starters and rechargeable battery packs, today announced the launch of Weego Jump Starter 44 – an all-new portable jump starter redefining the industry with unique technological features never before seen in the market.
Weego design and electrical engineers created Weego 44 to ensure it is easy-to-use, safe and reliable and that it provides power to start a gas engine up to 6.4 liters as well as charge mobile devices including phones, tablets, laptops and other USB devices. Taking a page from the tremendous success of their original Jump Starter Battery+ line, Weego Jump Starter 44 is packed with new-and-improved features to reinforce its unique design, ergonomic form and intuitive functionality. Weego 44 is easily the safest and simplest jump starter on the market; it can be used by anyone: from moms to motorheads who need power when on-the-go.
Features include:
Orange Exterior – In a sea of black and silver engine interiors, dark storage compartments, and the requirement for emergency jump starts in the dead of night, highly visible "Weego orange" makes an attention-getting statement.

Unique Styling – Reminiscent of a retro automobile's front grill, its smooth lines and hand-friendly, compact shape make Weego 44 easy to hold and store while being infinitely fun to look at.

Big Battery Power – Premium, high-quality, lithium-polymer battery capable of jump starting any gas engine up to 6.4 liters and 3.2 liter diesel engines.

Smarty Clamps – Deliver Weego power to the vehicle's battery with sight and sound to help guide through the jumping process.

Enhanced Safety – Connection Detection, Over-heat Protection and Power Surge Protection technologies in the Smarty Clamps™ are just some of the new safety features of Weego 44.

Rugged Design – With a surf 'n turf IP65 rating, Weego Jump Starter 44 is protected against exposure to any dust and water spray often encountered in harsh, outdoor environments. A hood covers the power supply input when not in recharge mode and a gasket-edged front cover protects outputs.

Onboard Flashlight – A 500 lumen flashlight with two LED lenses will stay illuminated for up to 14 hours on a single charge; the flashlight has its own dedicated power button and also has strobe and SOS functions, lasting up to 28 hours on a single charge.

Thoughtful Convenience – A hook and lanyard allows Weego 44 to be suspended when a stable, flat surface isn't available during a jump start; or hang it to illuminate the engine bay too.

Detect-O-Matic USB-Device Charging – Get the fastest charge possible with quick-charge compatible phones, tablets, speakers & more.

12-Volt Accessory Power – Dedicated 12-volt port provides convenient power for accessories like portable air compressors, lanterns and more.

19-Volt Laptop Charging – Dedicated 19-volt port allows for fast and easy charging for most laptops.

Reliable Battery Technology – The unit can be fully discharged and recharged up to 1,000 times and with the onboard Master On/Off Button, Weego Jump Starter 44 only loses two percent of its power per month when not in use. Even after being stored for two years, Weego 44 will still have about 50 percent of its charge. It also has an easy-to-read series of five power indicator lights.

Peace-of-Mind – Weego Jump Starter 44 is independent lab tested and fully covered under Weego's Crazy-Long 18-month warranty.
One of the most exciting breakthroughs of Weego 44 is its all-new, patent-pending Smarty Clamps™ that make jump starting a vehicle easier than ever. Designed with a rear hinge point, Smarty Clamps™ have jaws that open much wider than traditional clamps making it easier to connect the device to any battery terminals. The ergonomic design also ensures a better grip regardless of hand size and strength. Each jaw delivers power from both sides guaranteeing the best jump-start connection possible. Extra-long, 24 inch cables make hard-to-reach connections to the battery terminals incredibly easy.