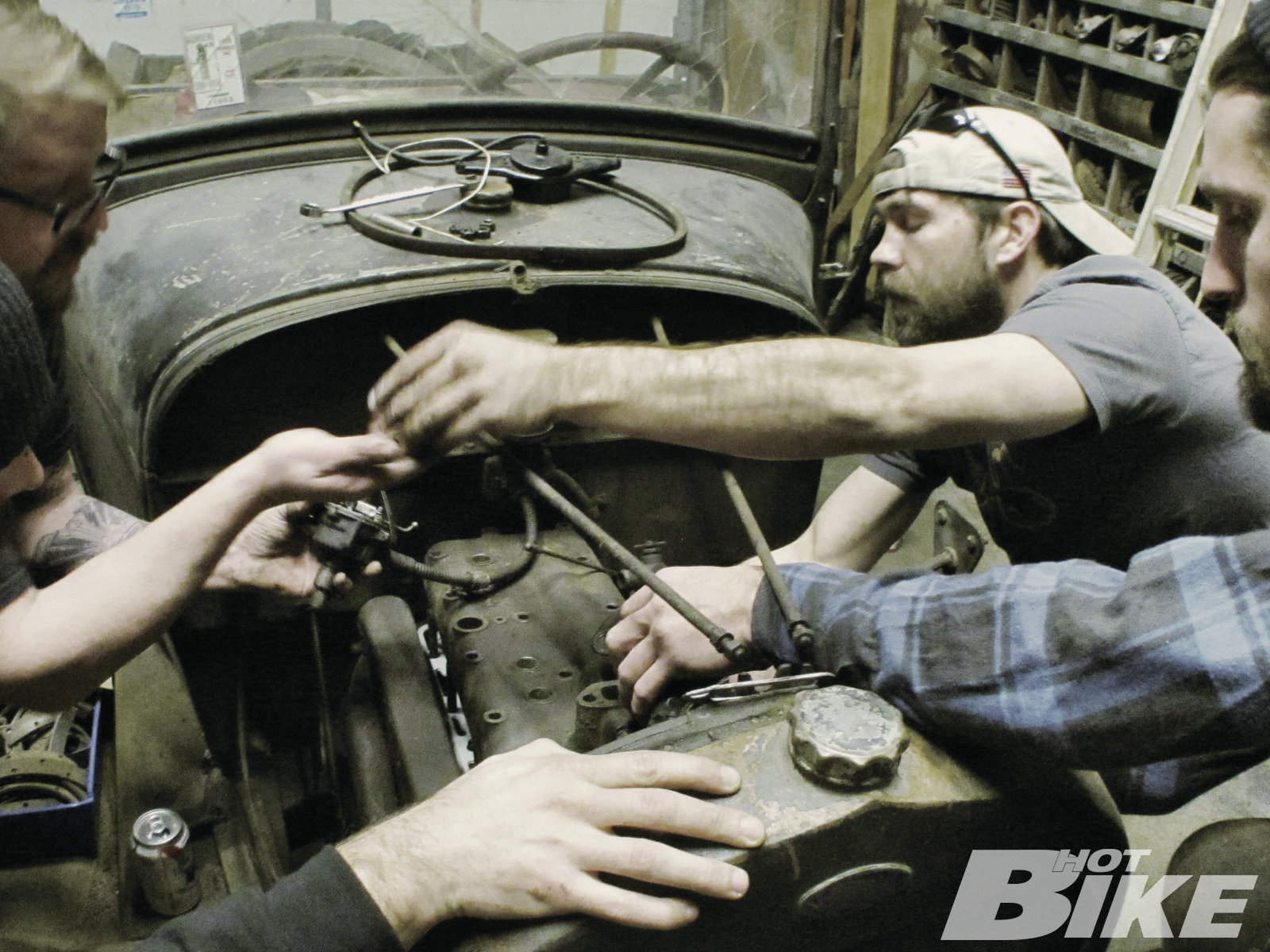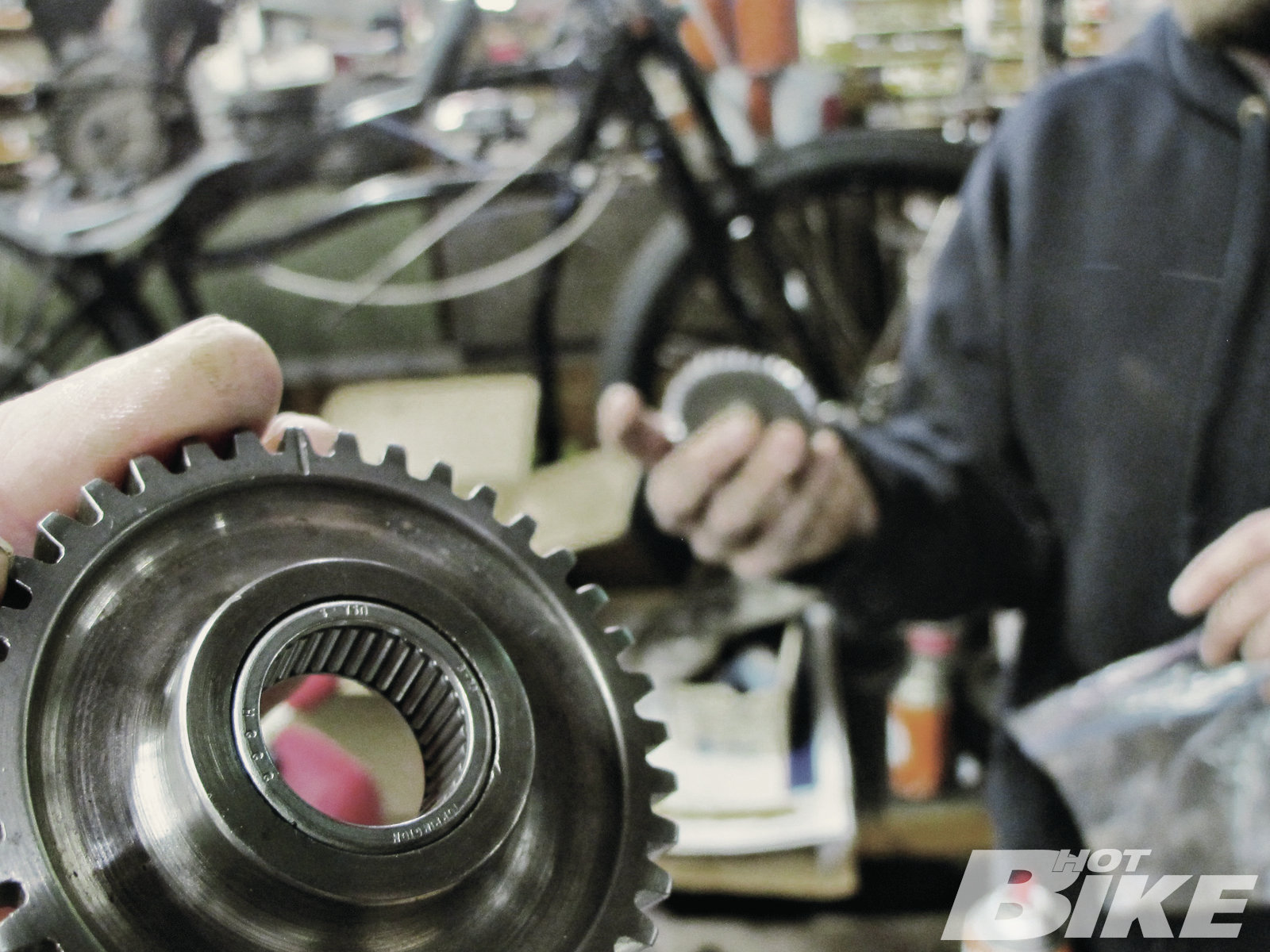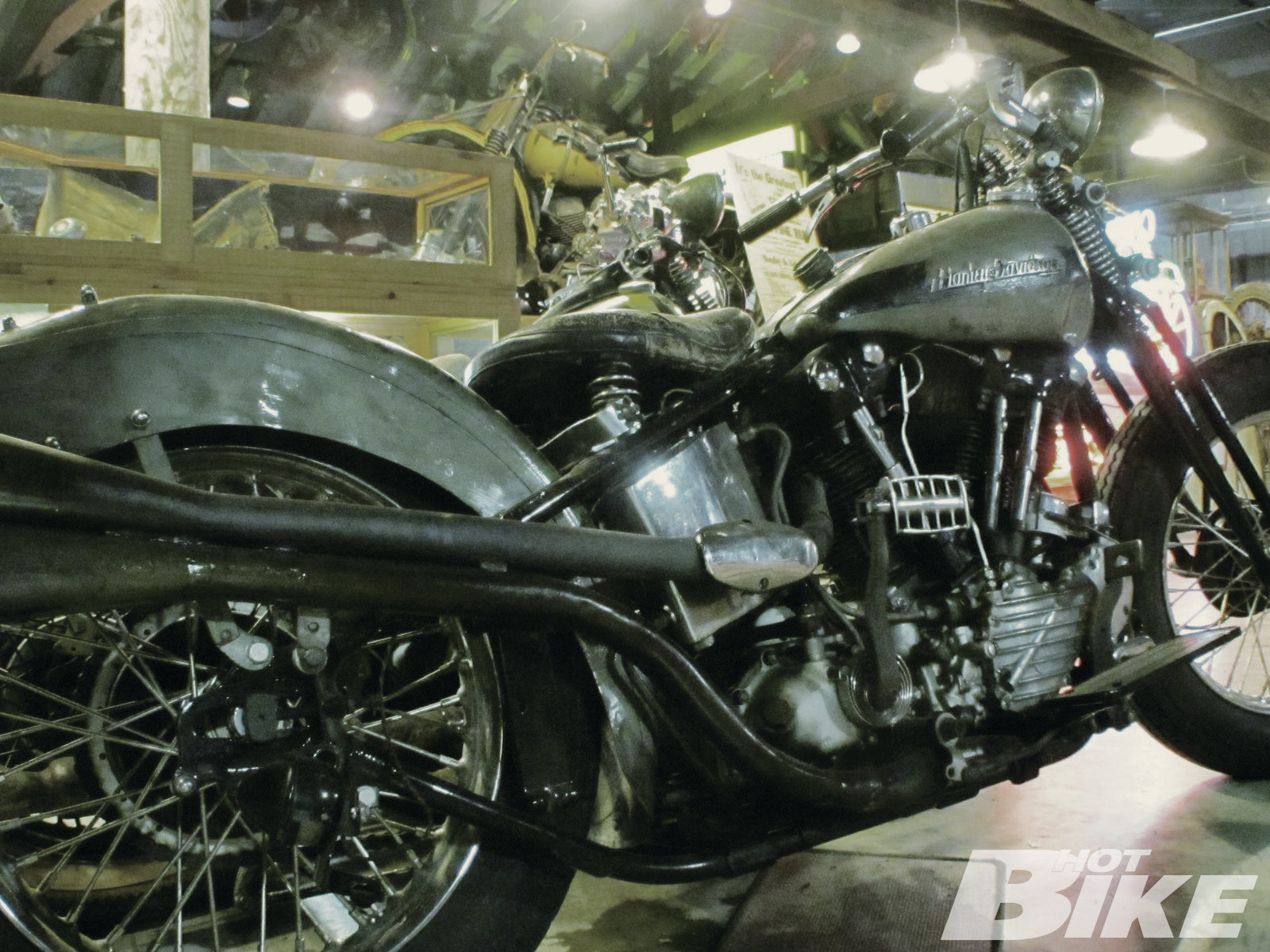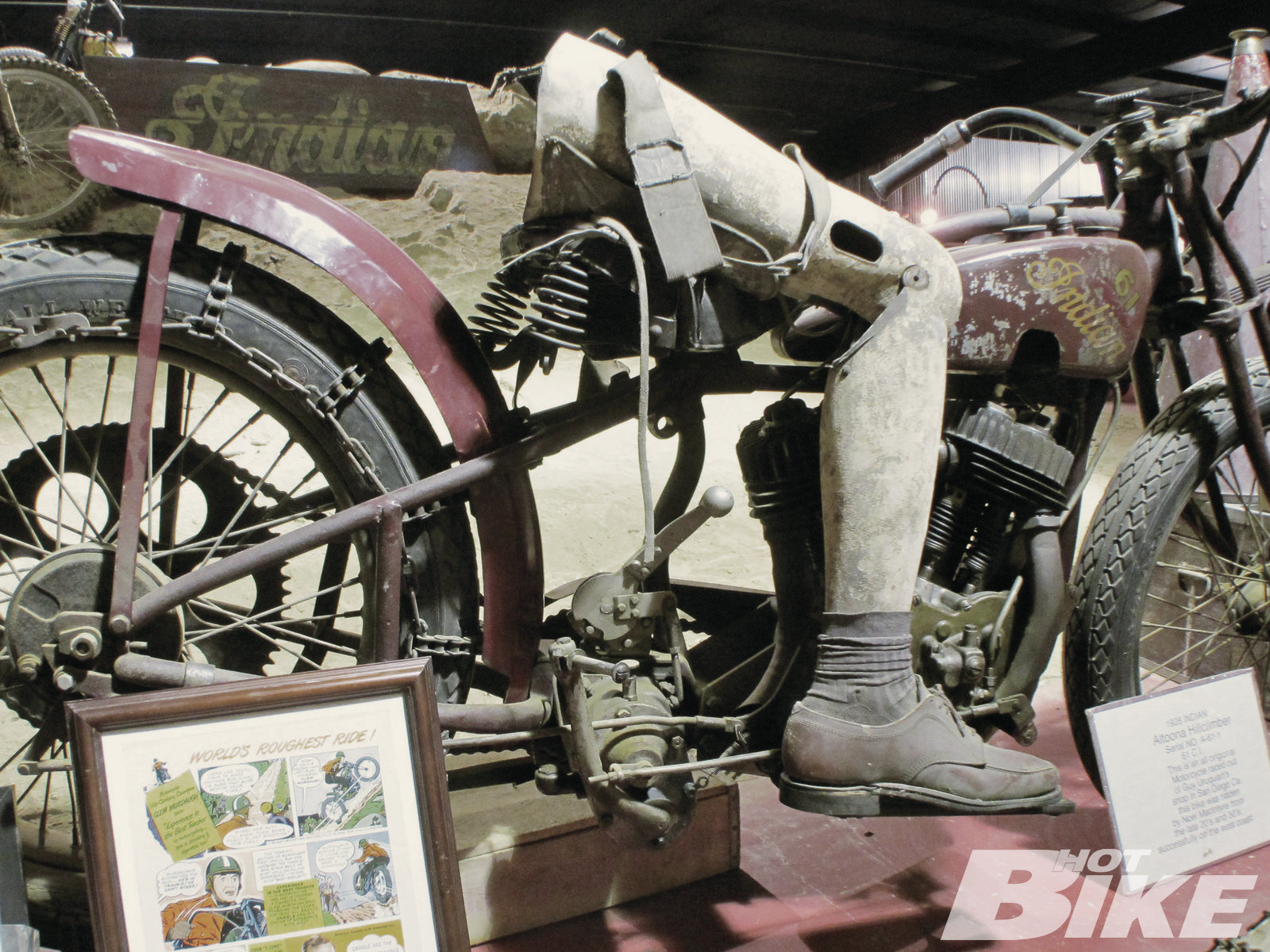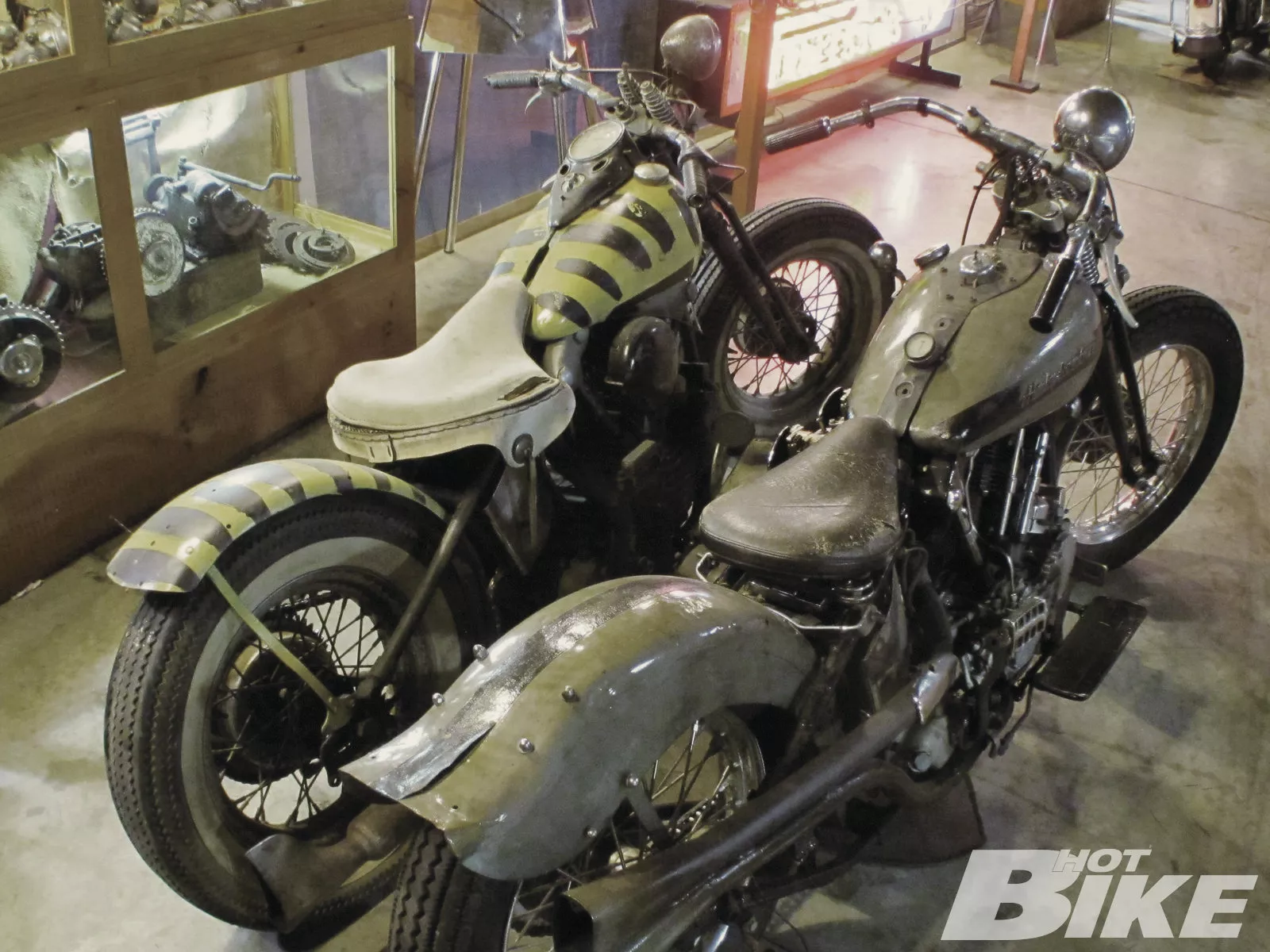 Saturday, January 21, around 2 p.m. and we are lowering the head onto a fresh gasket on Matt Walksler's Model A truck. His dad will arrive a few hours later, as will a delivery from Pennsylvania. A 1918 H-D racer, meticulously packed. Matt's dad, Dale, talks through the cigar in his mouth, "You boys mind helping unload this thing?" We dig into the trunk of the sedan and begin to bring out boxes whose contents are worth far more than all of our cycles combined. We un-layer the packaging from around the carefully cleaned parts, safely wired together. We place them in the order Dale dictates as he goes about assembling the chassis. He realizes immediately that the trailing forks for the springer frontend are bent and uses a frame jig that matches the year of the bike, as well as the girth of John Dills and himself combined to cold bend the legs back into working order. This bike is going to run, maybe even race again. Half an hour later, we start the Model A.
Wheels Through Time Museum in Maggie Valley, North Carolina, is closed this time of year. John, the painter of many of the "restored" machines in the museum explains that this is the time to get work done. We are here to visit John and Matt and say hello to his dad if we can catch him for a sec. Dale Walksler owner, collector, curator and general wrench, opened his arms to my crew of rowdy miscreant friends in 2004 when my long-time riding buddy, J.T., took me there for the first time. As my group of young riding friends expanded, so did Dale's reach.
Dale is the owner of 300-plus rare American motorcycles dating mostly from the advent of the industry to the '60s when, at 15, he built his first trike chopper out of a police Servicar which he pulled out of a tree in Chicago. Dale's museum houses the best board track and hill climber collection in the world, not to mention hundreds of one-of-a-kind machines covered in handmade parts made by folks in their garages with limited resources many decades ago. Also displayed are the efforts of the factory race engineers striving to outsell their American competitors by out running them on the track or hill. The Museum itself smells like oil and exhaust and occasionally burnt rubber (as Dale treats the aisles like a quarter-mile track). Dale is deeply committed to making historical machines run and making sure people can see them run. All of this and there isn't a snobbish or disingenuous bone in his body or that of his son.
For vintage motorcycle enthusiasts, these are the obvious reasons to go, but there is something more that keeps my crew going back. Not just the living motors and one-of-a-kind relics pouring out of every inch of the place, but the content of the character of the people who make the place tick. Dale Walksler and his son, Matt, can't be described simply as collectors. Their hands are dirty with 100-year-old grease. They are first and foremost, motor-heads, with a base of knowledge and experience that I could only hope to glean from in their presence. When we arrive, Matt is eager to share his racing motor innovations for his 1924 Harley JDCA, which he will take from the stock 15 horsepower to a cool 50 for the board track class races at Wauseon, Ohio, the third weekend of July and Davenport on Labor Day weekend. In Matt's own simple description, "No brakes, no clutch, single speed," and he's going to haul. Dale races too, having won the first "Race of the Century" in my hometown of Birmingham on a 1903 Indian, the oldest running Indian known. Last year he won the single cylinder class on a 1911 Indian. In the spirit of what motorcycles where designed for, Dale also went cross-country on a '15 Harley competing in the first Annual Cannonball Run race across America. They have set records in endurance and on the salt as well. They are workhorses, making old American iron run and often putting it back in its natural environment: track or street.
If you go to the museum you will notice that many bikes are not on display stands and not one is bolted down. You will also notice a row of skid marks on the floor that stretches half the length of the museum. Dale and Matt trust the integrity of old American machines and respect the spirits of those machines by riding them, often times cross country. If you think you share any of these interests with these guys, go find 'em. You won't be disappointed. Check them out a wheelsthroughtime.com.