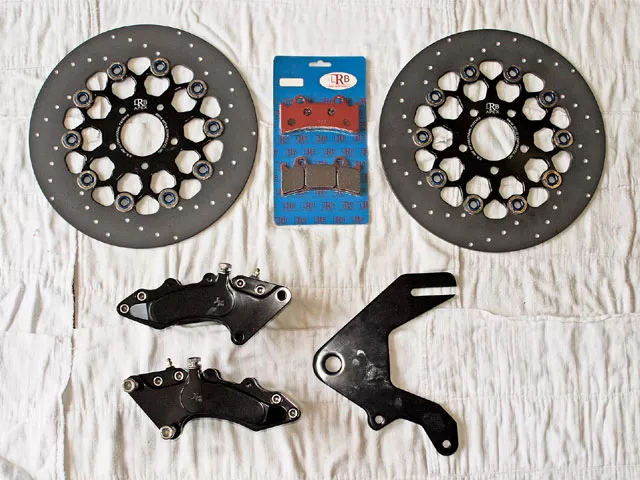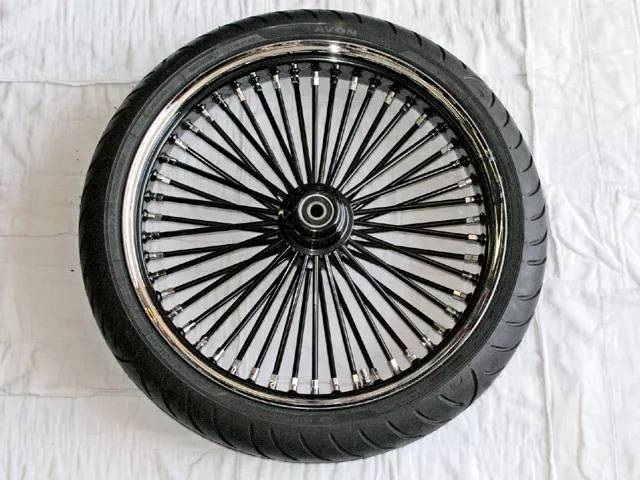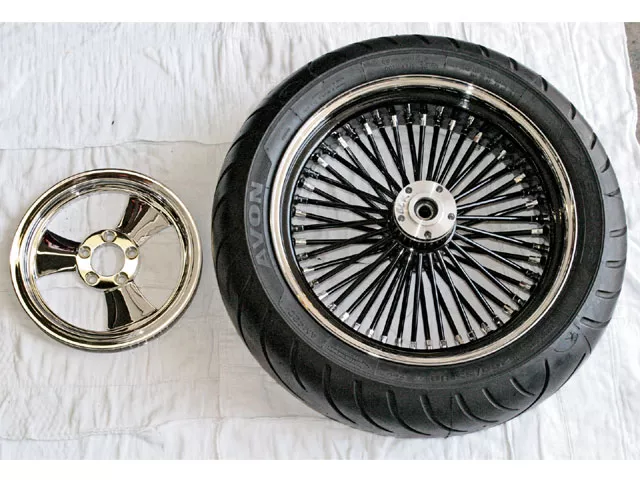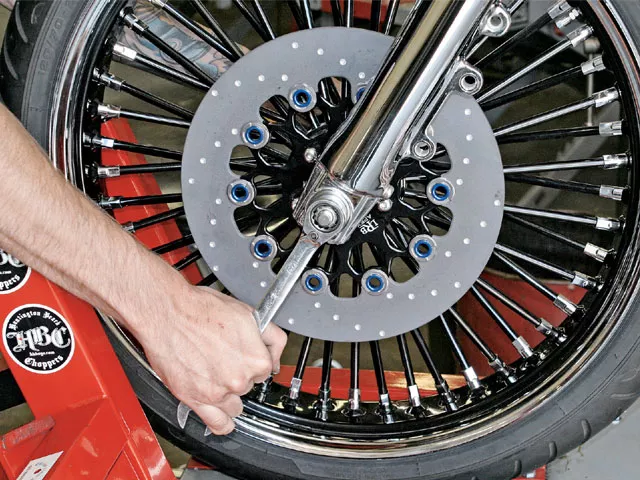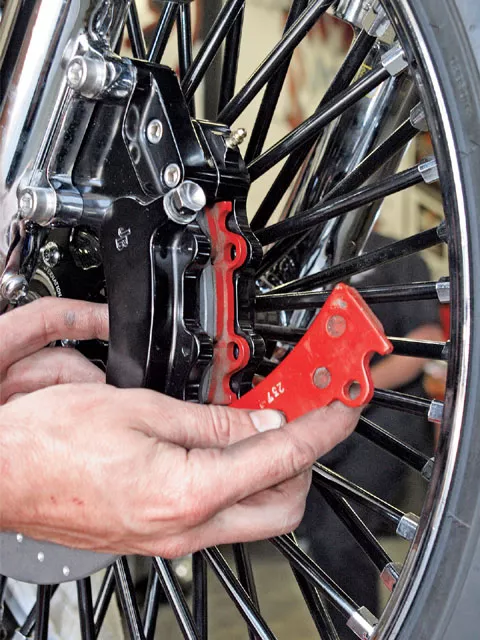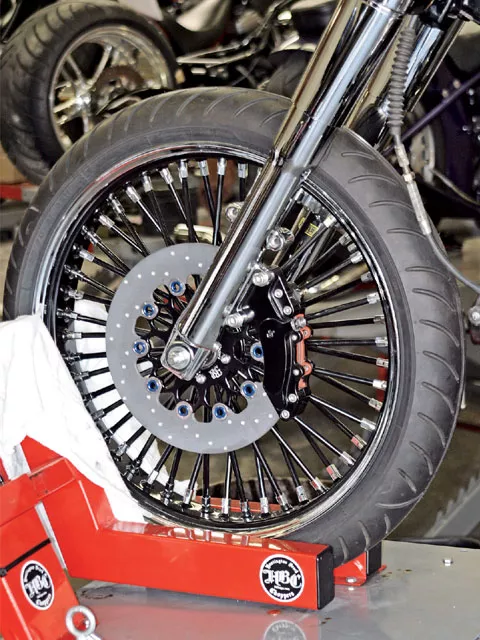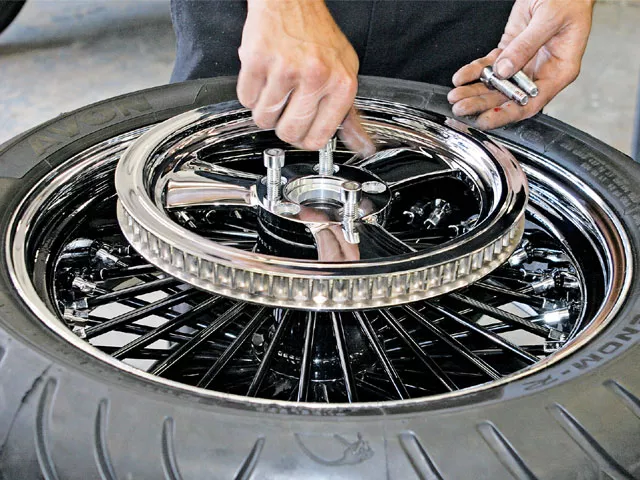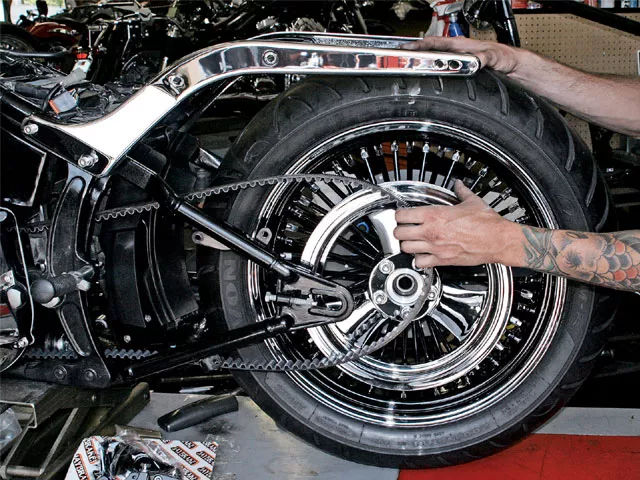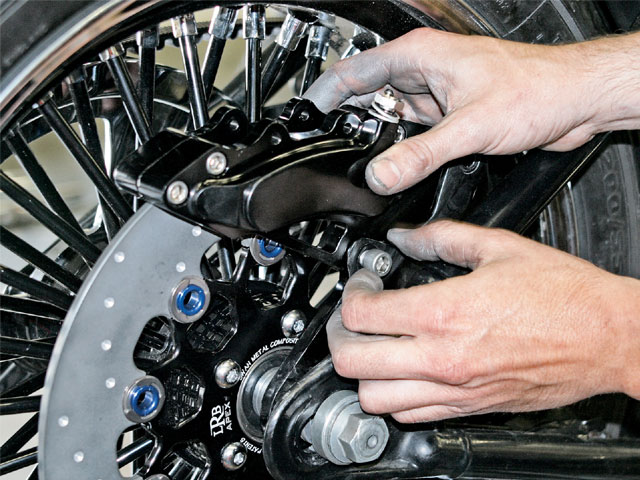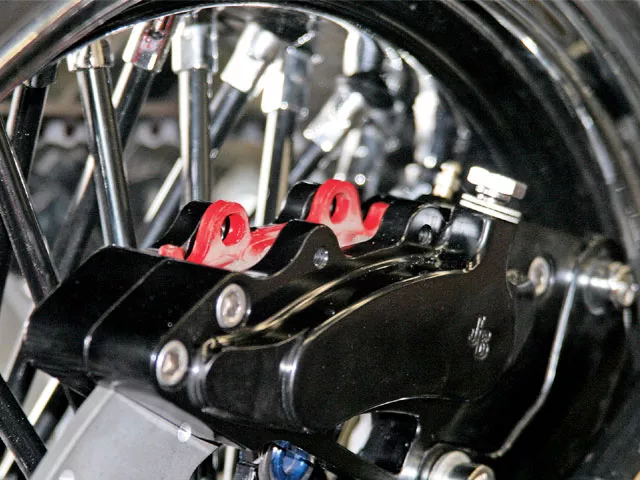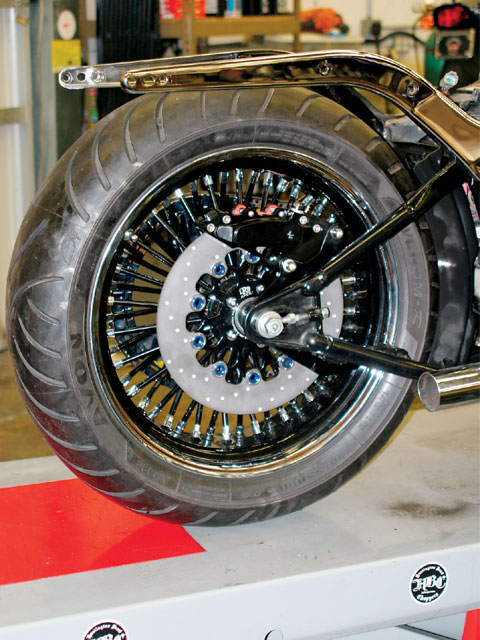 You know the old saying: When life hands you lemons, make lemonade. We wanted to apply that wisdom to a wrecked '01 Softail we came across that had been modified to fit a 200 tire. For the most part everything was in working condition, but we needed to swap out the damaged goods with working parts. We started with the wheels, tires, and brakes.
Ride Wright Wheels' 50-spoke Fat Daddy wheels immediately came to mind. We called them up and told them about our project bike, and two 50-spokers were shipped out directly (a rear 18×5.5, MSRP: $775; and a front 21×3.5, MSRP: $850). We also wanted a Renegade Wheels Sedona pulley (MSRP: $450) for the rear wheel. The 3/8-inch spokes on the Daddy aren't laced in a cross-lace pattern; rather, they are laced in a radial lacing pattern-and they're extremely sturdy! Once we had the wheels in our possession, we wrapped them with Avon Venom skins: a 120/70/21 for the front, (MSRP: $189.82) and a 200/55R18 for the rear, MSRP: $282.79).
Our next task was to outfit the wheels with a top-of-the-line braking system, so Lyndall Racing Brakes got the call for a set of their 13-inch APEX Composite Floating Rotors (MSRP: $625 each). The rotor's friction ring is made from functionally gradient metal composite material and is fitted with a sturdy billet aluminum carrier and fastened with 16mm aluminum buttons (many colors and styles are available for the carriers and buttons; you can create your own on their website). They are extremely lightweight (1.8 pounds) and will literally stop on a dime when mated with their Red-Plus brake pads (MSRP: $59 pair), which are made of a carbon Kevlar trace iron element. When used with one of their APEX rotors, the pads will last approximately 18,000 to 23,000 miles with zero brake dust and zero noise, according to Paul Kittrell of Lyndall Racing Brakes.
Finally, we wanted a set of six-piston stoppers, and Jaybrake's J-Six Calipers (MSRP: $399.95 each) were just right for the look and performance we had in mind. The J-Six was designed using progress bore sizing with the smallest bore in the lead-in position. This differential bore progressive sizing is critical for heat distribution and pad wear. This also gives optimum lever feel and brake response. Plus, these black anodized calipers look great with the setup we were looking for.
With all of the goods in hand, we called up Ed Syer from Huntington Beach Hogs and Choppers to install it. We were hoping that brake lines and a master cylinder would arrive before deadline, but they didn't.